KEY TO THE CITY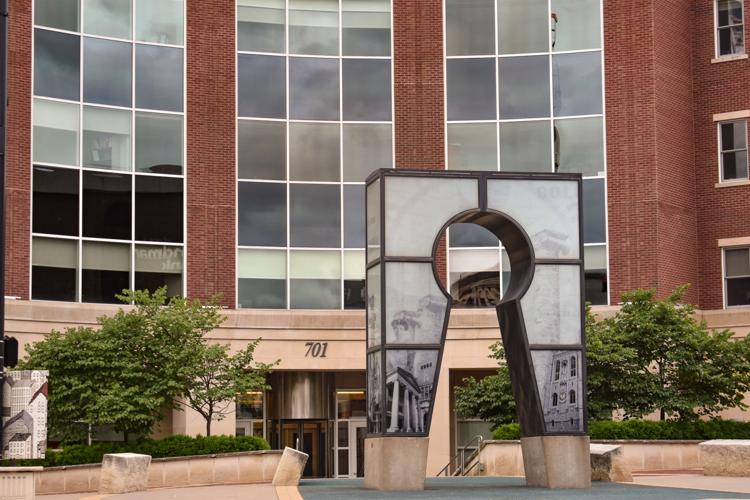 While walking down Broadway in downtown Columbia, many people notice the 19-foot tall glass structure outlining the shape of a keyhole. The outline itself showcases the city's most historic monuments, the universities, as well as notable alumni. At night, the structure is illuminated by LED lighting, and glows in multiple colors that reveal historical maps of Columbia in the background.
While the keyhole is an attraction for those visiting the city, residents also enjoy the landmark. April Johnson, who's interning in Columbia this summer, said, "My apartment is up the street, and I pass it every few days. I like that Columbia has a lot of public art."
As it turns out, the keyhole is not the only public art sculpture in Columbia. Funded by the Percent for Art program, which receives 1% of the city's funding for construction, the structure is one of 11 art pieces designed by the organization. This photo mosaic, designed Howard Meehan from New Mexico, was completed in summer 2010 and has been a symbolic marker for the city of Columbia ever since.
ALLEY A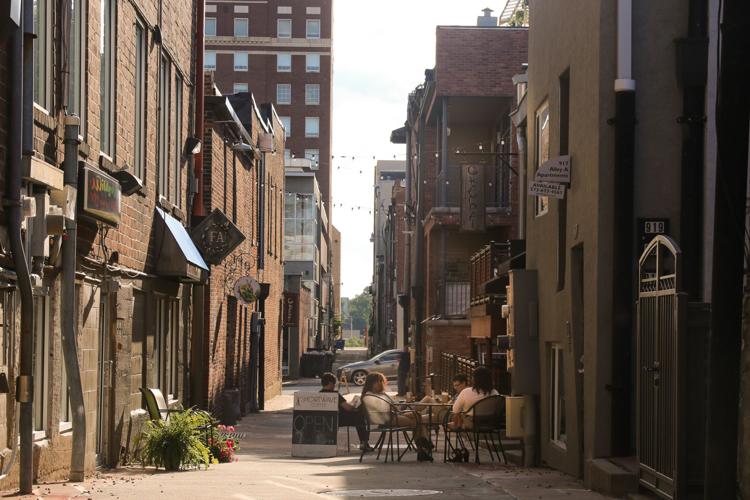 Finding interesting photo-ops on the sidewalks of downtown Columbia is pretty easy, but if you want to find an even more obscure location, look in the alleys. The downtown area contains many secluded alleys, but Instagram will favor "Alley A" in particular. This alley, located between Ninth and Tenth streets, is home to multiple businesses lining the walkway. Visitors may stumble upon Shortwave Coffee, Speckled Frog Toys & Books, and Big Mama Chims Noodle House. In addition, Alley A leases out apartments to Columbia residents. The brick of the buildings, wrought iron fences and original signage of the businesses make for a necessary photo stop.
Although these businesses might seem hidden, they still maintain frequent visitors. Shawn Bunce, a customer at Shortwave Coffee, attributes Alley A's growing popularity to its relaxing environment. "It seems to always be a quiet place to hang out and drink coffee," Bunce said. Whether it's for the atmosphere or unconventional location, Alley A remains a gem of Columbia and a popular place for business and photo opportunities.
DEVIL'S ICEBOX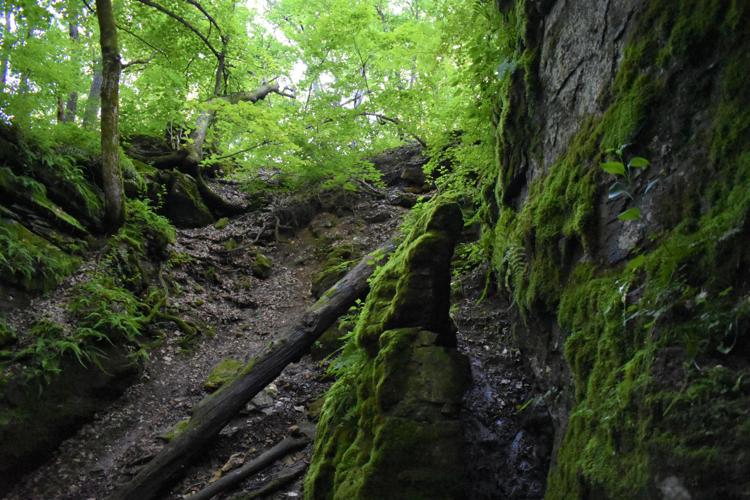 Several wooden steps into Rock Bridge Memorial State Park lies a hidden treasure and a massive temperature drop. Inside reveals an open cave named Devil's Icebox that holds eight species. Two of these species cannot be found anywhere else on the planet, according to plaques posted at the park. Although it may be unique that they only live in this cave, they are extremely vulnerable to water pollution, which could cause extinction. Therefore, protection and safe use of the cave are vital to its survival.
The protection of the cave is also imperative for this Instagramable location. The cave itself is the result of two sinkholes and offers a clear view of the stream with several green trees arching over it. This makes the cave a place to take aesthetically pleasing photos to boom your Instagram feed.
FLAT BRANCH PARK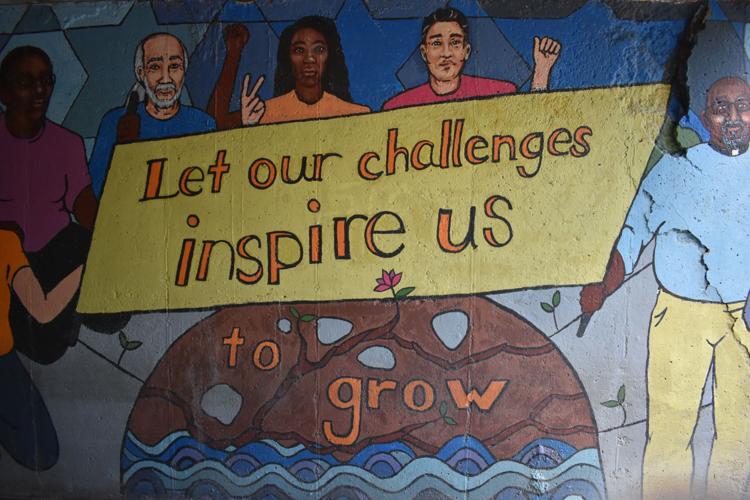 Several organizations in Columbia collaboratively worked toward the completion of the tunnel murals along the MKT Nature and Fitness Trail. These included Resident Arts, a nonprofit organization; Career Awareness Related Experience (C.A.R.E.) and local community members. The Union of Concerned Scientists donated a $10,000 grant to the establishment to help create this work of art. Madeleine LeMieux, founder of Resident Arts, designed the mural with the intention of artwork being placed on the Old 63 retaining wall. The project was later moved to the MKT underpass tunnels due to Old 63's wall being too large to be fully completed by the deadline.
Community members gathered to help paint the mural on July 8, 2017, and it was later revealed for public viewing in August. Its purpose is to aid in preventing graffiti on the tunnel walls and to show Columbia's history and future. A quote by futurist , Marshall McLuhan, on the fifth mural near Flat Branch Park reads, "There are no passengers on Spaceship Earth, we are all crew." Behind the quote are space-themed graphics as well as colorful geometric shapes tying the quote together and making it Instagram-worthy.
THE BIG TREE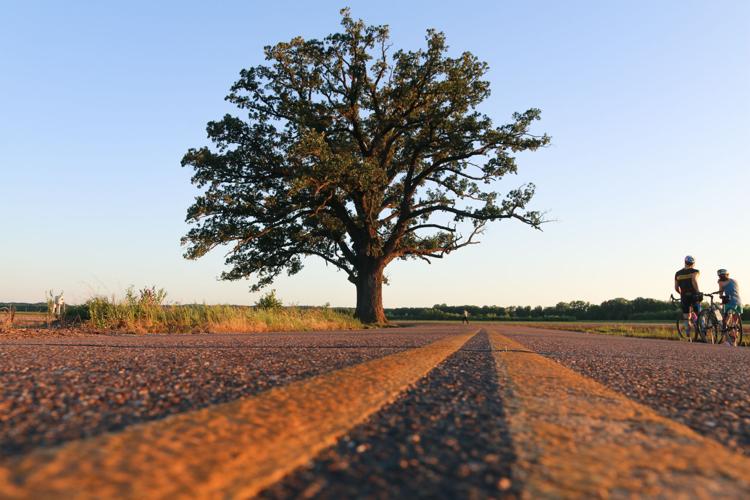 Located in Boone County, the McBaine Bur Oak Tree or "Big Tree," is the largest and oldest Bur Oak tree in Missouri. It is estimated to be between 350 to 400 years old and isabout 90 feet high, the Big Tree is a well-known attraction within the region.
Jeff Phillips, a member of the Big Tree Cycling Club, commented on the increase of tourism by the tree and explained how, since it's a landmark of Columbia, he wishes to protect and make the tree more accommodating for visitors. "There is a need to preserve the tree. I think they should make a park or put up a sign to help keep it here," he said. Furthermore, he explained how building a park is a necessary precaution for visitors' safety, since the tree stands beside a busy road.
Its high visitor rate is proof that the tree is highly captivating. Showcasing its beauty at sunset, The Big Tree can easily become a top photo on an Instagram profile.
Caroline Kopsky is a student at Westminster Christian Academy in St. Louis. Marissa Kraus is a student at Hickman High School in Columbia. Charya Young is a student at University City High School in University City, Missouri.