COLUMBIA — Third-grade teacher Ariel Schwarting said she did not feel at all prepared for an international mix of students in her classroom when she started at Ulysses S. Grant Elementary School three years ago.
But the word among teachers and staff is that Schwarting is one of the best instructors at Grant Elementary when it comes to including students still learning English in her classroom.
"You kind of just wing it really, but it's hard and it gets overwhelming," Schwarting said. "What if I was in a Chinese classroom and the teacher was speaking a different language, and I had no idea what I'm supposed to do?"
This is the scenario that goes through her mind whenever she feels frustrated and needs to find a solution to include her English Language Learners.
At Grant Elementary, more than 20 countries are represented in a student body of about 360. The neighborhood school pulls in students from just south of Worley Street all the way to the Green Meadows area.
Within the school's boundary lines is a spectrum of race, ethnicity, education and class status.
According to the Missouri Department of Elementary and Secondary Education, almost 40 percent of students at Grant Elementary qualify for free or reduced lunch, and about 38 percent are students of color. The school draws students from refugee populations and from families affiliated with MU, both graduate students and faculty.
Principal Jennifer Wingert said that when most students transfer, the previous school can be contacted about the child's educational level. It's not as simple for international students. 
"It's harder when they come from another country to get this kind of background," Wingert said. "We just really have to pour a lot of creativity into it because they are just as important as anyone else."
She said Schwarting has a resourceful approach that suits the mix of students in her class.
"She is a stellar teacher," Wingert said. "She gets to really know her students and then figures out creative ways (that work for them)." 
Class routines
Schwarting's class of 30 is the largest at Grant Elementary this year. There are three ELL students, all from China, and others from Mexico and Iraq who are already proficient in English.
This is nothing new for anyone at Grant. About 50 students are enrolled in the ELL program school-wide, twice as many as there were four years ago. At least one international student is present in all 14 of the general education classes.
"The kids here are just so used to having kids who are different," Schwarting said.
"They think it's really exciting and cool when people speak a different language. It's a new learning experience with them, so they're willing to accept them and learn."
While working on state research projects earlier this spring, one table of children in Schwarting's class chatted about politics. With their heads down, they focused on outlining the states, but each one named the candidate they hoped would be elected president this year.
One student said she would "probably vote for Hillary." One was undecided between Hillary Clinton and Bernie Sanders. Another student's favorite candidate, Marco Rubio, had just dropped out of the race.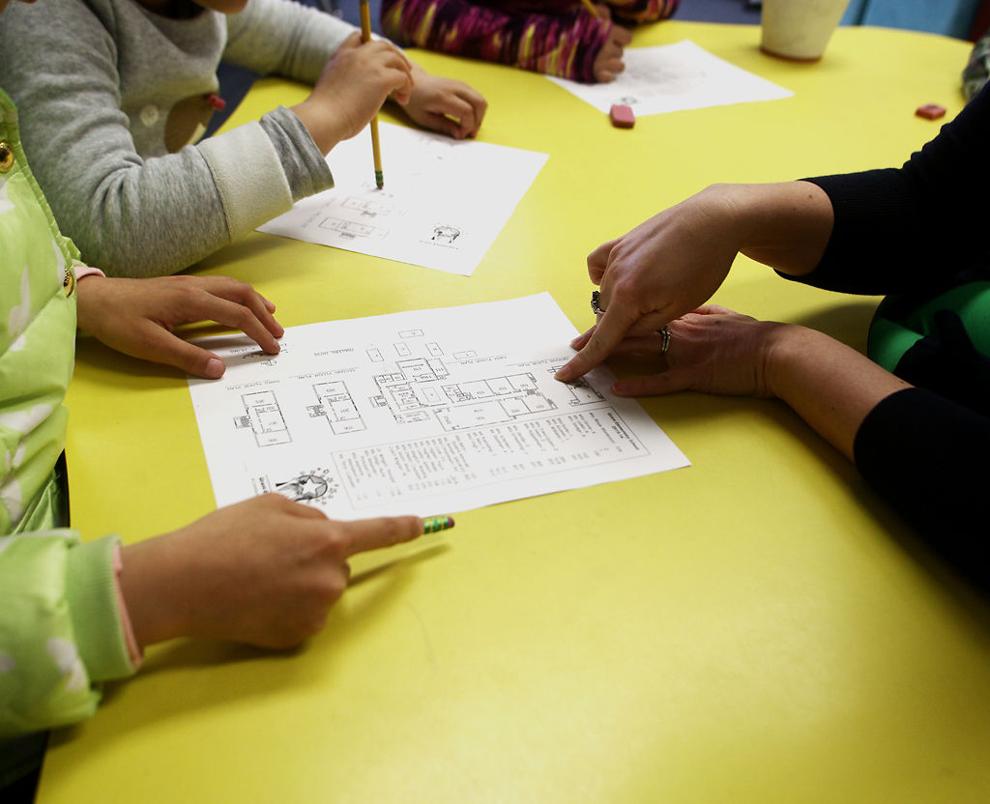 At least half of the students at the table belong to foreign-born families. Each stated their opinion with no intent to argue, their eyes focused on the tip of their colored pencils.
Jerry You, 8, was the only one in the group in the English Language Learners program. While his classmates worked independently, he sat on a "reading rug" at the far end of class.
He's in a group with fellow ELL students, PianPian Wu and Alice Sun, all researching Missouri with the help of instructional aide Mitzi Gribble.
It's important to keep the ELL students working on the same projects and goals as the rest of the class, Schwarting said.
"That's a lot more meaningful to them than me sending them out to work in a table in the hallway," she said. "You're treating them the same as everyone else."
"Obviously you have to make modifications ... but letting them accomplish the same goal as other kids is important too."
Tag team
Schwarting and Gribble are like a superhero tag team. When any student needs more help either one swoops in while the other monitors the class.
"It's a team effort," Schwarting said. "If I get stuck I'll ask (Grant Elementary ELL specialist) Ms. Cook. Or if I need it broken down more, I'll ask Ms. Gribble to break it down to smaller chunks."
On the reading rug, Jerry, PianPain and Alice circled Gribble as they looked up facts about Missouri on a school iPad. Sometimes the blank expression on their faces indicated that something was lost in translation. Gribble used the Google Translate application on the iPad, and a moment later, a voice from the computer repeated it in Chinese.
Schwarting sees the iPad as her "best friend." Having Google Translate on mobile devices has helped keep the ELL students on pace with the rest of the class. 
Wingert said the reason teachers like Schwarting are so successful with diverse classrooms is because they use appropriate resources. The iPads, modified lessons, adjusted rubrics and time with the school's ELL specialist all play a role in making sure everyone in the class is successful.
All the methods Schwarting uses help keep the classroom organized, but the way her students accept one another is what keeps them moving forward.
"There isn't one type of kiddo in my classroom, but we're still a classroom. We're a family in here," she said.

"We work together for certain goals and we help each other to reach certain goals and we don't leave anyone behind."
Supervising editor is Jeanne Abbott.