When Meredith Willcox of Kirksville, Missouri, learned that some Veterans were experiencing issues with comprehension because of universal COVID-19 masking policies, she decided to do something about it. The 95-year-old grandmother of a health provider at Harry S. Truman Memorial Veterans' Hospital used the internet and her sewing skills to make specialized masks to help Veterans with significant hearing loss.
"Hearing aids are wonderful tools and we use them to treat hearing loss in our Veteran patient population," said Laura Jacobs, AuD, an audiologist at Truman VA, who also happens to be Willcox's granddaughter. "The VA offers our Veterans state-of-the-art hearing devices that utilize Bluetooth technology. Our devices are the best of the best in hearing aids. However, even with extremely high-quality aids, some of our Veterans have such significant hearing loss that this technology isn't enough for them to comprehend speech."   
Jacobs said that in extreme cases, some Veterans must rely on a combination of hearing aids and visually reading a speaker's lips to understand conversations. This is extremely important during clinic visits with their providers. However, because clinicians must wear a mask, reading lips has been impossible — that is, until now.
"After mentioning this issue to my grandmother, she went online and learned how to make masks that incorporate a clear mouth covering," Jacobs said. "So far, she has made 40 specialized face masks for our clinic. I've always known that she was an amazing person. However, for her to take the ball and run with it as she's done with these masks — well, let's just say I'm extremely proud of her!"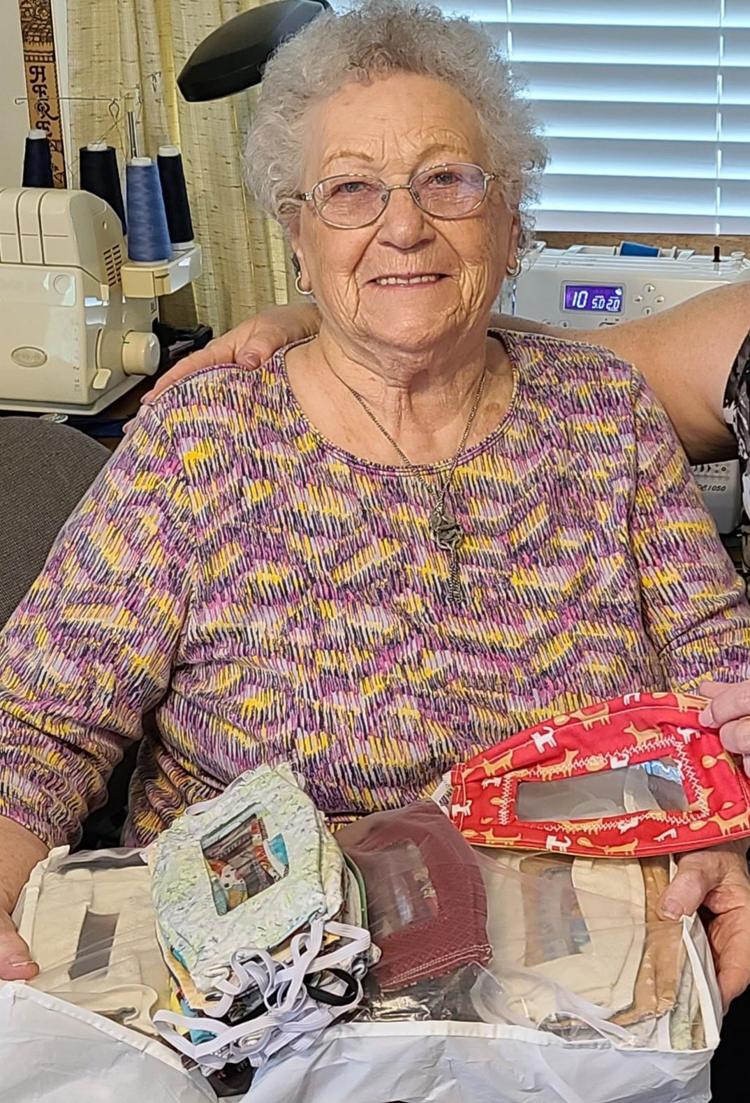 Since the COVID-19 pandemic began, Truman VA has received an outpouring of support from the mid-Missouri community.
"I can't put into words what it means to have this level of support," said Patricia Hall, PhD, medical center director of Truman VA. "So many have come forward at a time of extreme uncertainty. I believe without a doubt that their generosity and support helped our team get through those very dark times."
Several area businesses, organizations and individuals — to include Culver's, EquipmentShare, The Blakery, American Legion Post 624, Teen Outreach Program, Tropical Smoothie Café, Freddy's, the Second Missionary Baptist Church, the Jefferson City Elks, and Dickey's BBQ, as well as Charles and Cathy Ford, Kim Albright, and a Veteran who wishes to remain anonymous — all provided meals for frontline staff at Truman VA throughout the initial phase of the COVID-19 pandemic.
"We truly appreciate everyone's generosity," said Ron Graves, Chief of Voluntary Services at Truman VA. "I especially want to thank Veterans United Home Loans. Not only did they provide daily meals for our frontline staff for almost three straight months, but they also made sure to use area businesses to help stimulate our local economy. I thought that was an amazing gesture."
Others, like Willcox, turned to their sewing machines to provide support.
"There just are too many individuals to name who have made reusable cloth face masks for our Veterans, visitors and staff," Graves said. "But just to show you the level of support we've received in this area, Quilts of Valor, Central Missouri Mask Makers and Hanes Brands, Inc., together provided us with more than 3,000 donated cloth masks."
Graves feels that Truman VA staff also should be recognized. Housekeepers, warehouse employees, frontline staff and other support personnel — all have been important in the fight against COVID-19. However, he did want to acknowledge one individual for going above and beyond in support of her colleagues and the Veterans that receive care at Truman VA.
"Heather Black, a nurse in Specialty Care Clinic, donated 623 hand-sewn masks," Graves said. "She works full time on-site, so she brought her sewing machine to work and makes masks before and after her shifts, as well as during her breaks. How can you not be awed by such dedication?"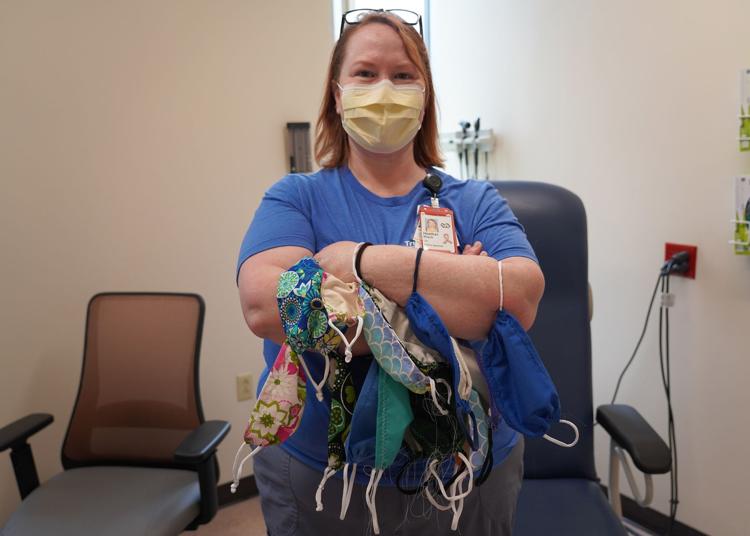 "For those individuals who have made masks for us, provided meals or in any other way supported us throughout this global pandemic, we truly appreciate your efforts," Hall said. "Each one of you has made such a positive impact on our team here at Truman VA, and we thank you!"