After almost five decades, the family of First Lieutenant Bernard Plassmeyer still mourns his loss. On Sept. 11, 1970, "Bernie," as he was known by friends and family, was listed as missing in action (MIA) after his A-4 Skyhawk aircraft was shot down in Vietnam. He left behind a wife — who at the time was eight-and-a-half months pregnant — as well as his mother, father and three brothers. 
When a family is first notified by military authorities that their loved one is missing, the initial shock often is followed by the hope of rescue or confirmation that their loved one is alive as a prisoner of war (POW). However, an MIA status produces its own terrible kind of anguish because of the unknown.
 "I have witnessed how this affected my parents," said Norbert Plassmeyer, Bernie's older brother. "My mother was greatly affected. She lived a life of grief from losing her son. She died of cancer three years after Bernie went missing. I do think she suffered every day of those three years." 
Bernie was born on May 5, 1945. The youngest of four boys, he grew up on his family's farm near Westphalia, Missouri. He attended St. Joseph grade school, Fatima High School, and graduated from Parks College of Aeronautical Technology at St. Louis University in 1966.
In 1967, as the Vietnam War grew in scope, Bernie received a draft notice from the U.S. Army. However, after consideration, he chose to enlist in the U.S. Marine Corps instead. He received his commission as a Marine officer in June of 1967 and his wings as a Naval Aviator in March of 1969. In February of 1970, Bernie deployed to Vietnam and was assigned to Marine Attack Squadron 311.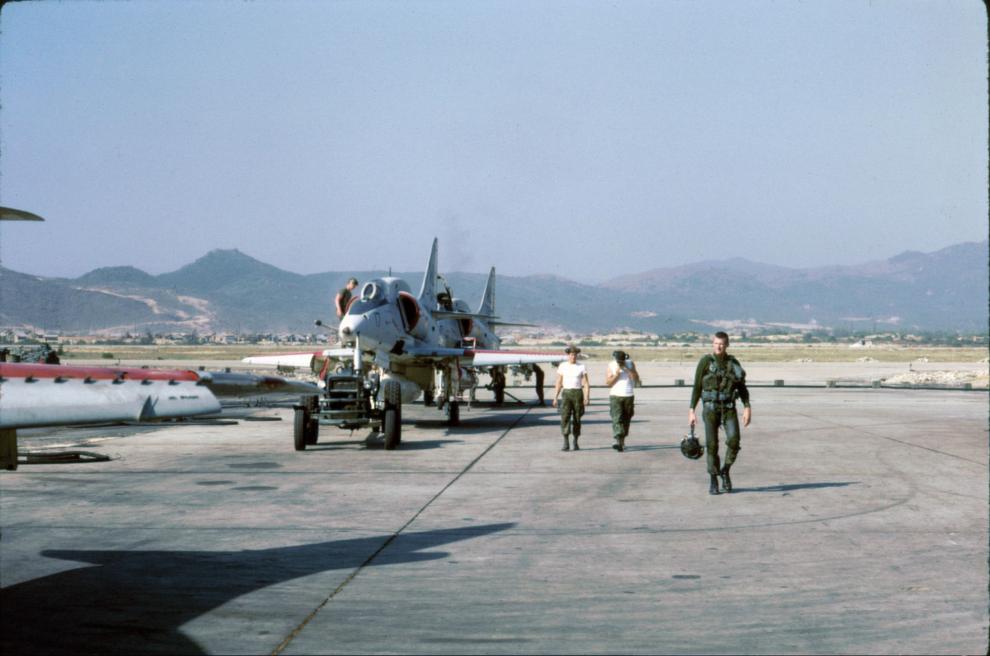 On the night of Sept. 11, 1970, Bernie took off in his Skyhawk to provide air support for a group of U.S. Army infantrymen. Once over the target area, Bernie had to make several passes to release his ordnance. After his third pass, Bernie's plane was hit by ground fire, sending it down in a shower of sparks and flames. 
Because the target area was still receiving a high volume of enemy fire, sending in more ground troops to verify Bernie's status was not possible. A helicopter sent to inspect the area also was hit numerous times by ground fire. Although eyewitness accounts seemed to indicate that he didn't survive the crash, Bernie was listed as MIA.
Shortly after, Bernie's parents learned about the crash. Two Marines drove up the road to their house and gave them a telegram stating he was missing.
"I was living in St. Louis at the time, so I gathered up my family and drove the 100 miles back home," Norbert said. "My older brother was an Army officer who also served in Vietnam and at the time was assigned to the Pentagon. He and my other brother, who lived in the Kansas City area, also came home and we all gathered at the family farm. We waited for more information, but none came. We did the best we could to support each other." 
Two weeks after his plane went down, Bernie's only son was born.
Norbert and the rest of his family continued to follow the war through the news media and learned what happened to those who had been captured by the North Vietnamese. 
"It was not a pretty picture," Norbert said. "The thought of Bernie surviving and being held captive was very distressing. However, the idea of him dying in that airplane crash also was distressing."
In 1973, nearly 600 American POWs held by North Vietnam were released as part of Operation Homecoming. Bernie was not among them. In 1976, his status was changed from missing to killed in action.
"Bernie had said that when he got out of the Marine Corps he was going to come back to the farm and help run it with our father," Norbert said. "Instead, I took his place. Life had to go on."
Fifty years later, Sept. 11 still is an important date for the Plassmeyer family — not only because it's the date that Bernie's plane went down — but also because it's the anniversary of the coordinated terrorist attacks on America. 
"This is a special date for us and we don't forget it," Norbert said. 
Since his brother went missing, Norbert has continued to advocate for POW/MIA awareness to ensure that any effort to learn more information is not abandoned. 
On Sept. 19, 2019, Norbert shared his family's story as a guest speaker for an annual POW/MIA event at Harry S. Truman Memorial Veterans' Hospital. Truman VA holds a remembrance event each year on or near the third Friday of September, which is National POW/MIA Recognition Day. Truman VA's annual event highlights the importance of remembering those who were held in captivity by foreign countries and others who still are missing as a result of their military service.