Billie Patterson, a 72-year-old United States Army Veteran from Rushville, Missouri, recently became the 101st patient to receive a transaortic valve replacement at Harry S. Truman Memorial Veterans' Hospital. Before the minimally invasive procedure, also known as TAVR, Patterson frequently experienced shortness of breath and fatigue that required rest with any level of activity.
"If I tried to do anything, I'd get short of breath and had pain in my chest," Patterson said. "For every five minutes of activity I'd have to rest for 10 minutes. That's no way to live. When I found out it was my aortic valve, I went to Truman VA in Columbia to have it fixed."
The aortic valve is one of four in the heart, and its role as part of the circulatory system is to regulate the flow of oxygenated blood to the body. The valve prevents blood from flowing backward into the heart. A damaged or diseased aortic valve can disrupt blood flow, and backflowing blood may cause damage to the heart muscle by making it work much harder than it should. Symptoms of aortic valve disease often include shortness of breath with activity, dizziness, fainting, and chest pain or tightness.
TAVR is a catheter-based procedure that may be used as an alternative to invasive open-heart surgery for replacement of a diseased aortic valve. Recovery time is very short when compared to an open procedure ― usually only a few days rather than months. Additionally, high-risk Veterans who previously were not candidates for surgical repair now have an option to live longer, healthier lives.
"This procedure is unreal," Patterson said. "I had it done on a Thursday and went home that next day on Friday afternoon. A friend of mine who had open heart surgery at another facility needed several months to recover. He's doing great, but I'd recommend this procedure to anyone who has what I had."
"TAVR is a major development in the field of interventional cardiology," said Poorna "Raj" Karuparthi, MD, an interventional cardiologist and member of Truman VA's multi-disciplinary cardiovascular team. "I have seen patients who can barely walk because they are so short of breath due to aortic stenosis. It's very rewarding to see patients after their TAVR procedure because there is this tremendous difference in how they feel, and they are back to doing things they enjoy."
In 2015, Truman VA became one of the first eight VA hospitals in the U.S. to offer TAVR. A special room known as a Hybrid OR is used for TAVR procedures. The state-of-the-art surgical theater is equipped with advanced medical imaging devices. A Hybrid OR also enables physicians to quickly convert to an open procedure if necessary.
"Truman VA is unique because we not only have excellent infrastructure and a great team, but we also have supportive leadership," Karuparthi said. "They are willing to invest in this type of program that serves our Veterans, and the results are better outcomes."
For regional Veterans, that's good news. Veterans tend to have higher risk factors when compared to non-Veterans. In fact, they are more likely to have other medical conditions in addition to heart disease such as hypertension, diabetes, high cholesterol, and chronic obstructive pulmonary disease (COPD). These and other comorbid conditions put them at a higher risk for undergoing any invasive procedure.
"The Journal of the American College of Cardiology recently published a study comparing TAVR outcomes in the VA system to private sector hospitals," Karuparthi said. "Although Veteran patients tend to be older, have more comorbidities and they usually are sicker, VA post-operative outcomes following TAVR were better or as good as private sector benchmarks. This is a testament to the quality of VA care ― even though these patients are more difficult to care for."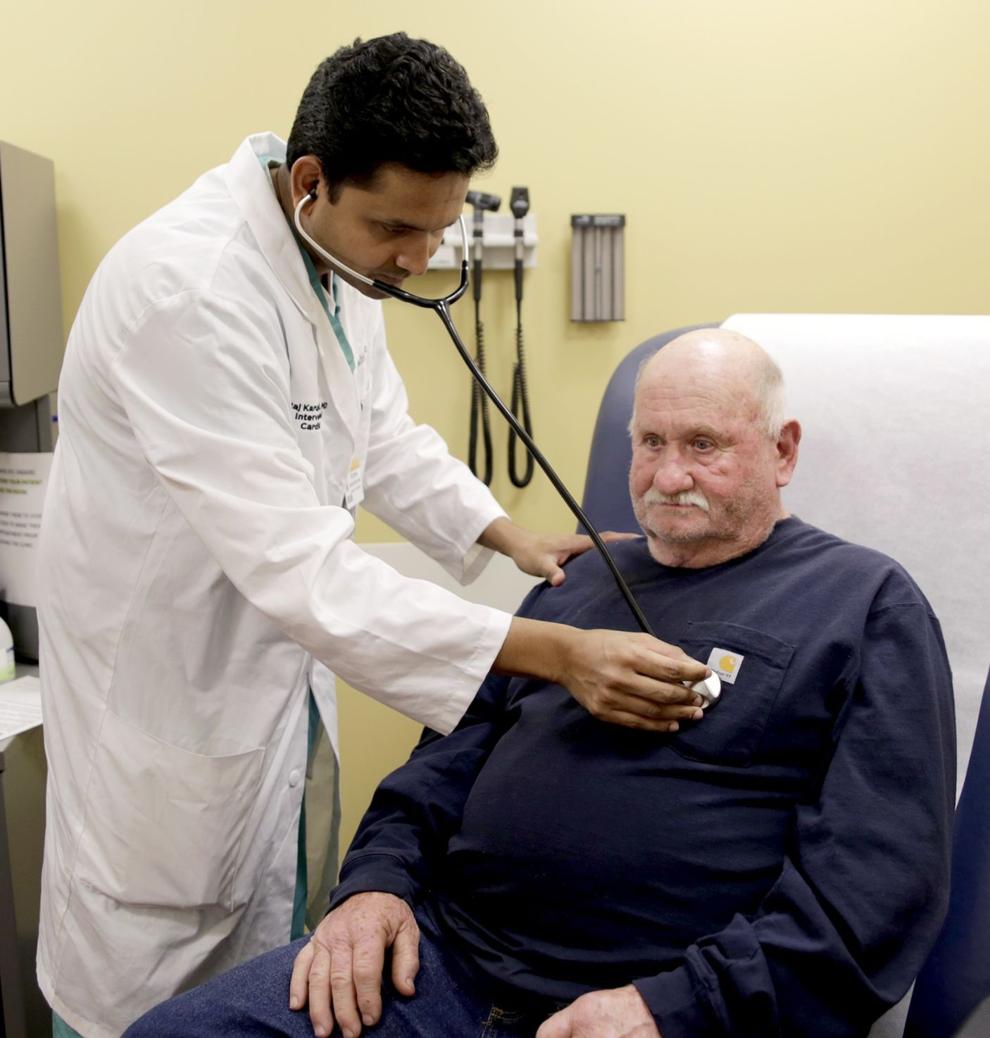 Following recovery from his TAVR procedure, Billie Patterson agrees.
"The doctors are awesome and it's amazing that they could repair my heart without an open procedure," Patterson said. "Dr. Karuparthi is one in a million. I didn't know physicians could do surgeries like this. I truly appreciate what he and his team have done for me ― especially Brandy Worley, the TAVR coordinator. She worked so hard to make this happen for me and I owe her a lot."