Benita Rountree makes it to almost every football game.
She's been doing so since son Larry Rountree III began playing the sport, and that didn't change when he decided to move six states west to play for Missouri.
Benita has made the near 15-hour drive from Raleigh, North Carolina, for several games, but one of her first trips to Columbia looked a little different.
On June 30, 2017, Benita, her son and his father, Larry Jr., flew from Atlanta to St. Louis. From there, they drove through traffic and bad weather to the Mizzou Athletics Training Complex to drop off Larry — or "Tre'," as his parents refer to him — for college.
As Benita was making sure her son had all his belongings, he grabbed her left wrist. In a fleeting moment, he slipped on a red wristband that reads "HUMBLE OVER HYPE," the slogan of a nonprofit organization dedicated to the "spiritual and moral development of athletes."
"It was the way he did it," Benita said. "And I was like, 'I'm never gonna take it off.'"
Benita said she remembers the moment as if it were yesterday and that the bracelet, with its block white lettering, still sits on her left wrist. However, a lot has changed in the nearly four years since that day.
Rountree has since gone from a cog in the Missouri offense early in his career to a mainstay in both the offense and the program.
The senior has been named a team captain, and he's on pace to set a program record for rushing yards by a non-quarterback. He needs just 180 yards to eclipse the current record, a mark he could hit as soon as this week against Kentucky.
However, the Tigers' feature back hasn't always seen notable success. Whether it was a lack of recruitment out of high school or playing opponents both bigger and older than him in the Pop Warner youth football league, Rountree has never shirked the chance to play the sport he loves.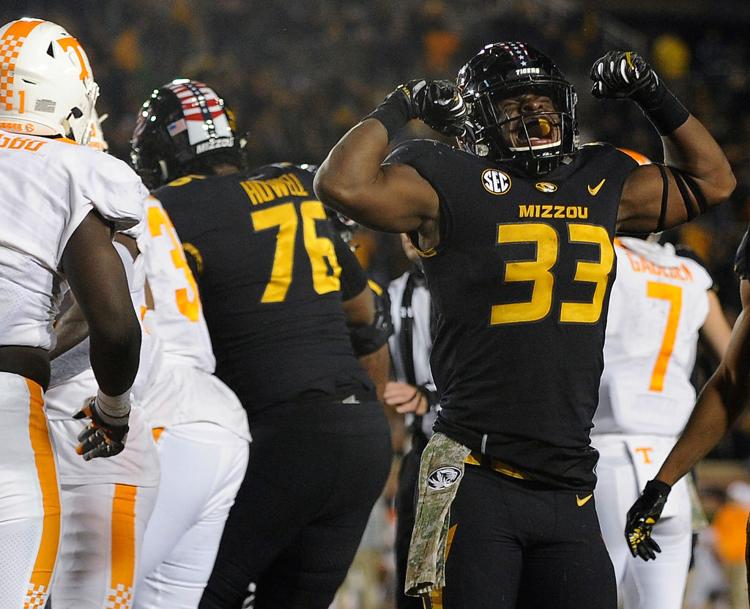 ---
Raul Oquendo was in a predicament when it came to Larry Rountree.
At 7 years old, Rountree was both the youngest and smallest kid on Oquendo's Wilders Grove football team. It was also Rountree's first year of organized football, and he was playing in a league full of 9-year-olds. According to Oqeundo, Rountree was full of energy and muscular, too.
"(It was) like he had been in the gym already when he came out," Oquendo said.
However, Oquendo felt he couldn't start the inexperienced Rountree at a skill position. But his other coaches worried he was too small for the offensive or defensive line.
After holding tryouts and laying out his lineup, the Wolfpack's coach put the future running back at a spot one might not expect: nose tackle. Young, small and donning No. 91, Rountree played the position the whole season with no complaints.
"He got knocked down, he got right back up," Oquendo said. "Sometimes, he'd fall down and clog up the holes."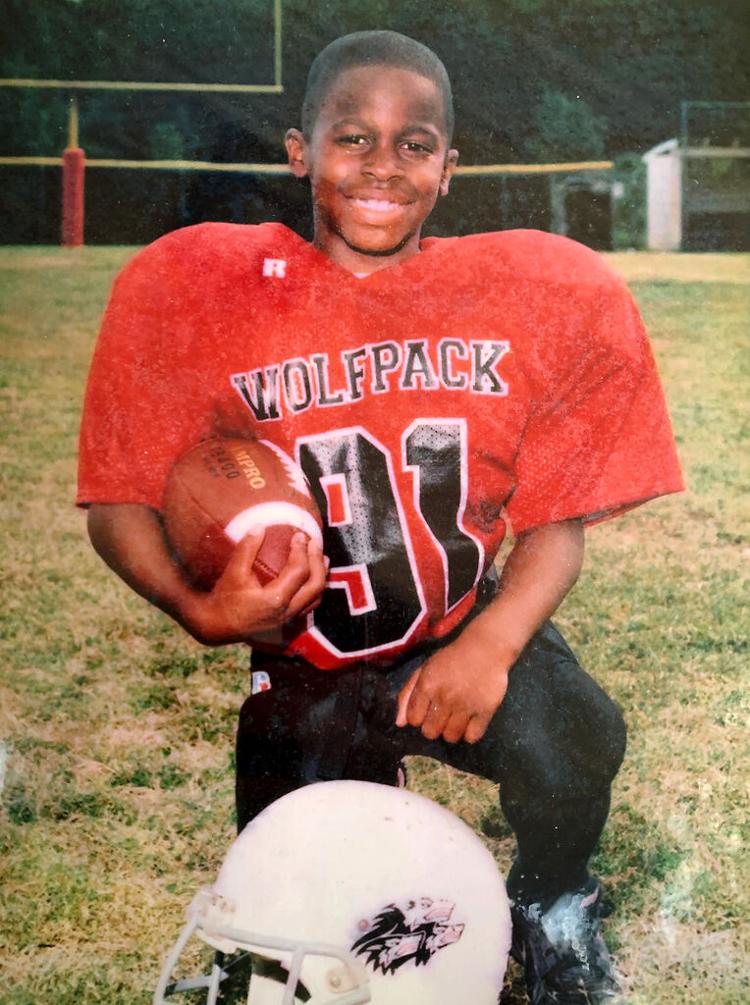 As the year progressed, Rountree continued to improve, so much so that he frequently got into the backfield.
Rountree's first year with Wilders Grove ended in a 6-0 loss in the league championship, but it's where his football journey began. From second to sixth grade, he would continue playing Pop Warner, always above his actual age level.
"Even though he was playing with kids above his age, they (weren't) necessarily above his skill level," Larry's father said.
Rountree never played nose tackle again after his first year, continuing on at running back as well as playing kicker and placekicker. His Pop Warner experiences didn't stop at his own practice and games, either. His mother said he often had her drive him and his teammates to other teams' games after they were done playing in an effort to scout his next opponent.
"It was all day for me," Benita said. "If we had an early Pop Warner game, it was Pop Warner all day."
---
Josh Bunting has seen a lot of good running backs in his time coaching football.
At Millbrook High School in Raleigh, Bunting has coached multiple notable tailbacks, including All-American brothers Keith and Marcus Marshall, who went on to play Division I football.
Keith, who graduated from Millbrook in 2012, was a five-star recruit who played at Georgia and went on to play for Washington in the NFL.
Bunting also coached Rountree, who came highly recommended by several parents coming into his freshman year.
"All these parents kept telling me, 'This kid from (Durant Road) Middle School is the best back we've ever seen,'" Bunting remembered. "They were like, 'He's really, really good, but he's just raw.'"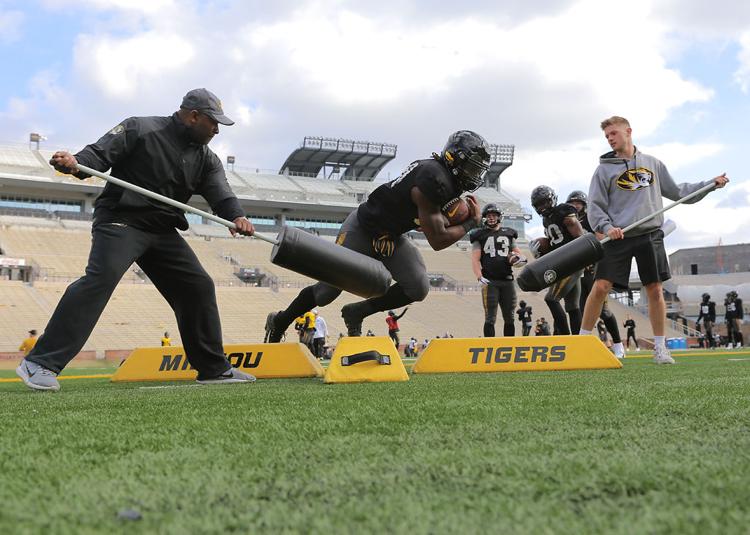 At first glance, it was clear to Bunting that Rountree was no longer the 7-year-old who overtook the trenches in his Pop Warner league.
He was now a big freshman, and most of his smaller teammates had a hard time tackling him during practice, especially when he ran as hard as he could.
"I just looked at (Millbrook coach Clarence) Inscore one day, and I said, 'That kid's the next Keith Marshall,'" Bunting said, and he still reminds the Wildcats' coach of the moment every year.
Rountree became a formidable running threat for Millbrook. He finished his senior year with more than 1,100 rushing yards and 21 touchdowns.
But before the mature-for-his age freshman became another standout Millbrook rusher, he spent nearly two years at the junior varsity level. Waiting his turn didn't stop Rountree from making the most of the experience.
According to Bunting, Rountree was always "doing the extra things," whether it was lifting weights or staying after practices to run more drills.
"It showed me that he was probably the hardest worker that I've had," Bunting said. "And to be honest with you, since he's graduated, I don't think I've had a kid with as strong a work ethic as Larry had."
Although he wasn't yet on varsity, Rountree found success early at Millbrook — partially because of a three-pronged rushing attack.
Bunting modified a usually run-heavy spread offense into a Wing-T offense, which utilizes three ball carriers at any time, to accommodate a trio of running backs spearheaded by Rountree. The Wildcats' JV squad finished Rountree's freshman year 9-1 and had several 50-point performances.
"That was probably the most fun I've ever had on JV, because no one (could) stop us," Bunting said.
Bunting remembers Rountree's on-field success, but his mistakes were also memorable — largely because he'd always meet them with a smile and a question.
"'Coach, I know I messed up,'" Rountree would say coming off the field."'What did I do so I can fix it?'"
"He always had a smile on his face," Bunting said. "Even in the biggest moments of games, he was always smiling because he loved football. He loved being out there."
---
Rountree was quick to win over Cornell Ford.
His film stood out. Then Missouri's running backs coach, Ford remembers Rountree's physicality. He was a downhill runner who "checked all the boxes" of intangibles.
The communication was constant, too, and Rountree was easy to talk to on the phone. Ford soon found out the two also had the same favorite player: Chicago Bears legend Walter Payton.
"That was like, 'Wow, I love this kid,'" Ford said. "I liked him before, but now I love him because he's a different type of kid."
According to Ford, "the stars aligned" for Rountree and Missouri. He was a talented prospect, but severely under-recruited.
The three-star tailback was listed as the No. 56 running back in the country and the No. 32 player in his home state. He ended up with just four offers, from Miami (Ohio), Boston College, Appalachian State, James Madison and Missouri.
The University of North Carolina and Rountree's hometown school, North Carolina State, kept in touch and sent a lot of letters. Rountree even attended junior day at UNC. However, neither school extended an offer, likely because of concerns surrounding Rountree's academic qualifications.
Although those schools and others may have been concerned with Rountree's transcripts, then-MU recruiting coordinator A.J. Ofodile had no doubt Rountree would academically qualify.
"A lot of times, ninth grade is a struggle, but for kids that are character kids and maybe need just a little bit of maturity, a lot of times it really kicks in junior year," Ofodile said. "You really see a big difference, and they start trending upwards."
Character was what both Ofodile and Ford saw in Rountree, as he had a clear plan in place to make sure he'd be eligible. Ofodile was also certain Benita would hold her son's feet to the fire to follow through, too, and provide him the support he needed to succeed.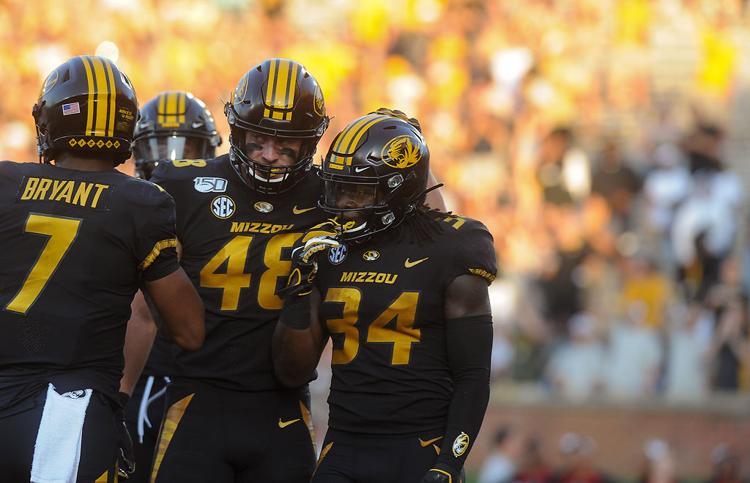 Bunting still remembers Rountree studying for class and the SAT shortly after film sessions on Saturday morning. He'd even come into Bunting's office during the summers and use his printer for assignments.
"You don't see that a lot," Bunting said. "Not once did I ever see him hang his head or say anything negative of any doubt of him being able to play football. He knew he was behind, but he worked his ass off to make sure that he'd keep his goal."
Benita also remembers how inspiring it was to see Missouri's belief in her son and how clear its coaching staff made it that Larry was going to be a part of their program.
"I knew when Larry made his decision, he was going to shut it down, because they truly showed how much they believed in him, that he was going to do what he needed to do to get there," she said.
---
Larry's father would've preferred his son was closer to home for college.
To have his son in Raleigh at N.C. State or about a half hour away at UNC would have been a lot more convenient.
However, he's clearly seen the impact coming to Missouri has made on his son.
"It's made him a better person," Larry Rountree Jr. said. "It's made him grow up, and it's making him a better young man."
On the field, Ofodile always saw Rountree growing as a running back. Rountree has worked to diversify his skill set, with a focus on blocking and catching passes.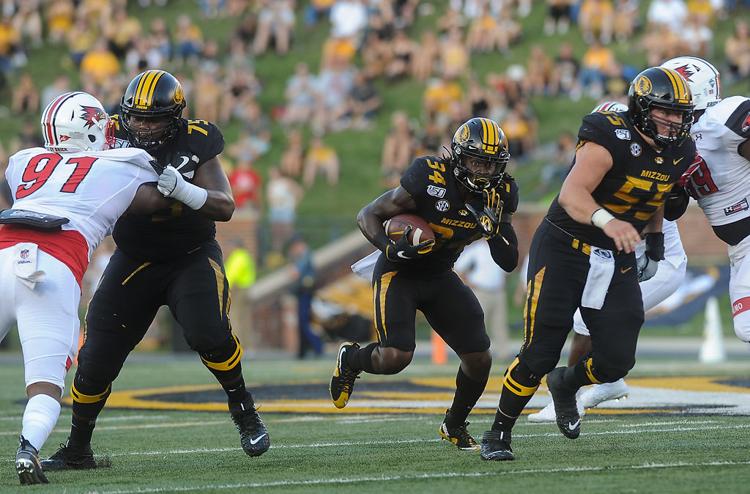 "Nobody carrying the football wants to pick up linebackers in blitz protection," Ofodile said. "But he really took it to heart that that was a big part of what his responsibility was, because he's a team guy."
Rountree has always been a "team guy," but as he's progressed, Ofodile noted that he's gone from being a "little brother" figure when he first arrived at MU to filling a big brother role for several teammates.
"He'll go and talk to you individually," Ford said of Rountree. "He doesn't like standing up in front of a team. … That's not what he used to do. Now, you see him now taking on more of a leadership role and talking to the whole group."
That leadership has shown itself off the field in several forms. Since coming to MU, Rountree has made the SEC Academic Honor Roll twice. He also represents Missouri on the SEC's Football Leadership Council. This past spring, he joined the Epsilon Delta chapter of Omega Psi Phi, one of multiple historically Black Greek-letter fraternities at MU.
As for the on-field accolades, they're not something to which Rountree pays much attention. He said in June, as long as he was focused on the team, "that individual stuff will come."
As the senior nears a notable record, he's come a long way from the 7-year-old nose tackle or frustrated junior varsity running back he once was.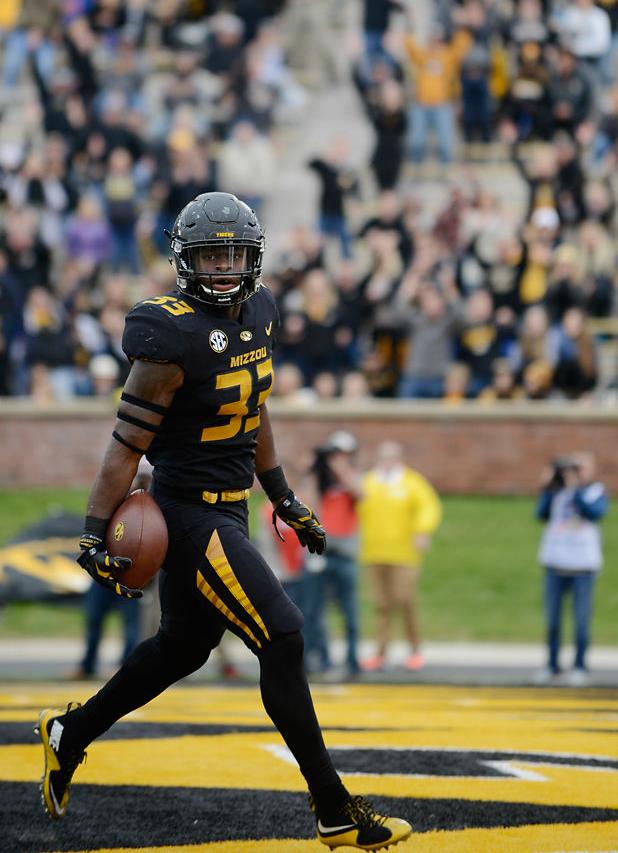 "I always tell Tre', 'Wherever you go, make them remember your name,'" Benita Rountree said. "In high school, he didn't feel like he got much love as a freshman.
"But I said, 'Make Millbrook remember your name,' and they know him now."
Through a lot of hard work, Rountree has made those at Missouri remember his name. And when Rountree reaches that record, he'll get to celebrate as always with his mother in attendance, red wristband still intact.
"It just seemed like yesterday, we dropped that little knucklehead off, and now it's four years (later) and he's a senior at Mizzou playing football, and I'm not taking anything for granted," Benita said. "We get so excited for Mizzou, and after it's said and done, I'm still coming out there for games."