Shamika Jones' son was the greatest present she had ever received. He was also her first major challenge.
Three days before she turned 16, Jones gave birth to Ennis Rakestraw Jr. He arrived early, born weighing less than six pounds. Doctors warned Jones about potential learning issues and breathing difficulties from underdeveloped lungs. He spent nine days in the ICU with pneumonia.
"I remember having him and laying him on the bed in the hospital," Jones said, "and looking at him wondering, 'How does the love thing work from a mom to a child? I know how much my parents love me. Where does that start?' As the days, months and years went on, he really taught me everything about being a mother."
The transition from being a child herself to learning how to parent wasn't easy. Rakestraw's biological father was absent from both of their lives, and Jones was still going to high school. There were times when Rakestraw cried in the middle of the night, hours before her 6 a.m. alarm to wake up for school.
And he was so little, so fragile.
"When I was finally able to go home, people didn't want to touch me because they were scared they would break me," Rakestraw said. "I was just that small."
Jones didn't know she had the strength to be a mother. She fueled herself with the people who told her that having Rakestraw was a mistake.
"I was going to make dang sure that my son was not going to be a statistic," Jones said. "From the time of me having Ennis, that was my goal. He had to make it. If he makes it, I make it. If he hits big, strikes rich or whatever, as long as he made it, I've got my medal."
Rakestraw is making it, and Jones is already collecting medals. She will get her next one on June 5, this Friday, when her son reports to Columbia for summer workouts as a 6-foot, 170-pound cornerback and the University of Missouri's headline recruit. Coincidentally, June 5 will be exactly 18 years since that 5-pound, 5.2-ounce baby boy was born.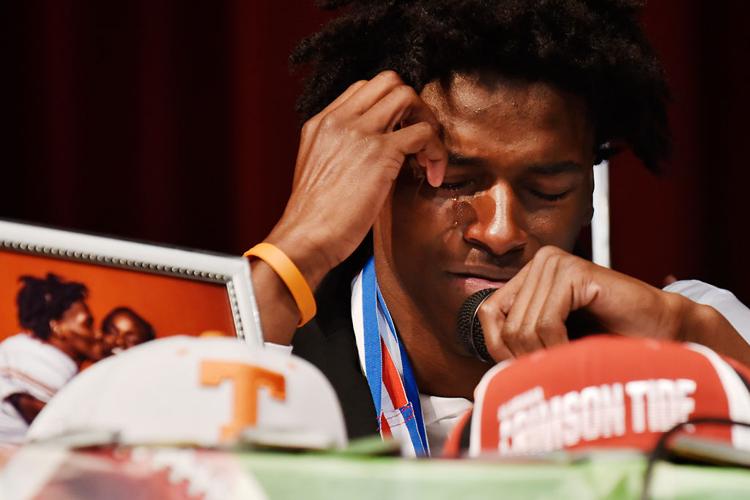 Like he was for his mother in West Dallas, Rakestraw's arrival in Columbia will be a gift for Eliah Drinkwitz, too.
Inside the Missouri football complex on Feb. 5, National Signing Day, Drinkwitz watched the livestream of Rakestraw's signing ceremony on his iPhone. Deciding among his final three, Rakestraw first picked up a University of Texas hat, but flipped it to his right. Then, he moved an Alabama hat to his left.
And as he shouted "Mizzou" and picked up the Missouri hat, Drinkwitz yelled "Oh my God!" He slapped the table in front of him with both hands and raced down the hallway, hugging every coach he could find. The moment, captured on video by Mizzou Athletics, went viral and made its way to Shamika and Ennis.
"That reaction made me feel a sigh of relief that I made the right decision," Rakestraw said. "Ain't too many coaches are going to be that excited over a player."
---
With 42,363 fans watching at AT&T Stadium and thousands more at home, Duncanville High School was three seconds away from its first Texas state football championship since 1998.
Protecting a 36-35 lead with three seconds to play, Duncanville needed only to prevent a Hail Mary to win the battle of football powerhouses. North Shore quarterback Dematrius Davis, an Auburn commit, lofted a pass 45 yards to the back-right corner of the end zone. It was pulled down by a North Shore receiver as time expired.
Rakestraw, then a junior cornerback, was sandwiched between a pile of leaping bodies on the play. He will never forget that moment.
"That still messes with me to this day," Rakestraw said. "If you turn on Texas football, it's like the preview (of high school football). No matter how old I get, by living in Texas, I'll never forget that play."
Prior to his senior year, Rakestraw told his coaches that he wanted to switch jersey numbers, from 22 to 2. It was a way to hold himself accountable for the state championship loss a year earlier. He was giving himself a strike by removing a number, he said.
"(The coaches were) like, 'That's a strong statement and a strong reason to change your number,'" Rakestraw said. "I'm (going to) make my name known in 2."
And make a statement he did.
Duncanville defensive coordinator John Towels, now the Clear Brook High School head coach, said Rakestraw was often overshadowed in the secondary in high school. Stacy Brown (about to start his sophomore season at Missouri), Tre'shon Devones (about to start his sophomore season at Rice) and Auburn commit Chris Thompson Jr. all played alongside him.
High-profile coaches came in and out of Duncanville frequently to look for talent, but never, it seemed, to meet with Rakestraw. Even as his high school coaches kept mentioning his name, colleges disregarded him, worried about his size.
Entering his senior season, Rakestraw had zero Power 5 offers and was unranked on Rivals.
"The biggest thing about Ennis is that he's one of those kids (who) wants to overcome everything," Towels said. "If you say he can't do it, he's going to show you that he can do it better than anybody else."
His first major test as a senior came against consensus five-star recruit and Maryland signee Rakim Jarrett. Rakestraw held him to five catches for 36 yards.
Two weeks later, Duncanville shut out Skyline High School and Rakestraw limited the No. 23 player in the country, Quaydarius Davis, a Southern Cal commit, to two yards receiving.
"He took it upon himself to say, 'Alright, all these receivers have big time offers. They have all these stars. Every time I play one, I'm going to make my case,'" Towels said.
But despite those performances, most Power 5 schools still weren't interested. However, with a little lobbying from Brown, his former teammate now at MU, Rakestraw found his way on to Missouri's radar.
"I told coach (David) Gibbs, 'I got a corner that's better than any corner you're recruiting as of right now,'" Brown said.
Missouri offered Rakestraw on October 18, two months before any other Power 5 school did. Rakestraw didn't commit immediately, but he pinned a tweet announcing his offer to his profile and never took it down.
"When you really listen and talk to him, he's about loyalty, he's about trust and he's about family," Towels said. "When people were overlooking him and he was going unnoticed, Missouri was always there."
---
When the year was over, Rakestraw hadn't allowed a touchdown the entire season and earned Defensive Player of the Year honors from the Dallas Morning News. He capped it by holding Jaxon Smith-Njigba, an Ohio State signee, to 37 yards in the state semifinals; Smith-Njigba needed 59 yards to break the state record.
As Rakestraw's statement performances continued against the state's top talent, he became one of the most coveted prospects in the country. In a span of two weeks at the end of December and the start of January, he nabbed offers from Michigan State, Baylor, Miami, South Carolina, Georgia, Arkansas, Alabama and Texas.
"It became so overwhelming," Jones said. "I wanted to go see the campus. I wanted to get a feel for the people. When the offers started to come so rapidly at the end, (there was) not enough body parts to make sure we (could) go to the campus."
Rakestraw narrowed his top three choices down to Alabama (his dream school growing up), Texas and Missouri. He took official visits to those three over the three weeks before the Feb. 5 signing day. He also got an in-home visit from a notable coach: Nick Saban.
"Some kids, Alabama and Nick Saban come to your house and dance with your mom in the living room, that's a big deal," Towels said. "It's also the 12th inning and Ennis is the type of kid, 'Where were you (in the) first through the 11th inning when nobody wanted me?'"
Still, heading into signing day, Jones didn't know where her son was going. Neither did Drinkwitz, who last spoke with the family at 9 the previous night. So the livestream of the commitment announcement was suspenseful in the Missouri football complex.
SEC_Far_West: RT DMNGregRiddle: Duncanville star cornerback Ennis Rakestraw Jr. announces that he will sign with Missouri.#txhsfb SportsDayHS Rivals 247Sports dctf ihss_dfw Duncanville_Fb DuncanvilleISD EnnisRakestraw MizzouFootball pic.twitter.com/FwA7kOMRti

— MIZZOU-SEC (@MIZZOU_SEC) February 6, 2020
"Either I'm a heck of an actor or I was totally shocked," Drinkwitz said about his reaction. "I knew we had a great relationship. He had given us an indication that he was going to come here, but we hadn't heard from him in a few hours. I was not sure at all."
Up until 10 minutes before the ceremony, Rakestraw was planning to sign with Alabama, he said. But something wasn't sitting right.
"It felt like Missouri was the place for me and Alabama was my dream school and all, but I already had a relationship and trust with them," Rakestraw said.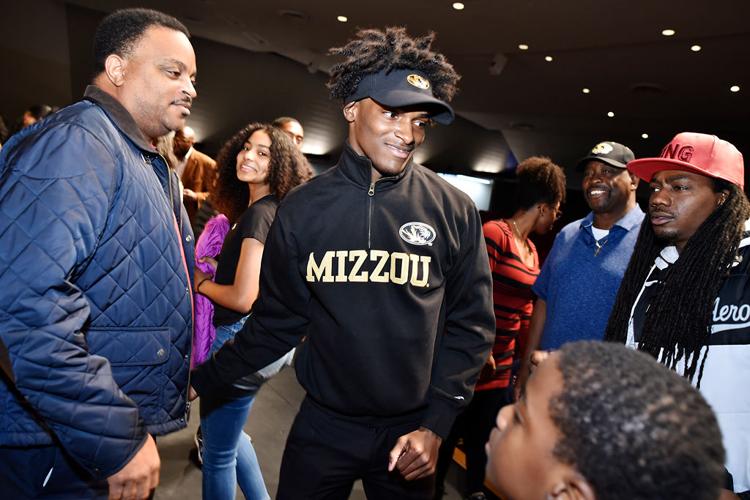 Rakestraw wasn't born with a pigskin tucked under his right arm. Football wasn't even on Jones's radar until she met her husband, Walter Quigley Jr., when Rakestraw was three years old. Quigley was the one who ran drills with Rakestraw in the yard and pushed him in the Pop Warner league.
"He would be the step-dad right on the sideline saying 'Ennis, jam him!'" Jones said. "He was coaching with the coach."
It was then that Rakestraw first realized he had to outwork everybody because of his small frame. Jones said that at times, her son wanted to quit, but he always played with a chip on his shoulder.
"Everybody that says you can't do it, every time you touch the field, we're gonna make sure they know who you are," Jones said. "Every time he would get on the field, he had a heart of a giant. That's one thing that I admire about him."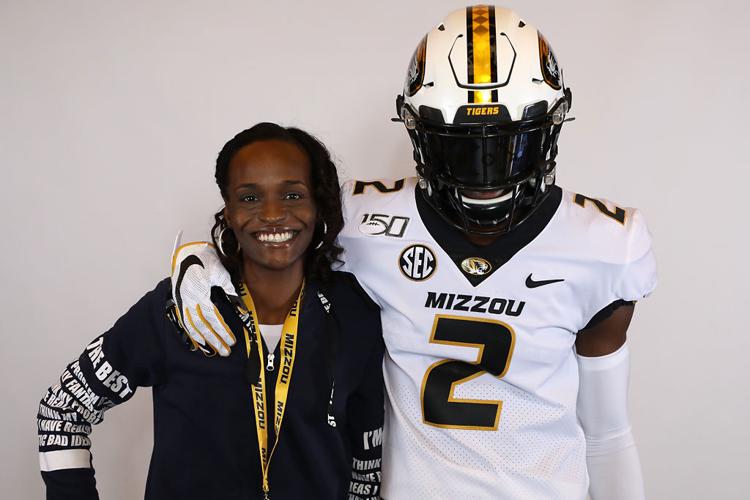 For Rakestraw, choosing Missouri was about who stuck with him and believed in him. And he wants to be a model for his younger siblings, so they'll learn what to do when somebody tells them they can't make it.
But most of all, he wants whatever success he achieves to be for his mother, who learned those lessons herself through her relationship with him.
"I feel like I messed up my mom's college career," Rakestraw said. "I made a promise to myself that I'm going to get to college for free. She ain't going to have to worry about trying to help me out with student loans or debt.
"That's why I got up every time."