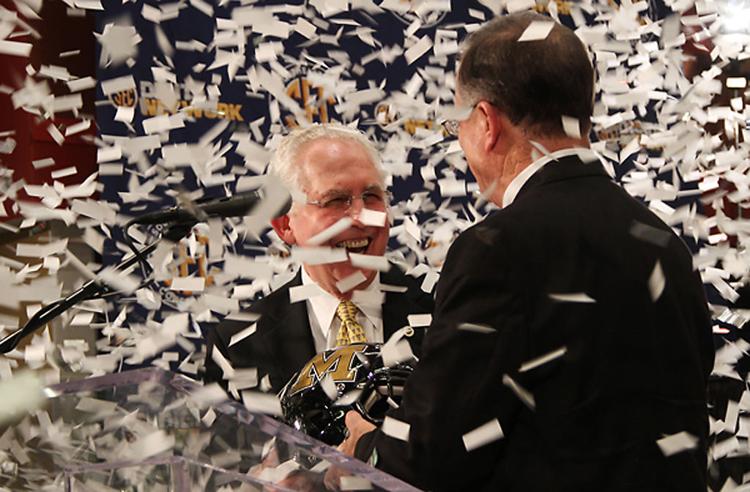 EDITOR'S NOTE: Some of the best sports journalists in the nation started their careers on the pages of the Columbia Missourian. To recognize and celebrate that legacy, we asked a number of notable alums to contribute an account of their favorite sports memory from their time at the Missourian. "First Pitches" is an occasional series written by the sportswriting progeny of the Missouri School of Journalism. This installment is from Harry Plumer, Class of 2012, now a Senior Software Engineer in Salt Lake City.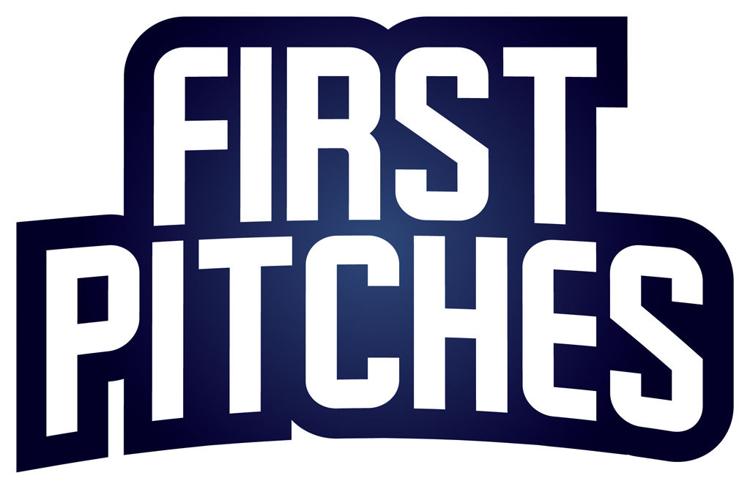 I woke to cat paws on my face.
I looked at my cell phone. It was 5 a.m. Sunday, November 6, 2011, the day Missouri would officially join the Southeastern Conference.
But I didn't know that yet. At that point, I was more concerned with why Eloise the cat had felt the need to cut short my brief snooze.
I was in Dallas, on the couch of former Missourian reporter Joan Niesen. Hours earlier, I had covered a Baylor torching of Missouri football in Waco. Eventual Heisman Trophy winner Robert Griffin III had roughly a billion yards of offense in that game — or at least it seemed that way.
I'd end up thanking Eloise later, but at the time, after 10 long days in Texas, I wanted the extra couple hours of sleep.
I hadn't slept much since August.
When my tenure as a football reporter at The Missourian began, I thought I had signed up to cover a college team for a season. Instead, I found myself covering a conference realignment inferno that would ultimately change the sport of college football forever.
As Missouri was bolting the Big 12, I learned to pivot.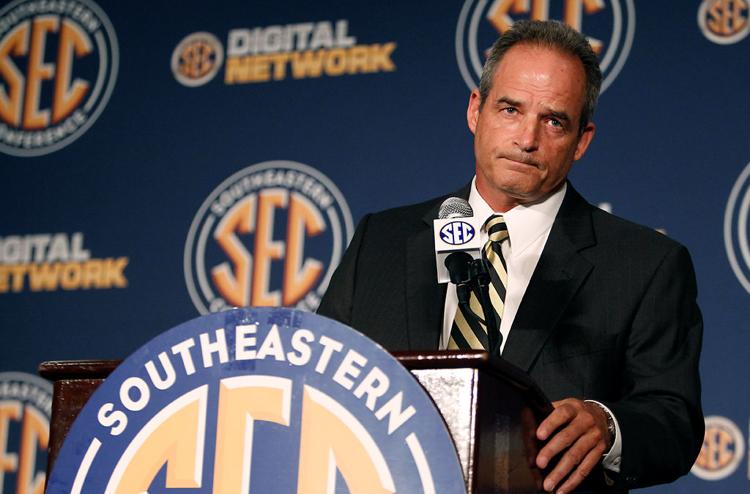 In the midst of a football season that will be remembered far more for what happened off the field than on it, I had managed to convince both my editors that it made sense for me to stay in Texas between back-to-back Missouri road games at Texas A&M and Baylor to report on various news and feature topics.
The road was always where I did my best work, and those 10 days were no exception. I talked my way into a full-hour one-on-one interview with Texas Athletic Director DeLoss Dodds, who was Big 12 Public Enemy No. 1 during the realignment saga. I spent a day with a Missouri player's family in Houston's roughest neighborhood. I kept an undersized St. Louis fan (I don't think Joan, Eloise's owner, will argue with that description) alive in a Dallas bar during the Cardinals' dramatic World Series Game 6 comeback against the Rangers. I banked hours of interviews with high school coaches across Texas to learn just how Gary Pinkel had revived the Missouri program by infiltrating the state. I listened to ZZ Top's "La Grange" while driving through La Grange, Texas. I subsisted solely on PB&J and gas station hot dogs for the back half of the trip after blowing my food budget on Lone Star beer instead of Lone Star steakhouse. And I survived both a bedbug-infested motel in Bryan, Texas, and an honest-to-god earthquake post-game in Waco.
I'd had the time of my life.
But even at 22, I was exhausted, and that morning, I was staring a 600-mile solo drive back to Columbia straight in the face. My displeasure with the cat-paw wake-up call was palpable, but I decided to get up and start heading back anyway.
I crept around the sleeping bodies of my beat-mates Andrew Wagaman and Vinnie Duber, who were strewn about on sections of Joan's living room floor because hotels were not an option for this or any Missourian crew as far as I knew when there was a free alternative available.
Without saying goodbye, I left, and I was about three hours and two cups of coffee into the drive, just outside of Muskogee, Oklahoma, when I got the text.
I knew what it meant. After weeks of speculation about Missouri moving to the SEC, this would be the day of the official announcement. There would be a press conference that afternoon at the Missouri Student Center. The band would play a song and the cheerleaders would do a dance and most importantly for me, the whole realignment song-and-dance would finally reach its inevitable conclusion.
Except I was still 350 miles away.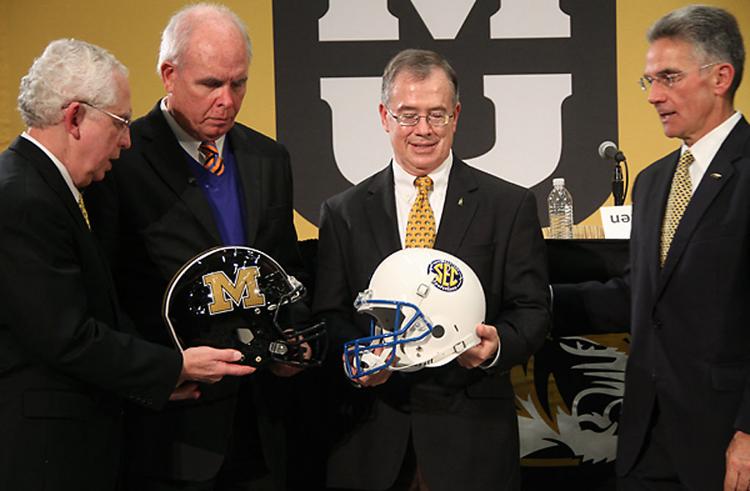 I punched the accelerator of my Ford Fusion. I had endured hours of Board of Curators meetings, spent endless time researching the byzantine financial details of conference TV contracts and laid awake hour after hour, night after night, wondering if the next day would be the day we all finally got answers.
Now the next day was here. I wasn't going to miss it.
The Oklahoma State Police apparently had other ideas.
I was stopped in Muskogee going far, far too fast. The trooper came to the window and asked me, "Where in the hell you have to be in such a hurry?" on a Sunday morning.
I told him the truth. I told him Missouri was going to the SEC, and I was a reporter, and I simply could not miss the press conference — but I would really miss playing Oklahoma and Oklahoma State every year.
He laughed and looked at his watch.
"Drive the speed limit; you should make it back in time," he said, handing me my license and no ticket.
We'll never know if he was right. I made it back. How fast I went is between me and the gods of I-44.
Which is all well and good, except I'm not in journalism anymore. I haven't been for a long time. The awards are sitting in a box somewhere with pictures of ex-girlfriends and ticket stubs from games long forgotten.
At the time, like I imagine a lot of folks in their early 20s did, I thought that was the point of this: Win awards, get the diploma, land a good job, move to a bigger market, get more eyeballs on the words you're writing.
And like I imagine a lot folks in their early 30s do, now I realize that none of that was what mattered.
Sometimes you learn more from the drive than the destination.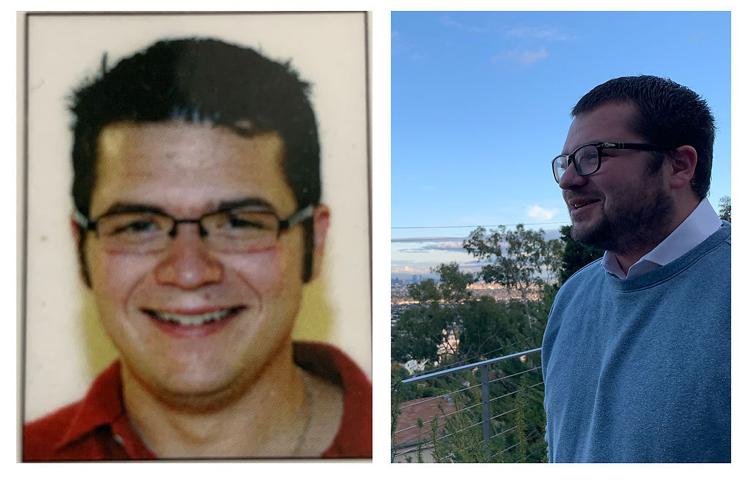 After graduating from Mizzou in 2012, Harry had a brief career in sports journalism at the Springfield (MA) Republican. After leaving the field, Harry ran operations for a small company that conducted ice hockey schools across the U.S., Canada and Europe before deciding on a career in software engineering. He currently serves as a Senior Software Engineer for Aumni, Inc., an investment analytics software company, in Salt Lake City, Utah.