The updates came after every practice.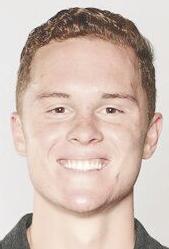 "Today went solid," or, "Today went good," Brady Cook's mother, Amy Cook said, recalling text messages from her son. The entire family was hopeful — they'd seen the hard work he was putting in — one of the messages would deliver the words they wanted to see.
And then, Saturday morning, one message, two words arrived in the family group chat. Two words they'd all been wishing, hoping to see.
Eliah Drinkwitz made the announcement Tuesday that Cook would be Missouri's starting quarterback. Cook found out and let his family know with a succinct message three days earlier.
Fast forward to Wednesday.
Cook's family is staying an errant field goal attempt away from Amon G. Carter Stadium in Fort Worth, Texas — the site the Chaminade grad will make his first Missouri start.
From the front garden of their AirBnB, you can see the west stands. From the street leading away from the stadium and toward the house, you can see his cousins throwing around a football and his family waiting nervously, excitedly — many in No. 12-emblazoned Cook jerseys — for the game to start.
About 30 of Cook's family and friends have traveled for the game. They were always coming, but they had been crossing their fingers that their journey was accompanied by a start.
Then the trip really became worth it.
"It makes me feel good that he just really legitimized that he had earned it," Amy Cook said. "We feel like he's been earning it for two years, but for the last two weeks at least he said he earned it in every way."
"He's put in so much work and so much time, it felt like he needed this start for himself," Brady's father, Jim Cook, said. "It's neat to see someone go through the process of putting the work in and then getting rewarded for that."
The quarterback competition opened up after the Arkansas game. Missouri coach Eliah Drinkwitz said the player that earned it would start in the bowl game.
Some Missouri fans had been calling for a change for a while.
None more so than self-proclaimed No. 1 Missouri fan Brian Garner.
Brady Cook has signed Garner's prosthetic leg, just like many other Missouri athletes. He watches every game, loves the program with every ounce of his being. It didn't matter if the bowl game was on Christmas Day in Guam, he said, he was going to be there.
No matter the time or location, Cook was who he wanted to see under center.
"The other night, I get a call from Matt (Brady's) uncle, Sunday night — 'Brady's starting.' After I dropped a couple F-bombs, I said, 'Are you kidding me?'" Garner said. … "I was thrilled to death. When I got off the phone I teared up a little bit."
The process has been long, and updates have been sporadic. Jim Cook hasn't seen Brady in weeks — their only communication has been over the phone.
Other than little periods of frustration, Amy Cook said Brady has avoided getting stressed about it.
Now that the announcement has been made, they see something different.
Many of his family and friends reiterated the same thing: This is what he's trained his entire life for.
"I feel great. I feel so excited for him, I'm so proud of him," Brady's girlfriend, Carli Schieferle, said. "He's been working for this his whole life, so I know that I trust him, I have nothing to worry about, I know he's going to show everyone that he's great, what he's capable of. I'm so proud of him."
Brady Cook's family and friends have seen him play out his lifelong dream of wearing the Tigers uniform. He's done that on the field four times this season.
But this time is different. This is the first time it will come on Missouri's first snap. This is the first time he'll lead the Tigers on to the field.
"He's getting to start, and it's his game. It's a lot different than going in in the fourth quarter," Ben Paige, Brady Cook's brother in law, said. "Even like at Georgia, swapping time, it's hard to settle in as a quarterback if you don't get to just play the full game."
"We've all been visualizing this for a long, long time," Alex Cook said. "We all knew it would happen, so it will just be cool to see it in real life."
Part of what won him the gig are his preparation and his dedication. According to Paige, he's even prepared for his celebration after his first touchdown — both passing and rushing.
If it's through the air, expect a dance. Paige mimicked it, but no words could do his rendition justice. If he runs one in, Brady Cook will apparently flex his arms out in front of his torso.
But through the fun, the excitement of preparing for a start in Missouri's season finale, there's also some anxiety.
He texted the family group chat again Wednesday morning. He told them he was experiencing some butterflies ahead of the game, that he was nervous.
"I always had a mentor that told me whenever you're experiencing butterflies, that means something good is about to happen," Paige said. "We were just telling him that this morning. That means something good is about to happen."
It's always been Missouri for Brady Cook. His father remembers his gold bed sheets. He told his coaches he wanted to play for Missouri in ninth grade.
They don't want to add any extra pressure on him ahead of the game, so the pregame advice has been simple, supportive.
"Obviously, have fun," Jim Cook said he told his son over text. … "I always tell him, 'Hey, take a couple deep breaths and just let the game flow.' That was all I said to him. That was it, and just, 'Love you.'"