Three different jerseys, three different pairs of pants, seemingly countless variations on helmets ... Missouri's equipment staff has a glut of combinations to work with when it chooses a football uniform for the Tigers each week.
And work with them they have this season.
Headed into the regular season finale with Arkansas on Friday afternoon, Missouri has yet to repeat a uniform through the first 11 games in 2018. In contrast to some of college football's perennial superpowers such as Alabama, Texas or Michigan, who seem to stick to traditional uniform sets from one game to the next, Missouri has been changing things up at every opportunity this fall.
Some of the combinations, like Missouri's black-and-gold or all-black ensembles, have more or less stayed traditional. Others, like the all-gold look for the Georgia game or any of the all-white uniforms, have taken a step outside the box. What's the week-to-week method to that selection-process madness? Hard to know. The football program did not make its equipment staff available for this story, despite several requests.
An athletic department spokesperson, though, explained that the motivation behind the rotating uniforms is, among other factors, to "enhance recruiting and the brand (of the program) to a large degree." Rolled out via social media to much fanfare at 10 a.m. on the dot each Friday morning, fan reaction to the uniforms has been mixed.
That's how branding experts think. But what do the fashion experts think? The Missourian wanted to know. So we asked.
Tom Scott is an associate professor at New York City's internationally-acclaimed Fashion Institute of Technology. In over 20 years in the world of fashion, Scott has worked for and consulted with a number of companies, including Ralph Lauren, where he designed his own women's wear collection. He now teaches Fashion Design at FIT, and continues to produce his own line of clothing out of his studio in Brooklyn, New York.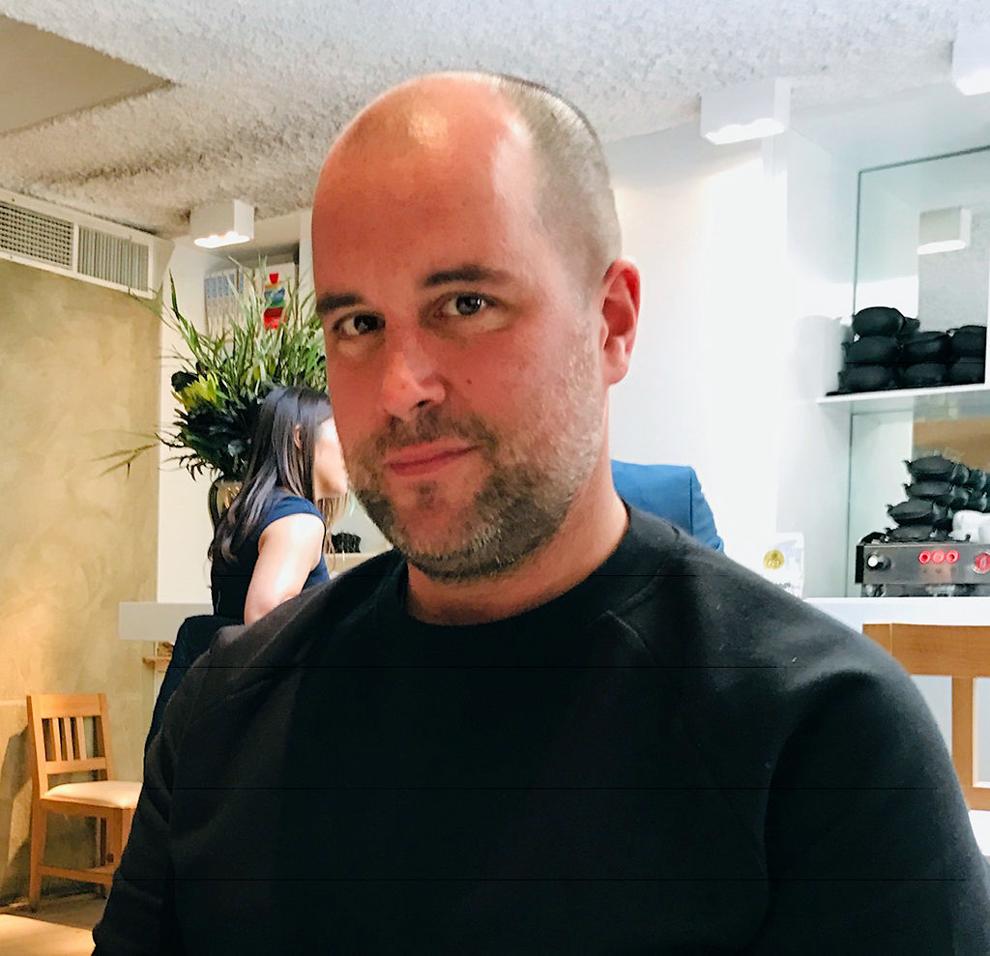 With 11 games in the books, and thus 11 uniform combinations out there, the Missourian spoke with Scott to get an aficionado's perspective on what worked and didn't work, what matched and what clashed, and to find out what Missouri could, or should, have done differently with each of its highly publicized 2018 uniforms.
09/01/2018 — UT-Martin
Missouri opened the 2018 season with a traditional look, going with a black jersey, gold pants and a black helmet featuring the standard oval "tiger head" logo.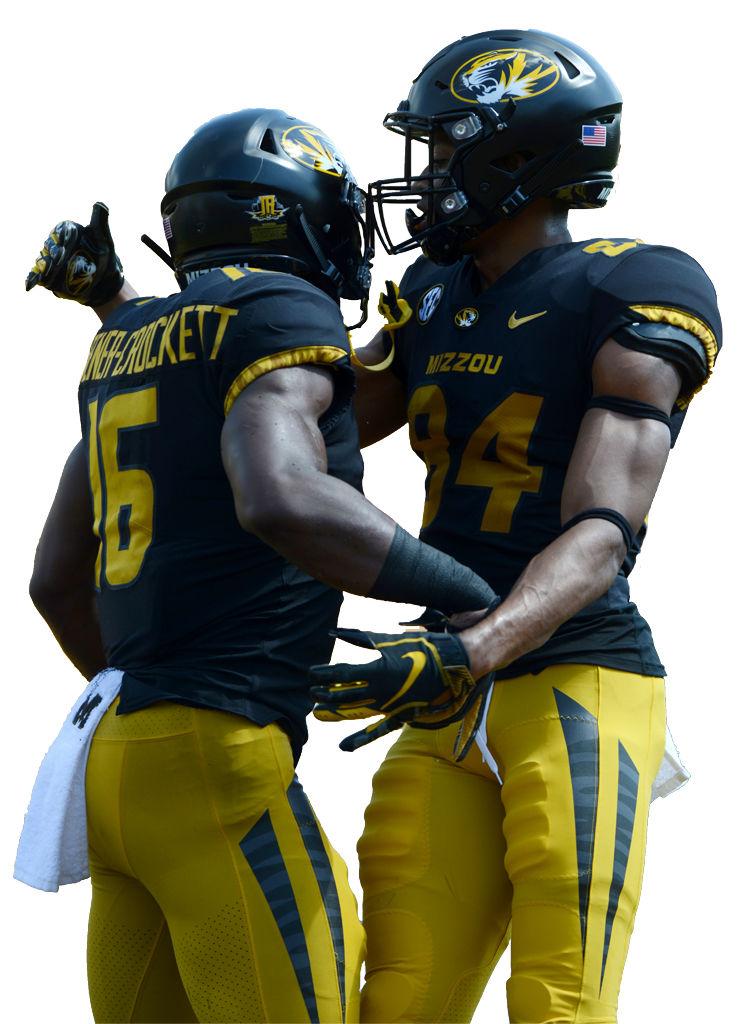 Tom Scott's take: "I think the black and gold, two-tone look is strong. It has nice variation. It's kind of like a bumble-bee combination. I think this one feels very classic. The tiger print is nice, but I imagined they would be more flashy. It's definitely well-coordinated, though."
09/08/2019 — Wyoming
The all-back uniform was a favorite of the Tigers this fall. They first broke it out in Week 2 in a 40-13 win over Wyoming.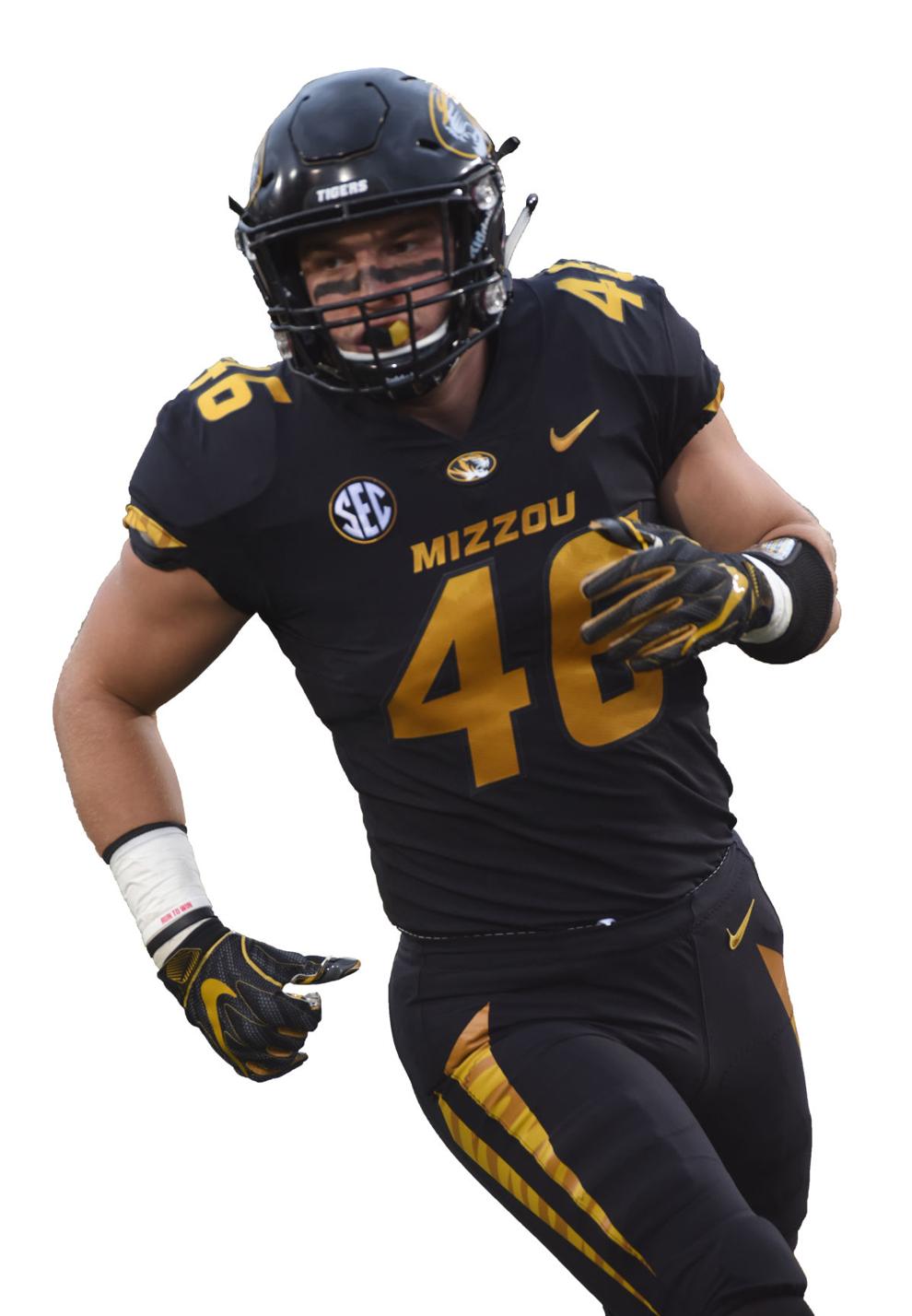 Tom Scott's take: "I really like the all-black. It gives off a very menacing and scary feel. I always like the matchy-matchy combination. The all-black makes the bold, gold lettering really pop. These feel very modern. I notice the little bands and sleeves they wear. Those are all really cool. But I think if those had some more color, they would bring something more to the uniform."
09/15/2018 — Purdue
Week 3 delivered the first 2018 appearance of the Stormtrooper uniforms, as Missouri opted for the white helmet featuring the oval "tiger head" logo on top of an all-white jersey/pants combination.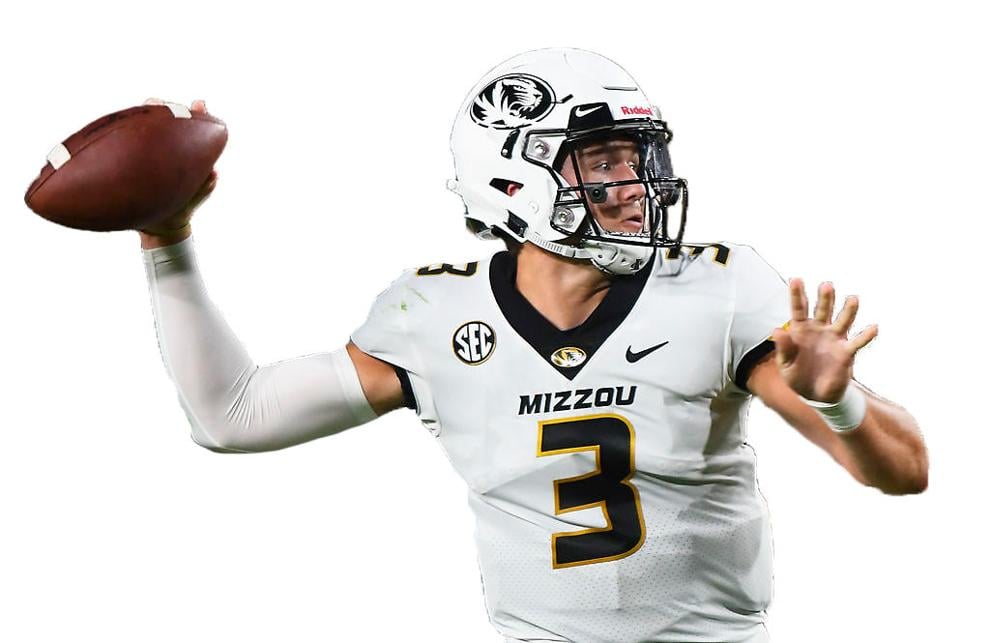 Tom Scott's take: "I like the all-white uniform, but it does feel a bit ordinary. I don't mind that it's all tonal (single tone), but I think the darker colors make more of an impact. The trim around the numbers kind of falls in a bit. It doesn't feel so 'present.' It could have been a bit brighter or bigger. Little things like a more pronounced trim or colorful armbands would have accented the overall uniform. That would have made things really pop."
09/22/2018 — Georgia
Missouri's brightest look came in its SEC opener against Georgia in Week 4 with all-gold uniforms featuring an alternate logo on the helmet.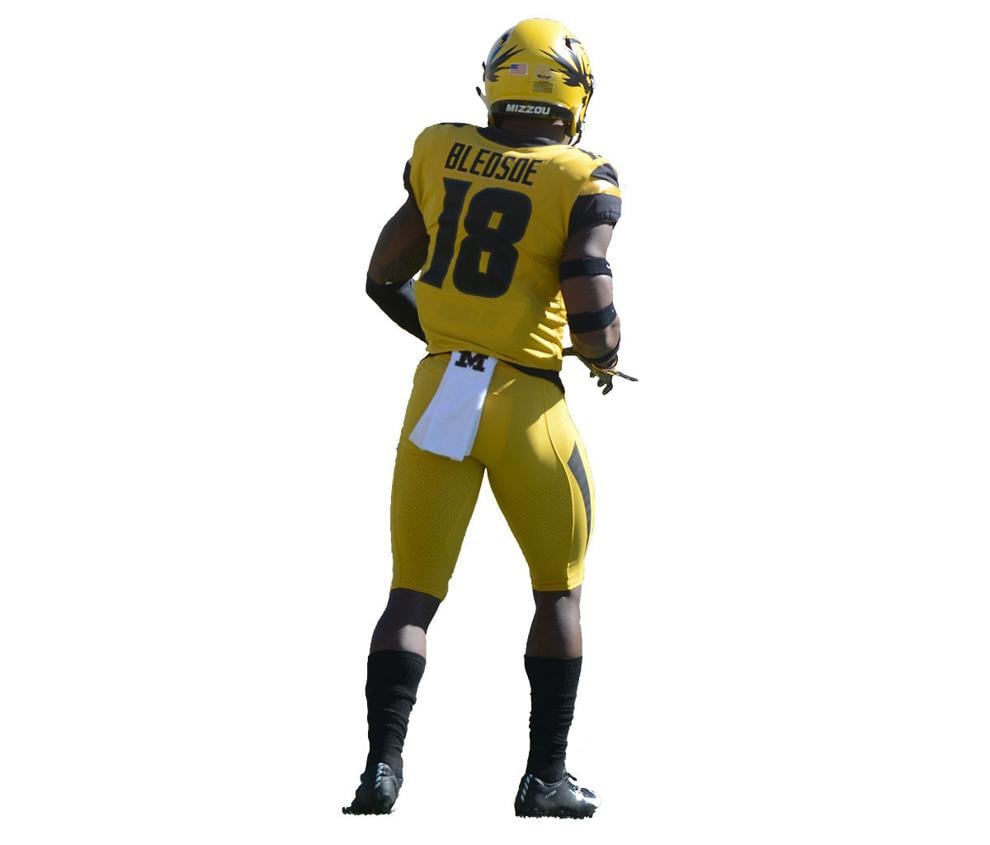 Tom Scott's take: "The yellow outfits are cool. Again, I like the single-tone look. I like that the yellow kind of matches everything out there, like the field goal posts and paint on the field. This helmet is much more bold; some of the other ones they wear are very traditional. These ones with the big logo are a bit bolder and cooler. If you're going to make a statement, make a statement. Go for it. It's nice that this one is not so traditional."
10/06/2018 — South Carolina
The Tigers had their white helmets on again for the monsoon at South Carolina, employing the alternate helmet logo for a second straight week to go with a black and white ensemble.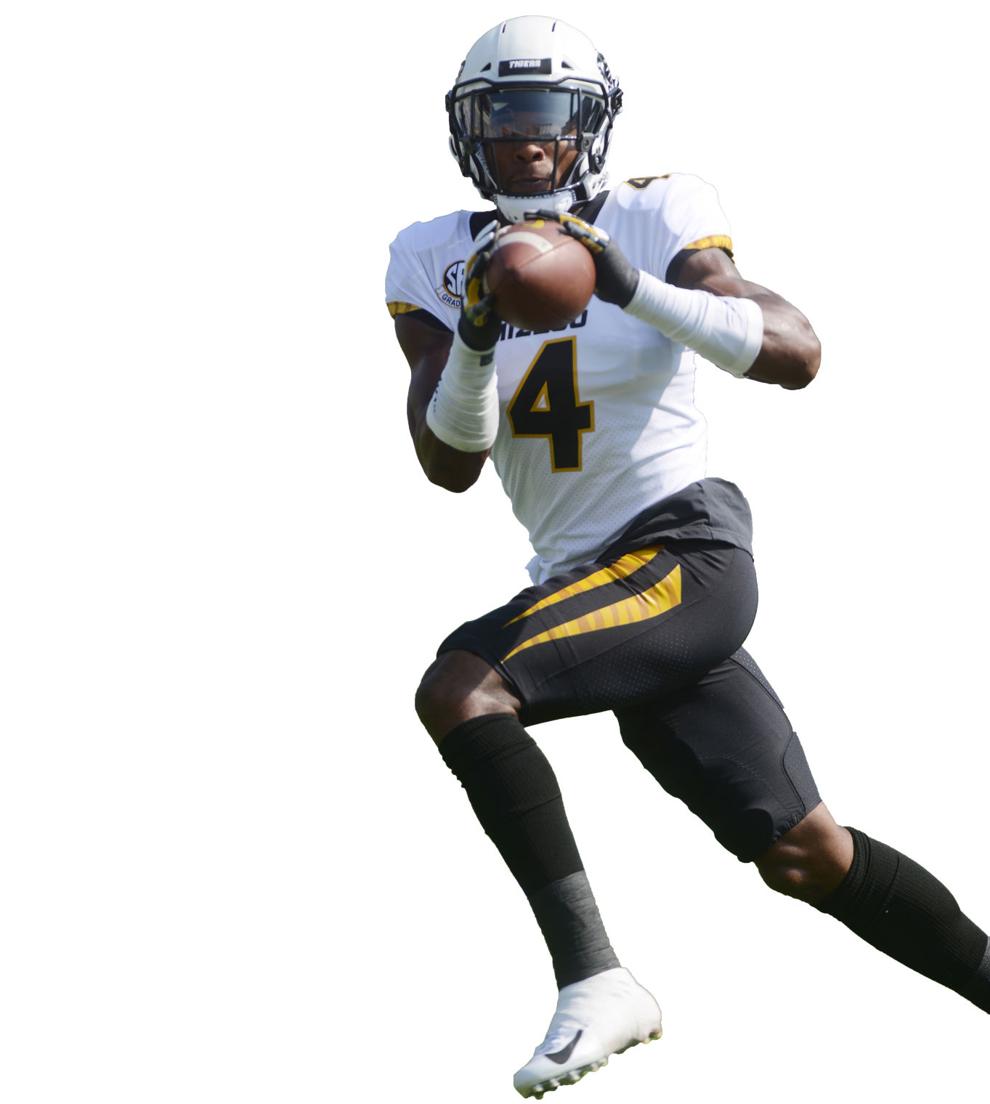 Tom Scott's take: "This again is a bit more of a traditional combination. I really like this helmet design again — it's such a bolder look — and the black pants here add some life to the uniform that wasn't there against Purdue. It's funny. If you look at the pants just on their own, they don't look like they'd be football clothes. They look almost like women's workout pants with the animal print on the side. But I think they really work with this uniform; it's more playful than some of the other ones."
10/13/2018 — Alabama
Some fans loved these uniforms, others thought they were watching the LSU Tigers rather the ones from Missouri in Week 7. Our take: Easily the most daring of the Tigers' uniforms in 2018, the white jersey sandwiched in between gold pants and a gold helmet might best be characterized as "a look."
Tom Scott's take: "This one is sort of throwing a lot at you, but none of it is interesting. I like that the helmet is something different and it's very vibrant. But the yellow on top and on bottom makes everything look a bit framed with the white in the middle. If you walked out the door in an outfit like this, I'd probably question your fashion choice. I think it would have looked cooler if they'd worn white helmets. If they'd done that, the yellow pants would have made more of a statement."
10/20/2018 — Memphis
The "Block M" made its first appearance of 2018, paired with an all-black combination on Homecoming Saturday in a 65-33 win over Memphis.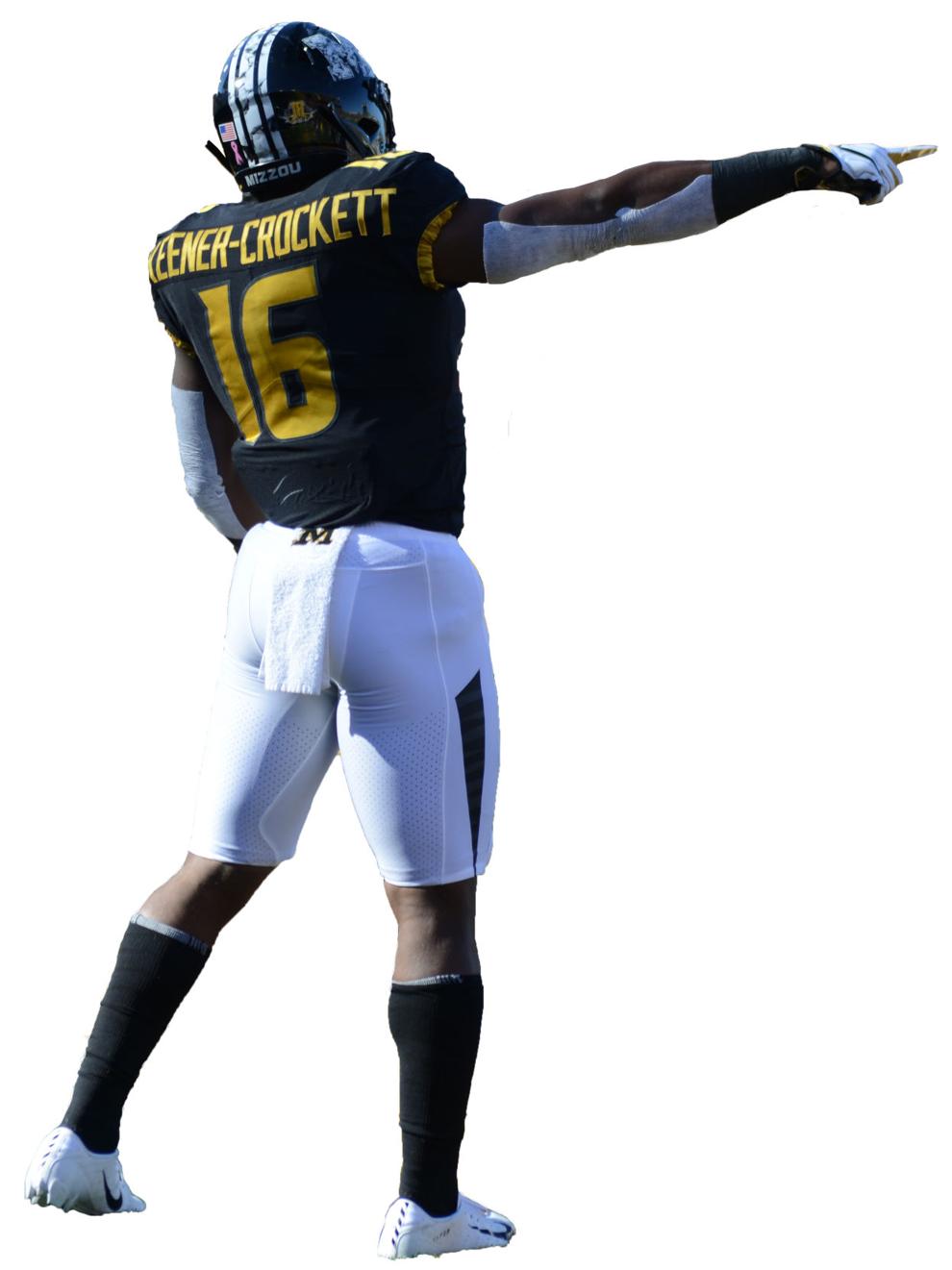 Tom Scott's take: "The design on the helmet looks like something you'd find on an old t-shirt, and the rest of the uniform is very modern. It's like antique and modern mixed together. It doesn't work. It would have made sense to somehow make the uniforms look more subdued, so the real focus was the helmet. That would make you pay more attention to the helmet. This has a lot of combinations going on."
10/27/2018 — Kentucky
Wearing all-black again against Kentucky, the Tigers spiced up their uniforms in Week 9 with an animal-print stripe over the top of the black helmet.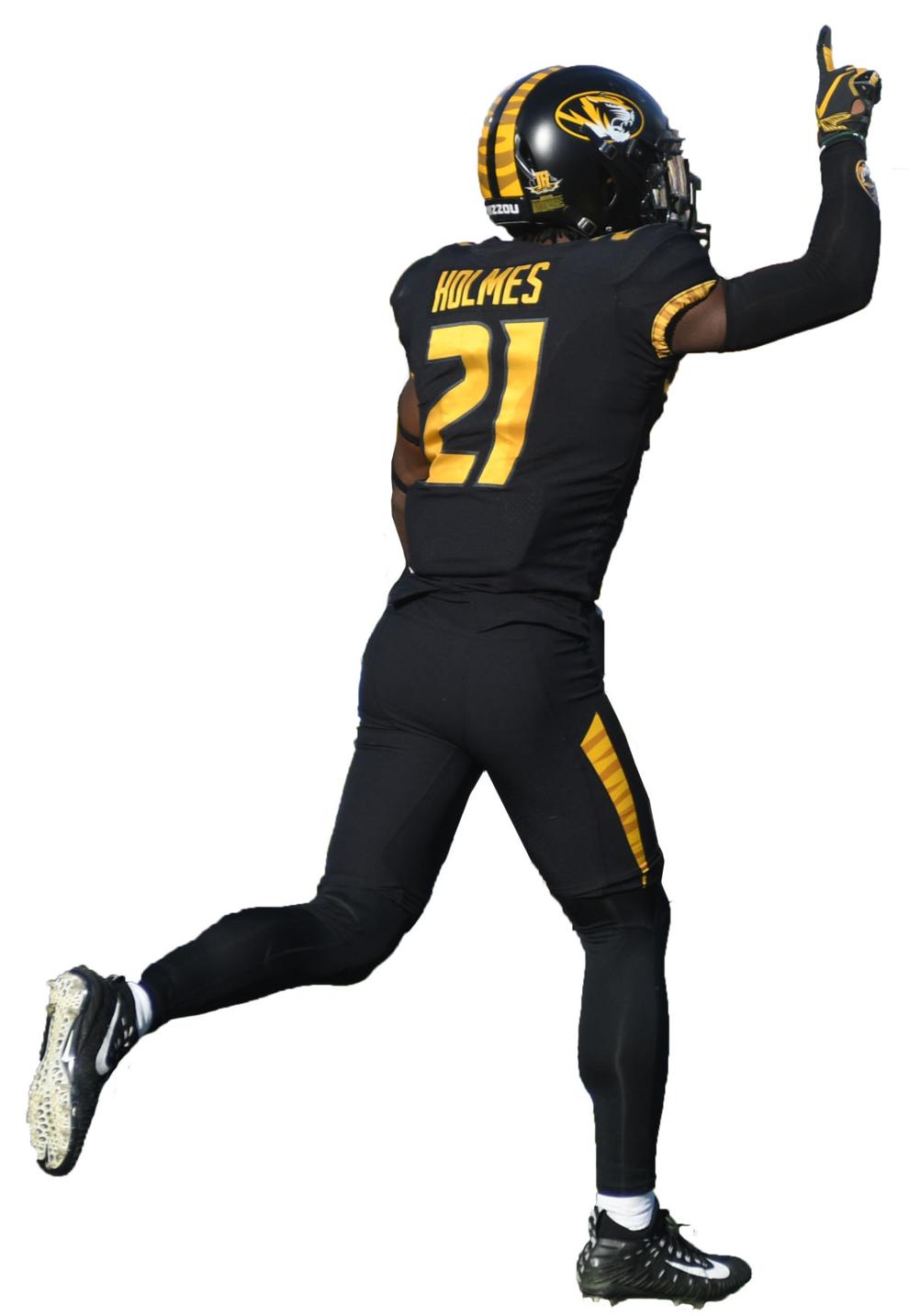 Tom Scott's take: "I love the all-black combination again. The players just look cool. I look at them and what they have on, and think they look cool. With all the matching arm bands and accessories, they all look super fab. The animal-print stripes adds another dimension, which I like. Having it there with the oval logo kind of has a lot going on all at once. In the fashion world, we would call something like that, 'taking it a bit too far.' But overall, I like the stripe; it adds to that sort of intimidating look of the whole uniform."
11/03/2018 — Florida
The Tigers shook off a rough loss to Kentucky a week later at Florida while wearing an all-white ensemble featuring a gold logo emblazoned on the helmet.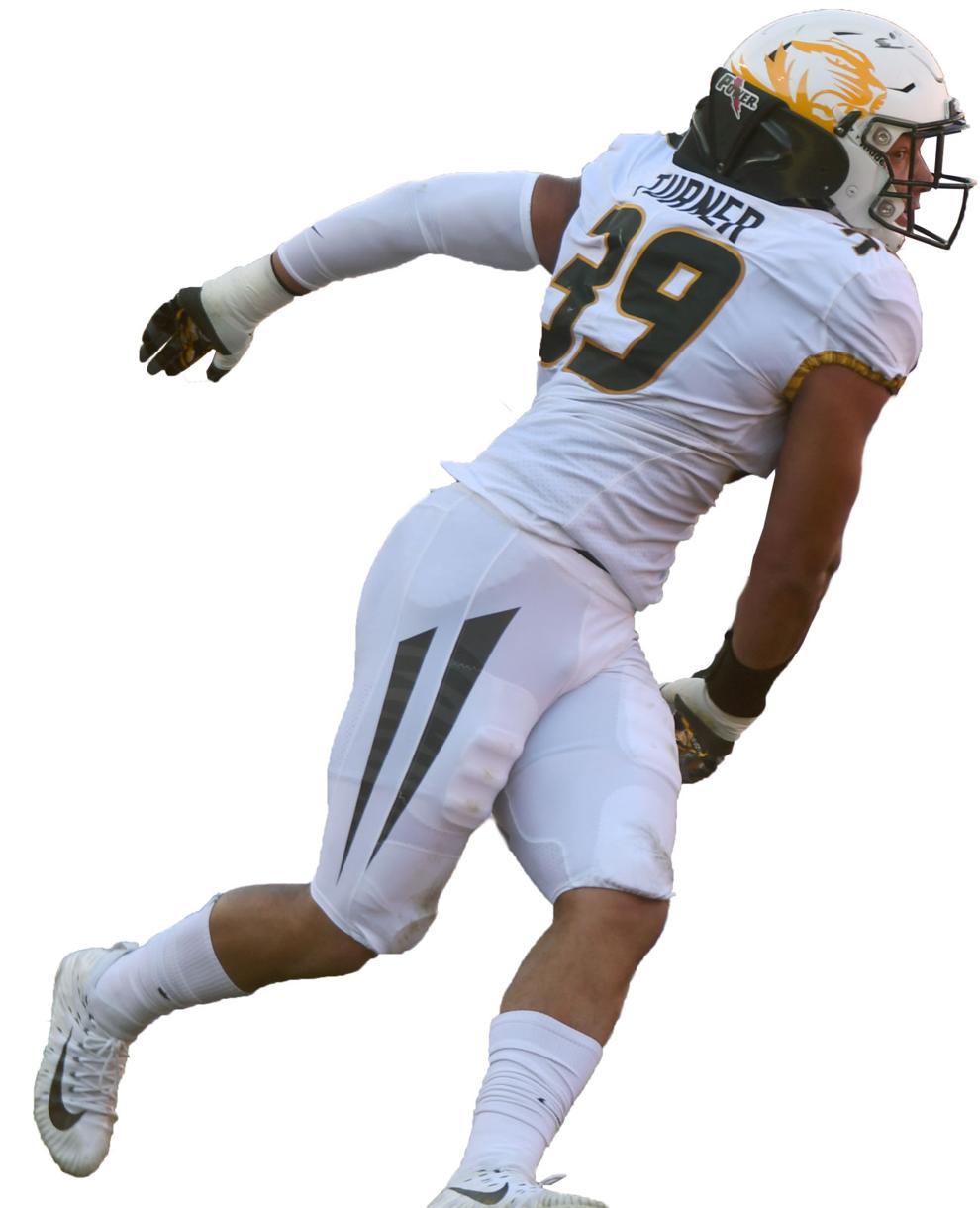 Tom Scott's take: "I didn't like the first few white uniforms, but this one looks cool. It's all one tone, and then you have that accent on the helmet. It makes more of an impact that way. That yellow up top changes everything. It'd help if the piping on the sleeve was just a little bit bigger and more pronounced. It kind of gets lost there. I love all this cat-print on the uniforms."
11/10/2018 — Vanderbilt
Missouri's tribute for Veterans Day in Week 11 included names of fallen soldiers on the backs of jerseys, and the helmets featured a depiction of the service medal awarded to the families of Missourians who lost their lives in World War I — all  to go with an all-black uniform.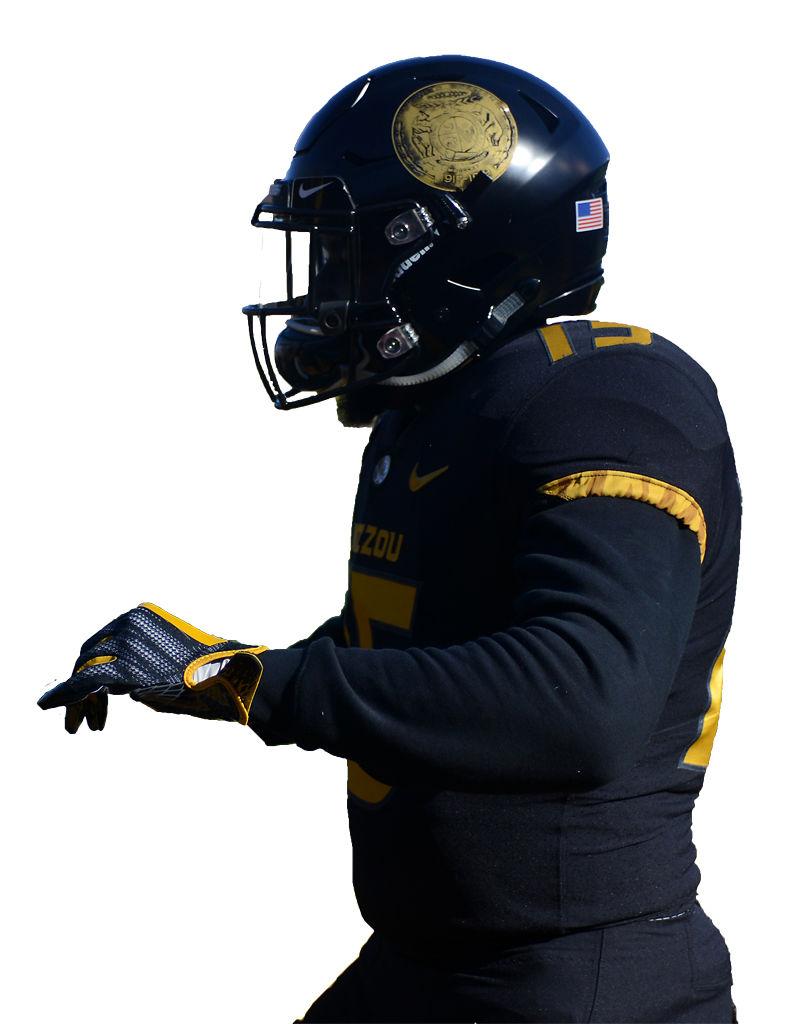 Tom Scott's take: "They did a much better job incorporating a new logo this time. It's not as over the top. It's much more subtle. It has a presence without being overpowering. I don't see it clashing or anything. I think they need to keep working with graphic looks like these and keep pushing that. There's so much going on out there on the field — you've got another team and their uniforms, the referees, the paint on the field — so if they come out with graphic uniforms, they'll stand out a whole lot more. That's how you make an impact."
11/17/2018 — Tennessee
Returning to the all-white look for the final road game of the season, the Tigers added a retro component with the addition of the "Block M" on the white helmet.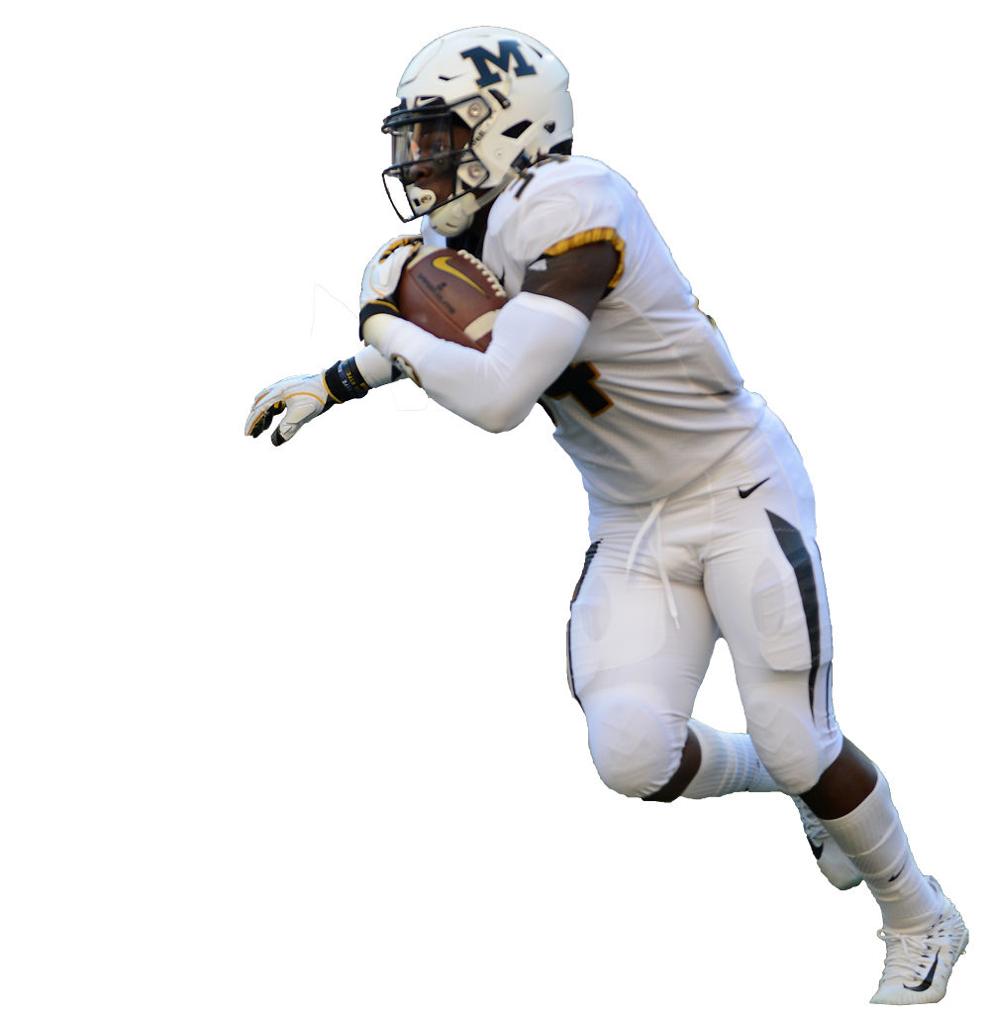 Tom Scott's take: "Without a ton of color, this one seems a little plain, like some of other white uniforms. I like this Block M on the helmet a lot more than the antiquey one they used against Memphis. I see the animal print again on the sleeve. If they had it somewhere else, too, there would be a little bit more going on. It would look super cool if there was something bright and graphic on the white uniform. This one left me wanting more."
11/23/2018 — Arkansas