Twenty-five years ago, the rising titan of college sports lawyers was 900 miles from Columbia when he discovered an MU connection to an emerging scandal. In 1994, while investigating illegal inducements made by agents to Florida State football players, an unanticipated finding compelled Mike Glazier to contact MU Director of Athletics Joe Castiglione.
Glazier tipped off Castiglione that Missouri basketball star Jevon Crudup had accepted illegal payments from at least one agent hoping to sign the NBA prospect. Crudup and his mother, it turned out, had accepted thousands of dollars in cash, travel expenses and other inducements before and during the 1993-94 season from a middleman working for two competing agents. If found true, the violations could prove detrimental to a program that had just reached the Elite Eight as an NCAA Tournament No. 1 seed.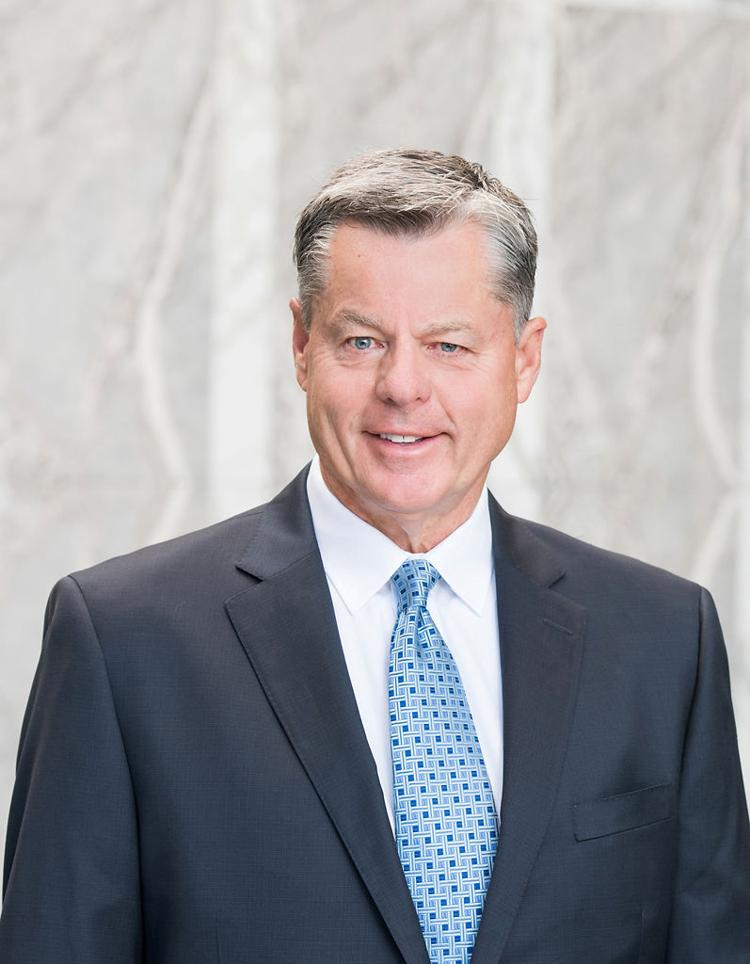 "It was certainly unexpected," Castiglione said.
Twenty-two years later, an alleged academic fraud violation confronted the Missouri athletic department. After a tutor's claims that she completed coursework for athletes, MU had a choice: confirm and self-report to the NCAA, or deny the claims.
It was a different time, and no two cases are ever the same. NCAA penalties had become stricter over the years. Missouri was under an entirely different administration. But 1994 and 2016 had one thing in common — an outside string-puller in the background of these two cases and countless others throughout college sports over the last 30 years. Glazier's one-man monopoly on NCAA infraction cases has left an imprint on how athletic departments handle cheating, and MU was no different: Like in 1994, it self-reported.
The resulting sanctions from the NCAA Committee on Infractions, announced on Jan. 31 of this year and viewed by MU as unreasonably severe, have provoked outrage and brought into question the value of accountability in college sports. Missouri's official appeal of the sanctions is due Sunday. Glazier, who politely declined to comment, will lead that appeal.
---
When he came across the damning information about Crudup in 1994, Glazier was still in his first decade as an attorney cultivating largely untrodden ground representing colleges in sports cheating cases. The former Indiana quarterback and NCAA investigator partnered with eventual SEC commissioner Mike Slive in 1986. They relocated to Overland Park, Kansas, in 1990. Slive landed a conference administration job soon after, but Glazier is still based there today at the law firm of Bond, Schoeneck & King.
By 1994, Glazier was slowly casting his shadow over the college sports world. Castiglione, who has been AD at Oklahoma since 1998, had held the position at MU for barely a year. And like many ADs around that time, he was experiencing Glazier's doctrinal work for the first time. When Castiglione took over in Columbia, he inherited the latter stages of another investigation regarding the men's basketball team. He didn't have any involvement with that investigation as it wrapped up, but it's when he first met Glazier — on the MU campus.
Castiglione noticed something.
"Glazier had a very engaging style about him," he said. "In dealing with some difficult matters, (he had) a style about him that really helped in interviewing individuals who might have some particular knowledge about a situation."
Glazier's talent paid off for Castiglione. Adopting a policy of accountability and transparency, the university followed Glazier's advice and swiftly partnered with the NCAA to investigate the situation. MU was candid: Yes, illegal inducements were made. Yes, lies were told. But the school knew about none of it. In 1996, an executive committee for college sports' governing body largely exonerated MU. The 1993-94 basketball team — remembered today as the best in school history — was ordered, however, to vacate the three NCAA Tournament wins in which Crudup played and return $97,000 earned from the tournament.
News clips throughout the last decade about that season rarely make note of the vacated finish. In 2013, MU held a 20-year anniversary ceremony in honor of the team's run. Needless to say, vacated wins turned out to be light consequences compared to a postseason ban.
Postseason bans are what three of the university's athletic programs face now. The Committee on Infractions' Jan. 31 report concluded academic fraud had occurred between 12 former MU athletes and the tutor, Yolanda Kumar. The report commended MU for initially self-reporting violations, but went on to ban the football, baseball and softball teams from the next postseason and place recruiting restrictions, fines, probation and vacated wins on each program.
Missouri quickly turned to outside counsel for the appeal: Glazier, who had led the internal investigation in which MU self-reported.
"If you ask anyone around the country, nine out of 10 would name Mike Glazier the top person," Missouri AD Jim Sterk said during a local media roundtable Feb. 11. "He has that reputation and experience and respect, I think, across the country, both with institutions and the NCAA."
According to figures obtained by the Missourian via open records request, MU has paid $356,119.48 to Bond, Schoeneck & King since the beginning of 2016. Of that sum, $267,358 went to the firm for Glazier's leadership on the initial internal investigation that started in 2016. The other $88,761 accounts for Glazier and his associate, Rick Evrard, since the appeal started 1½ months ago. That total will be significantly higher by the end of the process, depending on how long it takes.
---
Mike Glazier is still a quarterback.
The Neosho native played at Indiana and was even drafted by the Kansas City Chiefs before his football career fell flat, but the strategic and leadership elements of the position still resonate in his work as a lawyer, says Chuck Smrt, a prominent NCAA compliance adviser.
"You have certain qualities that you show as a quarterback, to the extent that they transcend football," Smrt said. "You should have those certain abilities."
Smrt, coincidentally, was also Glazier's roommate at Indiana. Glazier's connections in the multiverse of college sports bureaucracy range from roommate to golf partners and more. He's a household name among athletic directors and compliance officers across the country.
Former Louisville AD Tom Jurich, who was fired in 2017 with basketball coach Rick Pitino, said he first became familiar with Glazier at NCAA conventions and social events. Glazier's seven years as an NCAA investigator give him insight and connections on both sides of the cases he works. Big East deputy commissioner Vince Nicastro, a former AD at Villanova, once hired Glazier during an investigation of Villanova's men's basketball team. Nicastro, who declined to comment, is now a member of the Committee on Infractions that sentenced Missouri.
Then there was Slive. Glazier's former business partner was the connection of all connections. The respected SEC commissioner was mourned throughout the college sports community after his death in 2018. Jurich was close friends with Slive; he convinced Jurich to accept the Louisville AD position in 1997, Jurich told the Missourian.
When Jurich took the job, Louisville basketball was in the middle of a recruiting investigation that resulted in postseason bans. The school appealed and, on Slive's recommendation, Jurich hired Glazier. Like Castiglione at Missouri, Jurich had inherited this particular scandal. He only knew what he'd been told about the odds of overturning penalties.
"It was pretty bleak," Jurich said. "I don't think anybody ever thought it would be overturned. But I followed Mike's (Glazier) lead. Mike was very aggressive, and he always felt very strong about his cases."
Sure enough, Glazier pulled off one of the few overturns on a postseason ban that have occurred over the years, arguing the loophole that the Cardinals hadn't received adequate notice of a major violation. Louisville went on to become one of the fastest-growing athletic departments in the country over the next 20 years, before another set of problems finally drowned Jurich and Pitino. Jurich still maintains pride in his relationship with Glazier, whom he sees as a pillar of moral standard.
"He was a guy that we could always call if we just needed advice on things, even if there wasn't a problem. He believes in your school, not just to be there for a paycheck," Jurich said. "One thing I've always liked about him, he's a very loyal guy."
---
Not all of Glazier's former clients have been proponents of his approach, but those who have lambasted him in the past aren't eager to do so now. Bob Huggins, the current West Virginia basketball coach, was at Cincinnati when Glazier investigated one of his players in a 1997 eligibility case. Huggins, who declined to comment for this story through a spokesman, told The Cincinnati Enquirer in 1998 that he believed Glazier prolonged the investigation to make an extra $250,000 from the university.
Others believe Glazier does little more than get coaches fired to be able to claim the case a successfully cleaned house. Former Pittsburgh football coach and ESPN analyst Mike Gottfried famously called Glazier a "bounty hunter" in a 1994 Sports Illustrated story. The Missourian was unable to reach Gottfried for comment through his foundation.
Though they're in the minority, some consider that self-reporting to the NCAA should not be the automatic response to all infractions. There are examples to back that mentality line of thinking. In 1990, the University of Illinois hired Glazier and Slive for an internal investigation of assistant basketball coach Jimmy Collins, who was accused of making illegal inducements during the recruitment of major target Deon Thomas. According to Thomas' lawyer, Steve Beckett, when Glazier and Slive suggested that Illinois confess and self-report, they were promptly fired by the university. No evidence was found in the case, and Thomas went on to become Illinois' all-time leading scorer at the time. Beckett says Thomas and Collins would have been dismissed from the program had it self-reported.
"Universities would hire them and pay ungodly amounts of money," Beckett said. "Their assertion was it had to be self-reported because these lawyers, their position was (the Illinois allegations) were true, which was bulls---, to be quite frank. It wasn't true. It's damned hard for an institution, if they're standing behind their coaches and players, to come forward and self-report something that isn't true. And if that's the lawyer's advice, then they need to get a different lawyer."
Beckett praised Glazier for a recent case they worked on together, but he was critical of Glazier in the 1994 Sports Illustrated article, making an assessment similar to Gottfried's. But when asked about those comments, Beckett said, "If I said anything about Mike negative, it wasn't about Mike Glazier; it was about Mike Slive." Beckett's exact quote from Sports Illustrated was: "Glazier sells coaches down the river to make schools look good."
Still, Beckett says the strategy speaks to a greater problem with the NCAA's enforcement policy, and he has appeared before NCAA commissions to assert that the system needs to change — "Just because someone makes an allegation doesn't mean it's true." Jurich said the culture of accountability has changed in the last two decades, and the way NCAA enforcement is set up right now is not working. North Carolina didn't self-report mass academic fraud and famously got off with just probation. Missouri and Glazier self-reported a smaller academic violation and got nailed.
If Jurich were still an AD today and learned about a violation no one else knew about, he was asked, would he still self-report?
"I've always believed in cooperation. I've always believed in being open and telling the truth," Jurich said. "So if that backfired on a person, I think that's probably not a good plan for anybody."
---
When Joe Castiglione heard from Glazier about the basketball situation at MU in 1994, he was aware that Crudup and the agents might get away with lying if the university didn't self-report, he says. Like many other cases, it raised the question: Which approach is better? Self-reporting left a small blemish on Missouri's all-time fan-favorite team ... and an asterisk next to Norm Stewart's magnum opus season. But if MU hadn't self-reported, wasn't evidence likely to emerge anyway? Hoping for no consequence might have created a risk of far worse consequences. Castiglione, who is one of the country's most well-respected ADs, regrets nothing.
"People might find that one institution reported a larger number of violations, and another institution didn't report anything," Castiglione said. "On the surface, the average person might think, 'Oh, wow, well, one institution must have more of a problem because of their higher number of violations than the institution that reported zero.' My take is the institution that reported zero is the one that should raise the greater number of questions."
Just as in the 1994 violation, Castiglione learned that from Glazier. The Missouri-born lawyer has institutionalized self-reporting as the doctrine for athletic departments hoping to minimize harm after NCAA infractions. Now, his mission is to defend Missouri in an appeal of what many believe to be maximized sanctions after the university essentially admitted guilt.
Postseason bans are rarely overturned — success in MU's appeal seems unlikely — but lawyers and administrators attest that if anyone can do it, Glazier can.
"You just know when you meet somebody, this guy's sharp," Jurich said. "Mike's about as good as it gets in this business."
Supervising editor is Michael Knisley.