COLUMBIA — Roger Wehrli sits in a booth at Max and Erma's in Lake St. Louis, Missouri. He wears a red-and-blue-striped Nautica long-sleeve shirt with blue jeans, and if it weren't for the blue Pro Football Hall of Fame ring he occasionally taps on the table, you would think he is simply a quiet, humble 68-year-old man.
And you would be correct.
Wehrli has lived in Missouri his entire life. He married a woman he met on a blind date 50 years ago in a tiny northwest Missouri town.
When talking to him, you might not know that Wehrli is one of two Missouri football alumni enshrined in the Pro Football Hall of Fame or that his name and jersey number are etched on the red brick behind Missouri's Faurot Field. He politely shrugs when asked whether he was the NFL's first "shutdown corner" and instead credits the coaches that guided him throughout his career.
Wehrli said he enjoys the yearly trips to the Pro Football Hall of Fame in Canton, Ohio, where he stands alongside dozens of NFL icons in welcoming the new inductees. But his face lights up when he speaks about the joy of watching his granddaughter play college volleyball.
Wehrli said he is thankful for the windows of opportunity in his life. If it weren't for one remaining scholarship spot and a Missouri defensive backs coach who took a chance on an unknown kid from King City, Missouri, Wehrli's "fairytale" football career would have been a distant dream.
An athlete reborn
After his final King City High School football game, Wehrli sat in a small locker room and removed his shoulder pads. 
"This is the last time I will ever put those things on," the 18-year-old Wehrli thought.
He was the best athlete in town, but as a member of a 28-student senior class, Wehrli only received recruitment letters from small, local football programs like William Jewell College, drawing little interest from big-time college football programs.
Then again, King City wasn't exactly the central recruiting hub of the state. The farm town of less than 1,000 people had two grocery stores, a Dairy Queen and a yellow light on the main road warning residents to watch their speed. That was about it.
Wehrli grew strong by spending his summers moving hay. He planned to play basketball, his favorite sport, close to home at Northwest Missouri State. Wehrli sent Missouri an 8 millimeter football highlight tape, but it was hard to see his lightning speed through the fuzz.
So he showed Missouri in person.
As a senior, Wehrli represented King City High School in the 1965 state track championships in Columbia. He won the long jump, high hurdles, low hurdles and placed in the 200-meter dash, winning the state championship for King City almost single-handedly.
Missouri defensive backs coach Clay Cooper was in the crowd that spring day. The Missouri football team, which had emerged as a national power in recent years, had signed all of its big recruits. What was left was one remaining scholarship — and Cooper offered it to Wehrli.
From a football standpoint, committing to Missouri was a no-brainer. Led by head coach Dan Devine, the Tigers were 39-9-4 from 1960 to 1964. But, even though Columbia was only a two-hour drive from King City, Wehrli had never been away from home for a long period of time.
"It was a big adjustment for me, from such a small school to go to a place like Mizzou, where you are out on your own," Wehrli said. "I figured, well let's give it a shot."
He decided to keep his shoulder pads on. But Wehrli, who had only attended one Missouri football game his entire life, had no idea what awaited him in Columbia.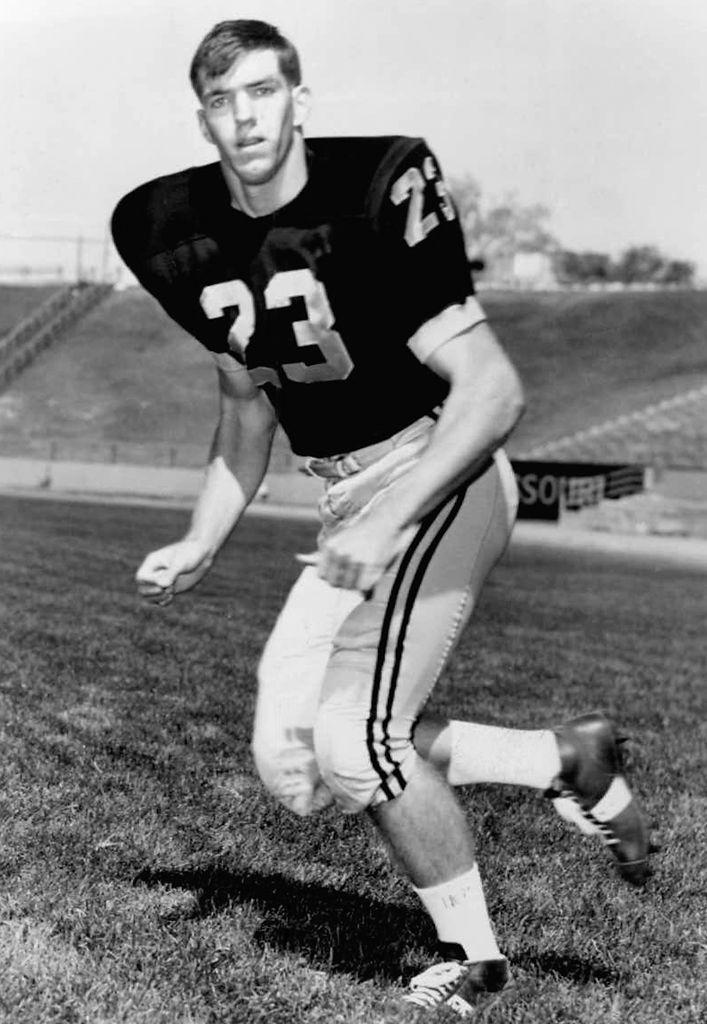 A nervous start, but a perfect ending
On Sept. 17, 1966, Wehrli completed his first drive as a starting defensive back. Finally, the sophomore could exhale.
Minnesota, the visiting team, was ready to punt. Missouri running back Ray Thorpe, who returned punts, ran toward Wehrli.
"You are in the deep position," Thorpe said to the cornerback.
Wehrli practiced punt returning before, but had no idea he would be the starter in his college debut. He nervously ran back to receive the punt.
He dropped it and frantically hopped on the ball before Minnesota players reached him.
"I was pretty surprised I was out there on the second one," Wehrli said, laughing.
Until 1972, freshman weren't allowed to play on the varsity team. Wehrli couldn't even use the locker room at the same time as the upperclassmen. But Wehrli said he used that season to the develop his skill set and expand his knowledge of the game.
Prior to 1965, Wehrli had little idea of the various techniques and formations that he needed to learn as a Division I college cornerback. His King City High School practices were almost solely devoted to offense. The defensive scheme was simple: Cover your guy and do the best you can.
"My college coaches would say something, do this drill or that drill," Wehrli said. "I am thinking, 'OK, just watch what they do.'"
He watched closely and learned quickly.
By the end of his freshman season, Wehrli was asked to practice with the varsity team in preparation for the Sugar Bowl.
For the next three years, Wehrli proved himself to be one of the top cornerbacks and punt returners in the country. Wehrli earned All-American honors during his senior year, as he shut down opposing receivers and led the country in total punt return yardage.
He still holds Missouri records, with 478 total punt return yards in a season and 1,062 for his career. His lightning speed earned him the nickname "Rodger the Dodger," which his former teammates still call him today.
Wehrli said his most profound college football memory was his final game, the 1968 Gator Bowl vs. Alabama. Missouri traveled to Jacksonville, Florida, which felt like a home game for the Southeastern Conference power Crimson Tide. But Missouri rolled to a 35-10 win, and Wehrli intercepted his seventh pass of the season.
"Whipping up on them was the perfect way to end your career," Wehrli said.
College career, sure, but his football career had only just begun.
After the bowl win, Wehrli flew to Hawaii to play in the Hula Bowl, an annual game that featured the country's top players. Dozens of professional scouts were in attendance.
Wehrli played well and impressed a St. Louis Cardinals football scout, who told the former Tiger to stay and run the 40-yard dash after the game concluded.
All of this was new to Wehrli. Devine restricted professional scouts from Missouri practices. And, despite his accomplished history as a high school track star, Wehrli had never been clocked for the 40-yard dash.
It didn't matter. After playing a full game, Wehrli ran the 40 in 4.5 seconds, wearing full pads and all. (He later ran a 4.4 on turf.)
As a result, his draft stock soared from a third-round pick to a potential first-rounder.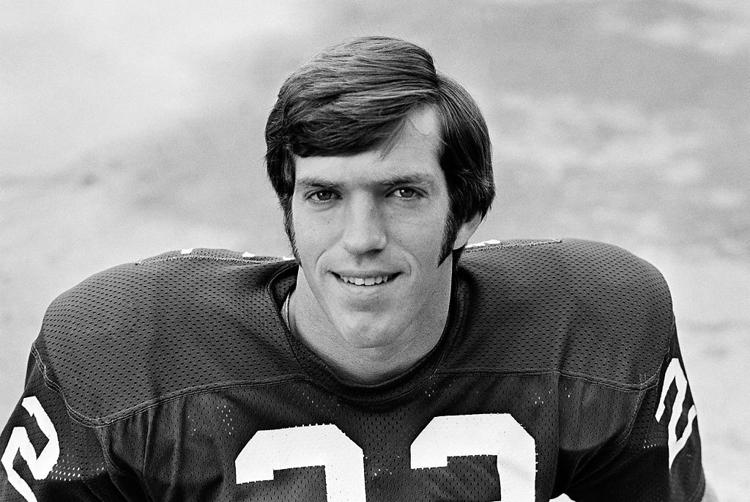 New stage, same state
Wehrli drove through St. Louis on a dark night, as the pouring rain beat on his windshield.
Wehrli had just married his longtime girlfriend, Gayle, one week after his senior football season ended. The newlyweds took Interstate 70 to accept Wehrli's Player of the Year award from a St. Louis newspaper.
Once they entered the city, they drove through empty streets and passed one worn-down building after another.
"That is the ugliest town in the world," Werhli said to his wife on the drive back to Columbia.
The next day, Gayle Werhli, who worked at a Columbia insurance company, received a phone call from the St. Louis Cardinals. They told her they drafted her husband 19th overall in the 1969 NFL Draft. Wehrli, who was in class at the time, wouldn't find out for another couple hours.
He laughs about the situation today, saying it "worked out really well." Playing for the Cardinals allowed him to stay in the same state where he and everyone close to him grew up. Almost 50 years later, he still lives near St. Louis with his wife.
During his rookie season, he started alongside Hall of Famer Larry Wilson in the defensive backfield. Wehrli honed his craft, starting with Wilson's lessons on professionalism.
For the next 14 years, Wehrli erased opposing wide receivers from games. He recorded more interceptions against Dallas Cowboys' Hall of Fame quarterback Roger Staubach than any other quarterback Wehrli played. Staubauch famously said Wehrli originated the term "shutdown corner" because offenses avoided throwing to his side of the field altogether.
"He had God-given ability," said Johnny Roland, former Missouri and St. Louis Cardinals standout running back. "He was such a natural. It seemed like he ran so effortlessly, but he was a good, hard worker. Our teammates could see he was something special."
Wehrli's accolades came in floods — seven Pro Bowls, five first-team NFL selections and being named to the 1970 All-Decade team.
Despite his dominance, and the constant 'Future Hall of Famer' introductions attached to his name at charity golf events, almost three decades passed before he was inducted.
Wehrli said when he finally received the call, it wasn't what he expected.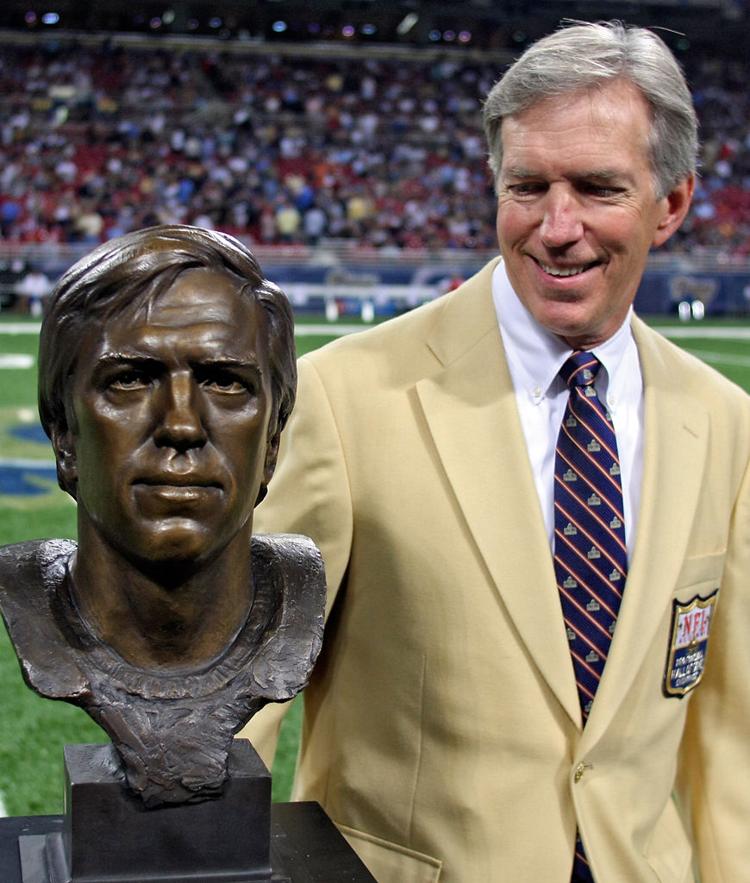 Better late than never
Wehrli impatiently watched the clock tick. His phone remained silent.
It was 2007, and Wehrli had made the final list of 15 players who were eligible for induction into the Pro Football Hall of Fame.
He had made the list just once before, two years earlier. But, as the years passed, Werhli became less involved with the NFL, and more players became eligible for induction. He was told he would hear from the Hall of Fame by 2 p.m., and if he didn't, he wasn't selected.
Once 2 p.m. hit, Werhli started to lose hope. Then came 2:45 p.m., and Werhli had all but given up on his chances that year.
Around 2:50, his phone rang, but the caller was a radio host from New York City.
"Roger, can I talk to you about the Hall of Fame?" the caller said.
"Well, did I make it?" Wehrli said anxiously.
"The Hall of Fame hasn't called you?" the radio host said. "Hold on. Hold on."
Werhli pressed the phone against his ear and could hear the radio host ask someone in the background whether or not Werhli had been inducted. 
"I can hear him through the phone," Werhli said, laughing. "He comes back and says, 'Yeah, yeah, you are in!'"
Shortly after, Werhli received the long-awaited call from the Hall of Fame. For the next six hours, Werhli's phone rang with congratulatory messages from former teammates, family and friends.
It figures that the same guy who grabbed Missouri's last scholarship offer after the state track meet would make the Hall of Fame in the most unlikely way. Werhli's legendary career is now cemented in Canton, Ohio, where his sculpture is attached to a massive wall along with other NFL greats.
Every year, he flies to Canton to welcome the new group of inductees. Wehrli proudly wears his Hall of Fame ring every day. Next year, the Hall of Fame will send members a new, opulent one covered in diamonds, but Wehrli said the massive ring may look odd on his small hands.
After football, Wehrli served as vice president for a manufacturing company for 30 years. He retired three years ago, but he stays busy with charity golf tournaments and Hall of Fame events. He spends time with his two kids, who are now grown, and three grandchildren who live in St. Louis.
He returns to his northwest Missouri neighborhood several times a year and passes by his childhood home that is now in disrepair. Last year, 16 of the 28 members of the 1965 class showed up for its 50th high school reunion. Wehrli was one of them.
Wehrli is a legend in his hometown. Outside the King City High School gymnasium is a glass case of old jerseys, footballs and trophies dedicated solely to King City's beloved son. 
But no matter his awards or Hall of Fame-sponsored vacations, Wehrli said he doesn't forget those who helped him along the way. Sitting in Max and Erma's, he smiles as he speaks of his former teammates he still calls his friends.
"He was a great teammate," Roland said. "Obviously, we saw his talent and wanted to nourish it and wanted him to succeed. He is a great guy. A quiet, unsung guy."
After Monday's lunch, Wehrli insists on picking up the check.
"Well, I am going to go get a haircut and then pick up some things from the hardware store," Wehrli said, smiling. "It's a big day."
He thanks the hostess, holds the door and walks outside, his blue Hall of Fame ring shining in the sun.