A majority of SEC athletic directors agreed on the new schedule format during a virtual meeting Wednesday, according to the report. In a typical season, teams play eight conference games and four nonconference games.
"It is not appropriate to respond to anonymous sources and speculation," SEC commissioner Greg Sankey said. "We continue our discussions focused on the return of fall sports, including football. We will announce any decisions at the appropriate time."
Missouri has Central Arkansas, Eastern Michigan, Brigham Young and Louisiana scheduled as its nonconference opponents this season.
Missouri and Central Arkansas signed an amendment to their agreement June 18 that stated if a pandemic, act of God, natural disaster, etc. did not "permit competition to be played on the agreed date(s) then both institutions shall reschedule the event if reasonably possible."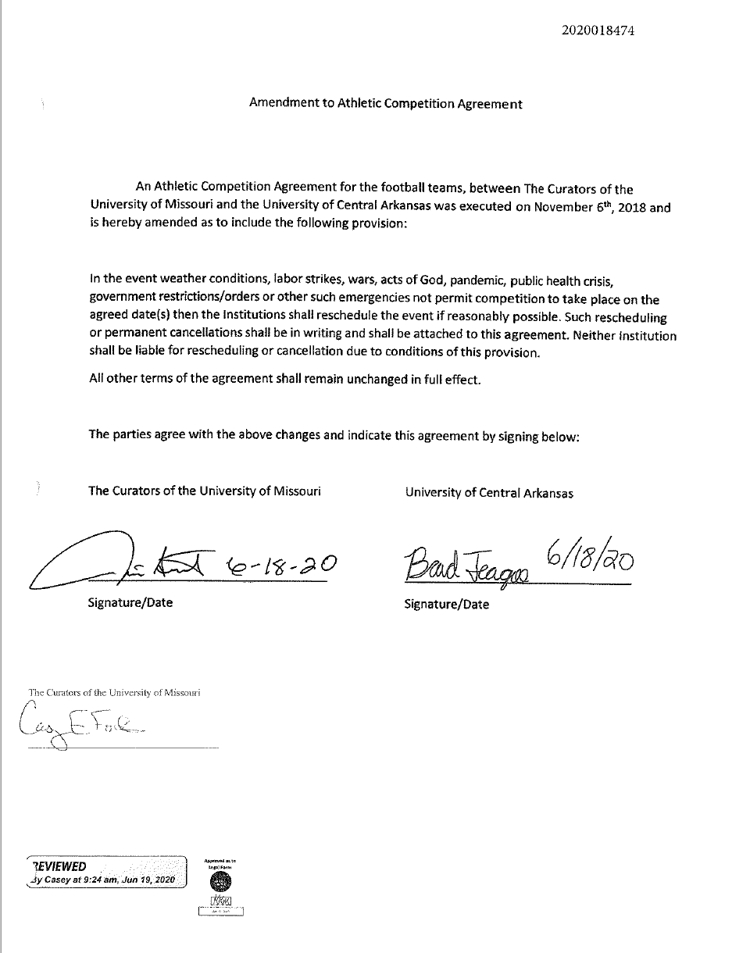 This signed agreement states that neither institution would be liable for a rescheduling or cancellation of this year's contest scheduled for Sept. 5. Missouri would currently owe Central Arkansas $425,000 for the game if it is played.
The game against Central Arkansas is one of three home nonconference "pay-to-play" games Missouri has scheduled. Missouri is set to pay Eastern Michigan $1.1 million for a game Sept. 26 and Louisiana $1.3 million for a Nov. 21 contest. Missouri does not have amendments for its agreements with Eastern Michigan or Louisiana.
Missouri would get $250,000 from BYU if it travels to Provo, Utah, for its Oct. 10 game after paying the school $250,000 for a 2015 game at Arrowhead Stadium in Kansas City.
However, with a 10-game conference-only schedule, those games would fall by the wayside.
Missouri has a clause in contracts with Central Arkansas, Eastern Michigan and Louisiana that states:
"In the event of fire, flood, hurricane, tornado, earthquake, epidemic, war, invasion, hostilities, rebellion, insurrection, confiscation by order of the government, military or public authority or prohibitory authority, making it impossible or impractical to play the game, both parties shall be relieved of any and all obligations of this agreement."
Missouri currently has eight conference opponents on its schedule, but it's unclear if it will play those eight plus another two opponents outside its division, the SEC East, or play 10 schools close by. Missouri has all six division opponents currently on its schedule with cross-division matchups against Mississippi State and Arkansas.
One option could be SEC schools adding their next two scheduled cross-division matchups to this year's schedule. Missouri's next two opponents would then be Texas A&M and Auburn.
The Atlantic Coast Conference announced Wednesday it will have an 11-game schedule, with 10 conference games plus one nonconference game against for each school. All nonconference games will be played in the member school's home state, and there will be no division play. The teams with the two best records at the end of the season will play in the conference's championship game Dec. 12 in Charlotte. The Big Ten and Pac-12 have previously moved to conference-only schedules.