COLUMBIA — Johnny Roland knows. Always has, always will.
The retired NFL and Missouri running back knows what he likes: spending time with family and friends and reminiscing about the glory days . He knows what he doesn't like, primarily the cold weather in the St. Louis area, where he spends most of his time these days.
John Roland Jr., his son, knows his father as a "giant goofball" and also for his strong sense of humor. He knows his father manages to treat everyone he comes into contact with like he's known them for a lifetime. He knows being a good person is a valuable character trait to have and one he learned from his father.
Adam Roland knows his grandfather as the Missouri legend. He knows they don't always have to talk about football, but, when he needs a conversation, a Hall of Famer and former NFL coach is just a phone call away. It's been that way his entire life.
Perhaps the one thing each of them came to learn is how much of an impact Missouri football has had on their family and each one of them.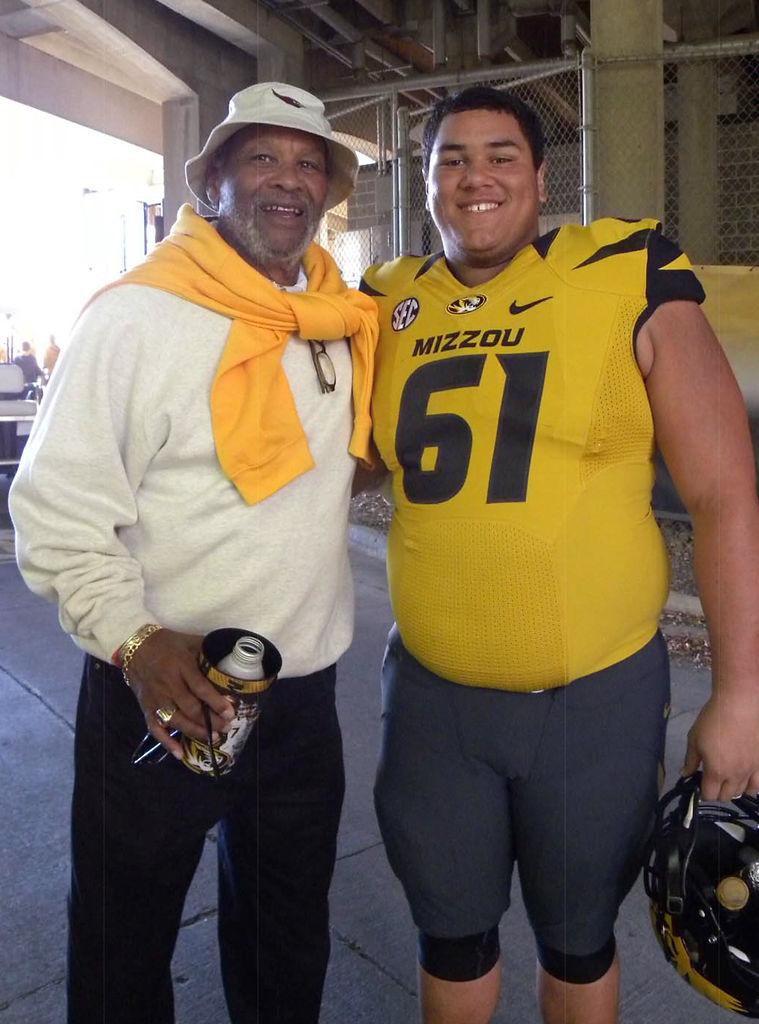 First generation Tiger
Johnny Roland glided through Faurot Field with effortless strides.
The Corpus Christi, Texas, native left Missouri as one of the most decorated athletes in the history of the school, and his legs gave Missouri football a new identity in the 1960s under head coach Dan Devine.
In his three seasons with the team, he guided Missouri to 22 wins out of 32 games, including a win over the Steve Spurrier-led Florida Gators in the 1966 Sugar Bowl, which Johnny Roland said is his favorite memory at Missouri.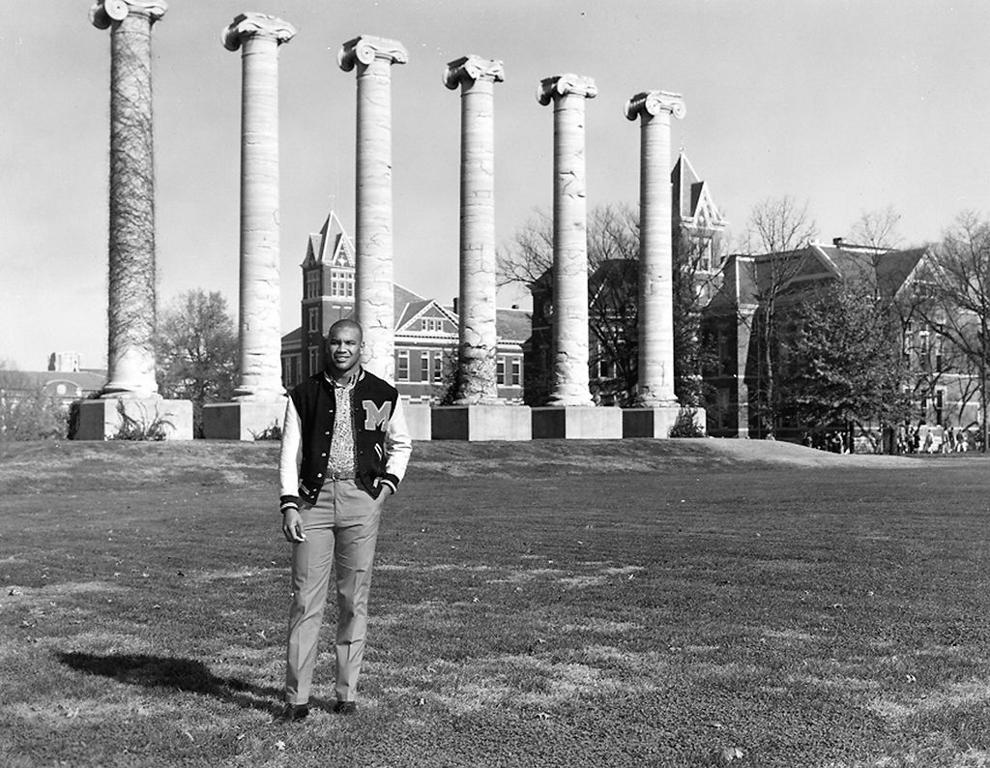 He was a powerful runner at 6-feet-2-inches, 198 pounds. He had the ability to produce pinpoint cuts with precision, a combination that made defenders quake in fear when they saw No. 23 for Missouri cradling the ball toward them, with no intentions of stopping. 
Johnny Roland has no shortages of accolades from his playing days. He was the first African-American team captain in the history of Missouri football. He was known as the Swiss army knife of college football, playing all three phases of the game — offense, defense and returning kicks. Versatility was his mantra. He finished top 10 in the country in rushing yards as a freshman, and he was named an All-American defensive back in his final season.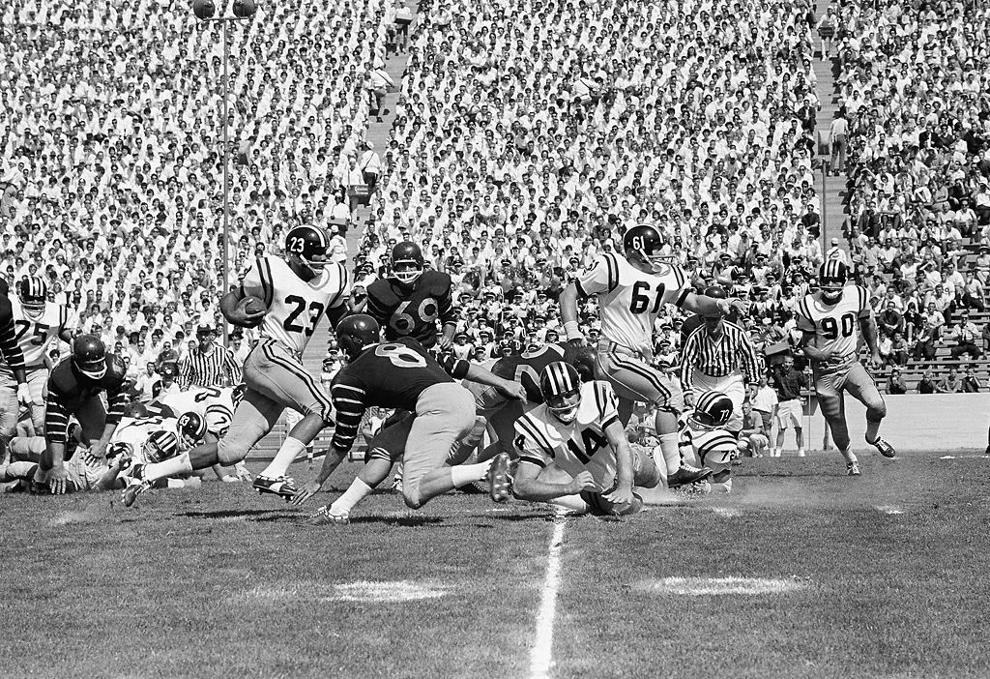 The St. Louis football Cardinals, now the Arizona Cardinals, drafted Johnny Roland in the fourth round of the 1966 NFL Draft. He was named the NFL Rookie of the Year that season and ended his career as a two-time Pro Bowler and the Cardinals' all-time leading rusher before retiring in 1973.
He began a 30-year coaching career with the Green Bay Packers in 1974 under his college coach, Devine. Along the way, his journey and legacy grew. He coached Walter Payton during the prime of his career, serving as running backs coach for the Chicago Bears during their lone Super Bowl-winning season in 1985. He coached with the New Orleans Saints in 2005 when Hurricane Katrina shook the city to its core. 
His life experiences are significant, but they all circle back to his Missouri roots. 
It was in Columbia where he learned discipline under Devine and how to never give up on those who put themselves out there for him. Johnny Roland learned to be selfless. The mentality to leave everything on the line for the people around you was instilled in him from those great Missouri teams of the past. It was at Missouri where his love for family and people, coupled with his sense of humor, developed into what it is today.  
Nowadays, Johnny Roland spends his time chasing down a small white ball on the lush green grass of golf courses around the country. It's a new passion, different from the way he created a name for himself. He drives from city to city, arriving in time for his Monday tournaments. He's enjoying retirement. 
In Columbia, his legacy lives on. His number is retired at Missouri. Whenever he visits the stadium for a game or comes to Columbia to meet up with teammates, he's recognized as Johnny, all these years later.
"I appreciate the friendships I've developed, both on the field and off the field," he said. "People, they're proud of you and proud for you. You have to be proud of the things you've done when you've affected so many people's lives. It's a pretty wonderful feeling."
Creating a new path
John Roland Jr. was born in Columbia in March 1965, months before the start of his father's senior season at Missouri.
He was only a year old when his father was drafted to play in the NFL. His family moved to St. Louis, the town John Roland calls home to this day.
Along the way, however, the younger Roland made his way back to Columbia. 
Like his father, John Roland Jr. attended MU. He always knew it was the school for him, and it was hard to be without the influence of his father. But John Roland Jr. wasn't necessarily prepared for the family name to follow him.
Unlike his father, the younger Roland didn't play football, but he was still connected to the game through his father's legacy. He set out to be a normal student, but everywhere he went, people mentioned his name.
Creating his own name became a daunting task.
"I wasn't going there as a football legacy person. I was going there as my own person, as a student," John Roland Jr. said. "I just happened to share the name, his full entire name. I needed to make my own legacy. I didn't always want to be Johnny Roland's son."
The impact left by his father made him work hard to achieve something on his own, and he was successful doing so. He married fellow MU student, Holly. He started a family and settled down to raise his children, Adam and Courtney. 
He graduated with a bachelor's degree in agriculture in 1987, with an emphasis in hotel management and hospitality. Today, John Roland Jr. spends his days in the St. Louis community, meeting and connecting with new people and families face-to-face as a financial adviser with Edward Jones.
He said he's proud of the life he carved out for himself on his own.
Over the years, he's realized just how much his father meant — and still means — to so many people. People approach him and tell him stories of how they had season tickets to Cardinals football games, and watched Johnny Roland rush for records in the 1960s and 1970s. Or how he helped lead Missouri to the 1966 Sugar Bowl win over Florida. 
But most important, he's heard the stories of who his father was as a person.
John Roland Jr. said he now understands how football taught his father to become selfless, and how it developed his father's work ethic, which is why that's been instilled in him as well. It made him personable, which has rubbed off on the younger Roland, too.
"My dad kind of was a big deal, and he still is a big deal to some folk," John Roland Jr. said with a laugh. "The fondness the people have for the teams he was on and the players on those teams, you see them remember. It makes me proud to be a part of that."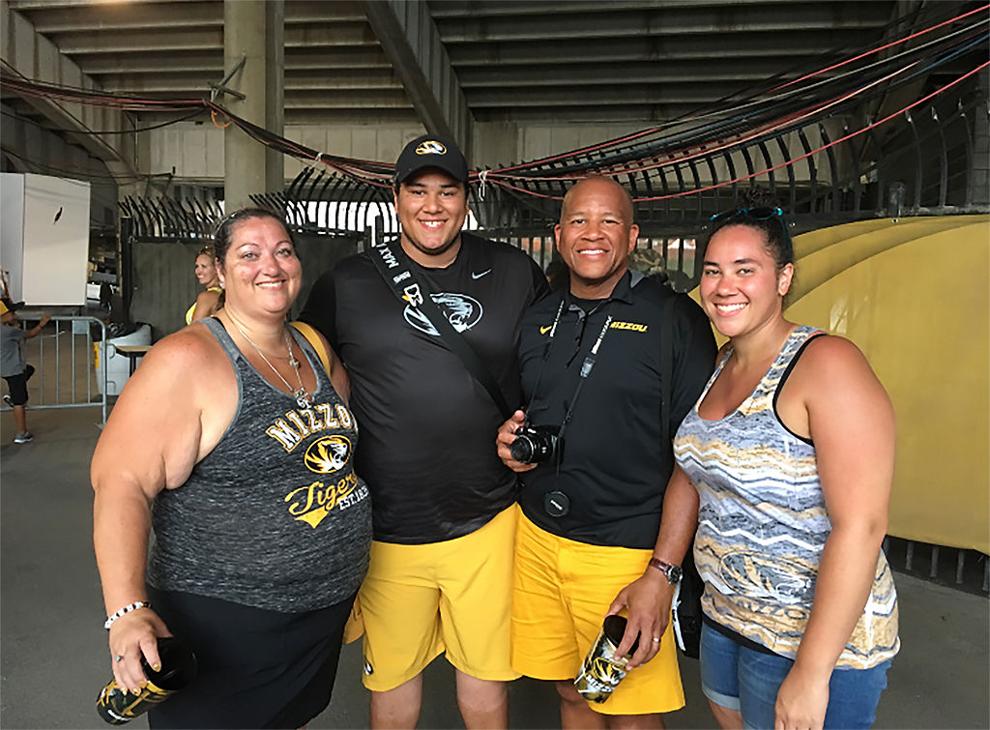 The family name
Adam Roland said he has always been fascinated by his grandfather's legacy.
When he was in middle school, he began to research his family name and the career of his grandfather. Adam Roland played football in high school as an offensive lineman. 
When it came time to look at potential universities, his family's history played a significant role in the process. It wasn't a hard choice.
"I've wanted to be a student here and play football here (at Missouri) since I was 7 years old," he said. 
His senior season, he sent his football recruiting video out to Missouri. He wasn't expecting much of a response. At the time, he was being recruited by some smaller schools, but he went out on a limb and sent his video to his dream school. 
Shortly after, he received a call from team officials offering a preferred walk-on spot on the roster. He didn't hesitate to accept. Adam Roland was a Missouri Tiger.
"It was just kind of surreal," he said. "My parents were in the room with me when they called, and in that moment, everything else kind of faded away. It was just excitement all around."
Like his father, Adam Roland has had to make a name for himself at Missouri. He's served as depth for Missouri up to this point in his career, but that doesn't stop him from working hard each and every day, exemplifying the work ethic passed down from those before him.
That mentality was rewarded on Sept. 24.
That day, the redshirt sophomore entered a game against Delaware State for the first time in his career, playing a few snaps on special teams. He was told beforehand it would be his first game action, but his sister was the only family member he told. 
It was a surprise for his parents.
"I thought it'd be a little more special for them," Adam Roland said. "To just look up and see me out there, rather than them knowing at some point I might get in or might not. It made it that much better."
After the game, he met his family outside of the players' locker room. His mother, Holly Roland, wasn't happy that her son kept his playing time a secret, but she made sure to let him know she was proud of his dedication. He hugged his sister, Courtney, who kept the secret to help create the moment.
When John Roland Jr. saw his son on the field, he nearly cried.  
"He got to play on the same team his grandfather got to play on," he said. "He got to be in the same locker room that those guys got to be in back in the 1960s. Here we are in 2016, and he's suiting up and putting on the Tiger uniform. It just doesn't get better than that as a dad."
When he stepped on the field for the first time, Adam Roland surveyed his surroundings. He looked over and saw his grandfather's name and number, "23 JOHNNY ROLAND" in bold, black letters on the brick wall in front of the student section. When he broke away from the huddle, it hit him.
He felt the importance of the name and the pride of adding to it.
Adam Roland said "passion and tradition" come to mind when he thinks about Missouri.
"My grandpa met my grandma here, my parents met here. Football is what started everything, and everyone is so passionate about it. It's a great feeling."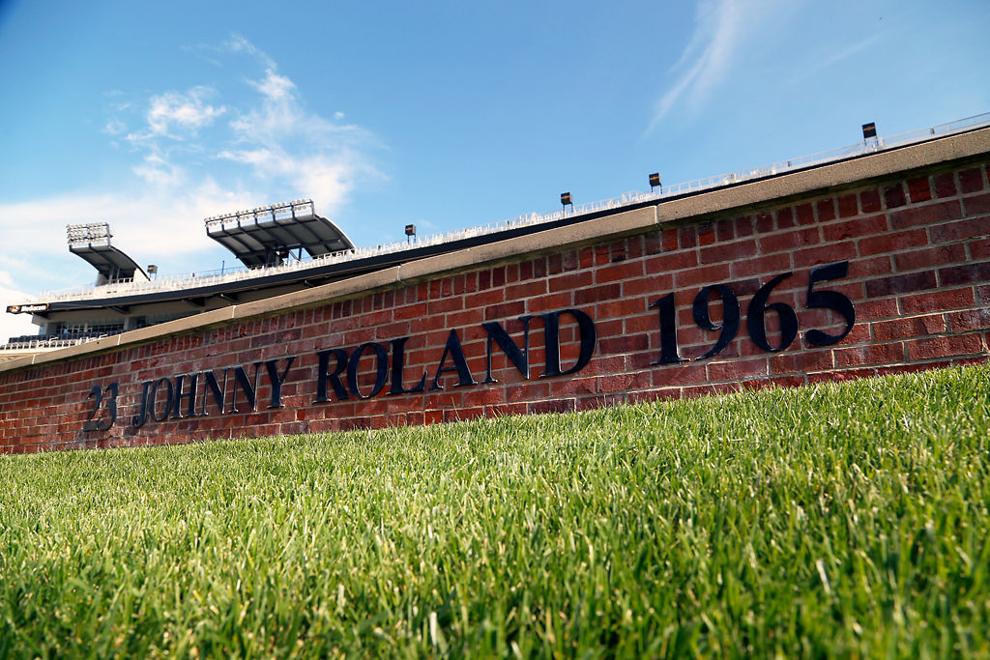 The Missouri legacy
Three generations of Rolands are forever entwined through Missouri football.
Because of Missouri football, Johnny Roland became Johnny Roland. He's able to say he's the first African-American captain in team history, leading his team to an 8-2-1 record his senior season. He was able to learn life lessons under Devine and to make lifelong friends through the great Missouri teams of the past. He's able to feel pride when strangers tell him what he meant for them and the state of Missouri.
Without Missouri football, John Roland Jr. wouldn't have been forced to make a name for himself on his own path and career. He never would have heard the stories of his father's playing days and to appreciate how much he means to a community.
Instead, Missouri football allowed John Roland Jr. to step back from it all and take the lessons learned from his father and pass those down to his own family. 
Adam Roland, without the impact of his grandfather and Missouri football, wouldn't have been able to surprise his family after getting into the game for the first time. He never would've been able to look over and see his grandfather's name and internalize the moment. He never would have felt the true pride of being a Tiger. 
Through all the memories and stories shared, the Rolands have learned about life from their experiences. Football, in different ways, has molded them into the men they are today.
They don't take it for granted. 
"Your life can be made or broken by the reputation you leave with other people," John Roland Jr. said. "Putting others before yourself. My father did that. That's the type of legacy I want to hold myself to.
"That type of legacy I want to pass down to my kids. That's how you should handle your life."