COLUMBIA — Anthony Sherrils volunteered first.
He and hundreds of fellow Missouri student-athletes had just sat through a panel hosted by Men4Men, a Missouri athletics initiative that holds one event per semester. All male Tiger athletes are required to attend. The event took place in the lounge area of club seating at Memorial Stadium, where fans pay big to watch guys like Sherrils play. But this event wasn't for fans. It was for athletes to listen and learn and discuss their feelings. The topic of the panel, as it was advertised on a flier handed out to the athletes: Why are race and racism so hard to discuss?
When the time came for an open discussion among athletes, Sherrils spoke for about five minutes, according to another Missouri athlete at the meeting who remembers Sherrils telling his peers that he felt steered toward an easier degree because he's a black student-athlete. His comments kicked off a discussion that, at times, became contentious. An hour into the discussion, Missouri football's strength coach, Pat Ivey, told the athletes they were having a good conversation. Ivey told them to take action.
 "That's where it first came to our mind, some of the things that were going on."
Sherrils and his roommate, wide receiver J'Mon Moore, went home that night and talked about the culture at MU, according to Sherrils. They considered becoming more involved with the general student body. "That's where it first came to our mind, some of the things that were going on," Moore said. "There was kind of a snowball effect after that."
That was Oct. 26. Nine days later, on Nov. 4, Moore was driving his car past picturesque Mel Carnahan Quadrangle when a small village of tents and nearby signs piqued his interest. So he parked his car. He walked to the tents and read the signs about a hunger strike. He met a graduate student named Jonathan Butler, who, as part of the student activist group Concerned Student 1950, refused to eat until then University of Missouri System President Tim Wolfe resigned.
"That's when I really got concerned," Moore said of the first time he met Butler. The wide receiver said he made "some promises" to the man on the hunger strike.
And three days later, he and 29 other black Missouri football players announced over Twitter that they were boycotting all football activities until the president resigned. A local story became a national one, and by now you probably know how it played out. Missouri coach Gary Pinkel tweeted a photo that Sunday showing the Tigers — both black and white — in solidarity. Wolfe resigned Monday. And Butler ate. The Tigers resumed football activities after missing only one practice and then beat Brigham Young in Kansas City a week after announcing their boycott.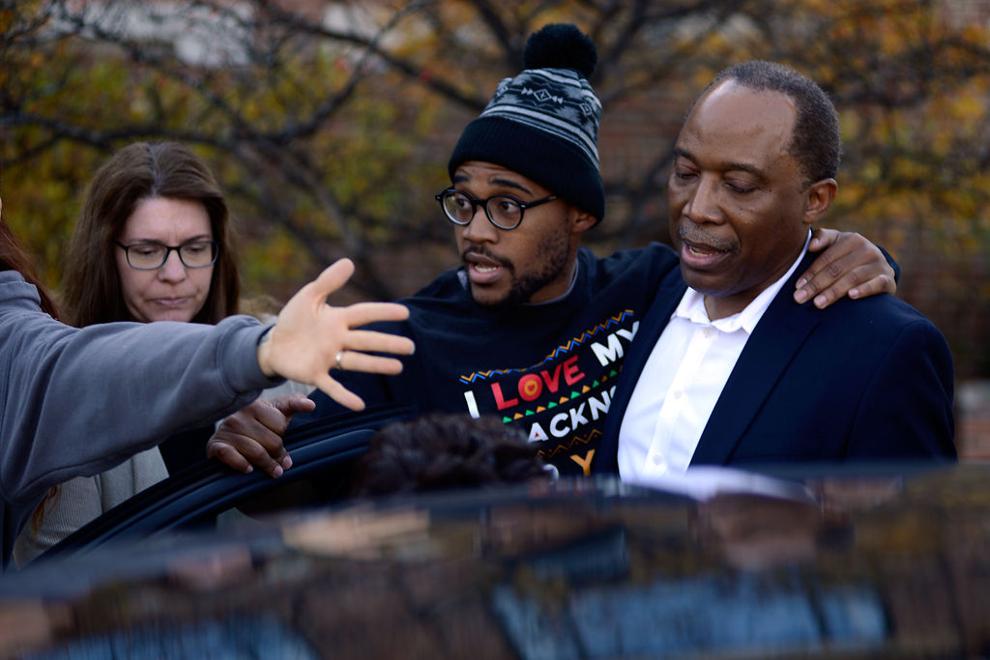 Through it all, the power of today's black student-athlete emerged. Black athletes constitute much of the rosters in the revenue college sports, football and basketball, and their actions carry serious weight.
Still, they exist in a separate orbit from other students. Their experiences — both as being black and as athletes — differentiate their lifestyles. It's these differences that have made black athletes influential but often unwilling candidates to show defiance. Until now. The Tigers risked their status as Southeastern Conference football players and threatened forfeiting a game.
On the day Wolfe resigned and the football boycott ended, athletics director Mack Rhoades met with Missouri student-athletes from multiple sports at Hearnes Center. Athletes asked questions about the boycott. Defensive end Charles Harris answered some of them, according to an athlete at the meeting. Earlier that day, Harris stood on the south quadrangle in front of the Concerned Student 1950 encampment and said what the Tigers had done was a testament to the power all student-athletes hold. At Hearnes, a female golfer asked Harris why the players needed to get rid of Wolfe — who was, if nothing else, a casualty to the athletics department's message that the boycott would continue until Butler ate.
The athlete at the meeting remembers Harris saying the boycott wasn't about Wolfe, it was about addressing a systemic issue. The athlete remembers Harris' next comment vividly: "If you cut the head off," Harris told his fellow student-athletes, "the whole dragon will fall."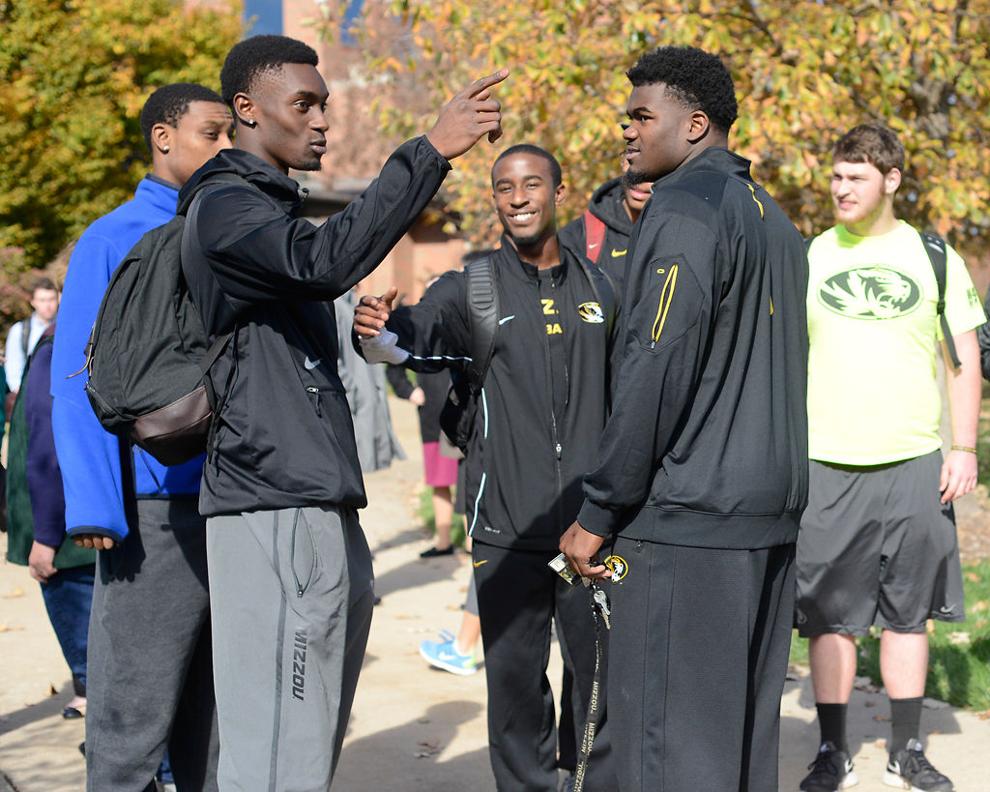 'You feel like a foreigner, an alien on campus'
The assignment seemed simple. Inoffensive. Scott Brooks told his introduction to black studies class to go to Memorial Student Union, a hub for campus activity, and observe. Take notes of what's going on around you, the way people interact.
Brooks is an associate professor of sociology at MU. He also is black. This assignment came during the Fall 2012 semester, his first at the university. He had two football players in his class, and when he sent his students out for the exercise, the players — including one whom Brooks said most people on campus would recognize — sat next to each other in one spot of the student union. Brooks could sense they were reluctant to truly put themselves out there.
After the observation period ended, Brooks huddled with his class. "Man, I didn't like this," the recognizable player said. "You had us go in there, and we look like a bunch of inner city kids from the Y on a field trip." He told Brooks students looked at him and his teammate uncomfortably. Some moved their tables and bags away from the pair. It didn't matter that the players wore their team's logo; students in Memorial Student Union treated them like other black students.
"You had us go in there, and we look like a bunch of inner city kids from the Y on a field trip."
"Don't you find it interesting that you're being cheered by 50,000 plus, (and) here we are today and you feel like a foreigner, an alien on campus?" Brooks asked the player. "You got a slice of life of what a regular black student goes through, and now you're offended? You've had this privileged status."
There are markers that separate black athletes from other black students. Official team gear. Backpacks with name tags. Access to resources — such as a weight room and cafeteria at the Mizzou Athletics Training Complex — other students don't get to use. And often that's enough to create a significant difference between the experience of black athletes and nonathletes on campus. The disgruntled football player in Brooks' class typically didn't go to the student union because it wasn't part of his routine as an athlete. When he left his element, he became exposed to the realities of black students.
The seeming lack of awareness to this reality, or general lack of exposure to it, is athletic privilege. It's not that black athletes don't encounter racism — they just don't encounter it as "intensely," Brooks said. Football players also experience hero worship, which makes it easier to deal with racial slights or micro-aggressions. When a store employee not-so-discreetly checks on a black athlete in an aisle or when someone makes a racial slur, these actions aren't enough to prompt activism, typically. Black student-athletes tend to care more about protecting their "most salient identity" — their athlete identity, Brooks said.
Brooks and Harry Edwards, a University of California-Berkeley sociologist who's one of the first to study the sociology of sport, said black athletes experience two realities. A mostly white crowd of 70,000 at Memorial Stadium might revere a black man for catching a touchdown on a Saturday. A cop might pull over that same black man on Sunday for a phony reason while he's driving down Providence Road. The bubble around athletes is not all-encompassing, Edwards said.
Moore said 95 percent of the student-athlete's time is spent on football. It's an environment filled with athletic privilege. Also, causing a stir and drawing attention to yourself takes courage — the courage to jeopardize what means most to many big-time athletes: winning games and getting noticed by professional scouts.
But something gave the Tigers an itch.
When captain Ian Simon delivered a statement on behalf of his teammates the day Wolfe resigned, he showed an awareness of his athlete privilege. "Though we don't experience everything the general student body does, and our struggles may look different at times," he said, "we are all Concerned Student 1950."
'Athletes are growing into their voice and into the power'
When Missouri football players refused to take the field, they began a new chapter in athletic activism, one that emphasizes the power athletes — and black athletes in particular — hold in the sporting world.
Missouri's brief boycott is the latest and perhaps most forceful example of athlete activism in recent years.
Athlete activism
The Miami Heat posed wearing hoods after Florida teenager Trayvon Martin was shot and killed while wearing a hooded sweatshirt in 2012. The Los Angeles Clippers refused to wear the team's warm-up shirts after team owner Donald Sterling made racist comments caught on audiotape in 2014. St. Louis Rams players took the field with their hands in the air to signify "Hands up, don't shoot," after the death of Ferguson teen Michael Brown earlier that year.
Photos by The Associated Press
Those actions have drawn attention to the topic of racism, but they haven't resulted in measurable change.
Missouri's players, according to people who study athletics and organized labor, upped the ante for coming generations of athletes because the Tigers' boycott transcended symbolism. It provided an ultimatum and backed administrators into a corner. It's a lesson in leverage other teams can follow.
Missouri athletes, without the formal ties of organized labor, harnessed a union's power when they threatened a boycott, said Kain Colter, a former Northwestern quarterback who led his football team's unsuccessful push for unionization in 2014.
"When you have a bunch of the black athletes stand up for something and threatening to boycott," he said, "it really can take a big hit."
At Missouri, the Concerned Student 1950 group, which began with 11 black students, demonstrated on behalf of graduate students' rights and the university's severed ties to Planned Parenthood. It fought anti-Semitism after someone drew a swastika with human feces on a dormitory bathroom wall. Jonathan Butler started his hunger strike. Concerned Student 1950 slowly gained recognition and support, and once the football team joined the cause, it reached a new level of empowerment.
Suddenly, when the football team boycotted, the stakes rose. On the line for MU was lost ticket sales, concession and merchandise sales, a possible $1 million cancellation fee owed to BYU and, most importantly, a reputation.
Now that college sports are so high-profile and lucrative, players have the ability to generate waves. In 1970, a group of black football players at Syracuse University — known as the Syracuse Eight — boycotted for equal treatment from the coaching staff. The result of that boycott was the university admitting the players had reason to gripe. But not much changed.
Activism in athletics is nothing new, of course. Jackie Robinson broke baseball's color barrier in 1947. Muhammad Ali crusaded for civil rights inside and outside the ring. At the 1968 Olympics, American track stars Tommie Smith and John Carlos extended gloved fists into the air on the medal podium in solidarity with the civil rights movement. Black football players from Wyoming in 1969 were kicked off of the team for asking to wear black armbands during a game against BYU — a form a protest against The Church of Jesus Christ of Latter-day Saints' then-policy preventing black men from being priests.
"You have to do something. You didn't want it. You didn't call for it. But it is such a profound moment that you must take action — and that's what we did."
"There's a time in everybody's life … where you are faced with something so monumental that you cannot do nothing,"  said Mel Hamilton, a member of the Wyoming Black 14. "You have to do something. You didn't want it. You didn't call for it. But it is such a profound moment that you must take action — and that's what we did."
These moments in the larger civil rights movement provided mentors for modern athletic activists such as LeBron James or Kain Colter or Missouri's J'Mon Moore. The atmosphere for activists today appears far more receptive.
"I think this is a new age," said Ellen Staurowsky, a professor of sports management at Drexel University in Philadelphia. "Athletes are growing into their voice and into the power that they have available to mobilize in ways that help their communities."
A half-century ago, the NCAA enacted legislation that helped police athletes amid social unrest. In 1967, it passed an act that allowed for an athletic scholarship to be taken away if a player quit the team. In 1973, in response to the introduction of women's sports as part of Title IX, the number of football scholarships was capped for the first time, and scholarships were limited to one year.
Leverage was in the schools' hands, so athletes were quiet for a while. They played by the rules of the NCAA and its powerful institutions. Even if those rules made life uncomfortable.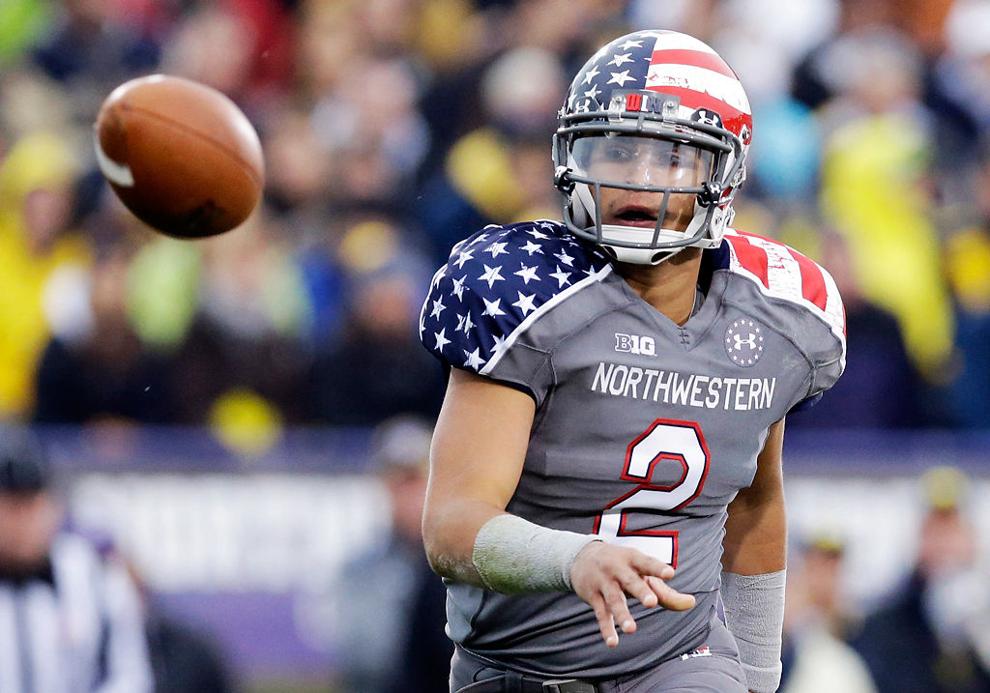 'That's the way most athletes deal with it. We stick with our athlete group'
Keyon Dooling didn't have white friends. He barely knew white people. More than 80 percent of the residents in his ZIP code within Fort Lauderdale, Florida, is black, according to U.S. Census figures.
In his junior year at Fort Lauderdale High School, someone shouted the N-word at him from the window of a moving car.
A day before he left for college at MU, where he became a star basketball player, police at a shopping mall accused him and some friends of trespassing and stealing. When a friend argued with the officers, Dooling says, they beat up the group and threw them out of the mall.
Then in 1998, he came to Columbia, a city that was roughly 80 percent white. Instead of trying to meet new people when he arrived at college, Dooling retreated to the athletic bubble. He roomed with a basketball teammate, and he only left the dorm to go to class in the mornings or to Hearnes Center in the afternoon for practice and training. He stayed there to do his homework, receive medical treatment and watch film. Then he went home.
Dooling didn't hang around the general campus. Too many white faces, or, more accurately, too few faces that looked like his own.
"I isolated," said Dooling, who later enjoyed a 13-year NBA career. "That's the way most athletes deal with it. We stick with our athlete group. We miss out on those relationships with the business people and other friends and people that can help us get to the next level because we don't want to deal with all that.
"It's not until we finish playing and the athlete career is over that we realize how disconnected we are."
After a year of college, he finally developed relationships with his white teammates. He says now they changed his life.
He started eating team dinners with them and going out with them on the weekends. He met their friends and families and introduced them to his. Some freshmen come to college knowing a university is a place for cultural exchange, to challenge preconceived notions of race, religion, social class and more. Dooling didn't take part in that until late in his sophomore year.
Then he left for the NBA.
By the time he was ready to see outside the athletic bubble, the college sports world had "cycled him out," he said.
Dooling's experiences are typical for athletes.
"What coaches have done is to deem everything that is outside of football and athletics as a distraction," said James Satterfield Jr., a Clemson University professor who studies race and sport. "So in a sense, what has happened is your athletic life has become your social life."
College sports shouldn't be that way, said Dooling, who now works for the NBA advising current players on finances, mental health and life after the game. Sports are about inclusion, he said, and they breed great leaders because of qualities inherent to the game. It makes sense that athletes are progressive and forward-looking, that they wield social power and can command the winds of change. That's hard to do in college, though, with such a thick barrier between athlete and student-athlete.
Slowly, athletes are beginning to realize their own power and influence. And they're getting more protection; conferences and schools are shifting back to four-year scholarships.
The gain in power, experts say, coincides with the rise of social media — something that wasn't around in Dooling's days. Players might live in a bubble, but that bubble, thanks to social media, is somewhat plugged into the outside world.
Consider how Missouri's black football players first announced their boycott: on Twitter.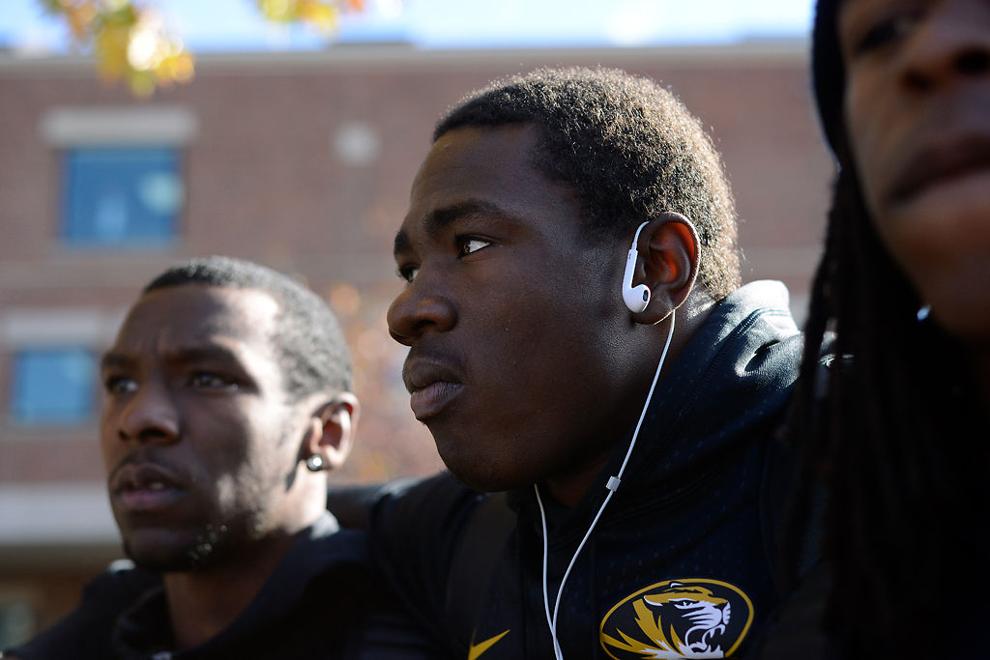 'In a very, very regulated environment, (social media) provides that one potential window into the outside world'
Social media now keeps players more aware of their campus surroundings. It makes athletes more accessible than ever before. It pokes holes through the barriers that athletics departments erect to separate athletes from "distractions."
"There's other ways that you're harvesting and collecting information," Staurowsky, the Drexel professor, said. "In a very, very regulated environment, (social media) provides that one potential window into the outside world."
Many Missouri football players are active on social media, which allows them a view of MU and Columbia, even if they don't experience it close up.
That's how the football team and Concerned Student 1950 united.
After Moore met with Jonathan Butler and other protest group leaders, Concerned Student 1950 received even more exposure on Twitter.
Tweets mentioning the group's hashtag reached 5.5 million users' timelines through the duration of the seven-day hunger strike, according to data from the online service Hashtracking. Butler gained 10,000 followers on Twitter.
While football players convened to decide whether to boycott, their social media profiles were flooded with messages in support of Concerned Student 1950, players said.
And on Nov. 7, when black players announced their strike, they did so by tweeting out a photo and brief message, which is telling, academics say, because the players used the medium of communication that best connects both the athletics' universe and the students' world.
'We have a big journey ahead of us'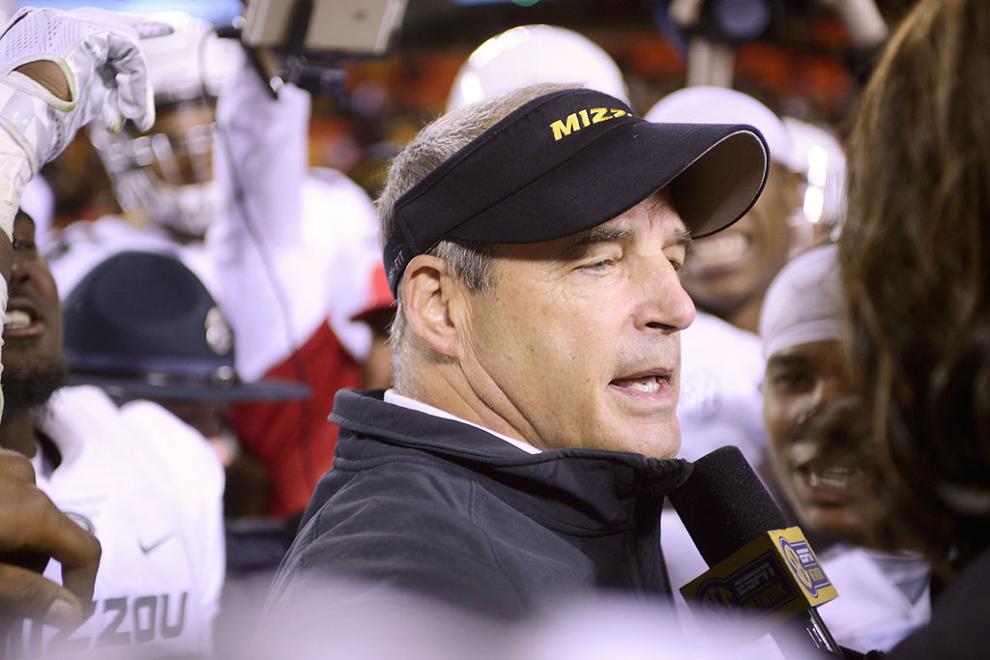 The Missouri vs. BYU game was significant for its surrounding story lines. Missouri's 20-16 win over BYU in Kansas City happened a day after Pinkel announced that he has a form of lymphoma cancer and he will retire after the season. And it was seven days after the Missouri team announced its boycott.
The Tigers played and snapped a four-game losing streak. They mobbed their coach during a postgame interview. The stadium chanted his name. The 63-year-old Pinkel couldn't help but smile and dance.
After the game, there were still questions about the brief protest.
"It's about bringing awareness to a cause that has plagued our country."
"It's not really about power," Missouri defensive end Walter Brady said. "It's about bringing awareness to a cause that has plagued our country. We were able to make some changes. As far as society goes, we have a great deal, a big journey ahead of us."
Multiple Tigers said they now feel more connected to the general student body after the boycott. Simon said he and teammates must continue to bridge the gap.
Simon, Sherrils, Harris and Moore all plan to remain involved with Concerned Student 1950. Their focus has returned to football, they said, but they're willing to help as they can. They'll use their platform when needed and stay informed of campus issues.
That's the next step, said Edwards, the sociology professor at California-Berkeley: Black athletes assimilate more and more into the black student body rather than simply helicoptering into an issue. They become part of a movement. They broker power and demand a meeting with a university president if they wish.
"It's inescapable," Edwards said, "and everyone is going to have to make the adjustment."
What happened on campus this month might be the start.
"We just weren't aware of a lot of the things that were going on," Moore, speaking after the BYU game, said about the Tigers' response to Missouri's race issues. "Once we got aware, we just stood for it. We had a belief. We came together as a team and made that belief stronger."
The wide receiver stepped off the media room podium, off his platform. Back to the locker room. Back to football.
With football, black athletes are powerful. Without football, maybe even more so.