EDITOR'S NOTE: The Missourian presents a three-part series that looks back at the highs and lows of Missouri men's basketball over the last decade. This is Part One.
The 2010s were a tumultuous time for Missouri men's basketball.
Four head coaches — Mike Anderson, Frank Haith, Kim Anderson and Cuonzo Martin (five if assistant Tim Fuller coaching during Haith's suspension in the 2013-14 season counts) — were handed the job to lead MU hoops over the past decade. Each ran a different style, had a different personality and played a major role in how the program is currently shaped.
Combined, those four (or five) men led the Tigers in the 2010s to an overall record of 182-149. And in that span, things happened.
Tigers teams in the 2010s knew what it was like to be part of Division I's elite and to be conference basement dwellers. To notch upsets and be upset. To score top recruits and to be guilty of recruiting violations. It was a wild decade for the program.
Here are the Missourian's five most defining Missouri men's basketball stories of the 2010s:
No. 5: The move from the Big 12 to the SEC
The University of Missouri's switch from a league it helped found to the revenue-rich Southeastern Conference wasn't a basketball-centric move; nearly every sport at MU became a playing member of the SEC starting in 2012.
But the move had massive ramifications on the school's product on the hardwood. A team of Missourian writers created a series last March that examines the fallout of the conference swap in detail, but in terms of how men's basketball specifically was affected, the financial fine lines are telling.
Per Missourian reporting, MU's average yearly spending on men's basketball rose from $5.5 million in the Big 12 to $7.4 million in the SEC according to data from March 2019, a 34.6% increase. That rise is consistent with all of the school's teams and makes men's basketball MU's second most-expensive sport behind football.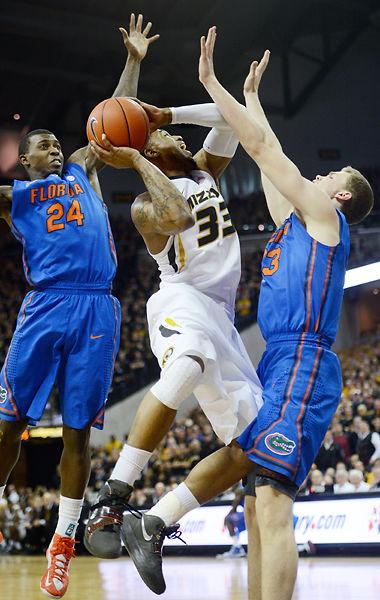 However, the MU athletic program's financial situation currently lags behind the majority of the SEC despite increased donations to the school, more television revenue and various other factors. In terms of where MU's men's basketball team ranks amongst fellow SEC schools in revenue generation, that's currently unknown.
As for the play on the court itself? That's more of a mixed bag.
Missouri has a 115-123 overall record (43-82 SEC) since 2012, hampered by Anderson's tenure, when the Tigers won eight total conference games from 2014 to 2017.
But plenty of entertaining games came along with the move. The Tigers' upset of No. 5 Florida on Feb. 19, 2013, signaled to the rest of the SEC that MU had arrived, while a win against No. 21 Kentucky on Feb. 3, 2018, was the Tigers' first-ever victory over the 'Cats.
Perhaps what most fans remember about the move, though, is the ending of several historic rivalries against Big 12 oppositions. Missouri's annual series against Oklahoma, Kansas State and Iowa State, each of whom the Tigers had played over 200 times, suddenly came to a halt with the switch.
And then, of course, there's the big one: Kansas. With the exception of an exhibition game for charity in 2017, the Tigers haven't played the Jayhawks since losing an overtime classic in Lawrence on Feb. 25, 2012.
With the announcement last year that the Border War will finally resume on Dec. 12, 2020, at the Sprint Center in Kansas City, excitement has been building for the return of one of college basketball's finest rivalries. But the game will be a nonconference showdown this time, so Missouri is left to find a new foe to hate within the SEC.
No. 4: The tenure of Kim Anderson
Anderson might have been one of the happiest people on Earth on April 28, 2014.
That was the day the former Missouri player was announced as the new head coach of his alma mater after the job was vacated by former coach Frank Haith (more on him later), who left the school to take the coaching job in Tulsa.
It was a dream job for Anderson, and something that seemed like a perfect match ... on paper. He was a lifelong Missourian, a storied player (the Big Eight Conference Co-Player of the Year in 1977) for the Tigers and coming off an historic 2013-14 season coaching Central Missouri; he led the Mules to a 30-5 record and the Division II national championship, earning himself the D-II National Coach of the Year Award.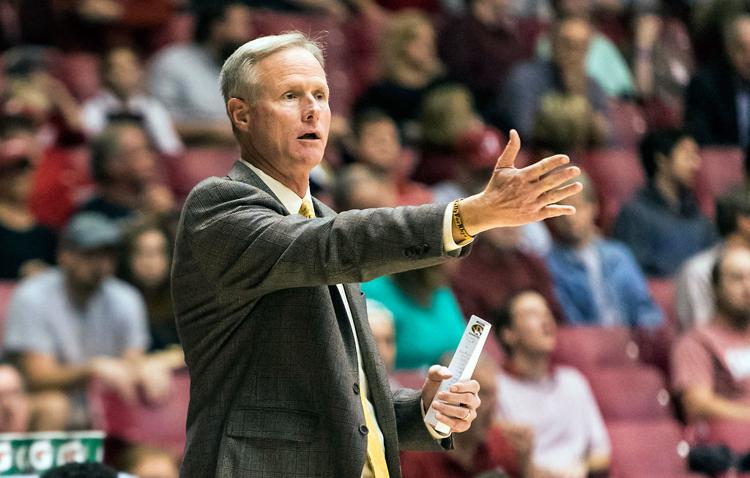 But the dream turned into a nightmare fast. With no previous experience as a head coach at the D-I level, Anderson trudged through three brutal years in Columbia and finished with an overall record of 27-68.
His first game coaching the Tigers, on Nov. 14, 2014, was a 69-61 loss to UMKC, and things didn't get much better from there. Anderson never won more than 10 games in a season, and after a 2016-17 campaign in which Missouri suffered embarrassing losses to North Carolina Central, Eastern Illinois and Lipscomb and won only twice in SEC play, he was asked to step down.
Offensive production was particularly scarce in those three seasons as the Tigers never ranked higher than 272nd nationally in points per game. And the defense allowed more points than the the offense scored on average all three seasons.
Anderson did run a clean program, something that Missouri needed after self-imposing sanctions for impermissible benefits in the program from 2011 to 2014. Missourian reporting after his resignation suggested that Anderson generally was well-liked. But he simply couldn't get the job done coaching.
Now coaching at D-II Pittsburg State, Anderson said in a Kansas City Star story in 2017 that he doesn't regret coaching at his alma mater, but admitted it wasn't as much fun as he hoped it'd be.
"There's no bitterness ... Absolutely, I deserved to lose my job, because we didn't win," Anderson said in the Star's story. "You don't win games, they give you your ball and they say, 'Go find another gym.' They weren't telling me I had to (get out right away), but I knew that it was time to go."
No. 3: Frank Haith's text message and ensuing sanctions saga
The entire tenure of former Missouri men's basketball coach Frank Haith always bordered on the bizarre.
Haith was on the hot seat while coaching Miami in 2011, finishing his time with the Hurricanes with a 43-69 record in the Atlantic Coast Conference and with just a single NCAA Tournament appearance in seven seasons.
But Haith didn't leave the program by getting fired. Instead, then-Missouri AD Mike Alden threw him a lifeline, offering him a contract to coach the Tigers that he accepted on April 4, 2011.
After a 76-28 record in three years, including a 30-win season and a national ranking as high as No. 2 in 2011-12, how did Haith repay Alden for his generosity? According to Alden, Haith announced via text message after the 2013-14 season that he was leaving to take the coaching job at Tulsa.
Haith said at his introductory press conference at Tulsa that he only texted Alden after failing to reach him via phone call, but it nonetheless was seen as a low blow by Haith to announce his resignation in such an informal way.
Little did Alden know, however, that the text message debacle would be the least of his problems with Haith. The school announced in January 2016 that it had uncovered several major NCAA violations that had occured in its men's basketball program while Haith was the head coach, dating as far back as the 2011 season.
The most egregious violation was the compensation of players not working within an organized summer internship program, but the transgressions also included violations ranging from reduced hotel rates to a former associate head coach getting a recruit in touch with a donor to cover rental housing costs.
Through self-imposed sanctions in a joint review process with the NCAA, Missouri vacated all 23 wins from the 2013-14 season and gave itself a ban from that year's postseason. It also self-imposed a scholarship reduction for the next three seasons that went into effect immediately. The NCAA later ruled those punishments as acceptable, with the addition of one year of probation in August 2016.
Haith claimed through his attorney (per a Kansas City Star report) that he was unaware of any NCAA investigation going on at Missouri until he started coaching at Tulsa. His replacement, Anderson, said he was not told that the NCAA would be investigating the program before he was hired. The NCAA notified Missouri on April 14, 2014, that it would be investigating possible violations, four days before Haith resigned.
With Anderson struggling in his first two years in charge, the penalties made a bad situation only worse.
No. 2: MPJ mania and what could've been
Missouri men's basketball desperately needed a shot of adrenaline after the 2016-17 season. The eight wins the previous year was the Tigers' lowest in a season since winning three games in 1966-67.
It just so happened that one of the bluest of blue chippers in the 2017 recruiting class was sitting right in their backyard.
Michael Porter, Jr. is a born-and-raised Columbian who went to high school at Father Tolton up until his junior year, where he dazzled the state and the country with his athleticism and a silky-smooth game that oozed NBA potential. Ranked as the No. 1 overall recruit in the U.S. by Rivals and No. 2 by ESPN and Scout, programs far and wide swarmed to get his NLI signature.
Missouri swung and missed — at first — in trying to convince perhaps the city's best-ever basketball talent to stay home. Porter was committed for most of the recruiting process to Washington, where his father, Michael Porter, Sr., was on Lorenzo Romar's staff as an assistant coach.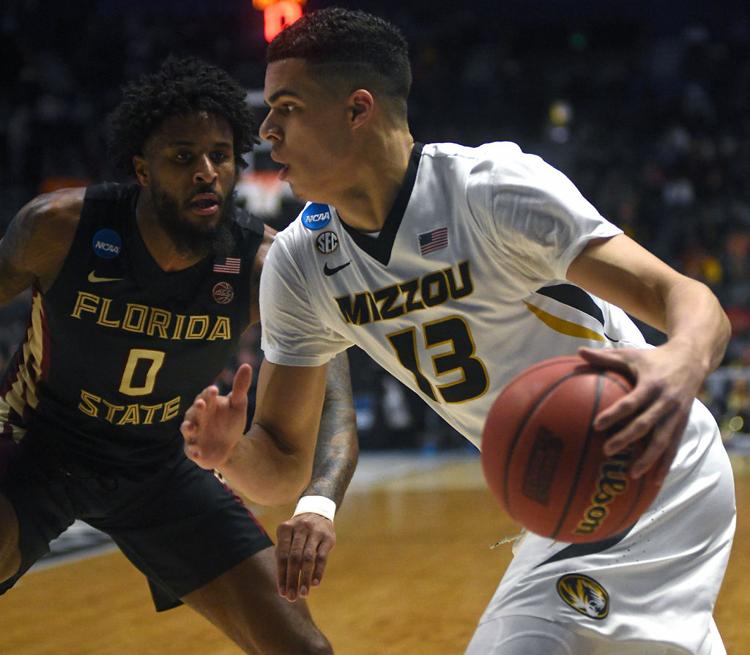 But Romar was fired in March 2017 after a poor year in Seattle. Back in Columbia at nearly the exact same time, Cuonzo Martin was being hired at Missouri, and one of his first moves was to bring Porter, Sr. on staff. Porter, Jr. followed, with his commitment instantly providing a massive breath of fresh air into a program critically in need of one.
Porter, Jr. had something to hide, though: He'd suffered a back injury playing on the AAU circuit in high school and had been playing through pain since then. It all came to a head in the Tigers' sold-out season opener against Iowa State on Nov. 10, 2017, when Porter exited his collegiate debut after three minutes.
Porter didn't see a game floor for another four months. He underwent surgery and returned for the Tigers' two postseason games against Georgia and Florida State. Both were losses, and both were games in which Porter was effective but a shell of what he was hyped to be.
Declaring for the NBA Draft after his lone season in college, Porter was selected by the Denver Nuggets as the 14th overall pick, his draft stock falling over concerns about his long-term health. He sat out the entire 2018-19 season, but made his pro debut on Oct. 31 last year, scoring 15 points off of the bench in a loss to the New Orleans Pelicans.
With his back seemingly a non-issue at the moment, Tiger fans are seeing what could've, maybe even should've, been with one of the program's most naturally-gifted players ever.
No. 1: The 2011-12 season
For all the headaches Haith gave the Missouri athletic program after his tenure ended, he sure produced a magical season during it.
After a good, not great, season in 2010-11 when the Tigers finished 23-11 and were eliminated in the first round of the NCAA Tournament, then-coach Mike Anderson bolted for Arkansas, a school where he had been a longtime assistant under national title winner Nolan Richardson.
Haith's hire from Miami to replace Anderson was met with criticism and derision from fans, who thought Haith's 43-69 ACC record and one NCAA Tournament appearance at the school didn't justify giving him a deal to be the program's next head coach. But at least in that first season, the move looked like a stroke of genius.
Missouri returned nearly everybody from that tourney team, starting the 2011-12 season as one of the nation's most experienced teams with an average college hoops experience of 2.53 years. Combined with a four-guard lineup that could light up the scoreboard and play scrappy without being sloppy, the Tigers rocketed out to a 14-0 start.
There was Phil Pressey, the under-6-foot point guard who ran the show on both ends of the floor as the Big 12's leader in both assists (6.4) and steals (2.1) per game. There was Ricardo Ratliffe, the team's undersized (6-8) lone big in the lineup who finished the year as the nation's leader in field goal percentage (69.3%). There was Big 12 Tournament MVP Kim English and Big 12 Sixth Man of the Year Michael Dixon.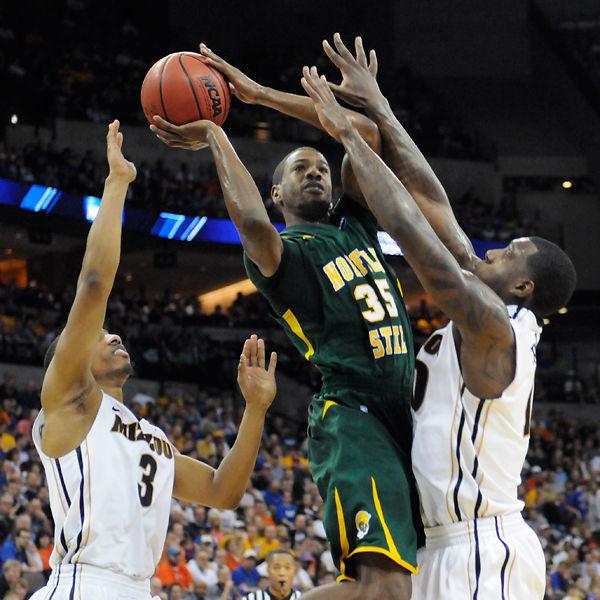 But the man who was the identity of that team was Marcus Denmon. A Kansas City native, two-time All-Big 12 first team nominee and the squad's clear standout, Denmon could produce magic with the ball in his hands.
All the evidence needed to confirm what happened on Feb. 4, 2012. Down by eight with just over two minutes left in a Top 10 showdown against fabled rival Kansas, Denmon scored the game's next nine points to send Mizzou Arena into a frenzy and create a moment on the floor that hasn't been matched by any Missouri team since.
Missouri ranked as high as No. 2 nationally that season and lost just four regular-season games, all in Big 12 play. The Tigers then breezed through the Big 12 Tournament, winning their three games by an average margin of 15.6 points, and looked primed and ready for a deep tournament run.
Except the tournament run didn't happen. In one of the most shocking upsets in tourney history, No. 15 Norfolk State beat the No. 2 Tigers 86-84 in the first round in Omaha. Missouri's lack of height was exposed as current NBA center Kyle O'Quinn had a massive stat line of 26 points and 14 rebounds for Norfolk State. The Spartans defied the odds to escape the first round as a 15 seed for just — at the time — the fifth time in tourney history, and both Missouri and its fans were devastated.
Since then, Missouri hasn't came close to the 30 wins it achieved that season and has only made the tournament twice, without winning a game in it. It had to deal with a new conference, too, as 2011-12 was the Tigers' final campaign in the Big 12 before switching to the SEC.
But perhaps those facts further confirm that a season like 2011-12 was a special one in Missouri athletics lore. It might not have had the postseason result fans or players wanted, but it was as good as any of the Tigers' Elite 8 appearance seasons in 1994, 2002 or 2009.
And much like Denmon playing in Columbia against KU, you can count it to be an entertaining memory for years to come.
NEXT: A look at the greatest games of the 2010s.