With the sports world on pause during a pandemic, the Missourian asked a number of coaches in Columbia to share memories from the most meaningful game (or match, or race, or event) they have ever been a part of. Some chose formative coaching moments. Others preferred a highlight from their playing career. But each memory left a powerful imprint on the coaches, informing how they lead today. In this series, titled 'The Moments That Shaped Them,' the Missourian tells their stories.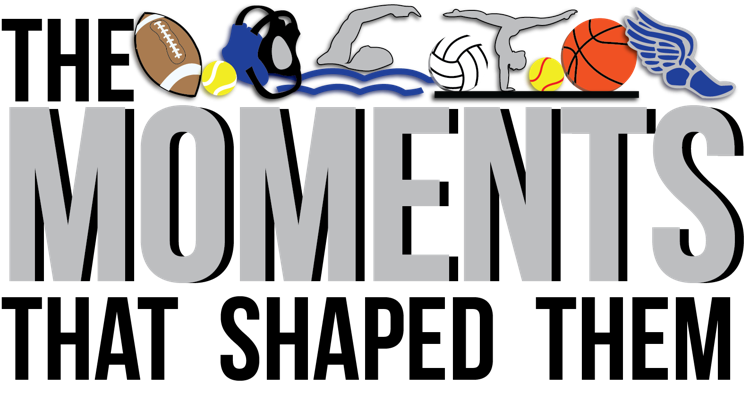 Coach: Brian Smith
Title: Head coach, Missouri wrestling
Moment: Nov. 21, 2003 — Missouri vs. Oklahoma State
A wide-eyed 13-year-old was about to be recruited, though neither he nor his recruiter knew it yet. It was warm in St. Louis, especially for November, but the heat was cranked up anyway in Hazelwood Central's gym. Nathan McCormick sat in the top row, squeezing into a sweltering capacity crowd.
McCormick had two older brothers redshirting on the Missouri wrestling team. The family drove in from Kansas City because Missouri had made an extra effort to stir up excitement for this 2003 season opener. Usually, a poster is made to promote the season. But that year, McCormick noticed a poster just for that dual.
That's how MU's sixth-year wrestling coach Brian Smith wanted it. The last two years, both winning seasons, had proved he was a good hire. This one was staging ground for history. The Tigers were 0-24 against Oklahoma State all-time and 0-5 against the Cowboys under Smith. The combined score in those five losses was 165-22. An average of 33-4. "They're the biggest dynasty in college athletics," Smith says now.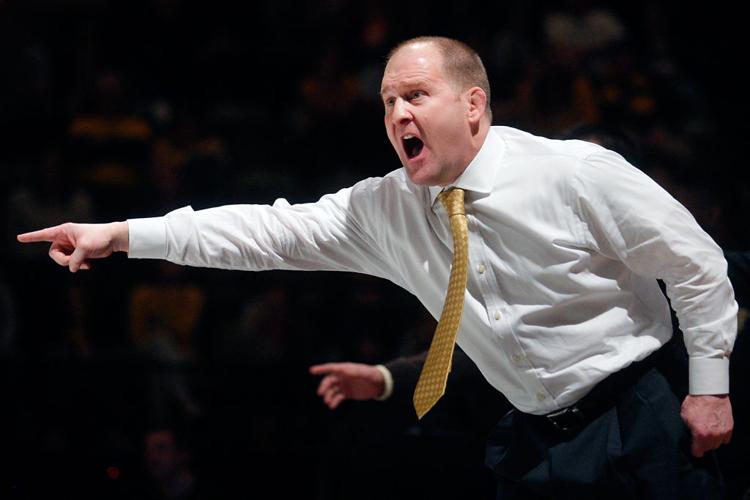 Smith loves history. He used to teach it to high school students. By 2003, he was known to teach it to his wrestlers in the middle of rigorous training sessions.
His Wednesday workout routine was called "stadiums." Everyone ran up and down every staircase in Memorial Stadium, first alone, then carrying a partner. One rainy Wednesday, Smith had everyone meet in the basement of Hearnes Center. Instead of stadiums, they climbed from the basement to the wrestling offices on the fourth floor. After a two-hour session, Smith had everyone find a partner and gather 'round. One from each duo climbed on the other's back, and the unlucky partner held a 90-degree-angle squat.
Then Smith's history class began.
"He would start telling some story about General Patton or Kennedy," says Matt Pell. "Or giving some speech about going to the moon."
Pell was new to General Smith's lectures in 2003. He was a promising freshman but a backup at the 157-pound weight class. That offseason, 184-pound All-American Scott Barker had been kicked off the team for violating its rules. Smith had a hole at 184. He studied the roster and noticed Pell had height but lacked volume. A perfect combination.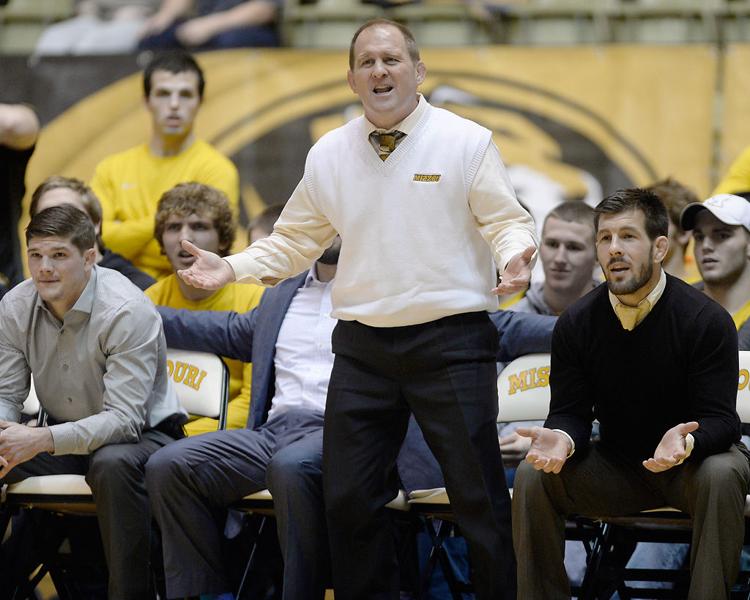 That's how Pell spent the months leading up to his first college match: gaining almost 30 pounds, training to wrestle three weight classes heavier than the one he once knew. It came down to the wire. On the team bus from Columbia to St. Louis for the Oklahoma State dual, Pell still wasn't 184 pounds. He guzzled a gallon of water. At the pregame meal, he downed two foot-long sandwiches from Subway.
Then he was in the stuffy gym, preparing to face Oklahoma State's four-time All-American and future UFC fighter, Jake Rosholt, who was more used to competing at 184 pounds.
"(Pell) had a metabolism that went 1,000 miles per hour, so he couldn't keep weight on," Smith says. "That's kind of the opposite of what wrestling coaches are normally doing with their athletes."
Smith surveyed the crowd before the dual began. His parents were somewhere in there. They had traveled from Florida for the occasion. That's one way to measure the importance of a dual to Brian Smith: the presence of his parents.
The leadoff match was the college debut of future Missouri legend Ben Askren. He faced Chris Pendleton, who would beat Askren in the national championship this season and next. But for now, Askren held his own, leading 6-1 after the first of three periods. He nearly pinned Pendleton — if you get a pin, it automatically wins the match and earns your team six points rather than the typical three — but Pendleton wrestled out of it and rallied to even the score after three periods. On deck, the brand-new, 184-pound Pell was transfixed. Askren lost in sudden-death overtime. The Cowboys led 3-0. The gym was shaking.
Missouri assistant coach Lee Pritts smacked Pell's head gear. "He told me later, 'I just had to snap you out of it because you were so into the Askren match,'" Pell says.
As the freshman stepped onto the mat, Pritts turned to the other coaches and said matter-of-factly: "Well, he's fired up! He's either going to go out there and get a quick pin, or he's going to lose pretty quickly."
Turns out, Pritts was right. Pell tallied three takedowns, then he pinned Rosholt for the upset. Suddenly the place was going berserk because Missouri was ahead, 6-3.
The dual only intensified from there as MU clung to the lead.
"You don't notice things around you," Smith says. "It's kind of like a blur; you're into the match so much."
Leading 12-10, Missouri sent 141-pound J.P. Reese up against Ronnie Delk.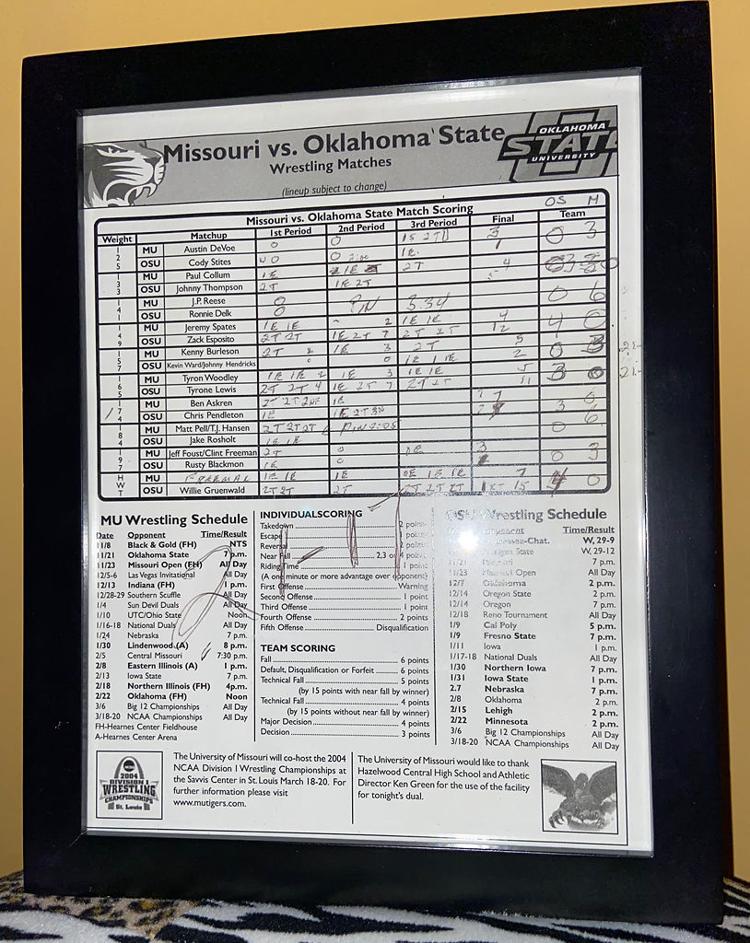 The second period started with Reese on top of Delk. It happened quickly. Reese pulled his left arm around Delk's neck. At the same time, his right arm slid behind Delk's right leg, his elbow latching onto the underside of his opponent's knee. Reese stretched until his hands were interlocked, trapping Delk. The move is called a "cradle" because it resembles holding a baby. Minus the gentleness. Reese kept a struggling Delk pinned on his back for two seconds. Match over. The Tigers' second pin gave them a late 18-10 lead.
From the top row, young Nathan McCormick watched Reese's cradle in awe. Later that night, McCormick learned his brother Tyler had been Reese's warm-up partner, and they had spent the entire time practicing the cradle Reese knew he would use to pin Delk.
The Cowboys made one last push, but 157-pound Kenny Burleson protected an early lead to win the penultimate match. It was 21-14. A realization spread through the crowd: Not even a pin could save Oklahoma State. Soon it was officially over, 21-17, and Smith was swept through a pack of delirious fans on the gym floor.
"There were some older gentlemen that were coming up and hugging me," Smith says, "saying, 'Thank you, I didn't think I would see this in my lifetime.'" Somewhere in that mess, Smith found his dad, who had kept a scorecard of the dual. Eighteen years later, it's framed in Smith's basement.
Sadly, Smith had a coaching clinic in St. Louis the next day, so he couldn't ride back to Columbia with his rejoicing wrestlers. He went to his hotel room alone and reflected. He sat, then stood, then paced, then wept.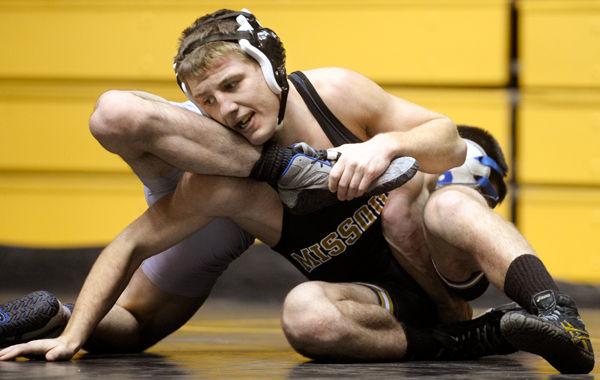 "You hear of the impatience of fans and sometimes administrations," Smith says. "And that (Missouri) stuck with me for these six years … that moment when you're walking around the hotel room, wow, it was overwhelming at times. And there were times that I would just cry. These kids did this. They actually did this. That wasn't me. The 10 guys that went out there that night did this amazing thing."
Nine years later, Brian Smith had an idea. He took his Missouri wrestlers on a weekend camping trip in early autumn, a preseason bonding mission. Everyone sat around the fire and shared wrestling stories. Smith reminisced about the first time Missouri ever beat Oklahoma State. Then one of the seniors spoke up. Nathan McCormick smiled and shared that he attended that dual. Then a junior, Kyle Bradley, jumped in: He was there as a kid, too. McCormick told the group that, in his 13-year-old mind, he committed after that meet: He would wrestle at Missouri someday.
"It wasn't just a win," Smith says. "It actually changed the mindset of a lot of young boys in the state at that time."
Smith has coached five national champions at Missouri since that win, starting with Ben Askren. In fact, the Tigers won that day even though two of the program's most famous names lost: Askren and Tyron Woodley. The Tigers have beaten Oklahoma State seven times now. Nov. 21, 2003 was the first.
Makes for a pretty good history lecture.