With three NCAA titles and a bronze medal in the 2016 Rio Olympics, J'den Cox is arguably the greatest athlete in the University of Missouri's history. His path from precocious teeth-pulling Columbia kid to MU icon might have seemed like a short — both literally and figuratively — and predestined one. But, in this three-part series continuing Wednesday and concluding next Sunday, the Missourian looks at the arduous odyssey fraught with deep-seated and what at times seemed like insurmountable obstacles.
Deep in the bowels of the Scottrade Center, a young girl wanders among coaches, reporters and throngs of wrestlers.
She could not be more out of place, wearing a bright yellow T-shirt and sporting a fresh cast on her left arm, a result of a falling pole during the setup for the NCAA Wrestling Championships. Her eyes are trained on one wrestler sauntering toward the media backdrop, coming off a victory in the national semifinals.
The wrestler's name is J'den Cox. In the eyes of the girl, he is a superstar, the biggest name on the biggest of wrestling stages. In the eyes of the media members swarming him, he is a feel-good story, a Missouri-born kid in his home state searching for his third and final national championship. In the eyes of his coaches, he is a once-in-a-lifetime talent that may never be replicated by another Missouri wrestler or athlete, ever.
The girl strides toward Cox, earnestly introducing herself to the goliath and telling the unfortunate story of how her arm ended up sandwiched between a metal beam and the Scottrade Center floor.
Cox laughs and says, "You know, you're supposed to move out of the way when that happens."
The girl laughs and asks if Cox can sign her cast the next day, when she will have the more-permanent plaster mold covering the arm. Cox obliges and thanks her, reminding her to be careful before turning toward the group of reporters awaiting his words.
This is the wonder of Cox. He is able to switch from an elite competitor to a welcoming superstar in a matter of moments, before switching again to a 22-year-old who is composed beyond his years in front of 20 strangers rattling off questions aimed at him. It is an unnatural ability that comes easily to Cox, one of the few things in his life that he has not had to work his tail off to achieve.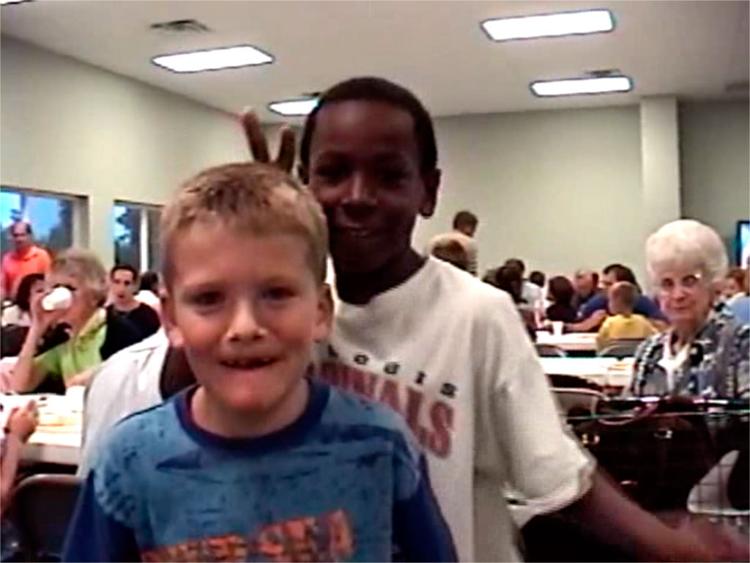 Cox's journey toward becoming the most dominant Missouri athlete of all time started in 1987. In that year, eight years before Cox was actually born, Phil Arnold was invited to a wrestling practice.
For his whole life, Arnold had felt as though he was in his older sister's shadow. Cathy Arnold was and still is a talented singer and has performed the national anthem at various Missouri sporting events.
Phil Arnold recognized he'd never be able to match her talent. In his search for something to call his own, he found wrestling.
"It was something I realized was going to be all mine and I didn't have to worry about Cathy overshadowing me, because this was my own world," Arnold said. "I fell in love with it the first time I hit the mats."
His love for the sport quickly turned into success, as he won two state championships at Hickman High School in 1990 and '91. The speed at which he rose in the sport can be attributed to how he was raised.
"My dad always told us to just be the best," Arnold said. "My parents always said, 'If you're going to do something, never do it halfway.'"
By this point, his sister's name had switched from Cathy Arnold to Cathy Cox, and she had two sons. She and her husband, Mike, were in the process of balancing their home, jobs and children, sometimes with very little money and resources to do so at their disposal.
"We'd scrape and save and do whatever we had to do to make sure our kids could do whatever they wanted to do," she said, "especially when it came to the arts, to playing instruments, to being in a sport."
A priceless — literally and figuratively — way to place their children near sports came when Arnold wrestled. The boys, Zach and Drae, went to so many tournaments that they were eventually known as "Phil's nephews" by wrestling fans across the state.
"They would come to all my matches and all my dual meets and would literally fight over my headgear and who would get to play with it," Arnold said. "Anywhere I went, the boys went, and they just grew up in the wrestling world."
The Cox boys continued in the sport of wrestling even after Arnold left Columbia. When it was announced that a third Cox son was on the way, it was all too easy to imagine him alongside his brothers on the mats.
"J'den, he didn't fall into it. He was predestined," Arnold said. "Everybody knew that J'den was going to wrestle."