Missouri is asking athletes to sign a pledge to follow seven guidelines to guard against the spread of COVID-19 when they return to voluntary workouts this summer, an MU spokesperson confirmed.
Nick Joos, the deputy athletic director for communications, told the Missourian earlier this week that athletes are signing a document but that the pledge does not constitute a waiver of liability. Instead, it "just outlines that if they become ill they will follow our protocols and let us know," Joos said.
The document was obtained Wednesday by The Athletic through an open records request.
The document says the guidelines are being put in place to "minimize the risk of exposure" to COVID-19 and "mitigate the effects of the virus within the athletics and campus community." Athletes, it continues, recognize that "participating in Mizzou athletics is a privilege, and that student-athletes are held to a higher standard" and pledge to "accept the responsibility to abide by these guidelines in order to keep teammates and the Mizzou athletics staff as safe as possible."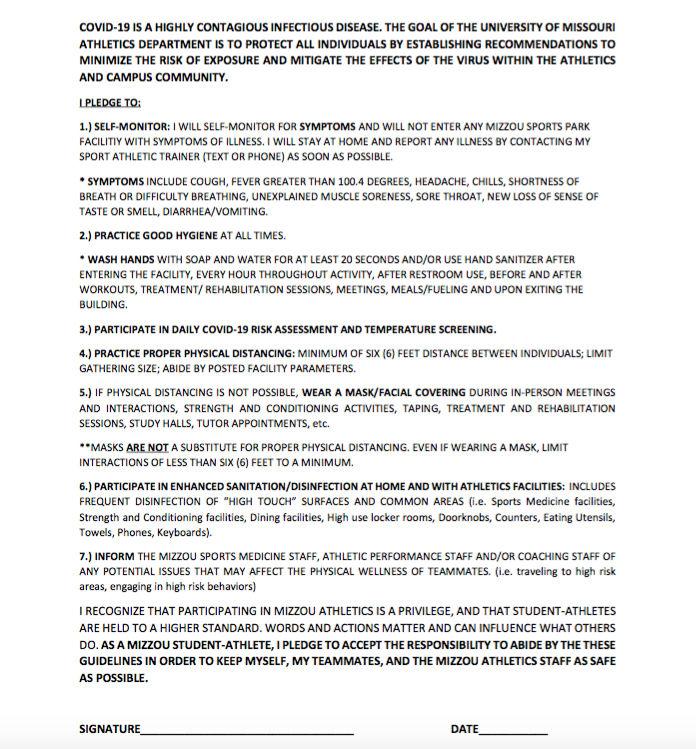 The guidelines include self-monitoring of symptoms, washing hands, and participating in daily screening that includes temperature checks. The pledge does not spell out ramifications for the failure to adhere to the guidelines.
Southern Methodist University is reportedly requiring its returning athletes to sign a liability waiver that states they agree not to hold the school liable for anything related to COVID-19. The SMU document spells out that its students are waiving the right to litigation if they come back for voluntary workouts.
At Ohio State, athletes are being asked to sign a "Buckeye Pledge" which states, "I take the pledge to take responsibility for my own health and help stop the spread of COVID-19," and "I can never be completely shielded from all risk of illness caused by COVID-19 or other infections." Although Ohio State officials have said the "Buckeye Pledge" is not a legal document, some legal analysts have suggested it amounts to a waiver.
At Missouri, football and men's and women's basketball players have been allowed back on campus for voluntary workouts since June 8. Athletes in other sports are being allowed back as the summer progresses.
MU football head coach Eliah Drinkwitz said Wednesday that, to his knowledge, no waiver or document had been given to any of his players.
"I don't know how you sign pledges on taking a voluntary workout, but you know, I didn't look into it that hard," he said. "I can't require, I can't restrict, what they're doing the other 21 hours, and they're 18-to-22-year-old young men ... can somebody tell you what you can and can't do? It's hard."
In Missouri's pledge, players are told to maintain a social distance of 6 feet apart, and are told to wear a mask for activities in which that isn't feasible, such as treatment sessions for injuries.
Athletes must also inform staff of any "issues that may affect physical wellness of teammates" such as traveling to high-risk areas.
The pledge doesn't address behavior for athletes outside of voluntary workouts, other than the practice of safe social distancing. Players will be living in Columbia, and will only be at athletic department facilities for a couple of hours a day.
"We do preferably want them to social-distance and stay in the house. But if they do go somewhere, just wear a mask," said senior running back Larry Rountree on Wednesday. "Just not going to too many places or trying to go to a pool party, don't do that. Because if we get a player (to test positive) and he's in jeopardy, we can get shut down because of that.
"So, in the end, we're talking about, OK, Houston, they got shut down for I don't know how long, but now they're going to be behind. We're already behind. We didn't have a spring. We don't need to waste any more time. So the time that we are getting, we need to take advantage of that."
The University of Houston halted voluntary workouts for its athletes June 12 after six students tested positive for COVID-19.
Missouri's athletic department has said it will not release the number of positive tests or cases among athletes and staff to the public, but will report those numbers to county health officials.