When Turner Yates arrived at Missouri in the summer of 2015, so much seemed possible.
She was a five-star recruit who'd been ranked No. 1 in Mississippi since she was 9 years old and was set to play in the Southeastern Conference, arguably the best for her sport. Former Missouri head coach Sasha Schmid had personally recruited her, and Yates was excited for her future. She won her first match over Louisville at a September invitational.
But just a year later, Yates was transferring. She says that she was pressured to play through an ankle injury so severe that after her freshman year, she had to undergo reconstructive surgery.
Yates was not the only player to leave Missouri before her four years of eligibility were up. Since 2015, nine players either transferred or stopped playing tennis during the tenures of Schmid and her successor, Colt Gaston.
Dating back to at least 2015, former Missouri tennis players say team trainers mishandled injuries and coaches held practices that violated NCAA rules and created a culture that fostered a lack of trust.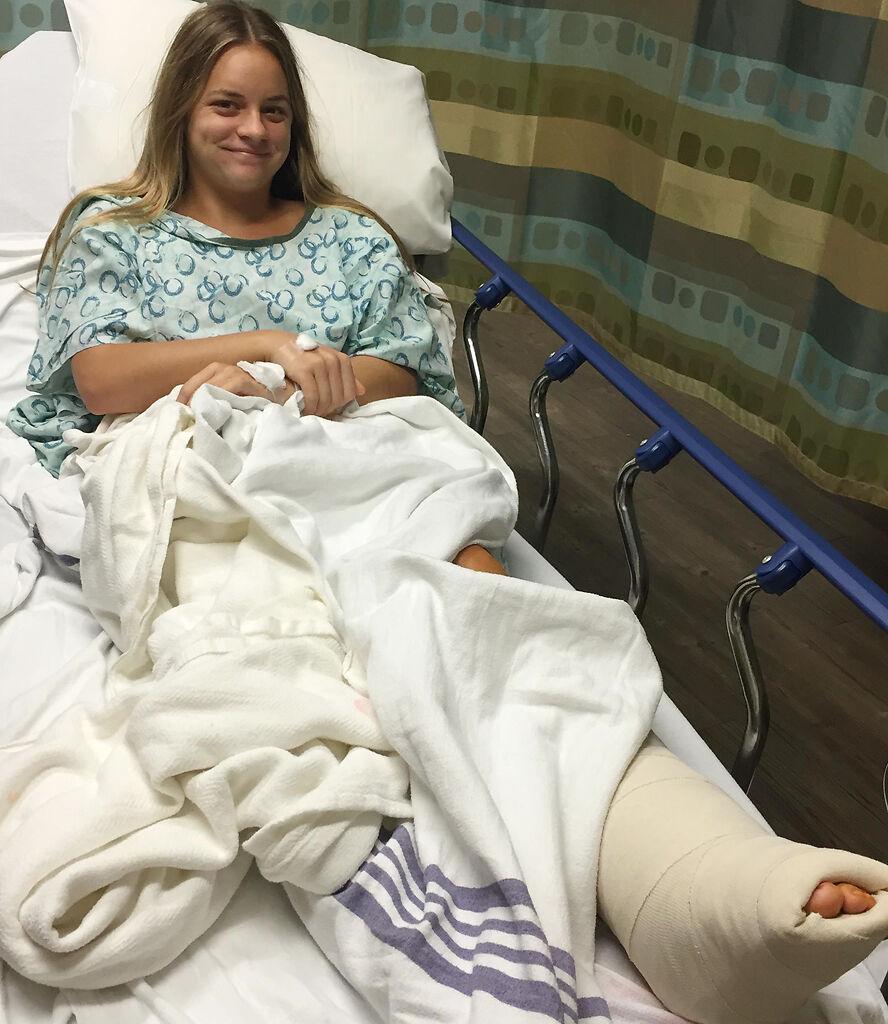 And as the turnover — and the losses — mounted, six of the former players and at least one parent say athletic department administrators were told about many of these issues but that no action was taken.
Athletic Director Jim Sterk declined to speak with the Missourian about many of these issues, and the former coaches and several others involved with the team declined to speak or did not return repeated requests for comment. University officials said in some cases, they are unable to talk about specific student issues because of federal law.
A records request related to many of the allegations was submitted to the university in June; nothing has been provided. University officials said the request encompasses about 60,000 pages of material and that the pandemic has made it difficult to deal with such a large request and that the material would be provided by the end of the year.
Though nine player departures essentially amount to an entire team, Andy Humes, the associate athletic director in charge of compliance for MU Athletics, who also acts as the sport director for the tennis team, said the large number of transfers wasn't a major concern for the department.
"Each transfer is unique, each student athlete is unique, and their decision to transfer can be based on their individual circumstances," Humes said.
NCAA rules dictate that if a school discovers any broken rule, it is mandated to report the violation. Humes would not discuss specifics but said  a violation would have to be reported to the NCAA, and the school made no such report.
Clare Raley, Brianna Lashway as well as two other former players who spoke under the condition of anonymity all said that, as head coach, Gaston broke NCAA participation rules, committing the players to more than the allotted 20 hours per week, as defined on the Missouri Athletics compliance webpage, and scheduling "captain's practices" on "flex" days, which are supposed to be off-days.
Humes said he recalled looking into allegations of this nature but declined to discuss any specific conversations he had with individual players. Humes took on his current role in 2018, replacing Mary Austin, who retired. Humes was not in the job when Yates' injury happened and took over after many of the complaints against both Schmid and Gaston were put forward. Austin did not respond to phone messages asking for comment.
In 2018, an anonymous player's parent said they sent an encrypted email to Sterk detailing complaints against Gaston relating to his alleged violation of practice rules as well as his general behavior as head coach. An athletic department spokesperson said Sterk does not recall receiving this email, but if he had, he said would have gone to compliance with it.
This was not the first time Sterk was made aware of alleged misconduct from a tennis coach. In 2016, just after Missouri hired Sterk, the father of Brittany Lashway, a former Missouri tennis player, sent an email detailing complaints about Schmid's treatment of Lashway. Schmid had left Missouri just a few months before. The email was also sent to Gaston, who had just been named head coach.
Schmid left Missouri to coach at her alma mater, Iowa, after the 2015-16 season. Gaston won just two conference matches in three-plus seasons as head coach (his fourth was abbreviated because of cancellations resulting from the COVID-19 pandemic). Gaston resigned as head coach of Missouri tennis on April 13.
Mishandled injuries
For Yates, the player whose Missouri career started so promisingly, trouble first started when the coaches tried changing the style of play that worked for her in high school, she said.
"I immediately lost confidence because I felt the tennis player I was wasn't good enough for them," Yates said.
During her brief career at MU, Yates suffered an ankle injury, first spraining it on Jan. 5, 2016, at an invitational tournament in Hawaii. During her initial injury rehab, Yates went through water workouts and stationary tennis drills. Then, Yates said, one of the athletic trainers, a chiropractor, took over her rehab and began implementing more drills involving movement. At the time, the trainer was filling in for the previous trainer, who had left the program.
Just over two weeks after suffering the injury, Yates played in a singles match and was forced to retire because of severe ankle pain. After an X-ray, Seth Sherman, an orthopedic surgeon who works with Missouri Athletics, diagnosed a moderate ankle sprain that did not require surgery, according to medical records.
According to Yates, on Jan. 26, she was instructed by the trainer to put her ankle in ice until it went numb and then run on a treadmill until she could feel pain again. Yates said she had to repeat this exercise multiple times. Yates also said that she saw a university doctor Jan. 27 who told her not to play. Three days later, Yates said she was told by the trainer to play an exhibition set.
While Yates' injury occurred before Sterk came to MU, the trainer still works as an independent contractor for Sterk's department.
"Something was wrong. I knew something was wrong. I'm not a baby," Yates said. "And they continued to make me play on it."
The injury caused Yates to run awkwardly, and Gaston made fun of her as a result, both Yates and Raley said. Yates also said Schmid threatened her with suspension if she didn't listen to the trainer. Yates played through the pain for the rest of the season, including at the SEC Championship. During this time, she re-injured the same ankle. At the end of the season, Yates decided to transfer.
Gaston did not respond to multiple requests for comment, and Schmid declined to be interviewed through an Iowa Athletics spokesperson.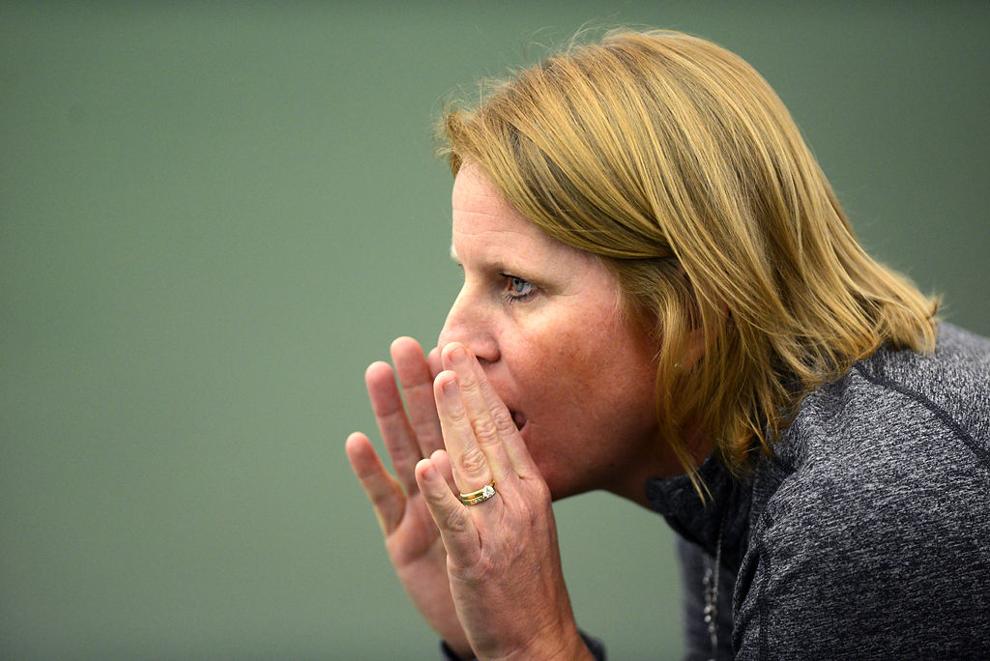 Yates' father, Gene, recounts how his daughter felt the summer after her lone Missouri season. She'd become convinced there was nothing wrong with her ankle and that she was the problem.
"She finally came to me in tears and said, 'They've told me I'm a wimp. Maybe I am, but there's something wrong with my ankle.'"
Turner Yates didn't learn that she needed surgery until she returned to Mississippi in the summer.
MRI records shared with the Missourian by Yates detail the severity of the injury, with bone chips floating in her ankle. MU reimbursed the Yates family for the cost of the surgery not covered by insurance, according to Gene Yates' expense report shared with the Missourian.
An athletic department spokesperson said it is standard practice to pay for an athlete's medical care, regardless of whether the athlete transferred.
Gene Yates told Austin, the former associate athletic director in charge of compliance, on a phone call in June 2016 about his daughter's worsened injury problems. Turner Yates provided the Missourian with a recording of that call.
After recovering from surgery, Turner Yates finished her tennis career at the College of Charleston in 2019. In her senior season, she had a singles record of 15-4.
Turner Yates is not the only former player who said she had injury problems that were not properly handled. Brianna Lashway initially suffered what she said was a stress fracture in her leg and requested to see a doctor. Lashway said both Schmid and the trainer refused to let her. Lashway played nearly every match her sophomore season.
"We were playing against, I think it was Ole Miss, and I couldn't even walk during that match," Lashway said. "I was going to lose anyway because of how much pain I was in. I was crying on the court, and the referee came up to me and said I need to retire (quit the match). I kept asking Sasha, and (she) told me I can't retire."
According to the recap on the athletic department's website, Lashway did end up retiring against Ole Miss on April 16, 2016.
Schmid "still put me out there when she knew how much pain I was in," Lashway said. "I was crying for the pain, but I was also crying because I was scared for my scholarship. … I retired, and I got reamed for it. They told me that if something like that happens again, I was going to lose my scholarship."
Lashway did not play the following match against Alabama, the last one of the regular season.
During the 2016-17 tennis season — Gaston's first as head coach — Lashway, now a junior, was arguably the team's best player. Her solid play was in spite of the shin splints she said she felt. Lashway tried different treatments including icing and stretching, but the pain persisted.
Lashway said she continued to play hurt until March, when she underwent an MRI that she said revealed a stress fracture in her tibia and fibula. The injury ended her season, and her leg was confined to a boot. But Lashway said Gaston forbade her from informing the rest of team about the seriousness of the injury. Gaston also did not inform the team that Lashway would miss the remainder of the season.
Lashway and Raley believe Gaston may have been trying to preserve hope among team members that she could return. But the result, instead, was further division among team members.
Many of the other players started to doubt that she was injured.
"(The team) completely ostracized me," Lashway said. "They hated me. They didn't talk to me."
The only people on the team Lashway told were her sister and former teammate, Brittany, who was no longer on the active roster, and later Raley, her closest friend on the team. Both Raley and Brittany Lashway confirmed that Brianna Lashway informed them of the injury.
Brianna Lashway transferred to Nebraska for the following season, where she finished her college career.
Another former Missouri tennis player, who wished to remain anonymous, said she had to play through multiple injuries in 2017 while Gaston was head coach. An MRI done after the season shared by the player was consistent with the injury she described. The Missourian is withholding the details of the injury to protect the identity of the player.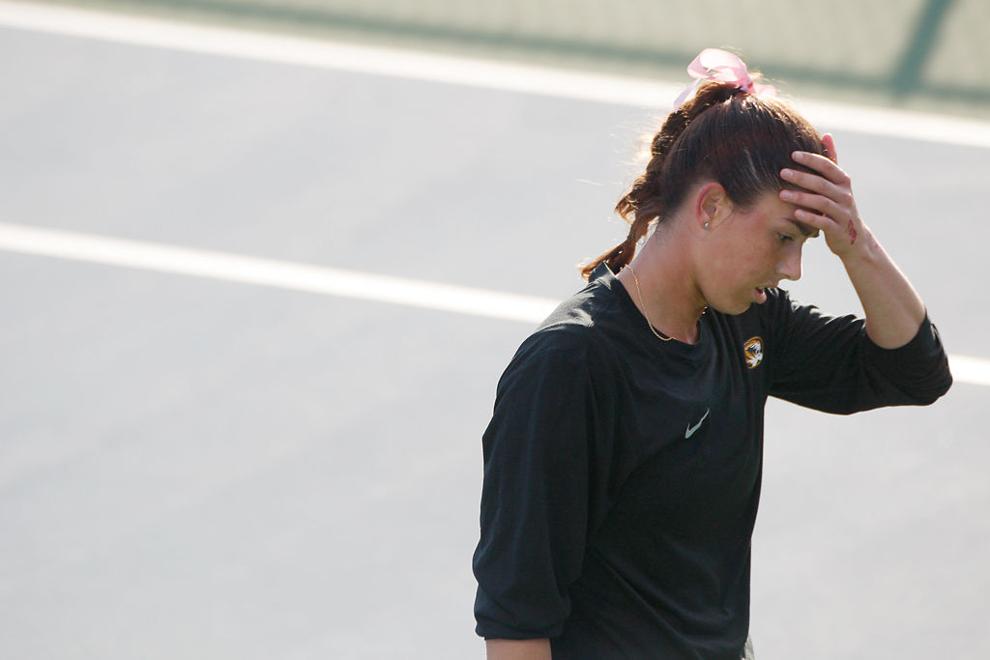 Fostering distrust
Because of her traumatic experience at Syracuse, Lashway struggled with what she equated to PTSD at Missouri. She said she often had panic attacks, sometimes on the court, and frequently saw the athletic department's psychologist. When Lashway first arrived at Missouri, she said Schmid seemed understanding of her experiences.
Brittany and Brianna Lashway say they had no issues with Schmid in their first season but that she changed dramatically the following year, the 2015-16 season, which was Schmid's last at Missouri.
"She changed, big time," said Brianna Lashway of her former coach.
Schmid yelled at players more than she previously had, according to the Lashways and Raley, and practices lasted longer.
Brittany Lashway described her relationship with Schmid as "strained." She said that when she was a junior, one of her close friends was raped. She spent the night in the hospital with the friend. The event had a serious negative effect on the mental health of both Lashway sisters.
"I was triggered from my own past," Brittany Lashway said. "I didn't think I could show up to class, let alone tennis practice."
Brittany Lashway said Schmid was adamant that she practice anyway. The sisters both said they met with Austin about taking a few days off following the event. Brianna Lashway said her sister was clearly shaken up.
"Brittany really wasn't doing well," Brianna Lashway said. "Ask anybody on the team at the time. She was pale. She didn't look like herself. It was pretty bad."
"I couldn't talk to anyone. I was freaked out," Brittany Lashway said.
After talking to Austin, both Lashways said they met with Austin, Schmid, Gaston and a psychologist about taking some time off. According to the sisters, Schmid was unhappy that they hadn't gone directly to her with their concerns instead of to compliance. Brianna Lashway said the reason they didn't go to Schmid first was because they were afraid of how she might react.
The Lashways also said that there was conflict between Schmid and the psychologist during that meeting over whether Brittany Lashway should continue to play. Brittany and Brianna both said the psychologist was against Brittany Lashway playing in the immediate aftermath of her friend's assault. Brittany Lashway did finish the 2016 season, leading the team with 24 singles victories.
After the 2015-16 season, Brittany Lashway said Schmid asked her to medically retire to free up an extra scholarship, even though the elder Lashway said she had no physical injuries at the time. Lashway said Schmid explained it was because of her mental health. At the time, Lashway had one year of eligibility remaining.
"At that point, I was doing better," Lashway said. "I was asking my therapist, and everyone was on board saying I was doing better and performing better."
The family pushed back, and Lashway stayed on scholarship but was taken off the competitive roster . When Gaston took over, he did not put her back on the roster.
During the 2015-16 season, Lashway had been one of the top-performing players on the team, one of only three Tigers to finish that season with a winning singles record. A request for a Title IX review of her treatment by Schmid and the athletic department was filed by her family as a result of the incident.
The Lashways' father, Jeff, sent an email in September 2016 to Austin, Gaston and Sterk, who had just become MU's athletic director, detailing many of the problems Brittany Lashway had with Schmid, including her ultimate dismissal from the team.
Sterk responded to the email acknowledging that a Title IX review was underway and said, "I am confident their office will provide a fair and just review."
Brittany Lashway said after initially speaking with MU's Title IX office in 2016, she has still not heard anything about her complaint. University spokesman Christian Basi said updates are often not provided once investigations are underway because of federal privacy laws.
Schmid left the program following the 2016 season, and the team did not improve. Sterk took over as athletic director on Sept. 1, 2016. Gaston was named head coach just two days later.
Gene Yates was surprised. On an August 2016 phone call with Austin in the aftermath of Turner's injury situation, he expressed his displeasure with Gaston, who at that point was interim head coach after Schmid's departure.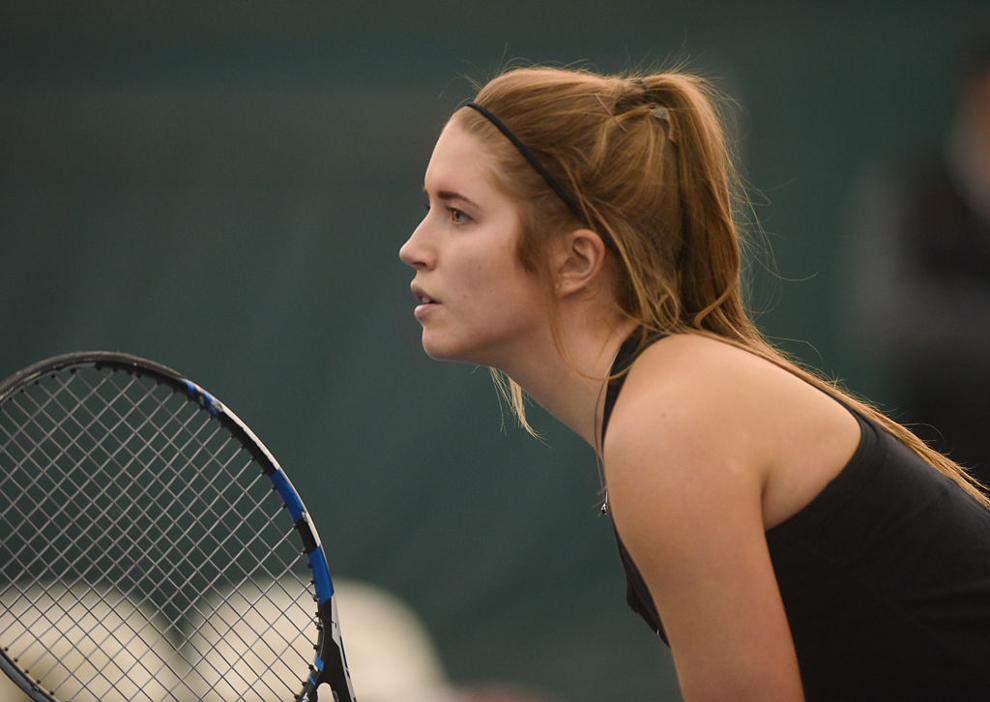 'What is he going to do today?'
Raley's MU tennis career began during the spring of 2015. A five-star recruit out of Georgia, Raley came to Missouri to play for Schmid. Raley is a former Missourian reporter who graduated from MU in 2019 and exhausted her tennis eligibility in 2018.
Like the Lashways, Raley said she didn't have trouble with Schmid until the 2015-16 season. But most of Raley's complaints stemmed from Gaston's tenure.
Raley said Gaston pitted players against each other. If two players were battling for a spot in the lineup, Gaston would go to each player and say that the other wanted it more. Raley said this led to a distrust of Gaston and a general lack of transparency around the team. This sentiment was echoed by two other former players who requested anonymity.
Of Gaston's practices, Raley said they consistently went over the allotted time and that the team would be tired as a result. Raley also recounted instances when Gaston criticized the players for being tired and blamed them for staying up late to do schoolwork.
"It was like walking on eggshells being around him," Raley said. "It was showing up to practice with a pit in your stomach thinking, 'What is he going to do today?'"
Raley's relationship with Gaston was particularly rocky. Raley said he suspended her twice. The first suspension was the result of Raley being charged as a minor in possession of alcohol.
The second came on a road trip, when Raley said Gaston eavesdropped on her in a hotel.
Raley was in her hotel room FaceTiming with a former teammate. Raley said she was complaining about her coach and was unaware that Gaston was in the room next door and had overheard what she had been saying. After Raley had been on the phone for at least 20 minutes, she said Gaston knocked on her door and told her he had heard everything. When the team returned to Columbia, Gaston suspended Raley.
Before Raley's senior season, Raley said Gaston presented her and Brianna Lashway with a contract, outlining a zero-tolerance policy for any more broken rules. The contract, which was shared with the Missourian by Raley, said the punishment for a first offense would result in a "meeting with the coaching staff and sport supervisor, dismissal from team and possible loss of scholarship."
Raley, who was pursuing a journalism degree at MU, decided to sign the contract and play her final year at Missouri. Brianna Lashway decided to transfer.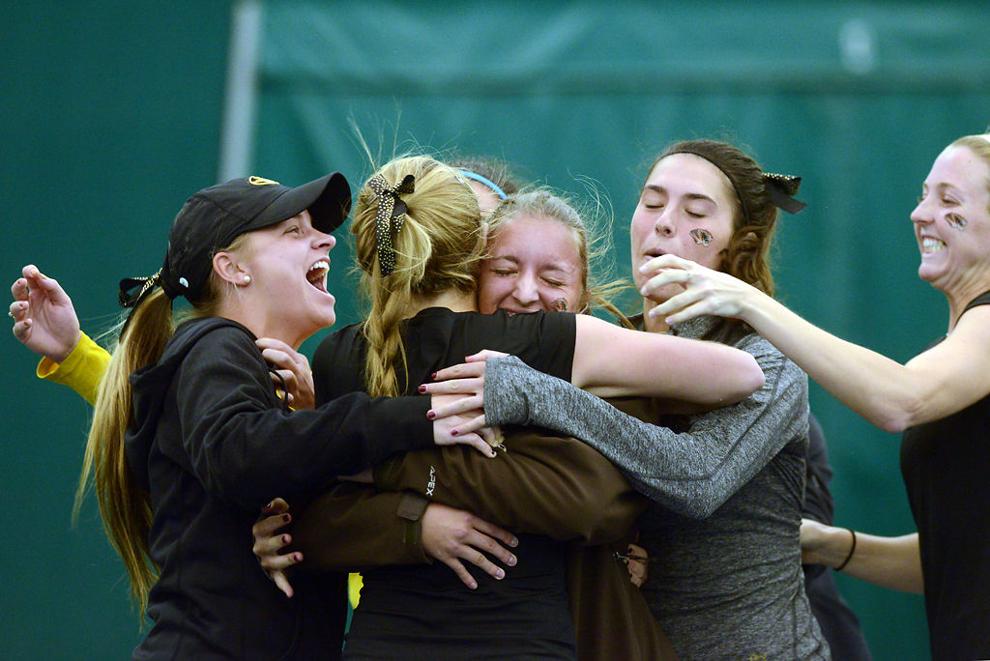 Next steps
In addition to alleged problems that happened off the court, the team never sustained success under Gaston or Schmid in the SEC. Both of Gaston's conference victories came in his first season. Since then, Missouri tennis has gone 0-29 in conference matches.
When asked if there were ever any discussions about letting Gaston go based purely on results, Humes declined to talk about personnel decisions.
The SEC is one of the best leagues in women's tennis, with 10 of the conference's 14 teams ranked in the Intercollegiate Tennis Association's top 50 before the season was canceled as a result of the COVID-19 pandemic. At the end of the 2018-19 season, three SEC teams finished in the top 10.
One advantage the program will have this upcoming season is experience. Since the shortened 2019-20 season allowed players an extra year of eligibility, the Tigers will have five seniors, which is as many as they've had in the past three years combined.
Trying to break through in the SEC in his first season as interim head coach, Chris Wootton will have a difficult task. He has plans to reinvigorate the program by introducing more analytics and emphasizing communication among the team.
"This is going to be a complete departure from everything that Missouri women's tennis has done over the last 20 years," Wootton said in an interview with the Missourian shortly after being named interim coach.
"We're really taking a 180-degree turn here, going in a different direction than what's been done," he added, before thanking both Schmid and Gaston for their work with the program.
Those plans don't change things for Yates or other departed players.
"Nothing happened to Sasha Schmid after this," Gene Yates said. "Nothing happened to Colt Gaston after this."
What they did "is kind of unforgivable," he said. "And that's what really burns me up."
Cover photo by Amber Garrett.