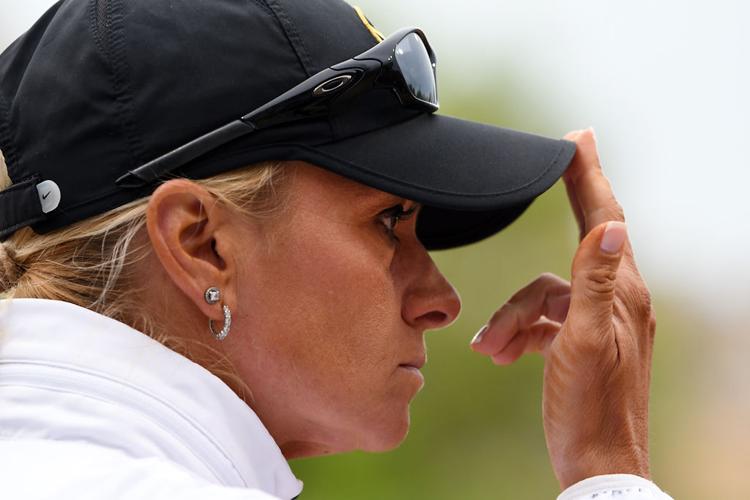 With the sports world on pause during a pandemic, the Missourian asked a number of coaches in Columbia to share memories from the most meaningful game (or match, or race, or event) they have ever been a part of. Some chose formative coaching moments. Others preferred a highlight from their playing career. But each memory left a powerful imprint on the coaches, informing how they lead today. In this series, titled 'The Moments That Shaped Them,' the Missourian tells their stories.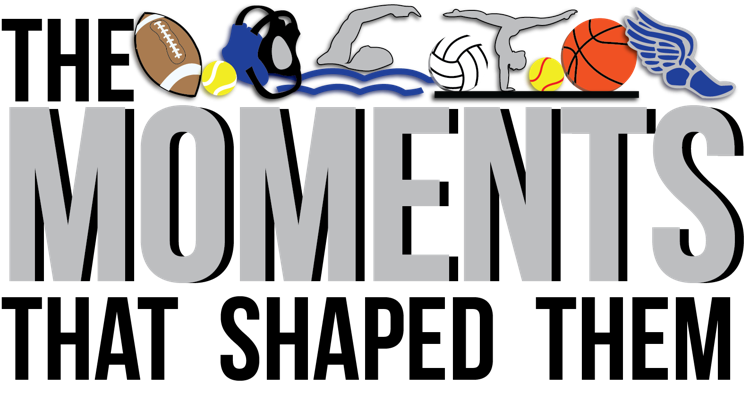 Coach: Larissa Anderson
Title: Head coach, Missouri softball
Moment: May 15, 2003 — Hofstra vs. Nebraska
From her vantage point in the outfield bullpen, Larissa Anderson couldn't help but turn and marvel at the scene unfolding on the old practice field. Softballs arced through the sky like bursts from Roman candles and landed on the adjacent field, 250 feet away. "It was like the 4th of July," Anderson says. There was no way for her opponents to ignore the fireworks.
Everyone on Hofstra's roster was sending softballs over the fence, not just one or two power hitters. "I even hit home runs, and I don't hit home runs," says Adrienne Clark, a pitcher on that 2003 team. It was the best batting practice the team ever had, and it was right before an NCAA softball regional.
Anderson, the second-year pitching coach, was warming up Hofstra's starting pitcher and was close enough to see Nebraska's coaches gather in the middle of the landing zone. As home run balls touched down around them, they called All-American pitcher Peaches James over to the huddle. Nebraska's second-best pitcher had been warming up — it's just lowly Hofstra, after all; better to save your ace for when you need her — but then Peaches started throwing.
"I truly believe they made a pitching change right there," Anderson says, still imagining what the conversation must have been like: "'We're going to have to throw our No. 1.'"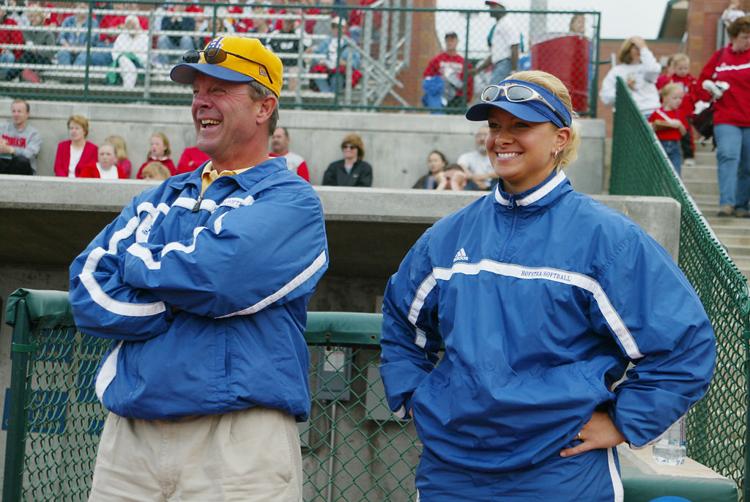 Anderson wandered to the main field, where Hofstra head coach Bill Edwards was scouting the first game. She told him what had happened, still in disbelief. Hofstra had intimidated Nebraska. It was supposed to be the other way around. Nebraska was the top seed and host of the eight-team regional. The president of its booster club had even greeted Hofstra at the airport. "We're like, 'What the hell is going on?'" Clark recalls.
They couldn't believe they were here, in Nebraska, in the NCAA Tournament. Before the bracket was unveiled, Anderson had asked Edwards if they should get the team together to watch. He recalled gathering the players in 1994 only to learn that Hofstra had been snubbed. Edwards knew the selection committee didn't respect small schools; he didn't want another watch party to end in heartbreak, so the coaches went their separate ways. Clark and several teammates secretly held their own watch party. Soon, they would be stuffed in a car driving along the turnpike, their heads sticking out of the sunroof and windows, screaming "We're going!" Anderson, alone in her apartment, refreshed her old desktop monitor every five seconds. Edwards almost didn't bother checking. When Hofstra's name appeared on the screen, he fell out of his chair.
So here they were, at Nebraska's 2,500-seat Bowlin Stadium, preparing to play under the lights in the regional opener. It was Anderson's first-ever NCAA Tournament, an experience she would bring to Missouri 16 years later. In 2019, she led MU to the regionals in her first year as head coach.
Back in Lincoln, Anderson told Edwards in the bleachers, "I don't know who's going to win this ballgame, but that was the most impressive batting practice I've ever seen in my entire life." She was amped.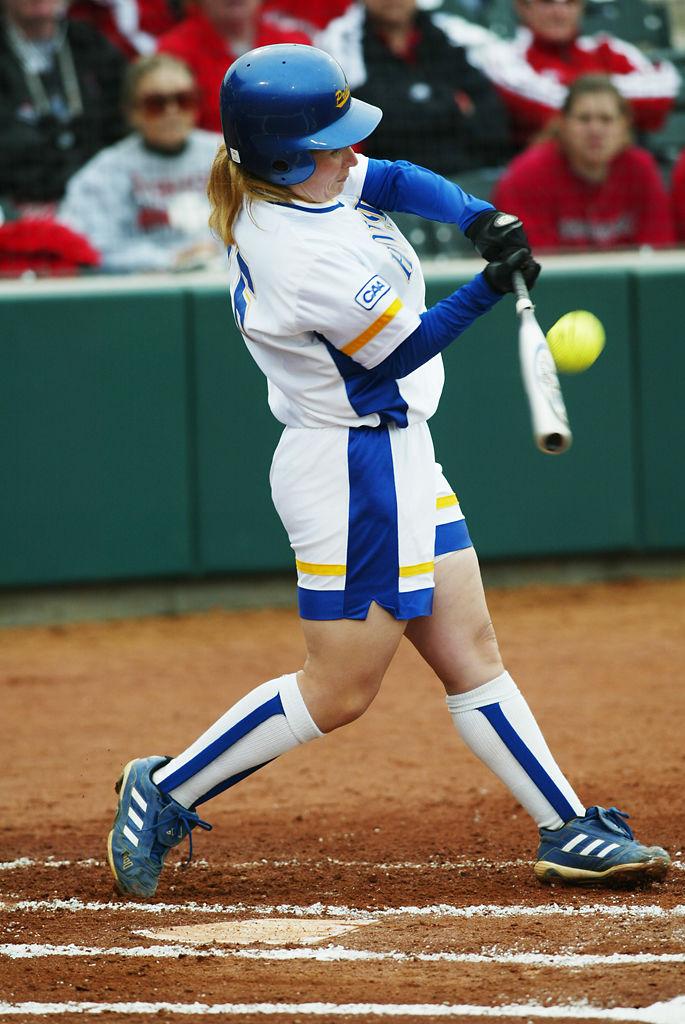 Then Nebraska's Amanda Buccholz led off the first inning with a home run. It was a mammoth fly ball over the left field fence. She spun to face the home crowd and threw her arms in the air — a full pirouette. "It was more dramatic than any bat flip you could ever possibly imagine," Edwards says. The place went nuts. Anderson and Edwards could only watch and begrudgingly admire the antics.
Both pitchers settled in and reached the top of the fourth inning still 1-0. Peaches was living up to her All-American title and shutting down Hofstra. But as she started the fourth, Edwards noticed something from his coaching box on the third-base line. The right-handed pitcher had a slightly different grip on the ball between her ring finger and middle finger, indicating less speed and more control: a changeup.
Edwards tried shouting over the noise of the crowd, directing the batter to sit back on the pitch and wait for the changeup. "Sit! SIT! SITTTT!" Peaches was clearly flustered. "Their coaching staff is panicking because no one's ever picked her changeup before," Anderson says. Peaches, usually a consistent and poised pitcher, walked two batters on four pitches. Up next was Amanda Hallaway, the best power hitter in a lineup that lived or died on the home run. She was also one swing away from the Hofstra home run record. 
Even after watching two walks, Hallaway took a big right-handed swing at the first pitch. She drove the ball to left-center field. The wind pressed against it. No matter. It cleared the fence, barely. It was no batting practice bottle rocket, but it was enough. Hofstra led, 3-1. "I knew we were going to win after the two walks," Anderson says.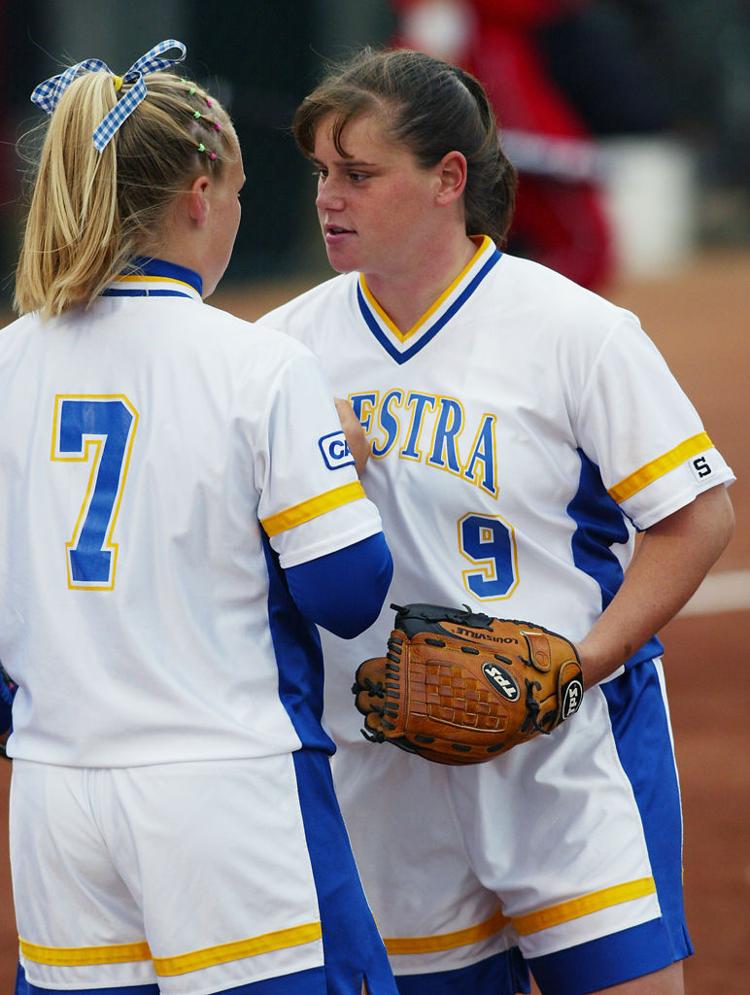 To ensure that, she made a pitching change in the fifth inning, bringing in Clark to protect the lead. The sophomore Clark had transformed into an elite pitcher after being recruited as a utility player. Edwards told her she would never pitch, but injuries opened opportunities. As the starting pitcher handed her the ball and the fate of the game, the intensity on their faces was captured in a photo that would hang in Anderson's office for years.
Clark could throw a nasty drop ball, so Anderson told her the goal was to keep the ball on the ground. No more home runs. That's a lot to ask against a team like Nebraska. Clark remembered a corny gimmick from the previous season. When Edwards and Anderson handed out the schedule, every game was against an imaginary school called "Bazooka State," named for the bubble gum. The purpose was simple: It doesn't matter who the opponent is.
Between every inning, Clark sat in a corner of the dugout, closed her eyes and took deep breaths. When she was on the mound, Anderson called the pitches from the dugout. The two had an inside joke: Make as many donuts as possible. Each donut was a zero on the scoreboard. Clark's drop ball stumped Nebraska, but she dominated with variety and discipline; Nebraska had no way to identify what type of pitch was coming. Hallaway's three-run home run earlier wouldn't have happened if Peaches hadn't tipped her hand to Edwards. The Hofstra head coach was a master at noticing those small, revealing details from a pitcher. Anderson had learned from him not to let her pitchers tip their hand. She was militant about it.
"You will be very hard pressed to find someone who Larissa worked with who ever tips a pitch," Clark says. "We worked on throwing out of the same arm slot so that everything looks like the same thing coming out of your hand. We worked on making sure that your stride was similar on every pitch. If you were going to change your grip, you had to hide your grip."
Clark made it to the last inning and got the first two outs. One to go. Nebraska hit a slow, meandering grounder to second base, and it slid under the fielder's glove. The potential tying run was at the plate, but the next fly ball stayed in the park. Hofstra had beaten Peaches James and top-seeded Nebraska with just two hits. Clark's save preceded All-Regional honors for her eventual 14⅔ scoreless innings.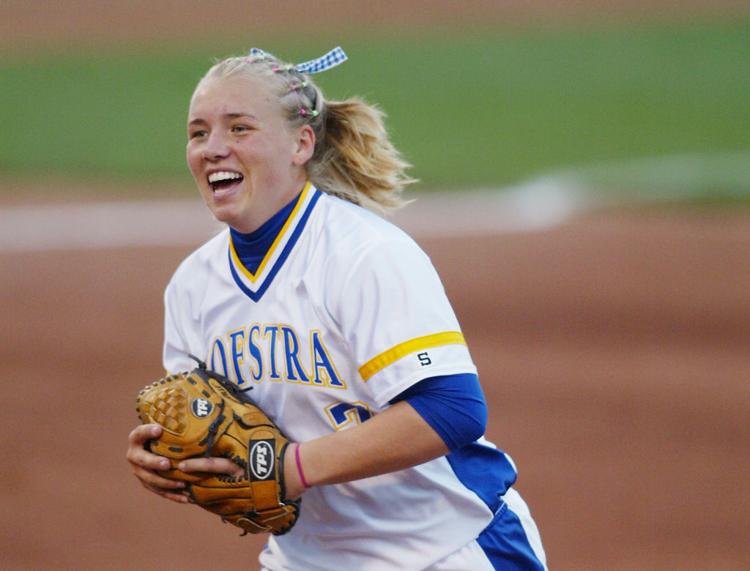 The real reward came three games later, when Nebraska won the rematch in the double elimination bracket to end Hofstra's season. As the long-shots walked off the field, the home crowd honored their Game 1 upset with a standing ovation.
"I love being the underdog," Anderson says. "When you play under the bright lights, it reveals the work you did in the dark."
Perhaps that's because she has always thought of herself as an underdog, even once she reached the SEC. Back when Anderson interviewed for the Hofstra job with Edwards, he told her he always wanted to know what she was thinking.
"I'm thinking if you don't hire me," she answered, "I'm going to go somewhere else and come back and beat you."
That might be the last time Larissa Anderson ever tipped her hand.