Desiree Reed-Francois made her way to the stage flanked by Truman the Tiger and cheerleaders from each side. She marched behind UM System President Mun Choi to the tune of "Every True Son" before taking her seat at the table as the 21st athletic director in Missouri's 182 year history.
Choi made a point to mark the date as a significant one.
"August 11, remember that day," Choi said. "Today, we're going to go from good to becoming champions.
"She's going to be making some deep — but necessary — changes. So business as usual goes out the window."
"Challenge accepted," Reed-Francois said after she stepped to the lectern.
"We're going to relentlessly compete," she said. "We're going to win SEC championships."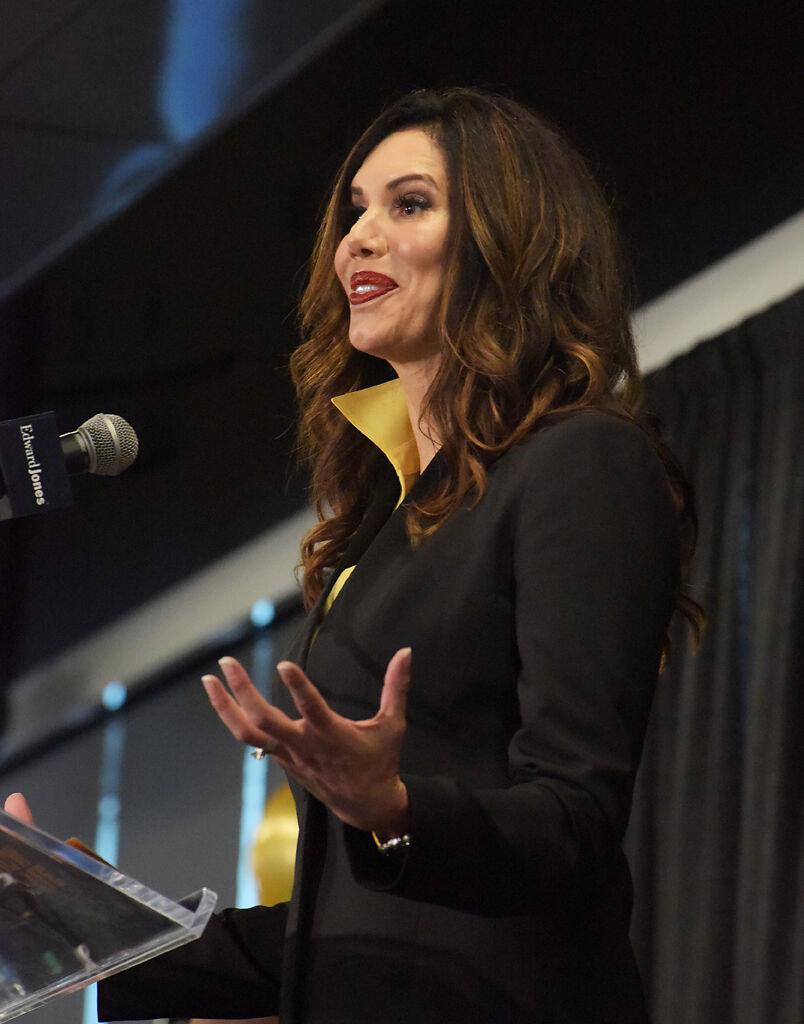 Reed-Francois, 49, takes over for the outgoing Jim Sterk, who led Missouri's athletic department for five years before stepping down in July. Sterk was introduced five years ago to the day that Reed-Francois was introduced in the Walsworth Family Commons Club in Memorial Stadium.
A list of "about 30" candidates was created before the search committee eventually landed on the former UNLV athletic director, Choi said.
"They found that true person who was the best person for the job — period," Choi said.
Competing for SEC and national championships was a common theme at the introduction. Much was said of the expectations for success under the new leadership in the athletics department from each of the "fields, courts, mats and in the pool," MU Board of Curators chairman Darryl Chatman said.
"Each sport has their sights set on a national championship," Chatman said. "We are poised for that success with director Reed-Francois."
Reed-Francois is now one of two female athletic directors in the SEC, joining Candice Storey Lee at Vanderbilt, and she is the first woman to lead Missouri's athletic department. At UNLV, Reed-Francois became the first Hispanic woman and woman of color to serve as the athletic director at the Football Bowl Subdivision level.
Choi described her as a "trailblazer" in part because of "the times we live in," but for other reasons as well.
"She's going to be a trailblazer not because she's female," he said, "but because of the outstanding work that she's going to do here."
Reed-Francois said she's "looking forward to that day when no one has to ask" about being a female leader in sports. She also said she understands "the importance of context" of the position she is in and wants to be open to people regardless of background.
"I want to keep that door open," Reed-Francois said. "If you can play, it doesn't matter where you come from … If you can perform, if you're going to outwork and you're going to compete, we've got a spot for you."
Reed-Francois has worked in athletics since 1996, when she started as a legal associate with the NFL. She was the athletic director at UNLV for four years.
This is Reed-Francois' second stint in what she called "the best conference in the country." She was previously in the SEC at Tennessee from 2008-13, where she served as an associate athletic director. She said former Volunteers women's basketball coach Pat Summitt was a "mentor" to her and that she taught lessons that have helped her in her career.
"I asked her, how did she win all these championships," Reed-Francois said. "You have to have alignment with your board, with our coaches, with our student athletes. We all have to be in it together."
She expressed confidence that her experience in the SEC will be a benefit going forward.
"I know this league, and I know we can do this," Reed-Francois said. "We can be one of the nation's best in everything. Everything that we do will reflect this."
Reed-Francois expressed her excitement about being in Columbia and at Missouri. She had remarks about the "fantastic" pizza at Shakespeare's and quipped about the Tigers' old Big 12 foes in Oklahoma and Texas "following Missouri's lead" into the SEC.
But through the sporadic outbursts of laughter and occasional rounds of applause, she focused on the job ahead. "I know this is the Show-Me State," she said. "I know that our actions and our results will speak louder than my words."