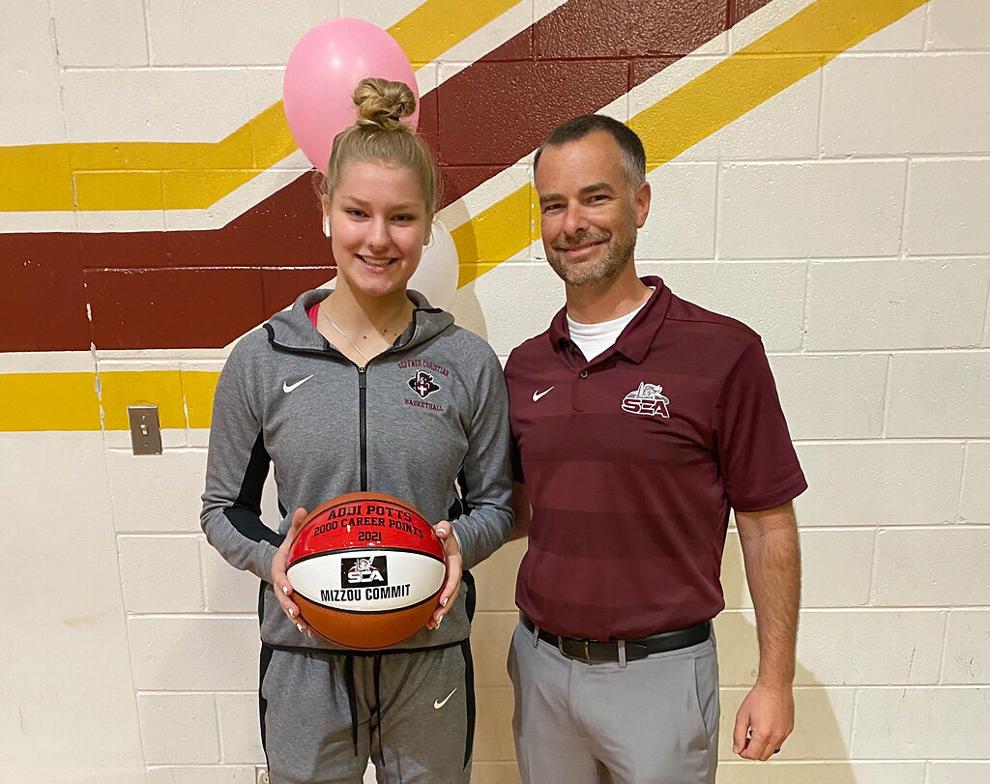 In 2018, eighth-grade basketball player Addison Potts made a commitment that not many kids make. After visits during the offseason to Division I schools across the country and nine scholarship offers, Potts found her home away from home in Columbia and verbally committed to Missouri on March 27, 2018.
Almost three years after that commitment, Potts has been just as booked, if not more, getting her high school career started at Seffner (Florida) Christian Academy. As her journey to become a Tiger in 2022 continues, her commitment to Missouri and basketball has never faded.
Today, as a junior starting for the Crusaders, Potts has been solid on the court. She scored her 2,000th career point Feb. 4, helping her team maintain an 11-15 record this season.
Potts has matured and evolved as she continues her final seasons as a high school athlete. With the help of her dad, Andy Potts, who once doubled as her coach, and her unwavering dedication to basketball, Potts has spent time perfecting her craft.
Unlike many girls her age, Potts has her mind locked in on basketball. She spends much of her time in the gym lifting weights, on the court getting up shots or recovering from the four to six hours of workouts she does throughout the day. With school online and high school activities almost nonexistent, boredom and free time seem to be at an all-time high for most kids, but not for Potts.
"I have classes from 8:30 to 3:30 on Zoom," Potts said. "I might have blocks where I don't have classes, so I'll go work out in between classes. And after going through all that, I'll have practice with my high school team. I take (basketball) pretty seriously and I'm really busy. In my free time I'm working out, so I'm not really involved in anything else."
For Potts, basketball doesn't stop after a game or practice. It's a 24/7 gig that consumes her and her dad's lives.
Andy Potts, who for the first time in her basketball career is not his daughter's coach, also has worked in high school girls basketball recruitment for six years now. Their shared love for the sport has given Potts a level of support to put her dream of playing for Missouri and professionally within reach.
Since his daughter first picked up a basketball, Andy has been helping her chase her goal of being the best player she can be, coaching and guiding her through her decision to travel far from home to play for Missouri. Having a dad who knows the ins and outs of the complex recruiting world has had its benefits, but Andy said that all of the hard work is being done on the court.
"I've never really seen a kid work as hard as her, and a little bit of my fears early on was that maybe after the process of committing she was going to, like many other kids, she was going to relax. I haven't seen any of that in her," Andy said. "Her game has changed a lot, she's much stronger, she can do a lot more."
In addition to high school ball, Potts plays for the Tampa Thunder, an AAU travel ball team coached by Jarret Harvey. She has filled her time from winter to summer with hoops. That focus has allowed Potts the time and skillset development that not many other athletes get so early in their careers. The fruits of her labor have been abundant, both in basketball and in her life.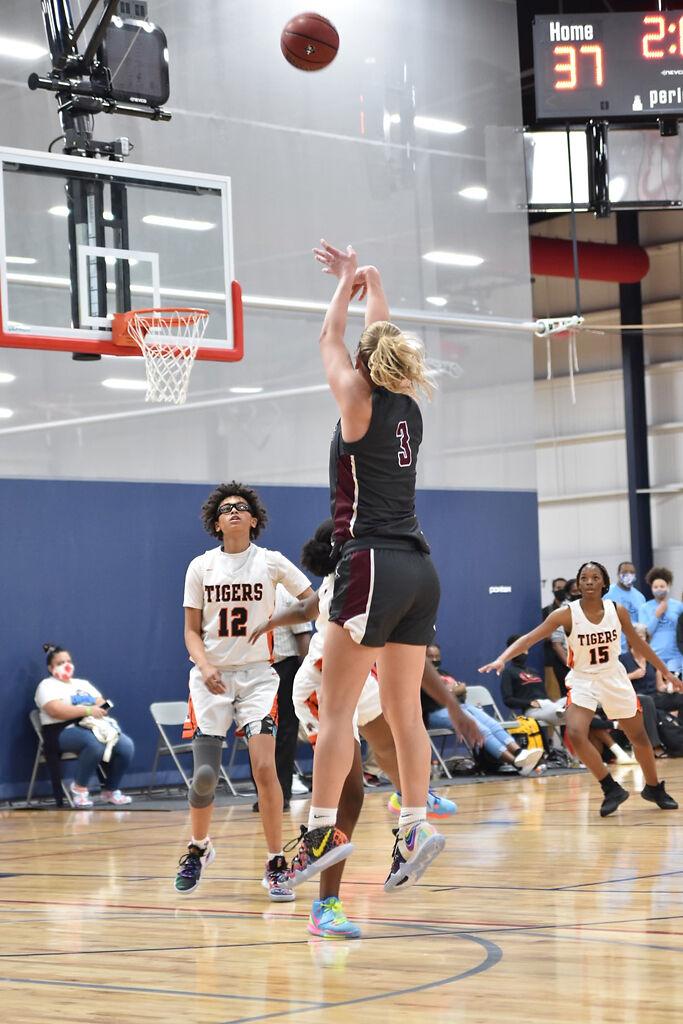 She is the No. 73 recruit in her class according to All-Star Girls Report. She also has been hitting statistical achievements, with the 2,000-point mark behind her and the 750-rebound milestone approaching.
With three different schools, Potts has averaged 16 points, 6.9 rebounds and 2.8 assists. S he has also been adding the 3-pointer to her repertoire, her dad said, and hoping to improve from the perimeter.
Both her dad and AAU coach said Addison has matured as a person and a player. She has the raw talent, discipline and confidence to be a game-changer on the court.
While she still has more than a year to go before she's wearing black and gold, Potts has been in prep mode not only to play for Missouri, but become a good teammate to both current and future Tigers.
"She's grown tremendously; she's a gym rat so she stays in the gym. Her skill set continues to develop on a day-to-day basis," Harvey said. "But the biggest part of her growth has been really her (mentality) and just kind of understanding the type of impact she has on the floor and just learning how to translate things so she can also play at a certain level."
Over the years, Potts has felt a growth in her confidence as a player. She thinks she's made the mental shift needed to play in the Southeastern Conference. Helping with that shift is the family environment that already is emanating from the Missouri program and was extended to Potts even before her commitment.
"In the back of my mind, I just knew that this was the place for me," Potts said. "We had visited a few times and the second or third time, I just felt something different. I love the coaches, they made it feel like family, and that's what I wanted, so I took the chance on them and they took the chance on me."
Feeling loved and wanted in a homey environment were essential for Potts and her parents when it came to her early decision. During her final visit to Columbia, Potts felt all that and more from coach Robin Pingeton and the rest of the staff, something she didn't feel at any of her other college visits. After discovering her second home at Mizzou Arena, Potts set her mind on becoming a Tiger and hasn't lost focus since.
Potts has kept in touch with Pingeton and other staff members in the past few years. She's become close friends with Kiya Dorrah and Avery Brown, players in Missouri's 2021 and 2022 recruiting classes. After initially forming a connection with former Tigers star Sophie Cunningham in 2018, Potts has been forming relationships with current players like Aijha Blackwell to ensure her transition as a freshman goes as smoothly as possible. Per NCAA rules, current players and coaches cannot speak publicly about recruits until they sign a letter of intent their senior year.
"I work really hard, and I feel like I'm going to go in and hopefully make an immediate impact on the team," Potts said . "I'm a three-level scorer, so I can get to the rim, I can finish. My mid-range is a really big part of my game and a lot of girls don't have that. I'm not as athletic as other girls, so I have to use my body, play smarter and do things other people normally don't have to do."
With college on the horizon, Potts still has more she wants to accomplish at Seffner. One of her main goals before leaving high school is to break the record of 2,500 points scored at her previous high school, Bishop Verot. Potts transferred to Seffner once her father stopped coaching at Bishop Verot, but her determination to break records has yet to waver.
For the remainder of her high school career, Potts will have an eye on her impending arrival at Missouri and making waves as a Tiger.
"That's like my motivation every day," Potts said. "That's what I'm looking forward to doing, and I just hope that I can help them in every way I can."