Since Susie Burton first started playing pickleball five years ago, the sport has opened doors to new opportunities, friendships and travel experiences while reigniting a love for competitive sports.
"At my age, I never thought I could play in a competitive sport again," Burton, 64, said.
Now, in addition to competing in tournaments across the country, Burton is a pickleball coach and an ambassador for the USA Pickleball Association.
"I've lost 100 pounds, I've gained 500 friends, and it's just made a big difference in my whole life," she said.
On Friday, Burton was among the hundreds of pickleball teams playing in the 25th annual Show-me State Senior Games at MizzouRec. Pickleball, for those not in the know, is a paddle sport played with a plastic ball with holes on a badminton-sized court.
The Senior Games, open to athletes 50 years and older, bring in participants from in and out of state to compete in an "Olympic-style sports festival" for a gold, silver or bronze medal, according to the organization's website. 
Many of Burton's competitors Friday were a part of what she describes as a "pickleball family" and are the main reason she returned to compete for a fifth year in a row.
"We love each other, but when we're on the court, we're going to give each other all we got," she said.
Nancy Scanlan, 61, Burton's longtime pickleball teammate, played beside her Friday as the two dominated the court in their matching teal T-shirts.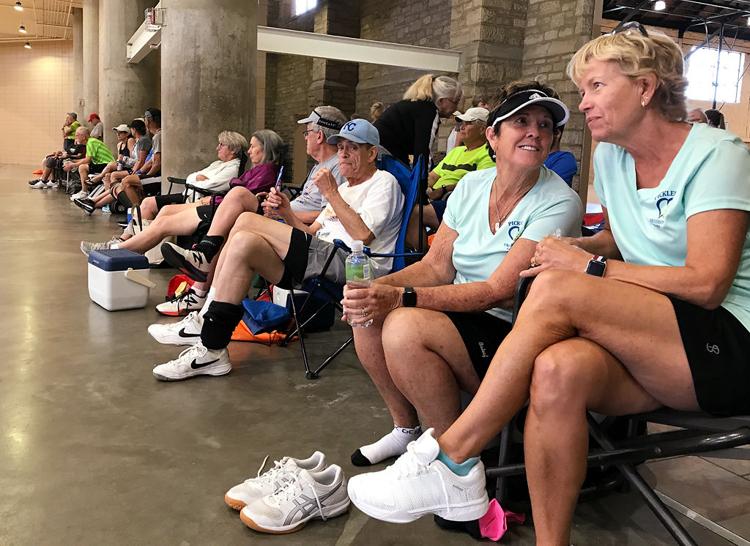 Scanlan said the duo made sure to practice before the tournament, but their main goal was to enjoy themselves.
"These are great people, and this is what pickleball is all about, just having fun," she said.
At the end of the day, Burton and Scanlan won a bronze medal after winning three of their five games.
The Show-Me State Senior Games will continue through the weekend with more pickleball, swimming, soccer, volleyball and a par-3 golf parent-and-child scramble.