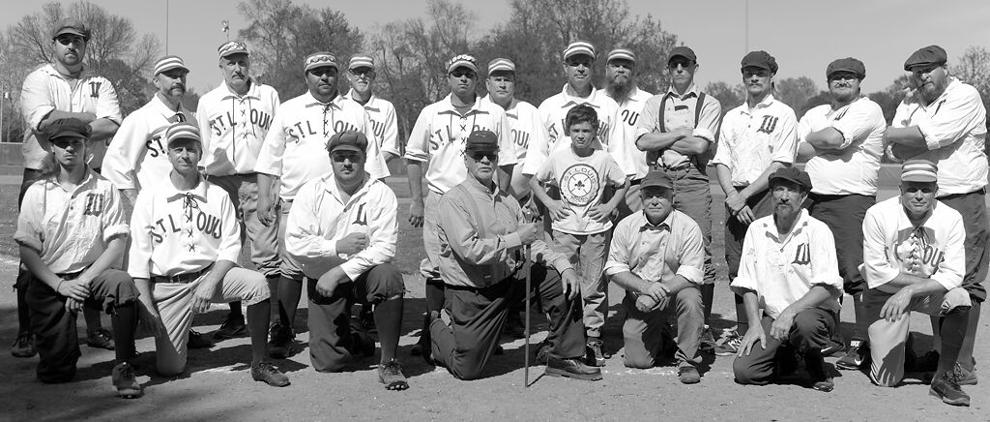 It's tough for Tony Wicker to pinpoint the best memory of the last 12 years.
His team played under St. Louis' Gateway Arch. It played in front of more than a thousand people in a Civil War reenactment in Springfield. But one memory in particular is the first to come to mind.
"If I had the choice right now, Field of Dreams," Tony says. "Playing Field of Dreams and being able to play with my son on the field, knowing the movie and everything, would probably be my highlight."
It's just one of many experiences he and the St. Louis Brown Stockings have had since he and his wife, Tracy Wicker, founded the vintage baseball team in 2009.
The Brown Stockings were back on the field Saturday, taking on the Western Base Ball Club of Topeka (Kansas) in a midday doubleheader at Oscar Twillman Field in Boonville in what was the inaugural 1860s Vintage Base Ball event put on by the Cooper County Baseball Association and Boonville Area Chamber of Commerce.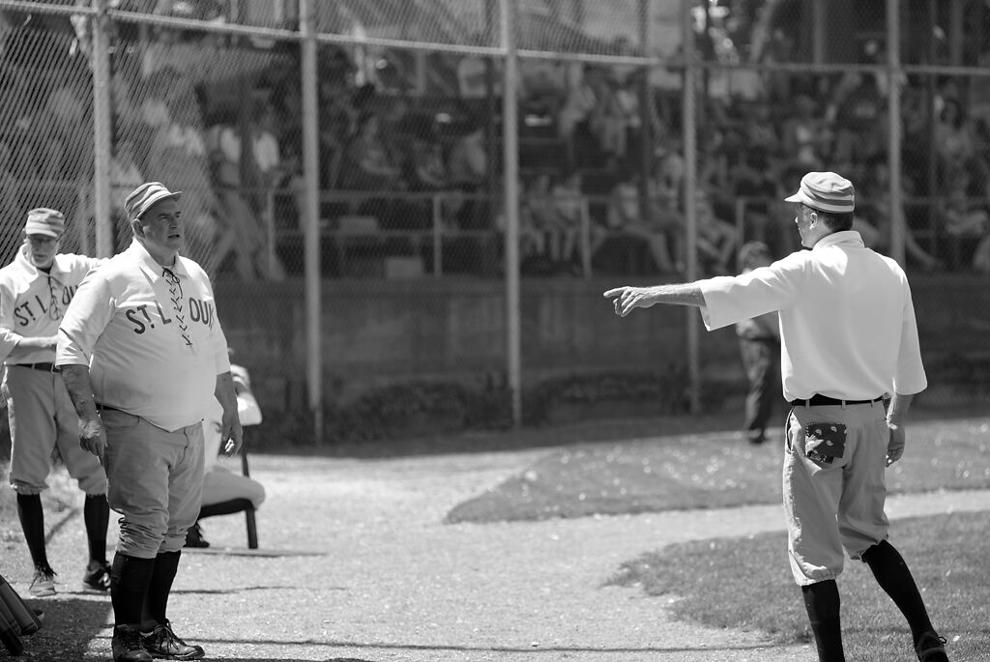 For more than a decade now, however, the Wickers and the Brown Stockings have been bringing the game of 1860s rules base ball — and yes, that's "base ball" two words, the way it used to be — to parks and fields in St. Louis and across the country.
For the players, it's a chance to continue building on the love they have for the sport, and for those watching, it serves as a history lesson in real time.
"It's kind of like, where they (have) Civil War reenactors, we (are) baseball recreators," Tony says.
The Wickers, too, are a baseball couple. Tony began playing as far back as middle school and continued to play competitively until college. Tracy grew up with the sport, and going to and watching St. Louis Cardinals games is a tradition that spanned three generations for her. The Wickers' 9-year-old son, Trent Wicker, is already playing baseball on a team Tony coaches.
But it wasn't until the mid-2000s that the couple was introduced to a new — but more literally old — iteration of the sport.
In 2005 — at the age of 37 and after years of playing competitive softball — Tony was convinced by a co-worker, Ed Nickels, to try out for a vintage baseball team.
"'This is a different type of game,'" Wicker recalls Nickels telling him.
So the two attended tryouts for the St. Louis Perfectos, and Wicker promptly fell in love, knowing soon after that he one day wanted to bring a team to his hometown of Kirkwood. Eventually, Tony broke off from the Perfectos and joined a team Nickels started, the University City Lions.
Tony and Tracy met in 2008, and they began playing vintage ball together for the Lions that same year. They soon began researching what it took to have a team of their own. Tony found a park, Tracy researched names, and suddenly the St. Louis Brown Stockings were born — or rather, re-born — in 2009, eventually playing their first game in April 2010.
While Tony and Tracy founded the Vintage Base Ball Association chapter of the Brown Stockings in '09, the history of the team's name in St. Louis extends back about 150 years. The Brown Stockings were the first-ever professional baseball team in the Gateway City, playing from 1875 to 1877.
A game-fixing scandal prompted the original team to resign from its membership with the National League after 1877, and the team eventually declared bankruptcy and went dormant. Some players continued to play without a league designation for the next four years, however, until the team was bought in 1881 by a German immigrant named Chris von der Ahe.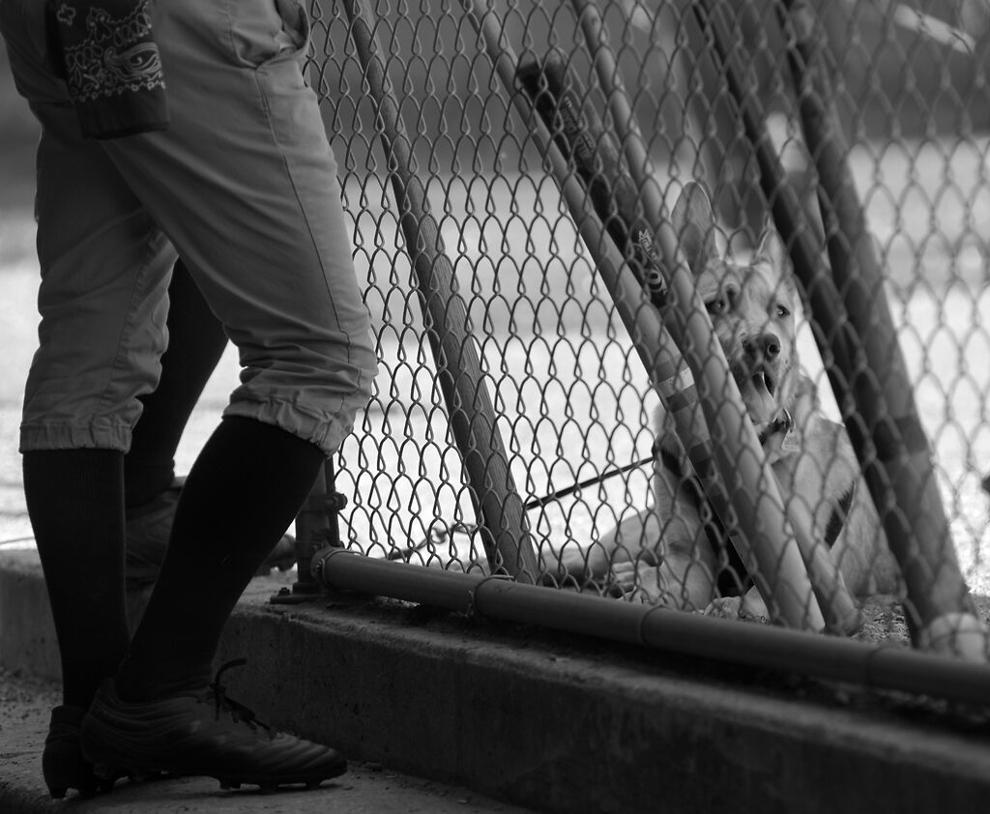 From there, the Brown Stockings became a founding member of the American Association, and the team's name was shortened to the Browns in 1883. Eventually, they joined the National League in 1891 and again changed their name, this time to the Perfectos, in 1899. Finally, in 1900, the franchise changed its name yet again to a more familiar moniker: The St. Louis Cardinals.
Those very early years of the city's baseball history live on in the Brown Stockings and the five other VBBA clubs currently in the greater St. Louis-area: the Perfectos, the Lafayette Square Cyclone, the St. Charles Explorers, the St. Louis Unions and the Belleville (Illinois) Stags.
Most vintage squads were designed and created with odes to historic teams in the same vein as the Brown Stockings. That includes their Saturday opponent, the Westerns, whose original squad first formed in 1869 and played teams from all over Kansas, as well as the original Brown Stockings.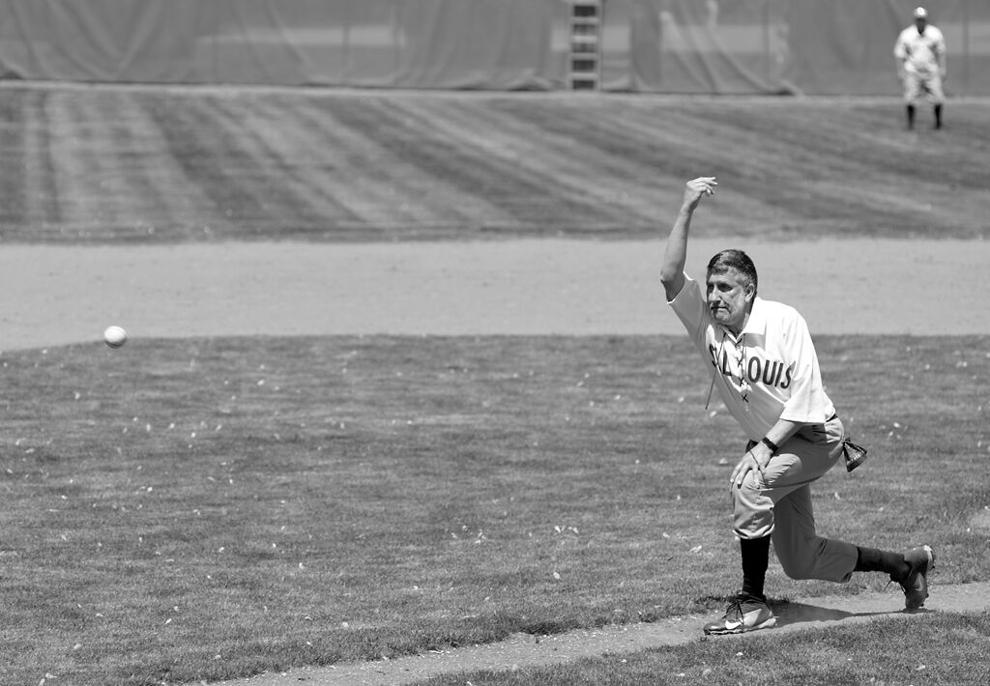 All six St. Louis-area squads, the Westerns and all of the more than 200 VBBA clubs across the country play with some form of the rules of baseball from 1858 to 1868, which would've been about 20 to 30 years after Abner Doubleday became the supposed inventor of the sport in Cooperstown, New York.
The rules listed on the Brown Stockings' site have 37 sections, but many of the differences from the modern game are noticeable at first glance of play, or even in how players address each other.
Every player, much like back in the day, has his or her own nickname. Westerns co-founder Ben Coates goes by "Big Train," an ode to baseball legend and native Kansan Walter Johnson. Tony's nickname is "Lightning." Tracy goes by "Thunder." And, of course, Trent is referred to as "Twister."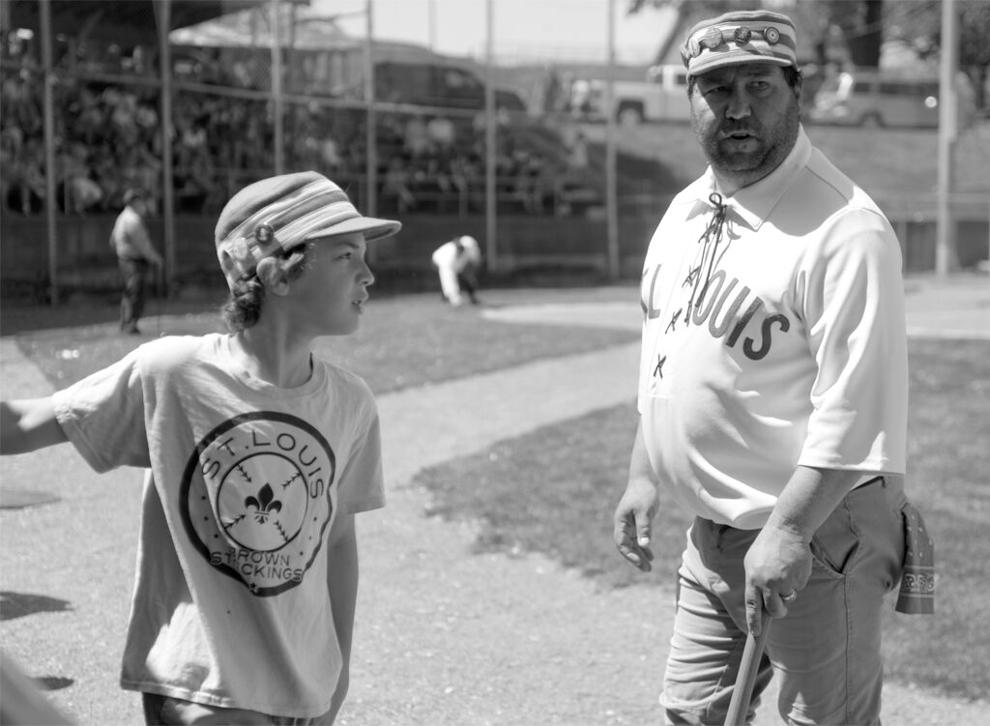 The garb in which players are adorned is also of the times. Both the Brown Stockings and the Westerns wore their standard attire Saturday. For the former, that was literal brown stockings and tan pants. Their tops were white-collared shirts fastened with laces down to the belly button and a wool-sewn "ST. LOUIS" capitalized across the chest, as well as striped tan and white caps.
The Westerns' wear is similar in almost every way, although with a color scheme of navy and white and an olde English "W" on the left chest of their tops. They also donned navy paperboy caps.
Some of the rules, or rather stipulations of play, are long gone from today's game. There are no helmets worn in the batter's box, and the bats are not only wood, but usually handmade.
There's another big difference: no mitts.
That means "the ball can punish you," as Adrian "Law Dog" Sulser puts it.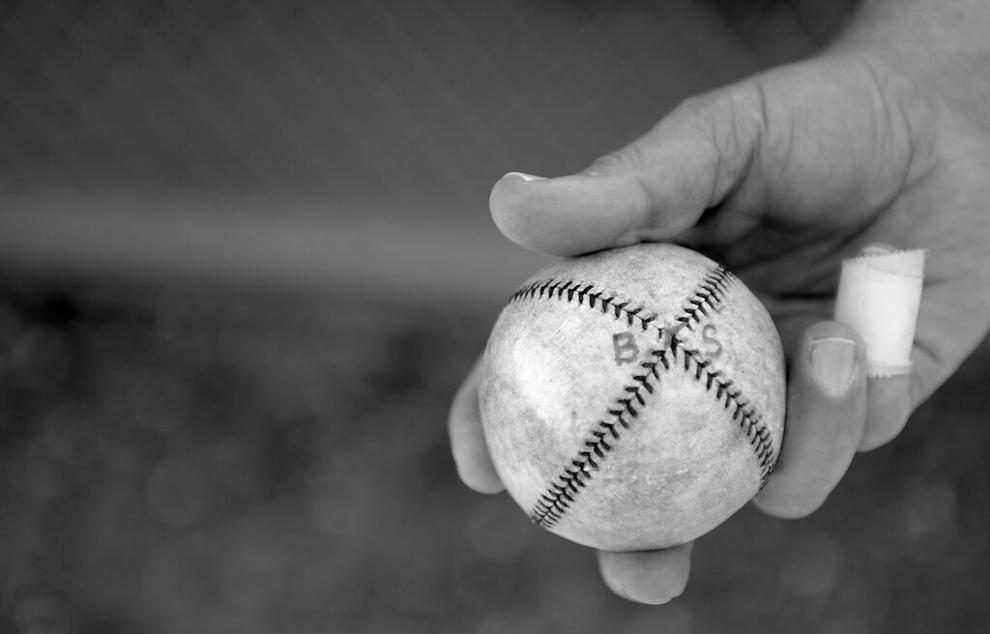 Law Dog has been playing with the Brown Stockings since their inception, and although the team plays with a softer "vintage" ball, he has some battle scars. Specifically, he's dislocated a finger, broken the tip of his left ring finger and broken the top knuckle of his right pinky. Still, the risk doesn't stop him from playing.
"It's a much more fundamental game," Law Dog says. "But when it's played well, it's a lot more fun."
The literal rules are equally different. Pitchers can only throw underhand, and balls and strikes aren't counted; the only way to strike out is with three swings and misses. Baserunners aren't allowed to overrun first base; otherwise, they can be tagged out. Balls that are caught on one hop are still an out, although baserunners don't need to tag up on those outs.
And if you need to know more, ask Gene "Swede" Youngstrom.
Swede, 71, still plays for the Brown Stockings, but he's been recovering from a hernia surgery recently, so he was the umpire for Saturday's doubleheader. He, too, has played for St. Louis since its inaugural season, trying out after seeing a newspaper ad for the team.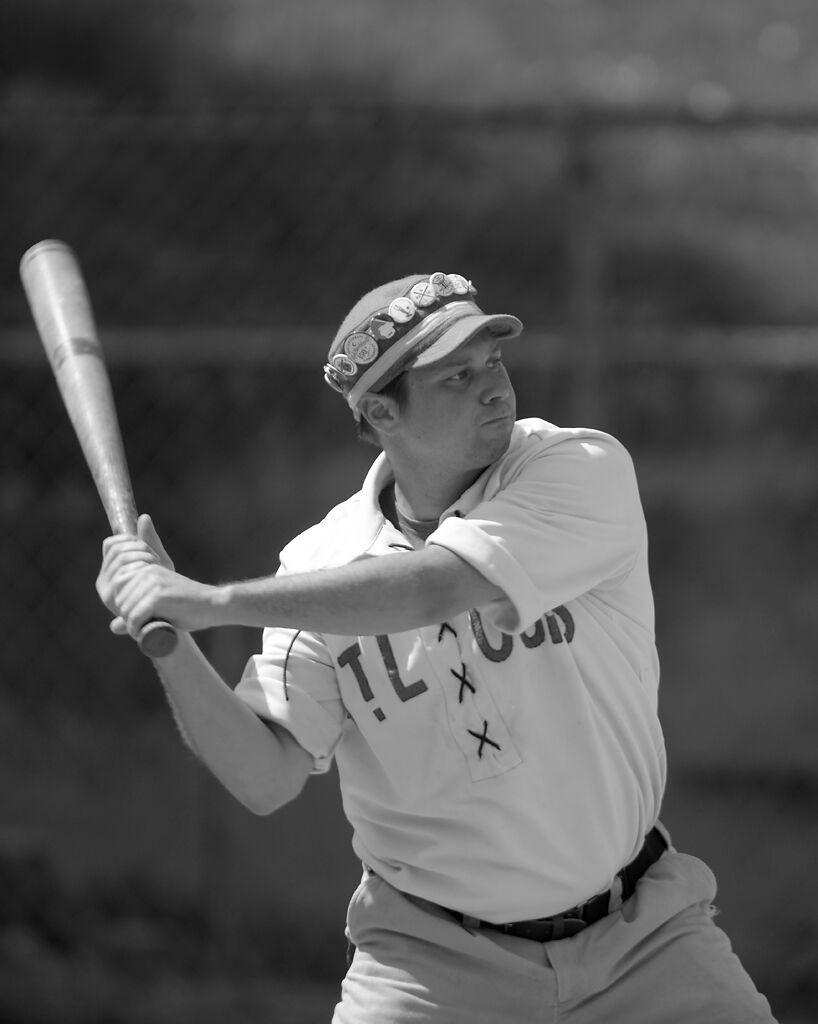 "I'm a Civil War nut, and I thought this would be great to play vintage ball, and it kind of dovetailed really nicely," Swede says.
Although he was behind home plate Saturday, Swede noted that it was tough to adjust to the rules of the vintage games in his first few years with the squad. However, he's a walking encyclopedia at this point, and he spent about eight minutes Saturday — in the middle of play — rattling off rules and stipulations.
He notes the simplicities. There's no sliding. No stealing bases. Positional shifts aren't allowed. But he also notes the convolution; balls recovered in foul territory, for example, need to be thrown back to the pitcher before they can be used to throw out any runner.
Swede also knows the vintage vernacular. Umpires were also referred to as "arbitrators." Catchers were "behind," pitches were "hurlers," batters were "ballists," the ball was sometimes referred to as an "apple" or an "onion," and fans in the stands were known as "cranks." Those were just a few of the words he spewed among a long, zany list of jargon.
He even knows the ticks and quirks of the old game that didn't make it to the modern recreation and were eventually removed from the original 1860s rules. For example, a ball caught in one's cap was at one point an out, and so was throwing and hitting a baserunner with the ball. Oh, and players would have the occasional drink while running the bases.
"A lot of the vintage teams back then would have a barrel of beer at third base with a dipper in it, and if you got over to third base," Swede says, "you got a dipper full."
Unfortunately, neither the Brown Stockings nor Westerns brought a barrel and dipper Saturday.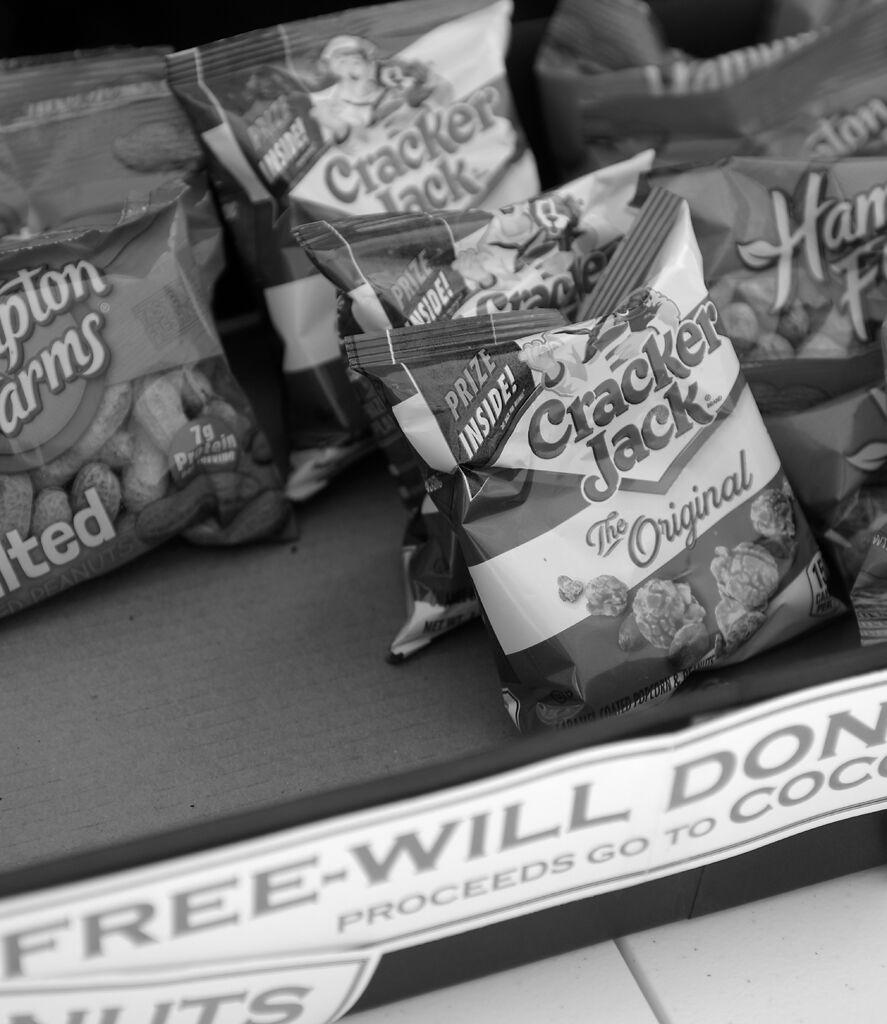 Some of the rules can lead to different strategies. Those pesky one-hop outs, known as "bound outs," can lead to some easy double plays, for example — and some silly situations.
Jack "Crackin'" Burkman, who's been a Brown Stocking since 2012 and is "still learning the rules," has seen his share of those incidents, including what he calls "the longest two minutes of my life."
A couple of years ago, playing in Belleville, Illinois, the Brown Stockings were down more than 10 runs in the final half-inning with Crackin' at the plate.
"Anything hit in the playing field is fair game," Crackin' says. "But if you hit it far enough, it went into these real high weeds."
Well, Crackin' shot a ball into the weeds, and the opposing team couldn't find it.
He got to first, stopped and looked.
Then, he went to second, stopped and looked.
So, he moved to third, and repeated the process before crossing the plate for a home run.
"I looked like one of those little tee-ball kids rounding the bases," he says, "so that sucked."
The rules and all their quirks were on full display Saturday as, within the first half-inning of the first game, two outs were one-hops back to the catcher, or behind. The Westerns also had a baserunner overrun first, and although he tried to get back, he was tagged out, with the play ending in a shared laugh. Thankfully for the Westerns, they didn't need the extra hit as they swept Saturday's doubleheader 6-0 and 8-6.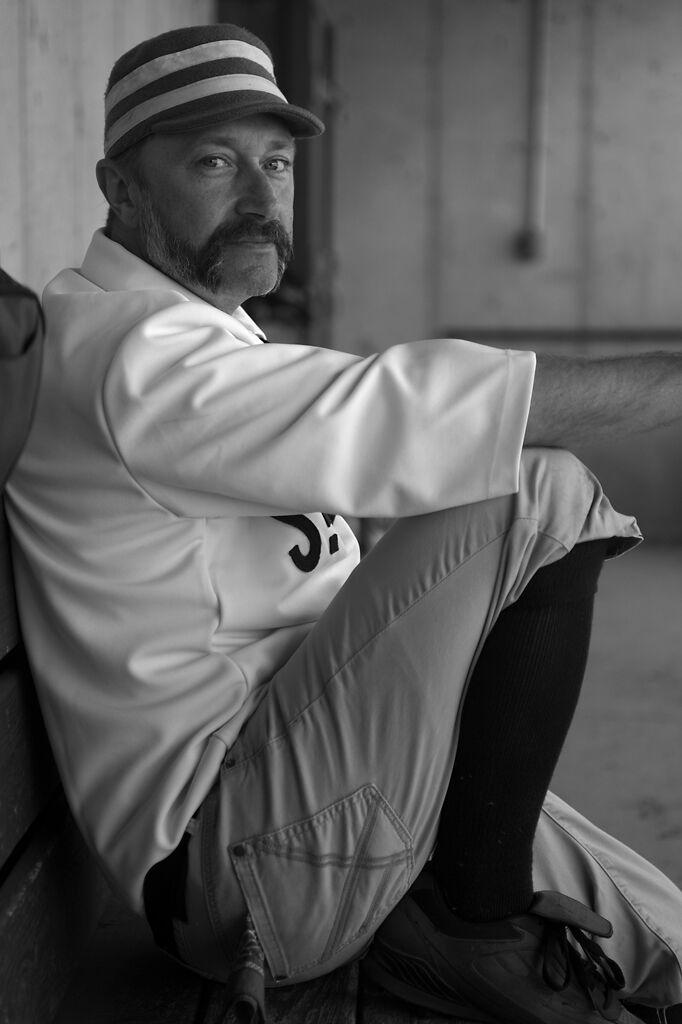 The two squads couldn't have come from more different backgrounds heading into Saturday. During the pandemic, the Brown Stockings fit in 11 games. Their 2021 schedule already has 16 — largely against teams within an hour's drive. The Westerns, however, generally have more of a struggle to play. Saturday was their first game since 2019, and their 2021 season schedule doesn't have a home game on it, nor a game within an hour's drive.
Regardless of driving distance or lengths of schedules, though, both teams have had some incredible opportunities in recent years, playing in a range of states including Wisconsin, Tennessee, Colorado and Ohio.
The travel is one of Big Train's favorite aspects of the vintage game, not only for the on-field experiences but for the opportunity to bond with teammates and other vintage ball players. To him, that instant camaraderie is the best part of playing.
"You automatically have a bunch of guys on the other team, whether you've never met them before or not, who like baseball, they kind of enjoy history, and it's just natural," Big Train says. "You may know them for 10 minutes and you're already kind of giving each other heck."
That immediate connection with strangers is something Tony and Tracy, or Lighting and Thunder, touched on, too, whether it's with those in uniform or in the stands.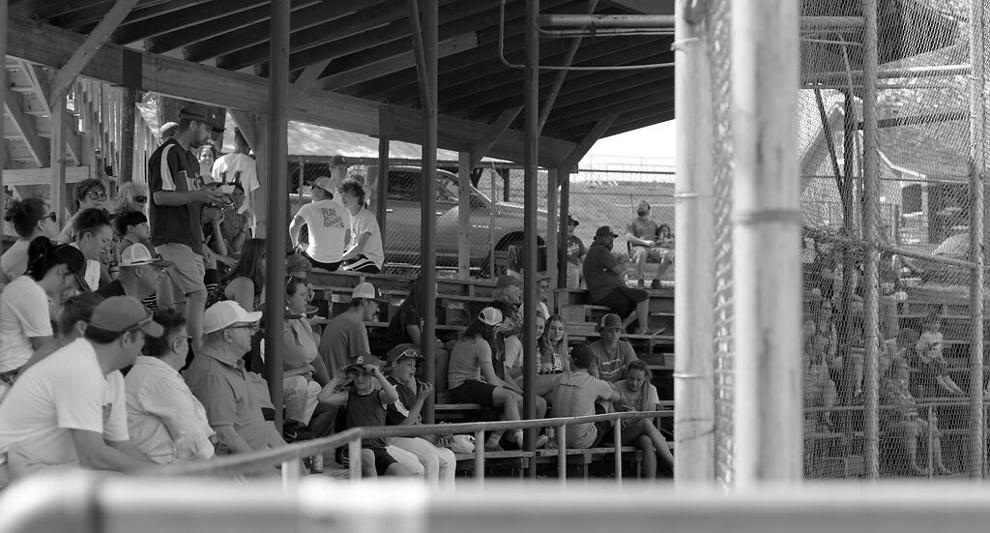 Unlike modern-day, competitive baseball, there's usually a lot of interaction between players and fans before, during and after the games. That showed Saturday as local little leaguers had a chance to get in the dugout and pinch-run for both teams.
"That's where you fall in love with the game," Tony says of educating others. "And the game itself presents different rules and different feelings and emotions (about) how the game was played. … It brings the best out in everybody."
Trent, the Wickers' son, also had a chance to pinch-run Saturday. He was quick to take after his father and mother, showing and telling other Boonville little leaguers about the game, adorned in his own matching pants, tee shirt and Brown Stockings ball cap.
Crackin' says there's even been some discussion among the team about adding the soon-to-be-10-year-old to the Brown Stockings' official roster.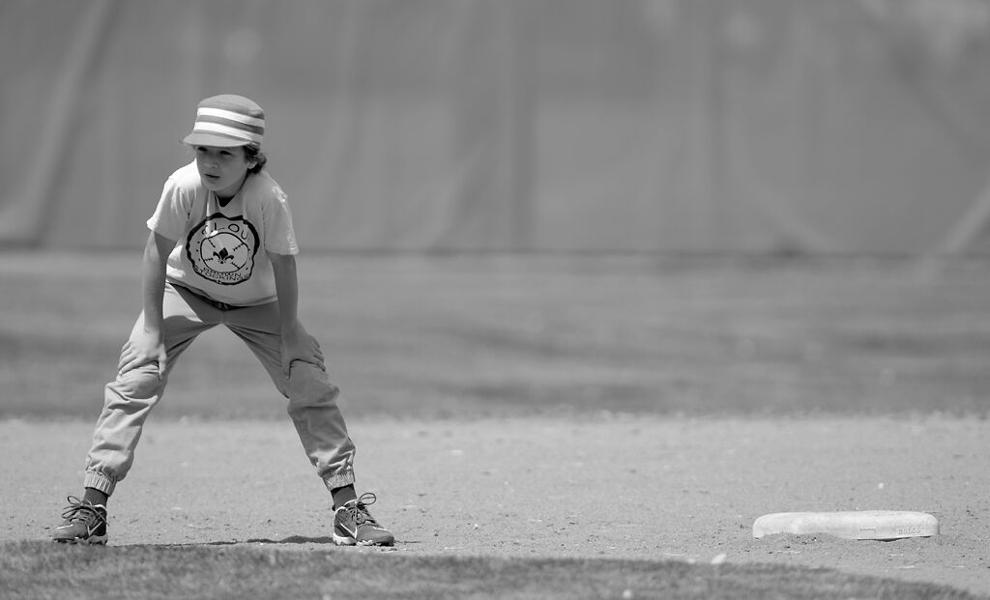 Trent, or Twister, has been around the team pretty much all his life. He isn't even old enough to remember the team's beginnings, but he does remember his dad's favorite highlight — playing at the Field of Dreams in Dyersville, Iowa.
The then-5-year-old got the chance to stand in the outfield with his father during play, much like Saturday. He remembers walking in the corn, too, to fetch home-run balls and pick a cob of corn to grill and eat. And he remembers the view from atop the barn near the Field of Dreams house, too, and how it brings the field into view.
"That's what's memorable is, even though he doesn't quite get it yet," Tony says, "Mom and Dad does. And that's what's memorable."