Tyler Mueller was in disbelief.
The senior running back could hardly believe it when, a week prior, he and the Carthage Tigers beat Ft. Zumwalt North to advance to the Class 5 Missouri state title game.
"I'm just in shock right now," Mueller said. "To win this in overtime, just, my mind is blown away."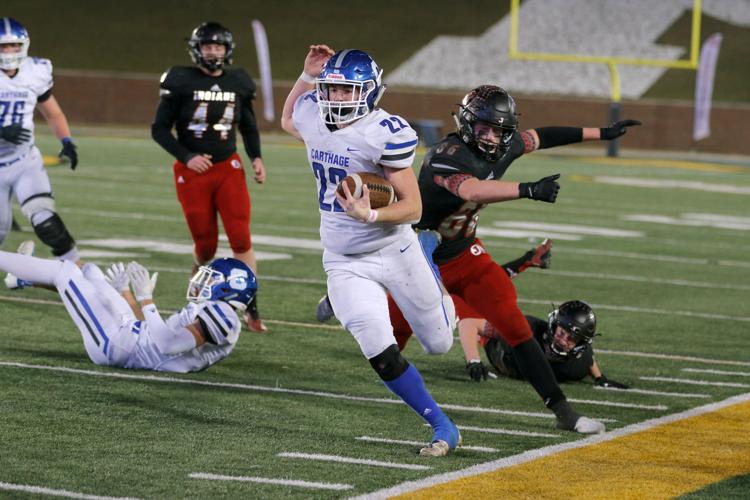 Well, somehow and some way, it had gotten crazier. The Tigers had just beaten Jackson High School, 27-21 in overtime, to win the school's first state football title.
The aftermath was a sight to behold, as a Carthage fanbase, which seemed grossly outnumbered by Jacksonites, drowned out a nearly half full Memorial Stadium, and a small contingent of white tops rushed the field to celebrate with Patrick Carlton, the Carthage quarterback who scored Saturday's game winning touchdown.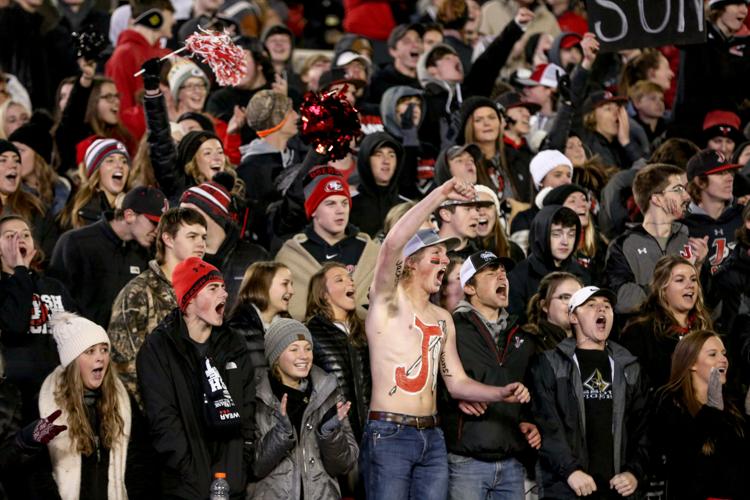 However, there was a lot that led to the moment, for both squads, coming into Saturday night. 
Not only was it the first matchup between both of programs, but neither team had won a state championship prior to Saturday, putting history on the line for both side. 
Both teams were also performing at high levels on all sides of the ball all season long, making it anyone's game to start.
With a first half that lasted only 59 minutes, things were fast-paced from the get-go. Momentum shifts were crucial throughout the night, but almost immediately, the Tigers came out with an edge.
Carthage had a response for the Jackson offense, which has averaged 43.8 points per game this season, and forced a turnover on downs on the team's game-opening drive. 
From there, Jackson was limited to 146 total yards. The Indians ended the night with just 239 yards on offense and averaged 3.7 yards a play.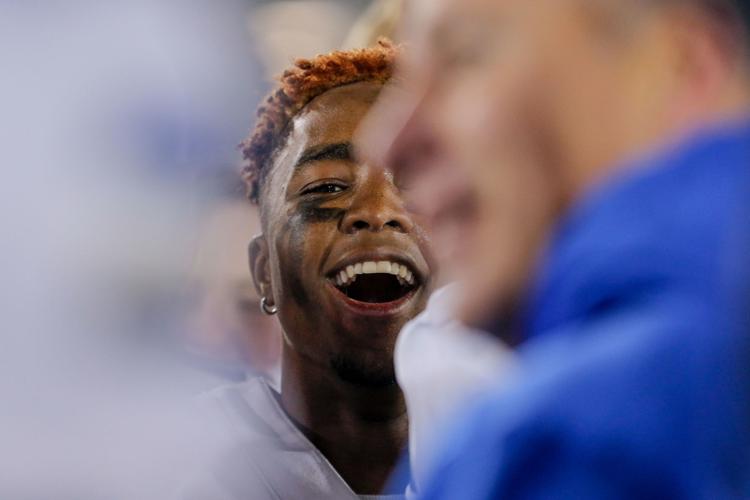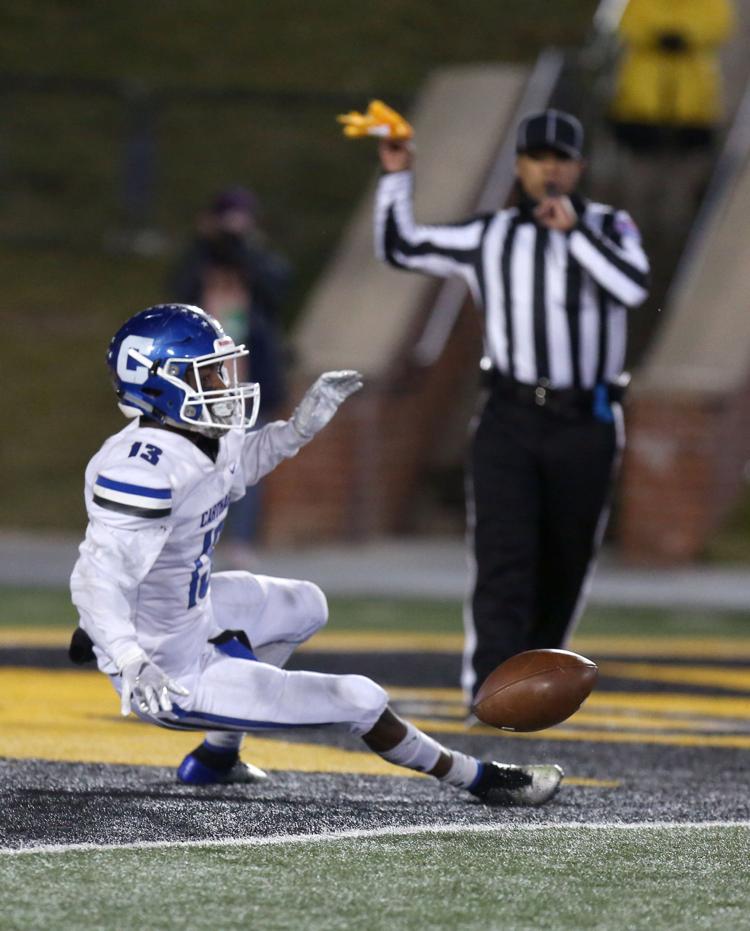 The Tigers also put extra emphasis on pressuring star Jackson quarterback Cael Welker. The junior came into the night with 3,495 passing yards and 53 total touchdowns, but finished the night with 189 all-purpose yards and two fumbles.
"They have such a good quarterback," Carthage coach Jon Guidie said. "We knew we had to contain him. … We just mixed up our fronts and hopefully that confused him a bit. Mixed up his play-calling, his decision-making.
"But he's a tough player," Guidie added. "He's better in person than he was on film and he was really good on film."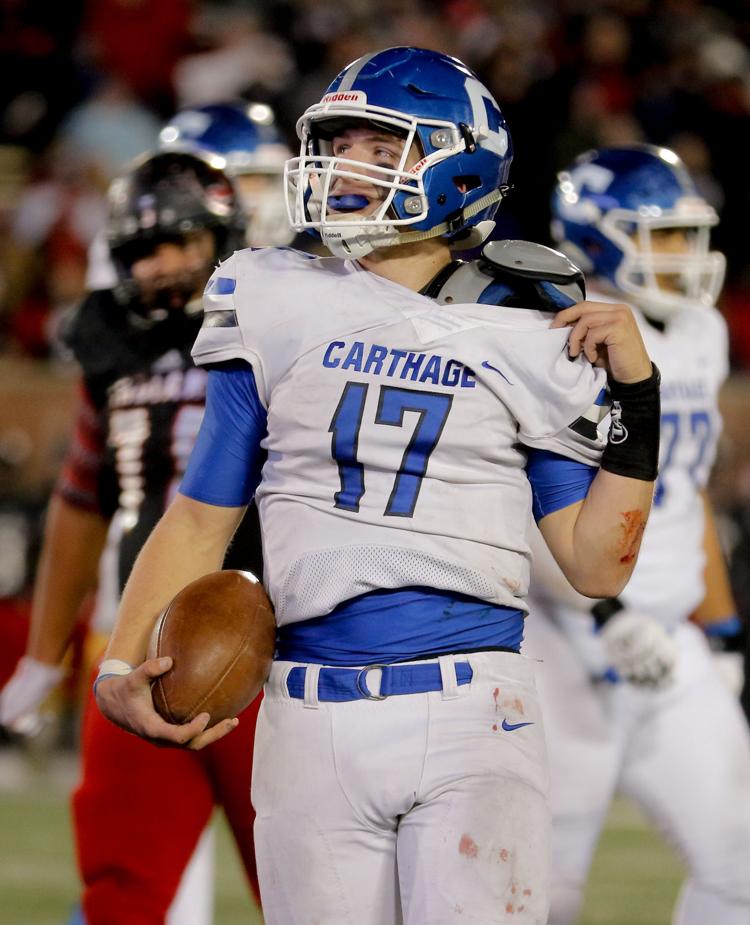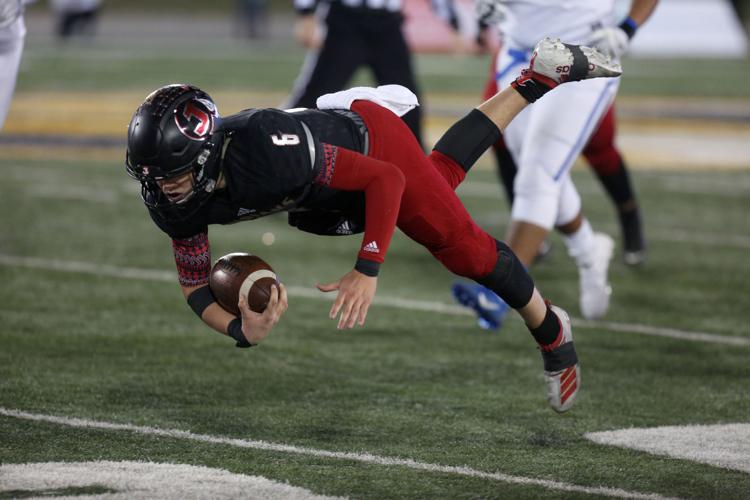 In a display of toughness, Welker actually led a charge late in the second quarter for Jackson, despite the rough start. With 15 seconds left in the half, he capped a long drive with a 4-yard touchdown run, which made things a one-score game heading into halftime.
The Carthage offense seemed to be rolling early on, but a would-be 96-yard touchdown run from running back Tyler Mueller was called back. It seemed to suck the life out of the Tigers, prefacing Welker and Jackson's late first-half touchdown drive.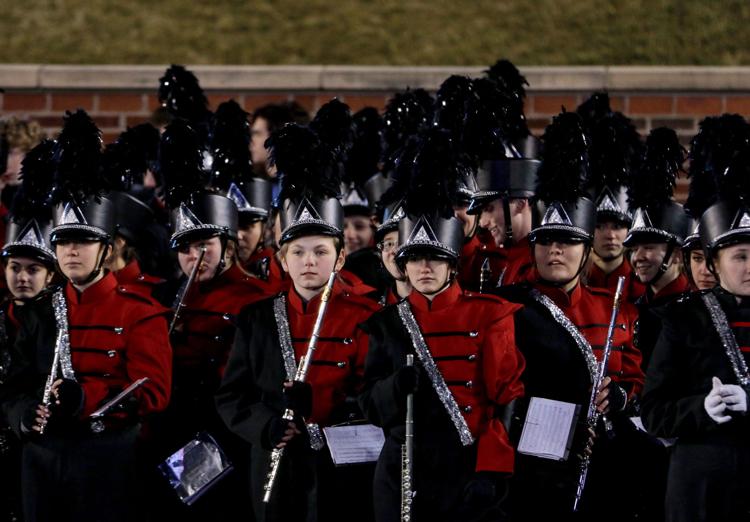 Despite Jackson riding high to start the second half, Carthage seemed to overcome it and keep the game neck-and-neck, exchanging momentum with its opponent from drive to drive. 
 Jackson grabbed an interception and turned it into a score. Then Carthage came back with a touchdown of its own, followed immediately by recovering a fumble on the ensuing kickoff.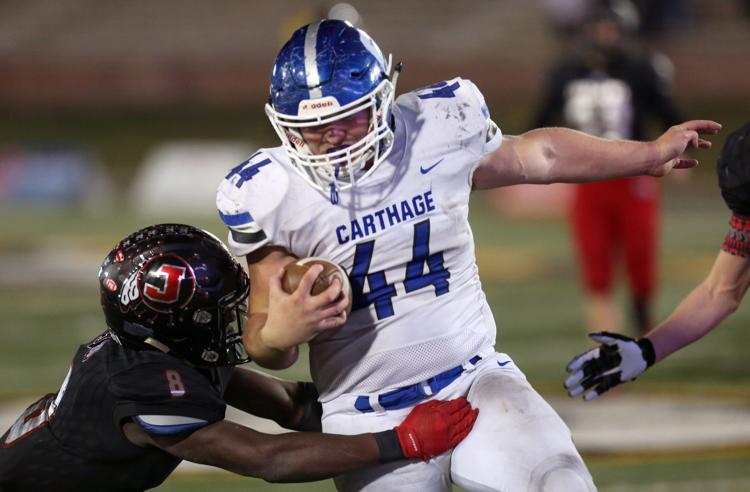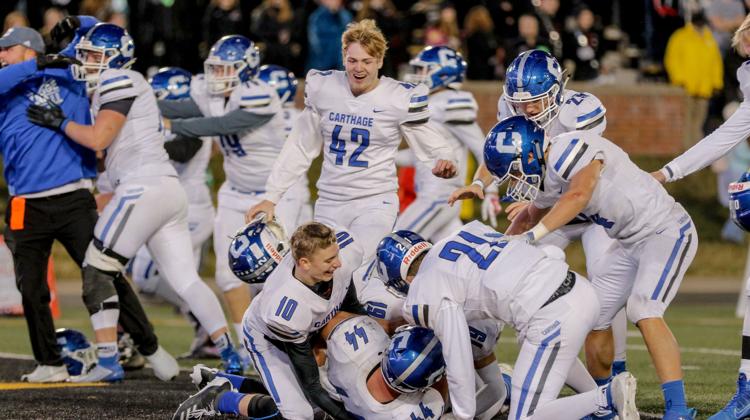 Then the Jackson defense stepped up to hold Carthage to a turnover on downs. It followed that up by marching the field in nine minutes to score a game-tying touchdown. 
Carthage then had its chance. With 5:26 left in regulation, Jackson gave the ball back on a 3-and-out. The Tigers began their march, and found themselves driving. That was until an offensive pass interference forced Carthage to air it out on second-and-long. Patrick Carlton's deep ball was nabbed by Jackson defensive back Blake Blackman with seconds left in regulation. Once again, Jackson had all the momentum.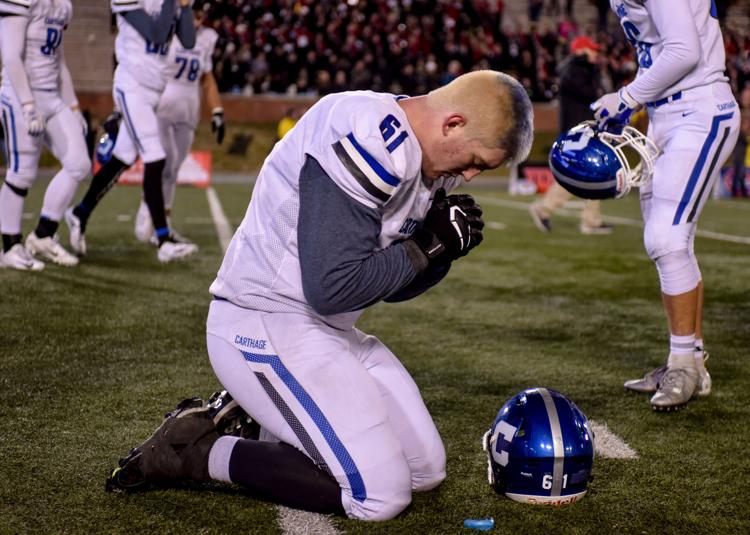 After starting overtime with the ball, Jackson was held tight. Pressure from the Carthage defensive front left Welker scrambling. Deep shots to the end zone looked feasible, but luck was on the Tigers' side. They held out and, just like that, they had the ball and a chance to win.
Carlton found his man, Kale Schrader, with a collapsed pocket and tossed it to him in the flat, and Schrader looked to have a touchdown, but officials marked him down at the one.
"Well, I know that play usually works every time," Carlton said. "And we just had him wide open."
From there, it was all Carlton for the win.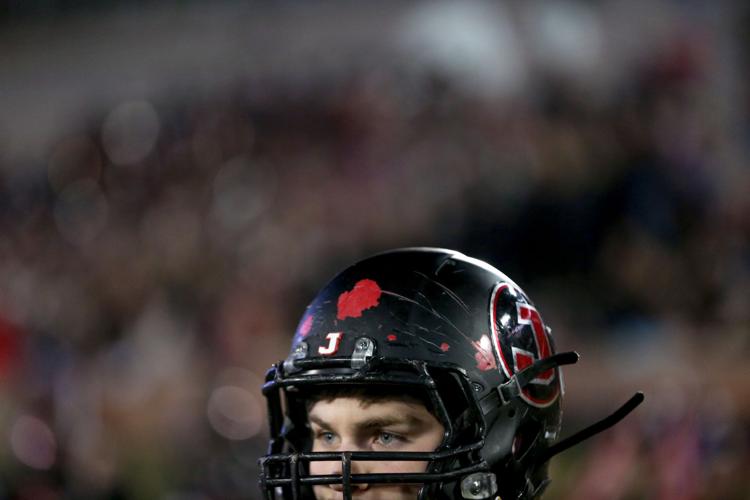 The Tigers did prove that Saturday's game was won with a big x-factor: a stout running game.
While Jackson has generated through both the ground and the air all season, Carthage forced Jackson to be one-dimensional all night. Carthage seemed to have an answer for Jackson through the air, limiting its offense to 132 yards passing on 29 attempts.
When forced to resort to its legs, the Jackson offense couldn't account for much either. As a team, it finished the night with 107 yards rushing on 35 carries. The Tiger defense also had 6.0 tackles for loss and 4.0 sacks. 
Carthage, however, was a different story.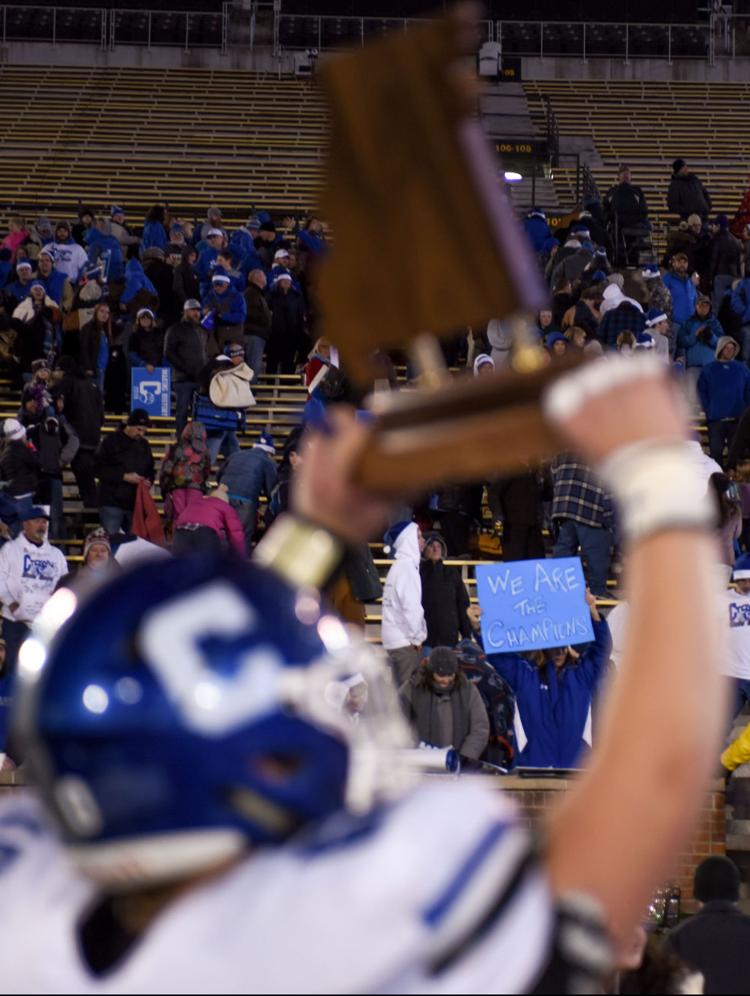 Carthage, time and time again, went back to the run game, and Jackson just didn't have an answer. As a unit, Carthage finished with 244 yards rushing on 58 attempts. The duo of Mueller and Carlton combined for 219 and three scores on the ground. 
The win marked not only Carthage's first state title, but also the program's highest win total of the decade. The loss marked Jackson's first loss in 13 games, putting them at 13-1 on the season.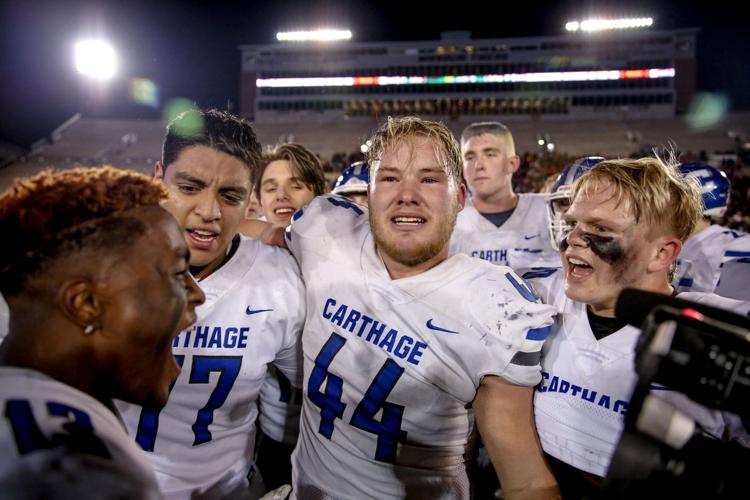 Visuals produced by Julia Hansen and Jacob Moscovitch.