High school kids across the nation are walking away — hobbling away, in some cases — from football. National participation numbers are down, and have been dropping for over a decade. The same is true in the state of Missouri. But in Columbia? Not so much. As the 2018 season winds down, the Missourian takes an in-depth look at how the city's four football-playing high schools are bucking the trend.
On Oct. 5, Cody Rachatellelle, a senior defensive back for Battle High School's football team, was getting ready for the Spartans' trip to Kansas City to take on Rockhurst. Instead of grabbing his helmet and pads on the way to the bus, though, he put on a knee brace and grabbed a pair of crutches.
Three weeks earlier, Rachatellelle tore the anterior cruciate ligament in his right knee during a game against Harrisonville. On a routine kickoff, he broke past the Wildcats' blockers and found himself a few feet away from the return man. The returner cut to the right; as Rachatellelle went for the tackle, his right foot caught and his knee buckled, sending him to the ground in pain.
When he heard the official word from the doctor, his worst fear was confirmed: His season — and his high school career — was over.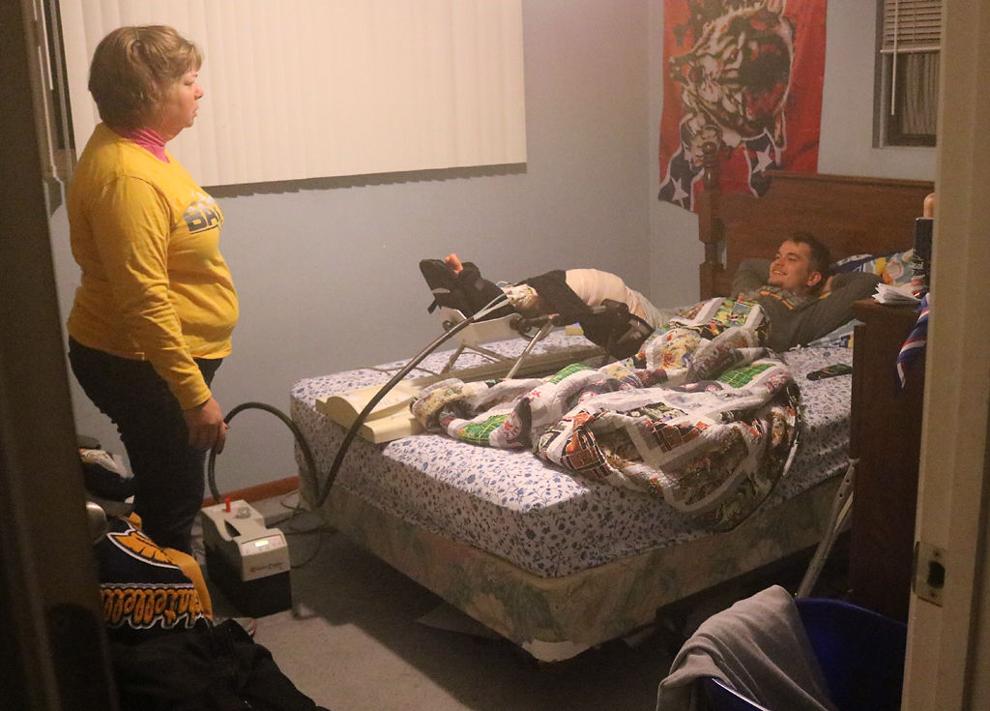 Rachatellelle certainly could be forgiven if he decided to walk away from the game, as thousands of other athletes across the country have done. Participation numbers in high school football are down nationally and have been on the decline for years. Injuries such as his, along with recent research and attendant publicity about the relationship between football and brain trauma, among other causes, likely are to blame.
The trend is even more dramatic in Missouri.
So how, then, has the number of players at Columbia's four football-playing high schools stayed steady in recent years? Rachatellelle's story might provide a clue.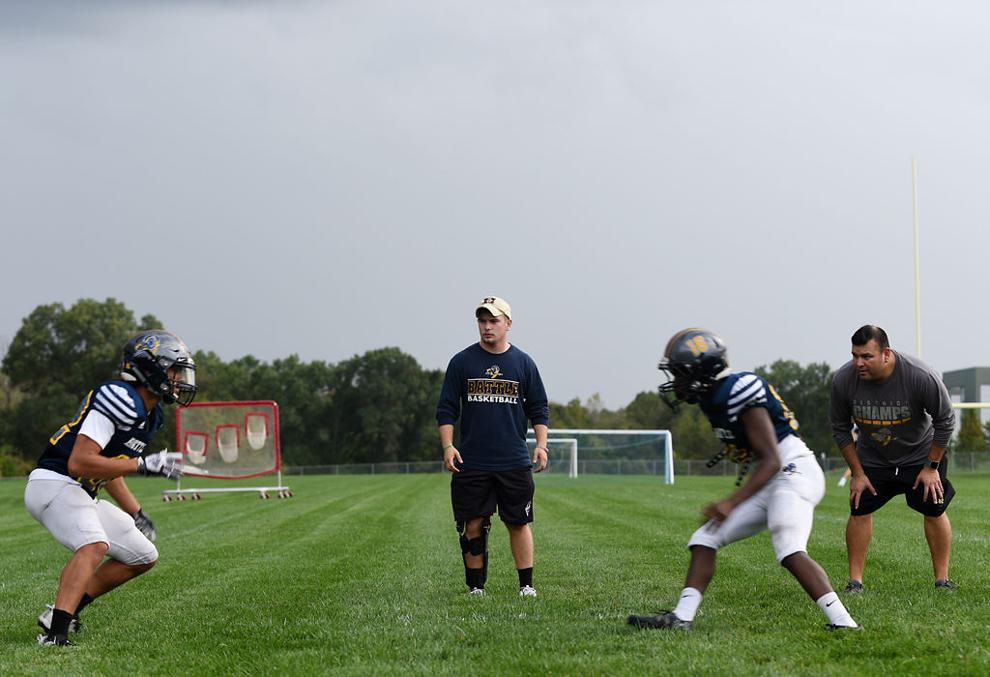 Fighting the problem
Rachatellelle was not a starter for Battle on either side of the ball.
He mainly took the field on special teams, and it was during that phase of the game that his ability to play was taken from him. Nobody would have second-guessed him if he wanted to take the rest of the season off and focus on his recovery.
But by the next week of practice, Rachatellelle was out on the field laughing with his teammates and helping his coaches run drills.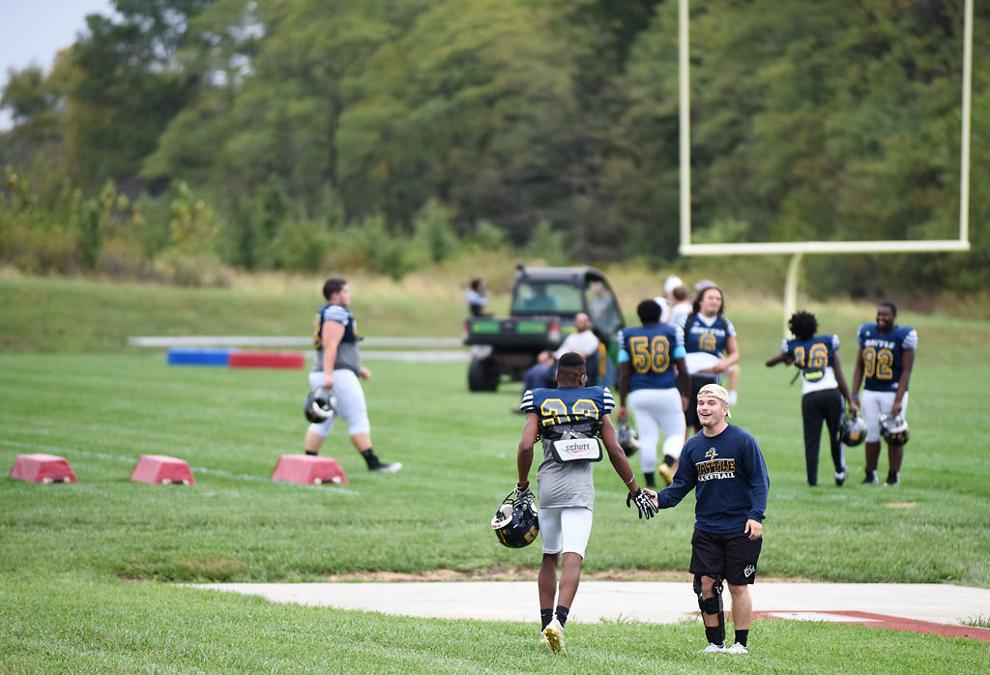 "Football is just like life. OK, you get knocked down. You've got to pick yourself back up," Rachatellelle said.
Because of the dedication of players such as Rachatellelle, Columbia's high schools seem to be weathering the storm of declining participation numbers.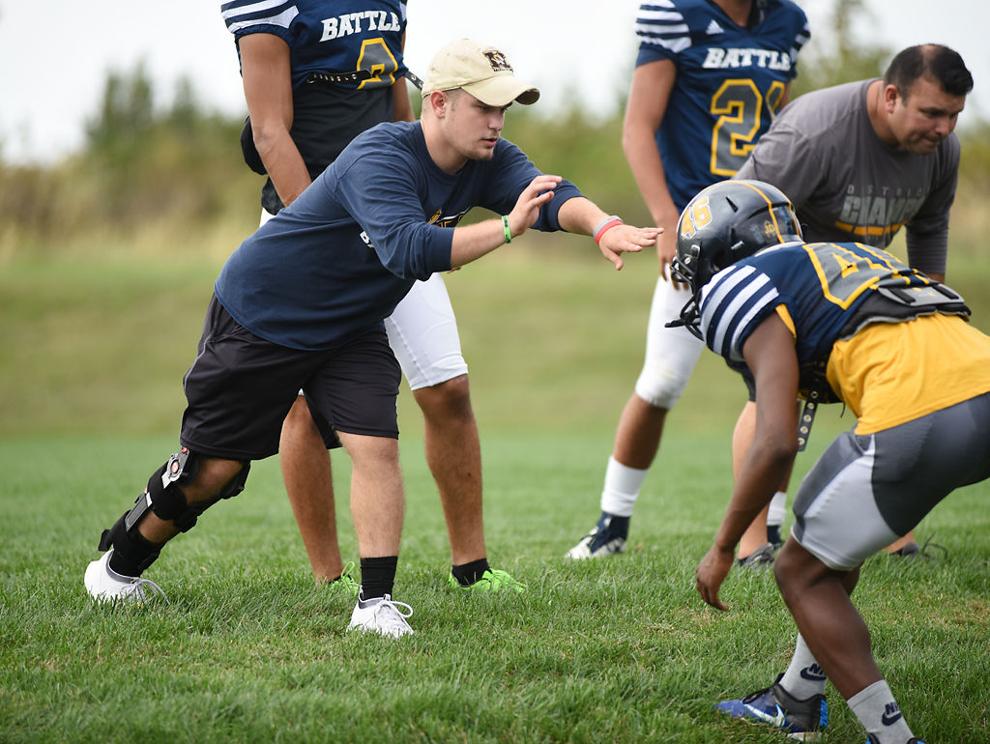 Since 2013, three of the four local high school programs actually have experienced some growth. Hickman, Rock Bridge and Tolton each reported bigger rosters as of Oct. 2 than at the end of the 2013 season. Battle was the only program that saw its numbers dip during that stretch — its total of 91 after cutting the freshman program is its lowest through the school's first six seasons — but both Battle coach Justin Conyers and athletic director Justin Browning describe the drop as an anomaly.
"I think that we're going to be an exception," Browning said. "Knowing how many freshmen we're going to anticipate next year for our program, it's going to make our program larger. And then we're hoping that, over the next three to four years, we lose very little to attrition."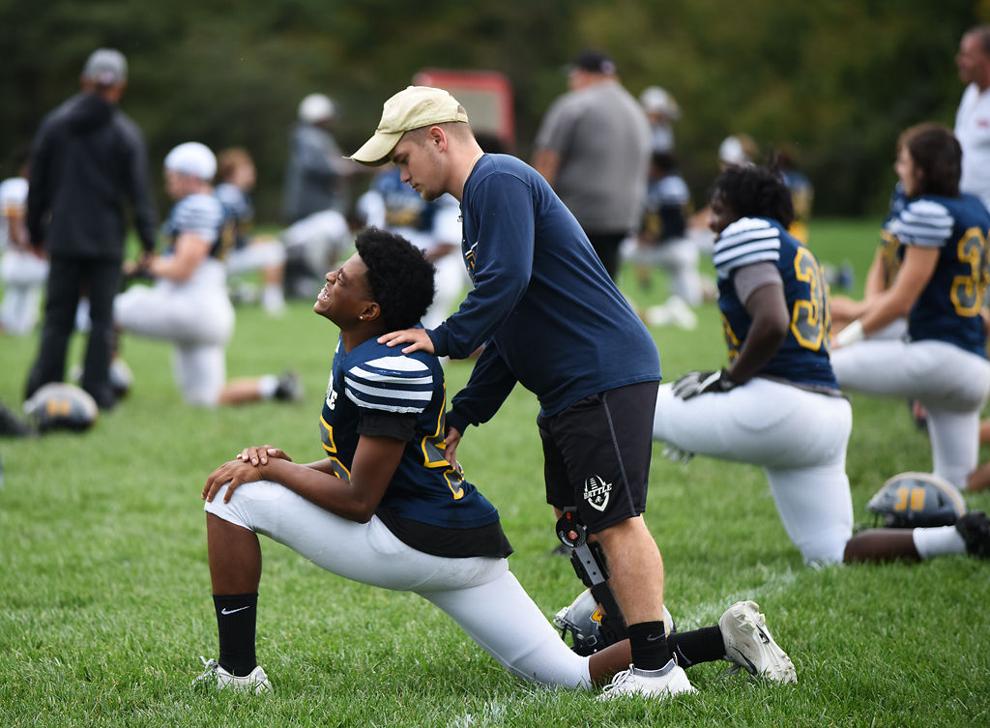 There are still suspicions about the way some private schools fill their rosters. These schools aren't restricted by district boundaries like public schools for their enrollments, so they have the opportunity to attract players from a wider geographic area. This practice leads some to believe there could be some underhanded tactics involved.
"Being a MSHSAA member, you can't recruit kids based on athletic abilities," Masters said. "I'm not going to say some schools don't, but we play by the rules.
A lack of success in recent years coinciding with a carousel of coaches, according to athletic director J.D. Coffman, makes getting kids excited to put on a Kewpie jersey difficult.
In response, Coffman said that Hickman has tried instilling a positive Kewpie culture in its students before they even enter high school.
"One of the things that we've done over the past couple years as a district is try to make sure that when (our middle school) teams are playing their games, that they're playing them on their feeder school's high school field," Coffman said. "(The players) get a feel for 'Hey, this is the place that I'm going to come in a couple years and this is where I'm going to play football in high school.'"
What are the reasons?
During his freshman season in 2015, current Battle senior Christian Koburov broke his thumb in football practice.
After four weeks of recovery, Koburov was finally able to play again. But almost as soon as he hit the field, Koburov broke his wrist and was out for another six weeks. Moving forward, Koburov and his parents, George and Karen, decided it would be best for him to take a break from football. He wouldn't be playing for the first time in nearly eight years, but he figured he could always pick it back up when the time came.
Turns out, that time never came.
Instead, Koburov turned all his focus to another sport — lacrosse.
"Lacrosse is more of my thing because I've been playing for longer, and so I was just like, 'Maybe this is it for me,'" Koburov said. "I just stopped playing football and started focusing on lacrosse more."
Koburov is one of many high school students who decided to walk away from football, but the reasons why aren't always the same. While Koburov's reasoning had a lot to do with pursuing an outside interest, many have pointed to injuries associated with football as a principal factor in the decline.
When Tipton football player Chad Stover died in 2013 from injuries sustained in a playoff game, concerns over catastrophic head injuries in football rapidly increased. Almost five years later, Pike County, Georgia, football player Dylan Thomas died on Sept. 30 from similar injuries, and those concerns, if they'd settled at all, resurfaced.
Football is a violent sport, and the realization that these injuries can happen at any time might be enough for some players to step away — and for some parents to keep their kids from ever playing.
For Dennis and Kara Rohr, the parents of Hickman defensive back Mason Rohr, the reasons may not be as severe.
"I think it's a lot of stress," Dennis Rohr said. "I think kids are afraid to fail nowadays. I think kids are afraid to work. I mean, it's an all-year commitment. And if your team is not doing good, then it's a reflection on them."
"I think more so in the high school arena, it's more the kids are saying, 'I'm done. It's too much work,'" Kara added.
In an Aug. 31 article on Forbes.com, writer Bob Cook discusses reasons for the decline outside of injury concerns. He points to early sports specialization, players realizing football may not be worth their time and even a decline in school-aged children as possible causes for the drop.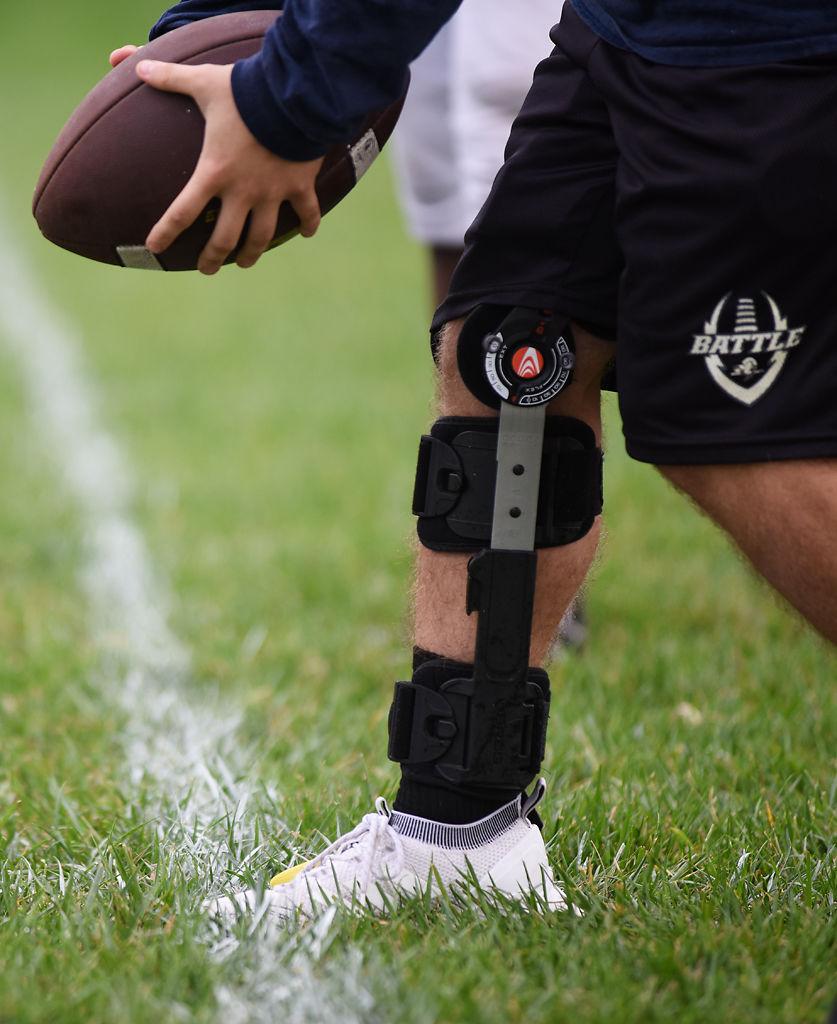 Whatever the reason, Columbia's schools are hard at work trying to maintain their programs. If it takes going to local middle schools to let players know how important they are to their high school programs, the coaches are doing it.
At Battle, Conyers has even opened his practices to parents who may be wary of letting their kids play at the high school level.
"(It might take) meeting with those parents and putting it all on the table." Conyers said. "Not trying to sugarcoat it, not trying to hide it. Let them know, 'Hey, this is the way we are doing things now. I know it's a concern, but come watch practice if you want.'"
Creating a culture
With the different trends between national and local high school football participation, the question remains how Columbia's schools have kept their numbers up over the years.
It could be visits to the middle schools. It could be inviting parents to watch practice. It could be any number of other efforts.
But to Conyers, one main reason is because of the "football town" Columbia has become. From the Columbia Youth Football League all the way up to Missouri football, the city seems to promote a love for the game.
There is a sense of pride in Columbia football that transcends many objections concerning whether to play. Columbia's size, as one of the larger cities in the state, does help in keeping rosters up, but it still takes creating a culture that makes youth want to play football.
With the deep roots Hickman, Rock Bridge, Battle and Tolton continue to plant in the city, that culture has surely been created.
In Conyers' mind, that might be all it has taken for Columbia to avoid the national trend.
"Kids are growing up, and they're going to those (football) games," Conyers said. "And just like they want to be the next kid that plays at Battle, well, they want to be the next kid that plays at Mizzou. I think that keeps kids involved."