Spirits were high as Rock Bridge finished up football practice on a Tuesday in late August — and for good reason. The Bruins smacked Rockhurst four days prior in Kansas City, and that energy still coursed through the team as players packed up equipment and headed to the locker room with laughs and high-fives. 
Nate Peat, the team's star running back, was not among them.
He was still on the practice field, back in the end zone with the Bruins' running backs coach, Kody Walker, who had Peat doing pushups, and quite a few of them.
What could Peat, who had rushed for 292 yards and two touchdowns in the thumping of Rockhurst, have done to be punished?
"He fumbled," Walker said. "I stress ball security. It's No. 1."
That's right. One fumble. A single blemish in an otherwise dominating performance against one of the state's best teams, yet it was enough to warrant the discipline. Walker demands that his players work hard and hold onto the football, no matter what. His attitude never changes, and his upbeat coaching style never wavers.
Bruins players say that Walker has brought a plethora of experience and wisdom from his playing days at Arkansas.
It's how he has overseen major improvement in the running backs group for the Bruins — specifically Peat, who already has over 1,000 yards rushing this season — and set Rock Bridge up for a realistic chance to finish the regular season on a five-game winning streak.
About those push-ups? There were no hard feelings.
Making an impact
This time two years ago, Walker wasn't roaming a sideline with a headset on; he was wearing pads and a helmet. His Arkansas Razorbacks were preparing to host the No. 2 Alabama Crimson Tide in a nationally televised Southeastern Conference showdown.
After the game, the team announced that Walker would miss the rest of his season because of foot surgery. He'd re-aggravated an injury he had sustained that spring.
But Walker, who played running back for the Razorbacks over six seasons because of six different injuries, didn't let one more surgery stop him. He fought back to  play in Arkansas' Belk Bowl matchup against Virginia Tech.
Walker finished his career with 753 rushing yards and 14 touchdowns. And then, after six years in Fayetteville, a hometown connection helped bring him back to mid-Missouri.
In high school at Jefferson City, Walker's running backs coach was Mike Hall, who had moved on to become the Bruins offensive coordinator. Walker was hired to join him at Rock Bridge this season.
"When they needed a running back coach, I thought it was a great opportunity," he said.
His arrival at Rock Bridge coincided with a successful rebuild, after the program had gone just 8-24 from 2014-16, a far cry from the teams that Walker's Jefferson City Jays had battled with. 
The Bruins had their struggles, but had a group of talented upperclassmen, including Peat, who had led them back to prominence in 2017 — a 9-2 season that ended with a crushing 16-13 overtime loss to Blue Springs South.
It was going to be up to them to keep the program moving forward.
Fighting through adversity
Fast forward to Week 4, and Rock Bridge was hosting undefeated Lee's Summit West in a battle of top-10 teams. Peat, no stranger to big games, had secured a first down on a bruising run when the ball popped out.  The Titans recovered it in the ensuing scrum.
For Bruins fans, it was surely a surprise. The surprise turned to shock when Peat fumbled again during the second half as Rock Bridge fell 28-7. 
Peat gained 118 yards on the ground that night, but the fumbles and the loss greatly upset him. He  hadn't fumbled once during the 2017 season — a season in which he rushed for 1,582 yards — and had now coughed the ball up three times in his team's first four games.
"He was really frustrated after that loss, asking me the next day, 'What can I do to help this team in a positive way?'" Walker said.
Walker's constant positivity, Peat said, picked him up. In the Providence Bowl the next week, he didn't fumble, and his consistency helped wear down the Hickman defense in a 31-0 win.
In Week 6, Jefferson City fans got a taste of what a confident Peat looks like; he gashed the Jays on the ground for 228 yards and two touchdowns.
"In game situations, whenever you're down, (Walker) can always get you back up," Peat said. "He always brings positivity to football."
"The No. 1 thing I've been talking to him about is his frustration," Walker said. "At running back, we always think we're going to hit that big gain every time, but it's not like that. I tell him, 'Four, five yards is good. If we can get that every play, we're solid.'"
Balancing the group
Head coach Van Vanatta emphasizes the need to spread the ball around the field. He also cautions against letting the Bruins' offense be one-dimensional, a tempting trap with someone as talented as Peat in the backfield.
Under Walker, the Bruins have gone out of their way to rotate multiple running backs into the game.
"Last year, we didn't really use two backs," junior Miles Cheatum said. "It was mostly Nate. But now we're getting Bryce Jackson, myself, Nate and Payton Carr touches. We all touch the field and get a chance to score."
Several teams might have been relieved to see Peat jog off the field, but the relief is only temporary. Rock Bridge's other backs make plays, too.
Cheatum took advantage of his chances early on, for example, scoring the go-ahead touchdown in the second quarter against Rockhurst and giving the Bruins a lead they didn't relinquish.
Walker also teaches his backs how to contribute to the offense when they aren't carrying the ball. The skill level of the team's running backs, Cheatum and Peat both emphasized, has greatly increased.
The running backs were the heart of the offense during the first four weeks, but there were plenty of ups and downs for the Bruins. The team's Week 1 and 3 victories were completely inspired by the ground game, the latter being a 48-28 victory over Battle in which the Bruins gained exactly 17 passing yards. Peat accounted for 246 yards and four touchdowns against the Spartans.
But in between were two brutal losses in which the ground game stalled. Against De Smet, Peat only gained 75 yards, and he had those two fumbles in the loss to Lee's Summit West. The offense as a whole wasn't functioning properly.
"Offense is unique, because we have to move as one," Walker said. "If all 11 guys don't do what they're supposed to do, then it doesn't work."
Seven weeks into the season, the Bruins seem to be shedding the one-dimensional label, starting with the improved play of quarterback Grant Hajicek. The junior threw for 258 yards and three touchdowns against Hickman and helped Rock Bridge consistently move the chains in a Week 6 win over Jefferson City.
The development of a dangerous passing game along with a deep running back corps that can make plays while Peat rests is important, Walker said. Still, while Peat might not be the entire offense, his ability to take over games and dominate defenses will be vital for the Bruins as the postseason approaches.
"We're gonna ride him to the wheels," Walker said.
Shared bonds
When Walker arrived in Columbia, he had heard about this special running back with the eye-popping stats and national recruiting attention. One look at the tape, and Walker realized it was all true.
Peat is even better now, Walker insists, thanks to improvements in the mental part of his game.
"Turning on the tape from last year, Nate has always been a player that you think, No. 1, he has speed," Walker said. "His footwork has gotten better, and just being able to be with him and teach him about the position as a whole and learning the mental part of the game, how to read defense, how to look at your reads, he has grown in those areas as well."
The interest Peat drew during his incredible junior season eventually gave way to Division I offers from Iowa, Iowa State, Kansas, Minnesota, Northwestern, Purdue and Stanford.
Walker went through a similar process at Jefferson City as well, and Peat listened to any advice he had to offer.
"I talked with him a lot about it, with what he went through at Arkansas, how it related to me and also what he went through in high school as well. It helped me out a lot," Peat said.
By July, Peat had narrowed his list to Stanford and Northwestern. In lieu of holding his own commitment ceremony or making an announcement video for social media, he decided to get creative, setting the time and place for his commitment for just minutes before the Bruins kicked off their Senior Night game against Hickman.
The last of the team's 17 seniors to be honored, Peat's name was announced over the loudspeaker. He pulled off his pads to reveal a Stanford University T-shirt to raucous approval from the home crowd.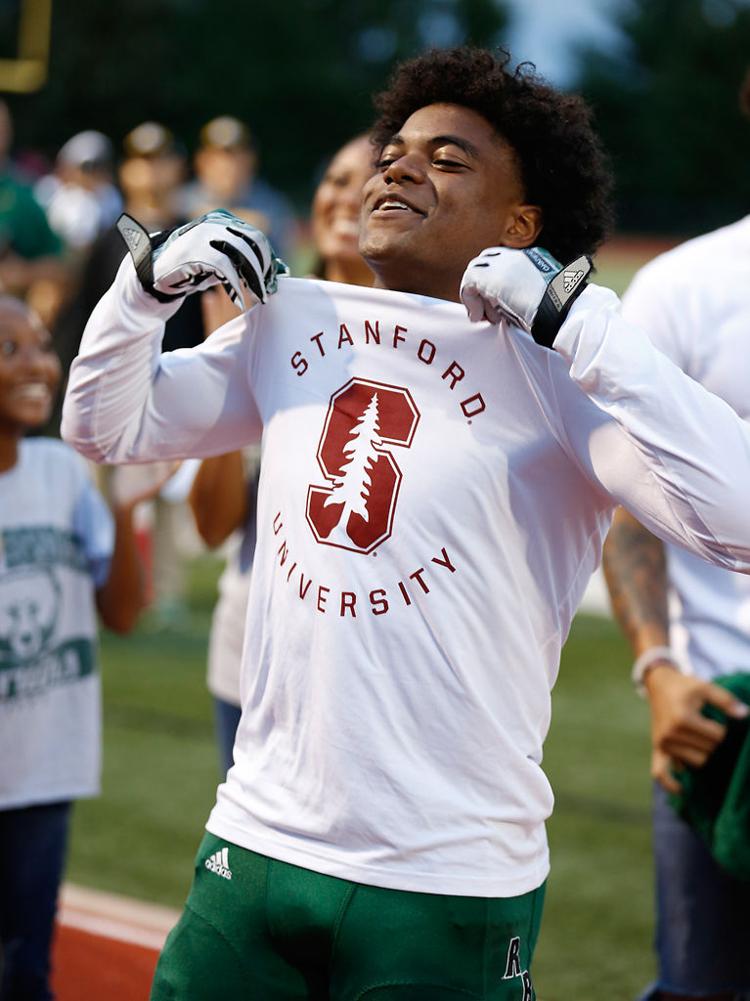 "It was a lot of fun to be with my brothers on the sideline and being able to celebrate my commitment," Peat said. "But getting the 'dub' against Hickman was even more fun."
There were no fumble pushups for Peat after the Hickman or Jefferson City games, which meant the post-practice routine allowed him to walk to the locker room with his teammates. Now, Peat and Rock Bridge are busy preparing for the final stretch of the regular season. They've completed the gauntlet stretch of their schedule.
But, as Vanatta emphasizes in his speeches, the great teams will be back, and with them come defenses that are convinced they can stop Peat.
Walker's advice for that?
"Just go out and play," he said. "Just let everything fall into place."