On the field at Battle High School, Sam Schupp lines up at the 10-yard line to attempt an extra point, her head down and her shoulders relaxed.
She steps back with her left foot, then her right, then her left again. She sidesteps with her left foot twice, takes a pause and then kicks.
The ball sails through the uprights, but there's almost no one around to see it. It's a Sunday afternoon, and Schupp is out practicing on her own. The only ones who see each kick she clears — and the ones that don't even come close to making it — are her parents, Chris and Ali Schupp.
"There it is," Chris says. "Boom."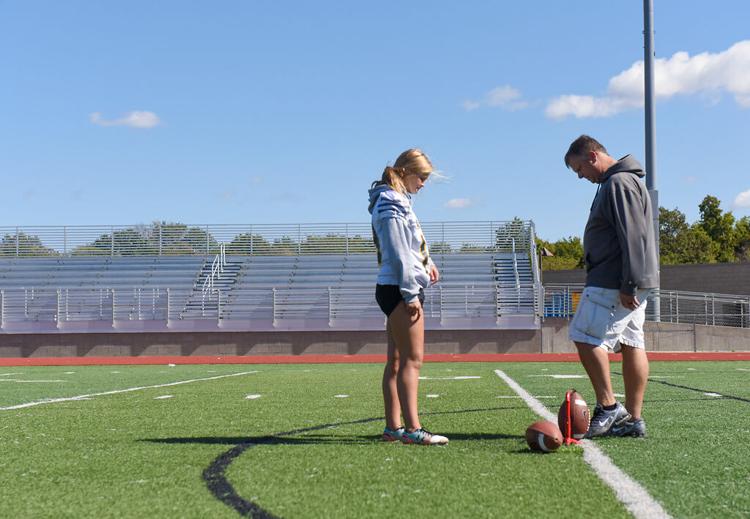 But Schupp misses more kicks than she makes during the workout. Her mom constantly checks in, asking how Schupp is doing. Her dad throws out pieces of advice. It's a perfect day for football — blue sky, slight breeze, brisk enough for a jacket but not cold.
Six days later, Battle is playing Smith-Cotton on the same field. After the Spartans score a touchdown, Schupp lines up at the end of the field opposite where she practiced. This time, her teammates — and opponents — are on the field with her. It's the first time Schupp will kick on Battle's turf in a game setting since early September.
The whistle is blown. Her foot connects with the ball. The kick passes cleanly through the uprights. Schupp celebrates briefly, and then jogs back to the sideline where she high fives teammates and coaches.
"I feel like I've been in a slump, so it feels nice to come back and gain confidence back," Schupp said after the game. "It was so fun."
Schupp's four of five successful PATs against Smith-Cotton were a significant improvement from the last time she had to attempt that many. In Battle's 60-43 season-opening win, she only made two extra points.
After that game, a teammate approached Schupp with words of reassurance. "Listen, Sam," she recalls being told. "Just know we will never let it come down to one point."
It changed the way she thought about her kicks.
"In my mind, that was super comforting, because just knowing that it will never be completely on me ... ," Schupp said. "Because that's where my head went, and I got really nervous. ... 'If I don't make it, then what if we lose?'"
Schupp's stats aren't the only thing that have changed since that first game; her nails have, too. She likes to get them painted each week before Battle's game. Teammates playfully teased her about the weekly ritual at first, but, as the season has progressed, they've grown to love the traditionally feminine practice. Now, she lets her teammates pick the nail polish colors she uses on game days.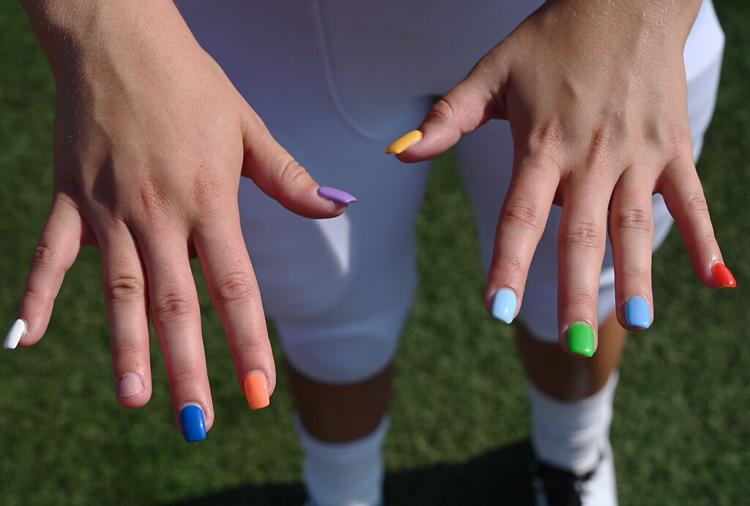 When she went on to kick against Smith-Cotton, she had nine different colors on her nails, each picked by one of her teammates. One color had chipped off Thursday at practice, but the rest shone every color of the rainbow.
Schupp said she's not artistic enough to do them herself and usually has them professionally painted but that she would be willing to let her teammates do them one week.
"I think that would be hilarious for everyone," she said.
Before joining the Battle football team this June, Schupp, a senior, had never played a sport that involved kicking in her life. She played softball through sophomore year and started pole vaulting in middle school. Neither sport has much crossover, if any, with football.
The Schupps are a football family, though. Sam's grandfather Larry Hoefer was a collegiate assistant coach for more than 30 years, spending time at Texas Tech, Baylor, Rice and Missouri. He spent five years as MU's assistant head coach and defensive coordinator under Bob Stull while Sam's mom attended Hickman High School for two years and met Chris.
In June, Hoefer brought Schupp to Waco, Texas, to train at Midway High School with Baylor's freshman kicker, Bryce Boyland.
"She was so excited to meet him and just listen," Ali said. "They both took turns kicking, and he helped her — tried to give her some pointers. She really had a great time with it, and I'm glad that she was able to have that opportunity to do that."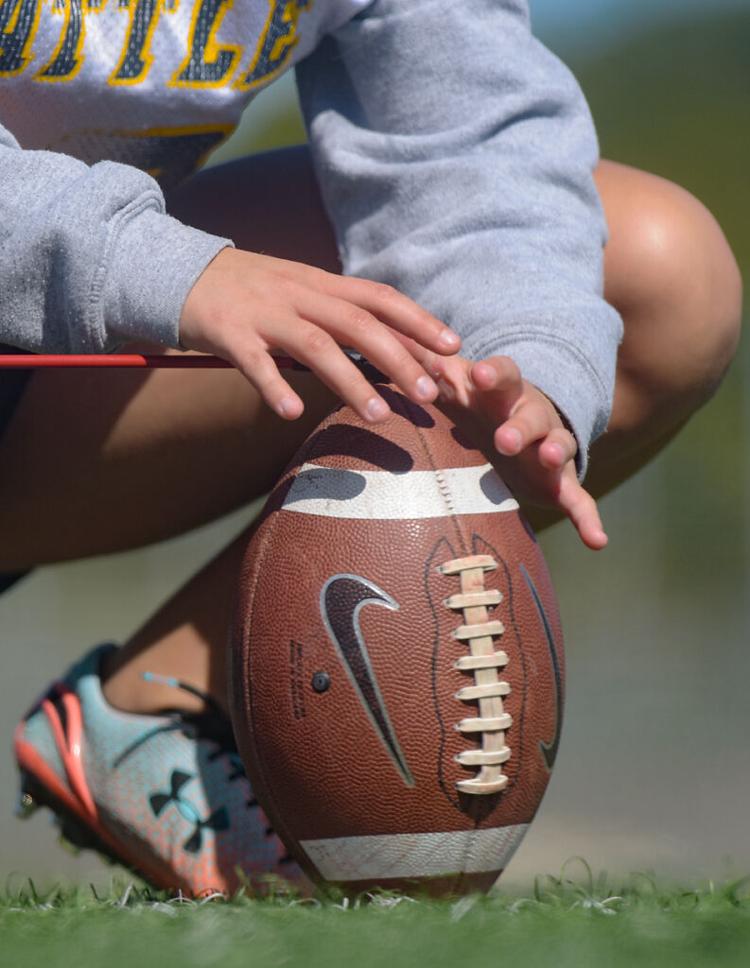 Schupp's opportunity to pick up kicking came at the perfect time: Dec. 31. New Year's Eve.
She and Battle coach Atiyyah Ellison were both at Hickman coach Cedric Alvis' wedding, and the two were talking about Schupp's track and field training regimen. She ran a lot but wanted to lift more weights and build some muscle. That night, Ellison invited Schupp to attend the football team's weight training sessions.
She entered the weight room for the first time a week later, feeling nervous in the all-male environment. But she ended up lifting heavier than some of her peers, catching the coaches' attention.
"I was really intimidated because there's just a bunch of guys all in the weight room and they're all best friends," Schupp said. "But (it) ended up being great."
The special teams coach approached her at the end of the weight session.
"Have you ever thought about kicking for a football team?" he asked.
She didn't go into the weight room wanting to join the team, but as soon as the opportunity presented itself, she knew she wanted to give it a try. Her dad says she "has no problem trying" things, even if she's the first or only one to do so.
When she told her parents she wanted to join the team, they were supportive. With three athletic daughters — Schupp has an older sister, Sydney, and a younger sister, Sophie — and as former athletes themselves, they've always been supportive of trying new things and testing limits.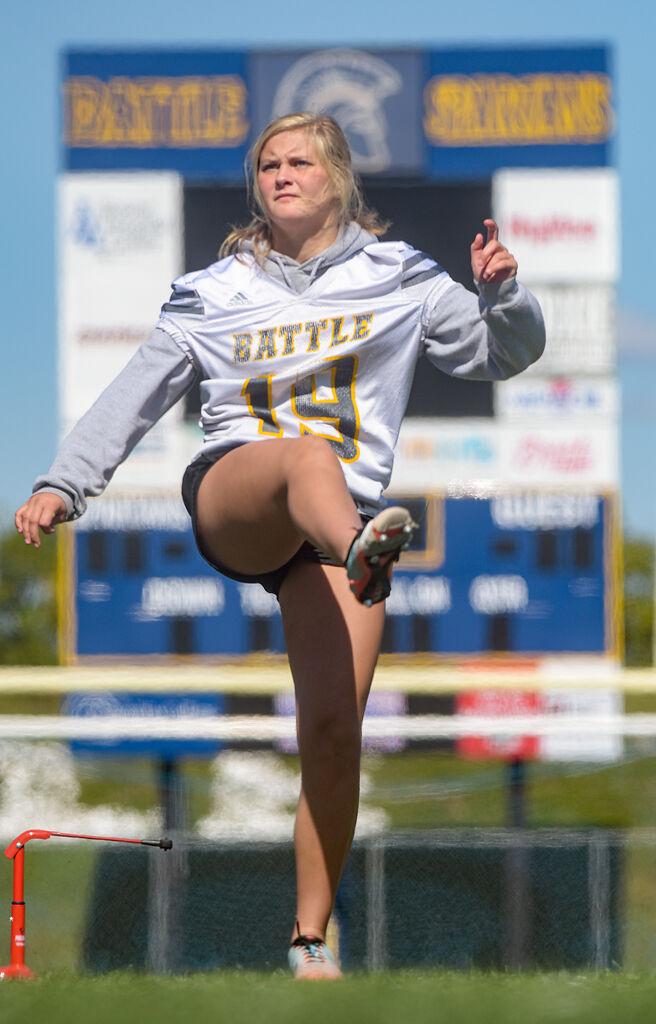 But there were still some nerves, especially when Schupp kicked off for the first time.
"(We) saw her kick off, and then she got kind of close to the action at that point," Chris said. "We found out later that she was being yelled at by teammates going, 'Sam, get off the field. We got you.'"
He was nervous about his daughter taking hits and being tackled in game action, but Sam never wanted to shy away from the sport's physicality.
"She would love to lay it in to somebody," Chris said. "She hasn't realized the implications of that. Or doesn't care about them."
The support of Schupp's coaches and teammates can't completely alleviate her parents' concerns about her being on the field with boys up to twice her size. But those affirmations have helped.
"They have all said, players and coaches, that they'll take care of her like she's their own daughter or sister," Ali said. "And I trust that. It seems like they've really enjoyed having her as a part of the team. And I think because they've enjoyed having her, they're gonna take care of her."
Schupp is close with all of her teammates, but she works closest with fellow senior kicker Vojtech Drda, who joined the team a few weeks into the season after moving from the Czech Republic. They became friends and started carpooling to practice.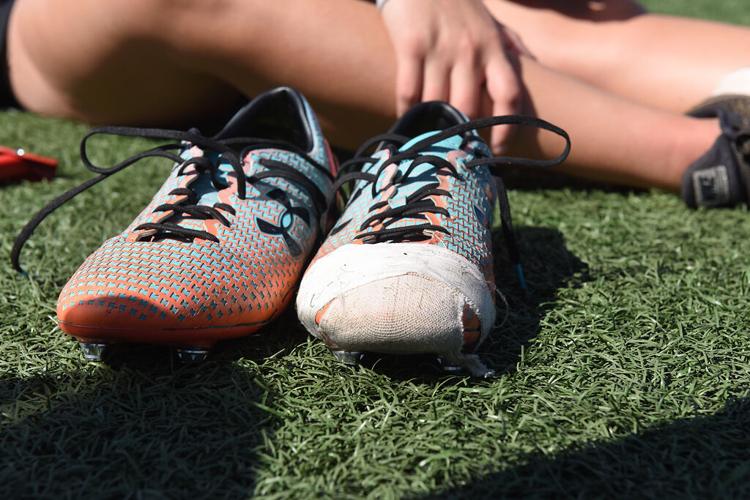 "We help each other at kicking and motivate each other," Drda said. "I think it's better to have a partner at kicking so you can enjoy it more than alone."
After Schupp's cleat broke on her first point-after attempt in Battle's game against Moberly, Drda was the one sent on to make the game-winning kick.
Ali said one of her favorite parts about Schupp being on the team is how supportive she is of her teammates, even when it means she doesn't get to go on the field.
"There's a better kicker than me, and I'll support him and I want to watch him go kick," Schupp told her mom. "Send (Drda) out there. I wanna cheer all the guys on."
Football players often describe the bond they have with their teammates as a brotherhood. Even when you're friends with many of the players, being a newcomer can be nerve-wracking, especially as a girl.
"I was so thankful that they accepted me into their family, because they were all really close before that," Schupp said. "I've played team sports for all my life, and I've never loved a team more than I've loved these guys, for sure. They've had my back since Day 1, and being a girl, not having any experience, they supported me whether I missed my kicks or made them. They've been there for me off the field, on the field, and we've all been there for each other."
There are still barriers in playing a traditionally male sport. For one, Schupp has to dress and get ready for games mostly alone, changing in a large janitorial bathroom because the women's lockers are all taken by other sports. At the beginning of the season, before she got used to Battle's pregame schedule, it meant she had to wait until the boys came out of their locker room to know what the team was doing.
Schupp is still working on consistently clearing her kicks. As she nears the end of her solo Sunday practice, a number of attempts don't get higher than the crossbar on the soccer goal that's still on the field.
Her mom keeps asking her if she wants to be done, but Schupp pushes on until she makes one so that she can end on a positive note. Left foot back, right foot back, left again. Two side steps to the left.
Once she clears her next PAT, she packs her things up. She folds up the ball holder that she uses as a stand-in for her live holder, quarterback Khaleel Dampier. She takes off her broken, neon pink cleats, which she replaces later that day with a pair of white ones in the same style.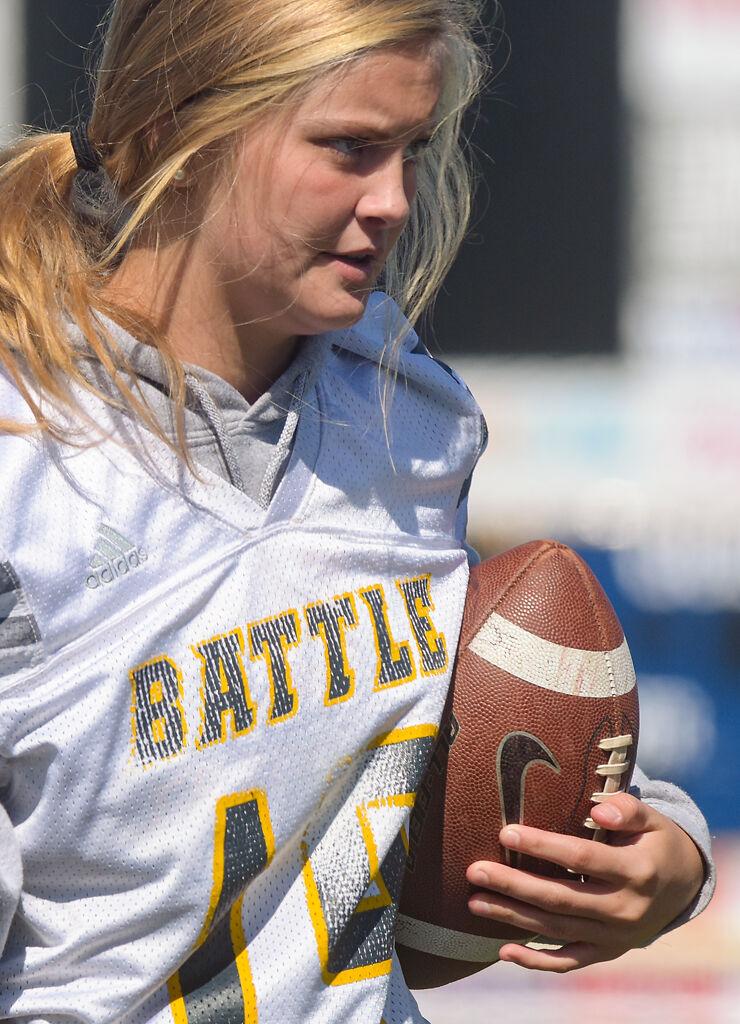 Her nails are bare. She won't have them painted until Wednesday, after her teammates have each selected their color for the week. A little piece of each of them, right on her hands.
Schupp's not looking to be a top-ranked kicker. She wants to be successful, of course, but trying something new and having fun in the process is a win in itself.
"Probably my biggest goal is just to have fun and enjoy my senior year, because obviously I'm not trying to go out there and get a bunch of scholarships," Schupp said. "I'm not trying to make a big name for myself for football. I'm just trying to have fun and enjoy the guys and enjoy the experience while I can ... and enjoy the game."