With the sports world on pause during a pandemic, the Missourian asked a number of coaches in Columbia to share memories from the most meaningful game (or match, or race, or event) they have ever been a part of. Some chose formative coaching moments. Others preferred a highlight from their playing career. But each memory left a powerful imprint on the coaches, informing how they lead today. In this series, titled 'The Moments That Shaped Them,' the Missourian tells their stories.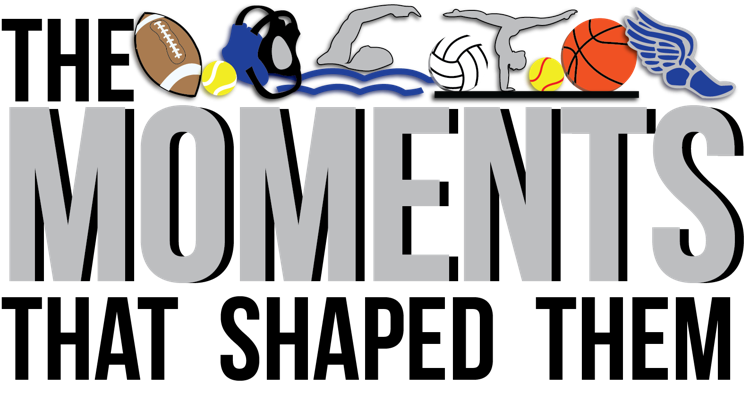 Coach: Ben Loeb
Title: Head coach, Rock Bridge tennis
Moment: October 1999 — Rock Bridge vs. St. Joseph's Academy
It is, quite simply, the greatest sporting event he has seen, or will ever see, in his life.
"That includes high school, college, pro, all of it," Rock Bridge tennis coach Ben Loeb says. "Well, maybe the Miracle on Ice."
Indeed, the U.S. hockey team's 1980 Winter Olympic upset of the Soviet Union shares all the same hallmarks of what Loeb has definitively named the best tennis dual of all time. The united team of rural upstarts against a renowned collection of star players that perpetually bullies its opponents. Themes of geographic and ideological pride. A comeback. A suspenseful climax. A satisfying payoff.
Loeb stands on hallowed ground in 2020. His teams have won 19 Missouri high school state championships — his first at Hickman in 1994, the other 18 at Rock Bridge — and over 1,000 duals. The Rock Bridge boys have won the title eight times, including each of the last four years. The girls have 10 championships, including five straight from 2015-19. Loeb has carved a place for himself among the state's all-time great coaches in any sport.
"Hands down the best coach I ever had," says Kristin Kornegay, a freshman on Loeb's 1999 team who admired him most for his emphasis on the mental aspects of the game. Aside from coaching, Loeb teaches a sports psychology class. "As a high school boys and girls tennis coach," Kornegay says, "he could run circles around coaches from any other level."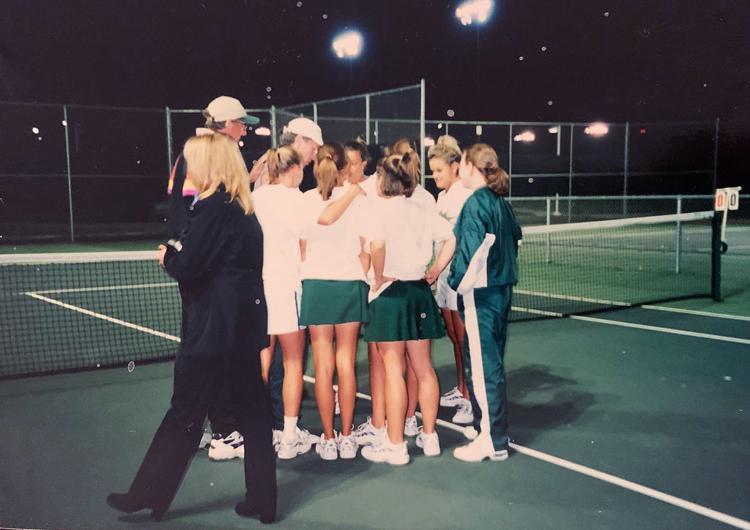 Loeb has seen a lot of wins, but nothing comes close to that 1999 girls championship, Rock Bridge's first in the sport. The lights on the court from the deciding match still flicker in his memory. It's his Miracle.
The Bruins were up against St. Joseph's Academy from St. Louis in the state finals. St. Joe's was the five-time defending state champion, aiming for a record sixth straight. The archetypal rivalry of public school versus private school both bittered and emboldened the Bruins. "They can pick student-athletes from all over the metropolitan area, unlike we can do," Loeb says. "So it's kind of a David-Goliath situation. We're the little guy out in central Missouri, and they're the powerhouse up in the big city."
Loeb, who pocketed a marketing degree and became a teacher so he could coach tennis, wanted his players to be as passionate as he was. "Not all of us had that same level of passion," says Erin Daugherty, another 1999 player. "We enjoyed the sport, but it's hard to have it at his level." One day that season, he introduced a serving drill in which he got on all fours in the service box and gave everyone one chance to hit him with an accurate serve. Daugherty was the most inconsistent on the team, so she decided to whack it as hard as possible and hope for the best. She didn't miss.
"I'm thinking, this guy's willing to take shots from full blast tennis balls," Daugherty says, "because he wanted so bad for us to love this game the way he does."
Before the Bruins boarded the team bus to Springfield for the final, Loeb gathered them in the Rock Bridge library for a different kind of inspiration. That summer in soccer, the U.S. Women's National Team won the World Cup in a dramatic penalty shootout. Loeb played the video of Brandi Chastain scoring the winning goal and ripping off her jersey in an emphatic celebration that became an iconic feminist moment. The coach pointed out the intensity on Chastain's face as she fell to her knees and shouted to the sky.
When everyone got off the team bus later, Loeb managed to surprise them yet again. He told them plainly that he wanted to win for his grandmother, who had died that year. "It was the first time we'd ever really seen an emotional, non-tennis-related side to him," Daugherty says. "I don't think he realized how much we all took that to heart."
A high school tennis dual consists of nine matches. Each team sends out its six varsity players, ranked with No. 1 being the best and competing against the opponent's No. 1, and so on. All six play against their counterpart in a best-of-three-set singles match, and the dual's last three matches are doubles, in which a team's No. 1 and No. 2 are partnered together, then Nos. 3 and 4, then Nos. 5 and 6. Winning five matches clinches the dual.
So when Rock Bridge fell behind 4-1 in the singles portion, St. Joseph's had all but won its sixth straight title. Especially when Daugherty, the Bruins' No. 6, lost the first set in her match.
"We're almost as far behind as you can possibly be," Loeb says. "I try to block out any thoughts of the situation we're in and try to focus on keeping them upbeat."
Daugherty's teammate Elly Swetz approached Daugherty's court during the next set and gave her the news: "No pressure, but we've lost four."
"To be honest," Daugherty says now, "a part of me thought, 'Well, if I lose, four other people lost, too, so it's not like I blew it for us.' I had nothing to lose."
Facing elimination twice in a row, she won both sets to keep Rock Bridge alive ... but still down 4-2 and needing to win all three best-of-three doubles matches. Naturally, they all went three sets.
First, there were Rock Bridge's top two players, Cheryl Hickey and Lindsay Gibson, trailing St. Joseph's 5-4 in games. Needing to win the next game, they fell behind big, again.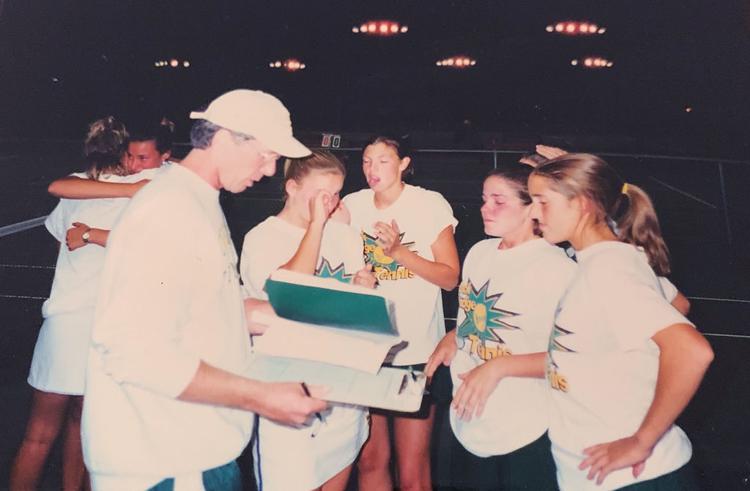 Triple championship point.
Hickey and Gibson fought back to 40-30, and what followed was the most dramatic rally of Loeb's career. St. Joes' No. 1 player lashed a powerful volley from close to the net. Hickey was backed off from the net in defensive mode. She reached her racket across her body on pure reflex to block what should have been a title-winning shot. It deflected over for a miraculous backhand return. "It was a reaction save, like a goaltender in hockey," Loeb says. "It was a stick save." The Bruins won the point, won the game in a deuce and won the next two games for a 7-5 third-set win.
They were still alive, 4-3.
Swetz and Jenny Kingsbury matched their teammates with another 7-5 win in the third set. It was 4-4 with Kornegay and Daugherty still playing. A nervous buzz had spread throughout the line of courts by now, and everyone trickled toward the one at the very end to watch. Most spectators sat on the patch of grass outside the fence. Loeb looked around, marveling at the scene, and realized he had completely missed the sunset. Darkness had fallen, and the nearest overhead light flickered. Kornegay and Daugherty trailed the final set 3 games to 1.
"As the match progresses, you hear the cheering from other courts, but you don't know exactly what's transpiring," Kornegay says. "Then slowly but surely we notice people filter over, and we sort of figure out what's going on. A nail biter experience to say in the least."
The October chill added to the tension. Rock Bridge teammates huddled and locked arms in a collective tight grip while watching, like soccer players waiting at midfield during a penalty shootout.
Kornegay, the more poised of the pair, sat back around the baseline. Daugherty played up at the net. It made for lots of long rallies. After losing a frustrating point, Daugherty smashed her racket and had to borrow a teammate's for the rest of the match. "Erin was fiery," Kornegay says, "which was the perfect balance for us." The duo chipped away, winning three straight games before St. Joe's evened it 4-4. Loeb leaped and loomed with every point. Soon it was 5-4, and Rock Bridge had a match point. Kornegay's shot ended it.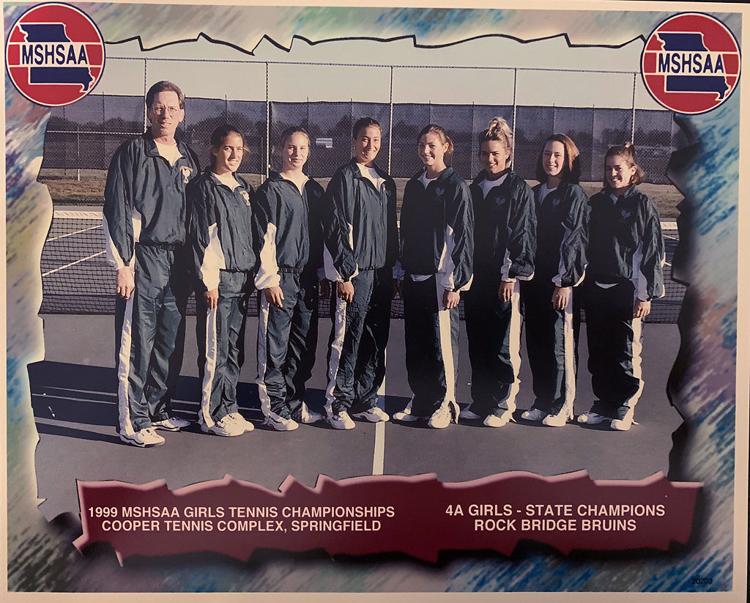 "Of course, in tennis, you're supposed to immediately go up and shake hands," Kornegay says. But not after a dual like this. At the net, Daugherty dropped her second-string racket and tore off her shirt. Her teammates followed suit. Daugherty jumped into Kornegay's arms, and the rest collapsed on top of them. Maybe it wasn't the World Cup, and maybe there was no iconic footage of the moment, but to a ragtag team of Rock Bridge tennis players, that celebration was as legendary and spontaneous as any in the history of sports.
"No one thought we would do it," Daugherty says. "Including us."
"I started believing back then to stay centered in the moment and keep competing in the moment," Loeb says. "Those girls had such a strong competitive spirit and grit to them, and they didn't get down about the predicament we were in. The magnitude of the comeback and the underdog status — it made it a miracle."
Public school dethroned private school. Columbia dethroned St. Louis. And Ben Loeb took his seat on a throne he has rarely relinquished in the 20 years since.