On March 16, 2019, Rock Bridge defeated CBC 63-59 in Springfield to win the first Missouri State High School Activities Association Class 5 state boys basketball championship in school history.
Led by Isiaih Mosley (24 points) and Dajuan Harris (17 points), the Bruins overturned an eight-point fourth-quarter deficit. Two clutch free throws in the closing seconds by Ja'Monta Black sealed the victory. Rock Bridge ended the season 25-3 and closed out the year on a 12-game winning streak to capture the state title.
All six graduating seniors went on to play collegiate sports: Harris (Kansas), Black (Missouri State), Mosley (Missouri State) Noah Partick (Central Methodist) and Quinton Brown (Columbia College) all played basketball in the 2019-20 season; Spencer Miles (Missouri) has switched to baseball.
Rock Bridge returned this past season with six seniors who led the Bruins to the quarterfinals of the state tournament with a final record of 24-4, but came up just short of the chance to repeat at the Final Four.
Now, one year later, the Missourian turns back the clock to that day in Columbia basketball history and presents an oral history of the jubilation in the moments right after the final whistle blew, and beyond.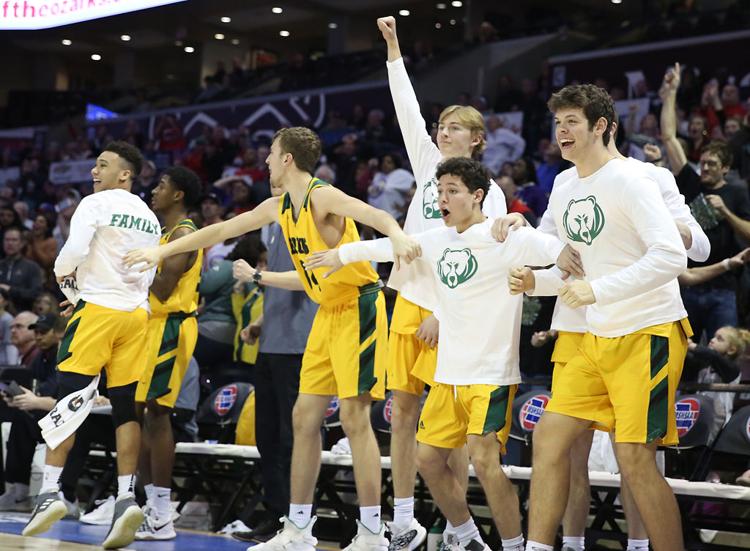 The celebration
Ja'Monta Black (senior, forward): "After I got that last rebound we were all just … I can't even explain the feeling I had."
Jacob Ungles (junior, forward): "The final seconds we were all on the bench and it finally set in that we were about to win the title. We were all excited and jumping around on the bench. As soon as the clock hit zero, we didn't really know what to do so we all just stormed the court and all the players. I don't really remember what happened. We just all kind of mob-piled in the middle."
Quinton Brown (senior, forward): "I didn't even think about anything; I just ran around the court. I could have ran three laps around the court. I saw everybody else was jumping around and celebrating. I just felt like … that was the goal we had ever since I got to Rock Bridge my sophomore year. We've been working and grinding ever since and that was the goal that we had in mind. It was like pure ecstasy running around, being happy and having my brothers in my hand. It was a great feeling; it was amazing."
Blair Scanlon (assistant coach): "It was pure joy and excitement. Rock Bridge has been chasing this for a long time. To finally win it with the group we had was amazing. I remember running up the court and trying to hug Ja'Monta (Black). Everyone had just so many emotions, so many things going through their minds. It's just so hard to win it. I hugged my dad (head coach Jim Scanlon) and the other assistant coaches."
Black: "I threw the ball down and I was running all across the court punching the air and hugging people. We were all just happy."
Brown: "I saw Ja'Monta and he was hyped up and I gave him a big hug. That's my brother; I know how hard he works every single day. Everyone just met in each other's arms and it was that unity, that bond that we all have together that just came out."
Isiaih Mosley (senior, guard): "First I ran over to my mom because I was really happy. I wanted to run into the crowd and give her a big hug, but I felt like I needed to stay on the court. Then I ran over to Ja'Monta and Dajuan and we were all just hugging and jumping around. It felt like we were never going to stop jumping around on the court. We were just super, super happy."
The trophy presentation
Ungles: "(It) was right afterwards and we all celebrated in the student section. We lined up and they announced our names one by one and gave us a medal. After that they gave us the trophy, and the seniors took it and they all lifted it over our heads and gave it a kiss. It was like, 'Oh my god, we actually did it.' You dream about this, but you never think you'll actually get there."
Brown: "We'd seen pictures of it and we had gotten the second- and third-place trophies before. It's the same trophy; the only difference is that it says, 'first place.' But it still had a lot of significance to me. When we held it up and the crowd was cheering and everyone finally got that moment, it was surreal. It was something that we dreamed about, holding the trophy in the air and everyone having their hands on it. It just felt like we really did this. That's when reality sunk in for me, when we had the trophy in our hands and it was real; we did it. It was awesome."
Black: "I was just happy; I was emotional; I was crying like a little girl. All the hard work we put in to win a championship. I mean after we won it, all the emotions just came out."
Mosley: "It felt really good just knowing that everyone in Columbia and Rock Bridge was supporting us so hard. Even when we didn't win it last year, some of the teachers were crying because they just wanted it so bad for us. Not even for the school, but more for us. It felt really good to do it for the school and teachers. Everyone was on our side."
Black: "(The student section) was just yelling and screaming with us and just happy that we won it."
Brown: "After we got the trophy we held it up and the Brew Crew, our crowd, came and touched the shoulders of everyone. The coaches were hyped but they got a little emotional because they've been doing this for such a long time and they finally got one. Coach was a little teared up and a little emotional and I was happy to see it."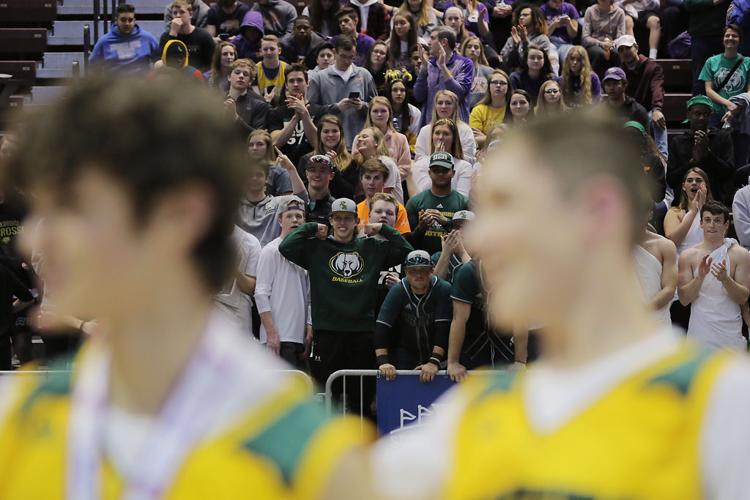 The locker room
Blair Scanlon: "Coach had to talk to the media and we waited probably 15-20 minutes for him to get back. So we were waiting, waiting, waiting for him."
Brown: "Everyone started jumping around; we were squirting water bottles. We were celebrating, enjoying the moment, staying in the present, having fun with each other. Coach came into the locker room later and we poured a tub of ice water on him. It was fun; it was a great time."
Mosley: "Me and Coach had a lot of ups and downs during my four years there, so it felt good (to) actually pour some water and Gatorade on him. He really didn't care too much about being soaked with water. He was just super happy he got a ring and we did it as a team. Everything came together when it was supposed to come together."
Black: "Our coaches told us how proud they were of us and how all the hard work had paid off."
Brown: "We just started talking about how awesome this moment is, that you don't get this forever. It was like a three-hour drive (back to Columbia) and everyone was sound asleep. We got some McDonalds after the game and we talked about how we were going to stay connected after the season, but we pretty much just slept on the bus ride. It was like 1 or 2 in the morning."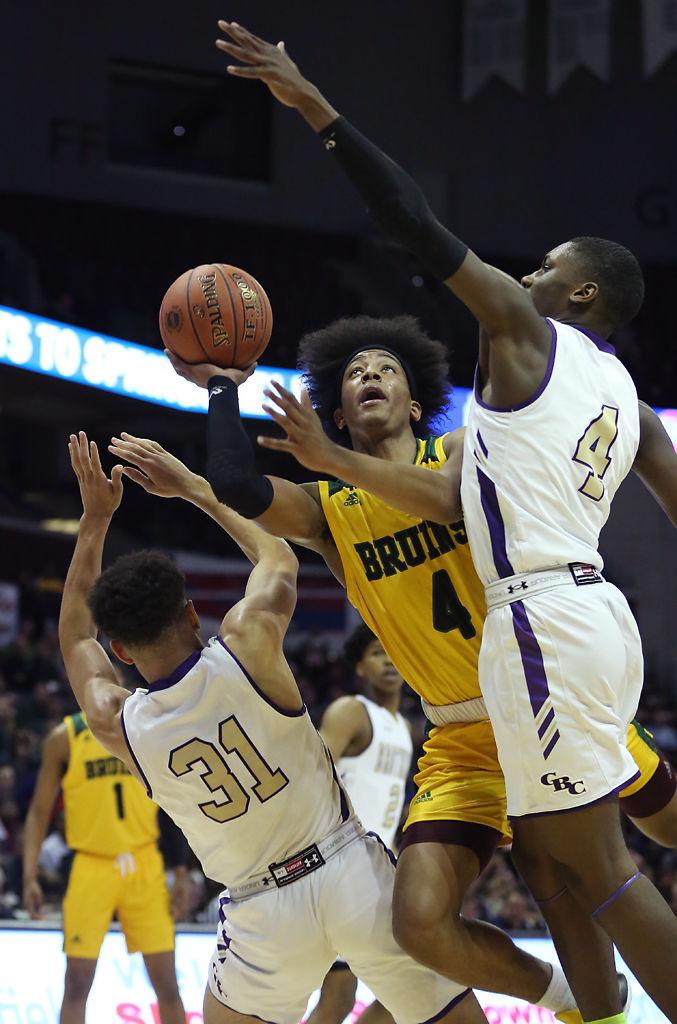 The aftermath
Brown: "We got recognized in front of the whole school in the auditorium. The band was playing and we got the team performance of the year award in the Bruin Cup."
Mosley: "Everyone at school was happy and clapping for me. I thought we should wear the medals to school so I wore mine for a little bit and I think some of my other teammates wore it too. Everyone wanted to see it and put it on, so they were all like, 'Let me put it on! Let me put it on!' Everyone was excited about seeing it and holding it."
Blair Scanlon: "Rock Bridge gets spoiled with the winning. People are so used to winning that they kind of forget how special it is. The boys had been there so many times where we have a 20-win season, win the districts and then something would happen in the Final Four. People don't realize just how hard it is to win the district, let alone go to the Final Four and then win the whole thing. My dad has coached for over 40 years and now he finally has a state title."
Mosley: "My mom let me know all of the times I came home late from the gym paid off. She was just telling me she was happy and to keep working, to not let this be a stopping point but let this be a motivational point."
Brown: "My dad said, 'Son, I'm so happy for the team, for what we did. Good job, but we have track season now so we have to get back into it.'"
The greatest team
Mosley: "Something special about the team is that we were all together mentally. If somebody wanted to eat after practice, the whole team was going to eat after practice. If someone was having a get-together, we were all there. We were so together as a team that in a game, it was so easy to find people when they were getting hot. I think that really helped us as a team."
Brown: "Everybody misses the high school days. We strived for it so much and for it to come true it feels so satisfying, and I feel a lot of gratitude."
Blair Scanlon: "It was an awesome experience, something that we might not get again in our lifetime. The excitement was awesome; we soaked it in for the rest of the spring. Just thinking about it puts a smile on my face. I gave my medal to my daughter, and I keep my ring in a drawer."
Brown: "One thing that people don't know about Ja'Monta, Isiaih and Dajuan, like they are the funniest guys you will ever talk to. They made me laugh every day and they made me have such a good time, and I just enjoyed being around them whether we were winning or not, just being happy."
Blair Scanlon: "It's the greatest team in Columbia boys history, ever. It has to be."