No one wants to talk about Barry Odom.
It seems that way, at least, for those close to both the Missouri program and Odom. It makes sense, considering the circumstances.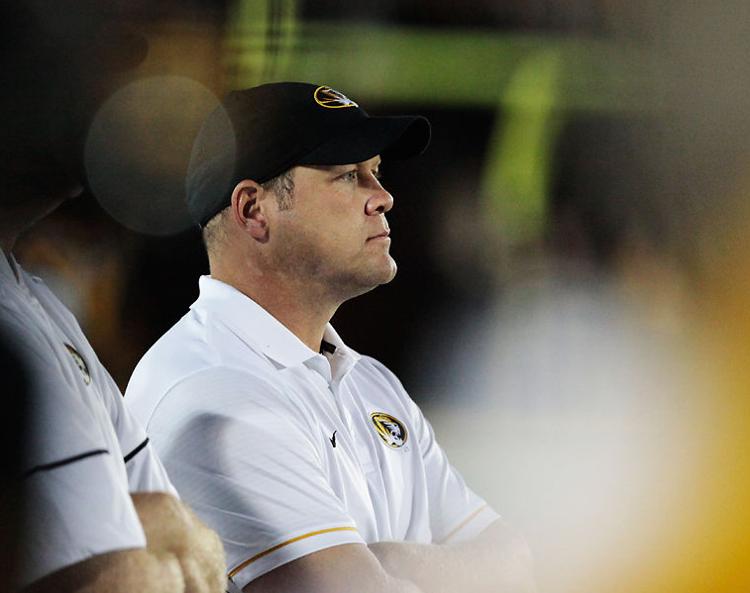 Odom is in for a homecoming of sorts Saturday. He'll return to the city he lived in for two decades. But for the first time in his coaching career, he'll be standing on the opposing sideline at Memorial Stadium, coaching against the program he suited up for in college and eventually coached for four years.
This time one year ago — 374 days, to be exact — Missouri was two days away from playing Arkansas, and Odom was still at the helm of the Tigers program.
He and his players were navigating a broken season that featured crucial injuries down the stretch and the breakdown of an offense that led to a five-game skid. The NCAA's decision on an appeal of sanctions also loomed, until it didn't. The verdict was officially handed down three days before the Arkansas game. It rendered the Tigers bowl-ineligible.
Despite the NCAA's announcement, Missouri would go on to handle Arkansas in a 24-14 win that capped the 2019 campaign at 6-6. Still, it wasn't enough to save Odom's job. The following morning, athletic director Jim Sterk fired Odom.
Nine of the 12 people the Missourian contacted for this story either didn't return calls or declined to comment: Sterk; UM system curator Phil Snowden; former curators David Steelman and Jon Sundvold; Odom's brothers, Brad and Brian;, former assistant A.J. Ofodile; and Baylor AD Mack Rhoades, who hired Odom in 2015.
Some have acknowledged the elephant, or rather hog, in the room. In particular, Odom's successor, Eliah Drinkwitz, said he addressed it with his team.
"There's no hiding it," Drinkwitz said Tuesday. "We talked about it on Sunday, that, obviously, we're going against Coach Odom and a couple other coaches that used to be here. But, again, it's a players' game. ... Once it kicks, all that other stuff goes out the window."
Several Tigers, including Barrett Banister and Martez Manuel, expressed adoration for Odom earlier this week.
"He gave me a shot," Manuel said Tuesday. "I feel like the best way to respect him is to prepare to play the Razorbacks as if I'm playing the Super Bowl."
Still, it makes sense that the topic of Odom and his Missouri tenure — his hiring, firing and everything in between — would be an awkward one to discuss for many. His departure from Columbia was polarizing.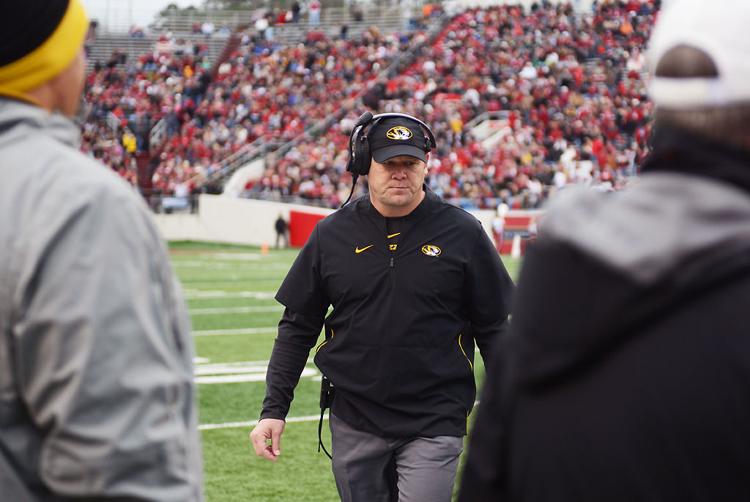 After Odom's four seasons, the Tigers sat at 25-25 with two bowl berths. In comparison, Odom's predecessor, Gary Pinkel, finished his first four years at MU 22-25. But Odom wasn't Sterk's hire, and last year the AD was quick to cite momentum lost in 2019 as a large factor in firing Odom.
Some voiced frustration with the decision. After all, Pinkel's Missouri teams didn't take off until his fifth season, which began a seven-season streak of bowl game appearances.
Fans and players had a lot to say after Odom's removal. Pinkel-era Missouri legends Jeremy Maclin and Sean Weatherspoon both chimed in.
"(I) don't agree with this at all," Maclin tweeted, and Weatherspoon went on a three-tweet lament, saying Missouri fired "one of the greatest men that I know."
"I don't support this at all!" he tweeted. "NCAA ban upheld and a True Son becomes the scapegoat. Smh! Good luck B.O!"
Then a senior, Richaud Floyd, was somewhat shorter in his analysis.
"They f----- up that decision," he tweeted. "The program that gets him will be lucky."
Odom played a lot of roles for his players in his time at MU. He was a confidant, mentor and father figure for some, and because of that not everyone is silent on the subject of Odom's time at Missouri.
---
Barry Odom was a trendsetter at Missouri. A "groundbreaker," to hear Rex Sharp tell it.
Sharp, Missouri's former head athletic trainer, first came to Columbia in 1996, the same year Odom first joined the Missouri football program as a freshman from Maysville, Oklahoma.
As previously reported in the Missourian, Missouri was not the place Odom had planned to be. He had initially committed to Oklahoma State, but after coach Pat Jones was fired in 1994, his successor, Bob Simmons, no longer had a spot in Stillwater for the high school running back.
Odom was looking for options, with one caveat: He'd been playing with a torn ACL since his freshman year, and he would need surgery to continue playing.
So when Missouri coach Larry Smith offered him a spot on the team and said he would cover his ACL repair and scholarship regardless of whether he could play again, it was hard for Odom to pass it up. But it wasn't the last time he'd deal with an ACL injury.
After recording 72 tackles as a linebacker his freshman year at Missouri, Odom once again tore an ACL, this time in April 1997.
"When Barry got hurt, we didn't have anybody else at linebacker," Sharp said. "I mean, we were very, very thin. So we needed him in the fall."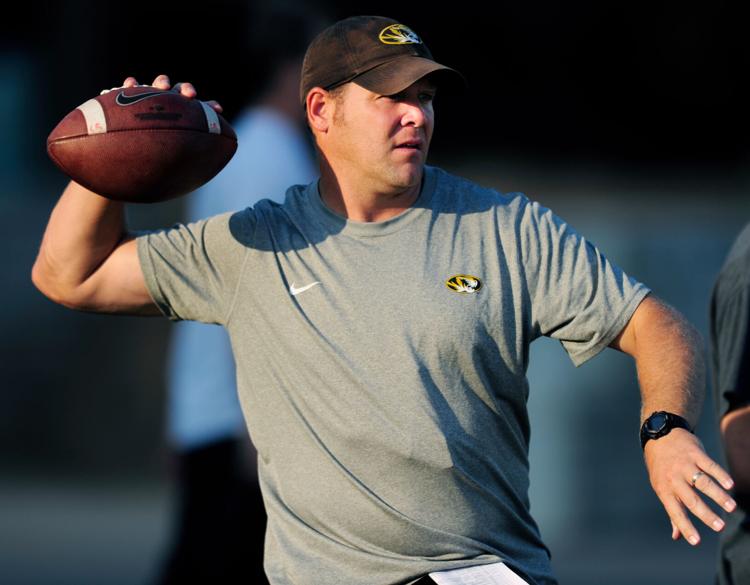 However, the rehab process for an ACL at that time was nine months, which would've put Odom on track to return in January 1998. But Sharp, who came to Missouri from Ball State, had previously had success with returning athletes from ACL injuries in a timely fashion.
Sharp asked Dr. Patrick Smith, the head team physician at the time, if he could fast track Odom's rehab.
"Well, Rex, you can try," Smith said. "I'm just not real optimistic."
"All I need is permission," Sharp replied.
And with that, Sharp and Odom went to work.
According to Sharp, there are three elements needed to quickly nurse an ACL injury: a good physician, a decent rehab plan and an injured player that's willing to do anything asked of them.
"That's heart," Sharp said of the third component. "I knew Barry would do the job because I knew him well enough to know he had that internal drive."
From the date of Odom's surgery until Aug. 3, 1997, with the exception of Memorial Day, Sharp and Odom saw each other daily. In fact, Sharp said they were together for five or six hours most days, rehabbing the injured ACL.
When team physicals rolled around Aug. 3, Smith cleared Odom for activity. From there, Sharp said, Odom never missed a day for the rest of his career, whether that was a game or a practice.
Sharp, who retired from Missouri in August, said he trained several student-athletes in the years since Odom's injury who replicated similar success in rehab, and for every one of those students, he used Odom as an example.
"You can never really predict how long that's going to take," Sharp said. "And with Barry, we just happened to have a guy that was a hard worker with a great work ethic and was on time and did all those things that we needed him to do."
---
The 2019 season was not the first time Missouri saw itself sliding during Odom's tenure.
Two years prior, a five-game skid actually kicked off the 2017 campaign. Following a 72-point win in Week 1 against Missouri State, the Tigers suffered five consecutive losses, to South Carolina, Purdue, No. 10 Auburn, Kentucky and No. 2 Georgia.
Still, Missouri finished its regular season 7-5 with a spot in the Texas Bowl. Marcell Frazier, a senior defensive end on that 2017 team, credits Odom for a lot of that turnaround.
Frazier first came to Missouri in 2015 after a stint at Siskiyous College. Although he'd originally committed to play for defensive coordinator Dave Steckel, Frazier said it was easy to play for Odom, who replaced Steckel that year.
In Odom's lone year as MU's defensive coordinator, the unit finished No. 5 in the country in points allowed per game as well as No. 6 in yards allowed per game. So, when Odom was hired to fill Pinkel's role in 2015, Frazier remembered how easy it was to buy into Odom's vision of the program as well as his personable approach to the job.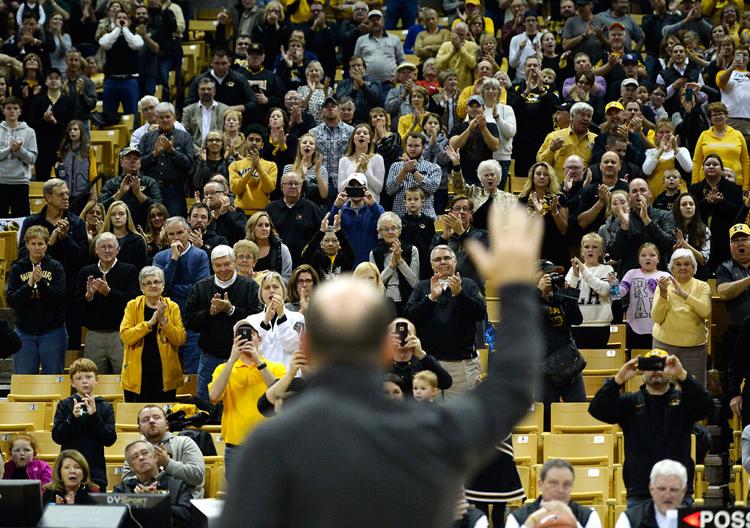 Still, the wins didn't come right away. In Odom's inaugural campaign, the Tigers were 4-8.
But to Frazier, 2017 stands out as one of his fondest memories at Missouri, a season he said encapsulated his time in Columbia.
"We stuck it out, went on that streak, played in an awesome bowl game against that Texas team," Frazier said. "I think that was full credit to Coach Odom, because it was just the energy I felt from 2015 and how we clearly were a bowl-game-eligible team. And we kind of pissed it away at the end because nobody really cared, compared to my senior year where we don't really know if we were truly a bowl team. We were not doing great for a while, but we never pissed it away and we never gave up."
Now an assistant football coach at Siskiyous, Frazier said Odom's words from his Missouri playing days have stuck with him, including one line in particular: "You write your own story."
"Every day you wake up, you write that script," Frazier said. "I get to write the story of Marcell Frazier. The Mizzou Tigers get to write the story of the Mizzou Tigers. And 2017 was all about that.
"We could've been a sad story and ended up 1-10 or 3-9 ... , but every single day, we focused on making it the best day, and coming out of it, we did that. It was something in my football career I have pride about, and it was all credit to Coach Odom."
---
Cale Garrett always carries Odom with him. Sort of.
The former Missouri linebacker has spent the last few months bouncing from hotel room to hotel room and spending nights on his mother's couch in Kearney when he's not auditioning for NFL teams.
After going undrafted this year, Garrett landed on the Tennessee Titans' practice squad but was cut ahead of the regular season. He also spent a brief time with the Minnesota Vikings, although he was cut about a month ago.
However, if it wasn't for Odom, Garrett may have never had the chance to chase his NFL playing dreams.
A three-star high school prospect, Garrett only had three offers and committed to play at Navy in October 2015. That changed when Odom became Missouri's head coach.
"I wasn't a guy that (Missouri) wanted to offer before he was the head coach," Garrett said. "Regardless of whatever made him decide (to extend an offer), I'm glad he did, because it obviously changed my life for the better."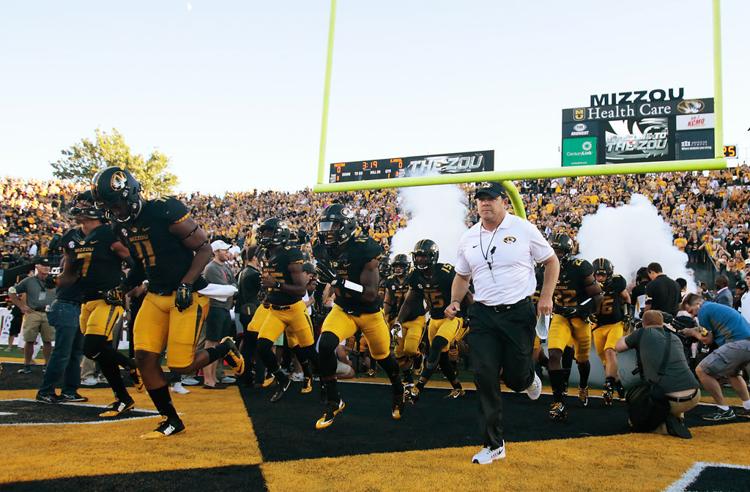 After earning a starting linebacker spot his sophomore year and first-team All-SEC honors his junior season, the stage was set for an impressive final season.
Through five games, Garrett had a team-leading 43 tackles, three interceptions, five tackles for loss, two sacks and three defensive touchdowns. However, his season was cut short after tearing his pectoral tendon against Troy. It was a crushing blow for Garrett and the first of multiple significant injuries for Missouri.
"I needed the experience of people who had been through it before me to lean on," Garrett said.
In the weeks following the injury, Odom wrote Garrett a note congratulating him on his college career, thanking him for how much he'd helped the program and, of course, stating how thankful he was that Garrett had come to Missouri.
It brought Garrett to tears.
"He took the time to do that, to reach out and show me how much he cared," Garrett said. "It made me emotional, and it makes me emotional now thinking about it."
Whether Garrett is flying across the country for tryouts, resting in a hotel room or simply on his mom's couch in Kearney, he always knows where that note is. He doesn't travel without it, usually keeping it right next to his laptop. It's always there if he needs some encouragement or an attitude adjustment.
"(I) just look at that and remind myself that, 'Hey, this guy believes in me. This guy knows the type of man that I can be,'" Garrett said.
Sharp, Frazier and Garrett have all found themselves in a similar place this season — following Arkansas football.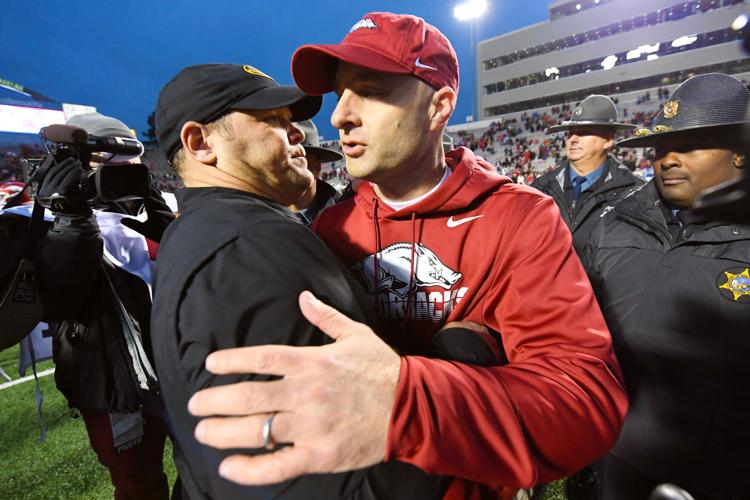 Sharp said he and his wife watch the Razorbacks whenever they can. Frazier said Arkansas is his second-favorite college football team this season. And Garrett never thought he would, but he certainly finds himself cheering on the program, too.
"Well, that's my intention this year anyways," Garrett said. "I've been wanting them to do well because a lot of their staff I know, even on the offensive side of the ball, too."
After Odom was fired at MU, he quickly landed on his feet at Arkansas, with Sam Pittman hiring him as his defensive coordinator within two weeks. With that hiring, more coaches with Missouri ties made their way onto the Arkansas staff.
Offensive line coach Brad Davis, cornerbacks coach Sam Carter and tight ends coach Jon Cooper all worked under Odom at Missouri. Three of Odom's quality control assistants — Jake Trump, Mike Scherer and Kenji Jackson — all played for Missouri.
"There's a lot of Mizzou flavor down there," Frazier said.
Sharp said he still texts with Odom, but he tries not to be a bother.
"He's got a job ... , but, I mean, I'm real proud of him. And I was sorry it didn't work out here," Sharp said. "But it did. Whatever happened here propelled him into what he is now."
To this point, Odom has helped flip a porous Arkansas defense into a solid unit. It leads the country in interceptions. And when he comes back to Columbia on Saturday, it'll certainly be an interesting matchup.
Garrett said he'll be rooting for Missouri, and Frazier said he hopes the Tigers win by 50. But that doesn't change the fact that they'll almost always be rooting for their former head coach.
"I'm a Barry Odom fan for life," Garrett said. "And I want him to do well, and I think he will do well — at least give his best effort in whatever he decides to do, just because that's the kind of guy he is."