It's not time to make a change/ Just relax, take it easy."
Cat Stevens' classic "Father and Son" opens with these words. The song's first few lines tell of a father advising his son. The father wants him to stop and consider everything before going off on his own.
Last winter, Missouri's star tight end Albert Okwuegbunam made the decision to put off the NFL Draft and return to school for at least another year. Lots of factors played into Okwuegbunam's decision, and there were many people he went to for advice.
While nursing an injury with the NFL calling, the tight end especially listened to the guidance of perhaps his most trusted advisor: his father, with whom he shares a name.
Okwuegbunam was just 20 years old at the time, and Albert Sr. had that in mind when helping his son come to a decision on whether to stay or go.
"It's a big man's game," Albert Sr. said. "You can't be going to the NFL at that age."
The next lines in "Father and Son" are reflective of this advice.
"You're still young, that's your fault," Stevens sings. "There's so much you have to know."
Eventually, Okwuegbunam will go away to the pros. His father knows his son will succeed at the next level, and believes in his son more than the titular father does in Stevens' song. But both fathers provide the valuable wisdom laid out in "Father and Son":
"Take your time, think a lot."
Reporters crowd around the tight end, most commonly known as "Albert O," as he sits on the backside on a parked golf cart after an early September practice.
He is undoubtedly popular. He might not take a back seat to any other tight end in college football this season, and he knows it.
"I have the confidence level where I think I'm the best tight end in the country," Okwuegbunam said after a win over West Virginia on Sept. 7.
If that sounds too brash, listen to what he adds to the end of that statement, a comment that reveals more about his character: "As long as my coaches and teammates all believe that, that's what's important to me."
But why wouldn't Okwuegbunam, a consensus preseason All-American, be confident? The 2018 Mackey Award finalist caught only two passes in Saturday's win over West Virginia, but each was crucial; both were touchdowns. Big things are projected for him, too. Okwuegbunam is a redshirt junior, and when the 2019 season comes to an end, he'll have another opportunity to enter the NFL Draft as a coveted pass-catching prospect.
Okwuegbunam, according to many, likely will be a first-round pick. But despite all the bluster around his difficult-to-pronounce last name, the tight end has dealt well with the burden of heavy expectations.
"(Okwuegbunam) is a veteran player," said Missouri tight ends coach A.J. Ofodile. "He's always shined brightest when the lights come on. That's been his M.O."
Sitting on the golf cart, the full scale of the towering tight end's size is hidden. But when the television cameras turn off and Okwuegbunam stands up, the physical advantages that make "Albert O" such a nightmare for opposing players to defend on Saturdays become apparent. He stands 6-foot-5 and weighs 255 pounds, and he carries it all on a muscular frame.
When Okwuegbunam is at his best, it is fair to wonder how anyone can stop him. To go with his superior size, he has speed, too. Okwuegbunam runs a 4.5-second 40-yard dash, better than the average tight end's 4.7.
With hefty stats, a long list of accolades and an ever-rising profile in NFL circles, confidence would seem a given for the tight end from Illinois, but Okwuegbunam shrugs all that off.
"Really, I don't pay attention to it too much," he said. "My goal is to be the best teammate I can be. That's just coming out here and getting better in every aspect I can. If I do that, I think the rest will just take care of itself."
The humility comes from his father, Albert Sr.; and as the younger Okwuegbunam approaches a professional career in football, Albert Sr. remains a figure that Missouri's star tight end trusts and turns to for advice. In these moments, the father tries to help the son focus on the task in front of him, rather than potential opportunities further down the road.
Such a moment arose for the Okwuegbunams last winter.
Despite a shoulder injury that kept him out of the final four games of last season, Okwuegbunam was still projected to be drafted in the early rounds in April. The broken scapula would have prevented him from taking part in the combine and team workouts, but even so, NFL front offices would have viewed nabbing the injured tight end a steal. Instead, he returned to Columbia.
Okwuegbunam said the NFL Draft Advisory Board had given him a second-round grade, and he took that into consideration.
"I believe I'm a first-round talent," Okwuegbunam said. "I wanted to come back (and prove that)."
On the back of the golf cart just away from the team's practice field on a hot late-summer morning, Albert Jr. recalls the one person whose guidance was especially crucial in helping make the decision.
"My dad," Okwuegbunam said. "He really helped me out a lot."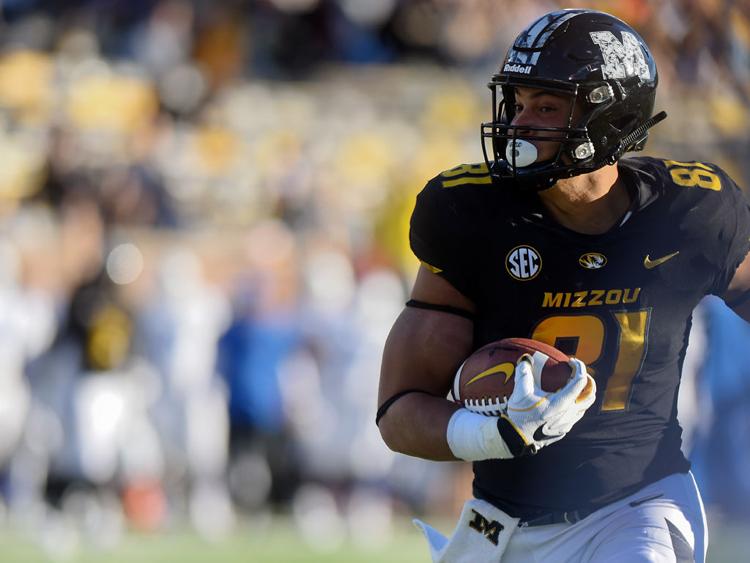 Albert Okwuegbunam Sr. emigrated to the United States from Nigeria during his teenage years in the 1990s, arriving to live with family in Springfield, Illinois, in search of better educational opportunities. Soon he was on his own and playing goalkeeper at Lincoln Land Community College in Springfield, before attending the University of Illinois, where he studied business. For nearly 20 years, he has worked as an audit liaison for the state of Illinois.
Albert Jr. grew up in Springfield, and attended private Catholic schools from kindergarten through high school. His father, a devout Catholic, always emphasized the value of education for his son.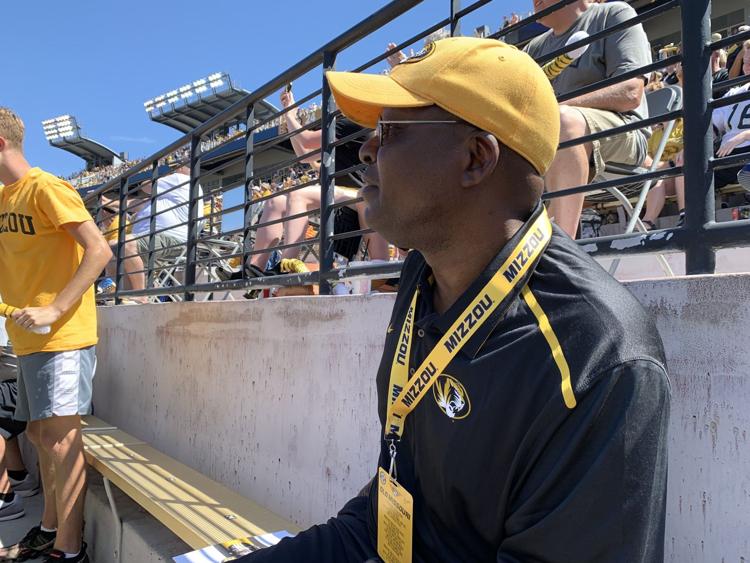 At Missouri, the younger Okwuegbunam studies health sciences. Throughout his academic life, Albert Jr. has always been a good student, his father says. In high school, Albert Jr. liked to talk about Stephen Hawking. When he took his first visit to the MU campus, one of the first things he wanted to see was a science lab.
Yet while education has been a core tenant in the Okwuegbunam family, Albert Sr. knows how important football is to his son, and recognizes the opportunities it might bring.
"You have to keep your kid happy, whatever he wants to do," Albert Sr. said.
And his son wants to play football. So Albert Sr., who had never heard of American football before coming to the U.S., travels from Springfield to every Missouri home game, driving sometimes, flying others. No matter what, he is always there.
"I go to a Missouri game, I cheer for everybody," Albert Sr. says. "Not only my son. I want Missouri to do well in everything."
Though academics remained on his mind, Albert Jr. said he returned to school for another season to take care of unfinished business. He believes there's more the Tigers can accomplish.
"There are some things left on the table I want to complete with this team," the younger Okwuegbunam said.
One of the issues he faced as he mulled the decision about whether to turn pro was finding people who would be completely objective with him. With Missouri's coaches, there was a worry they might be inclined to tell the tight end to stick around, since he is such a valuable member of the team.
The only agenda Albert Sr. brought to the discussion, his son knew, was Albert Jr.'s well-being.
"He's the most neutral influence I have," Albert said. "I knew he was going to want 100 percent what was best for me. No other motives."
The elder Okwuegbunam says he isn't after money. When he gave his input on his son's big life decision, he took everything into consideration. One of those things, of course, was education.
"He's young. Academic-wise, he would gain a lot, going back and getting more experience," Albert Sr. said.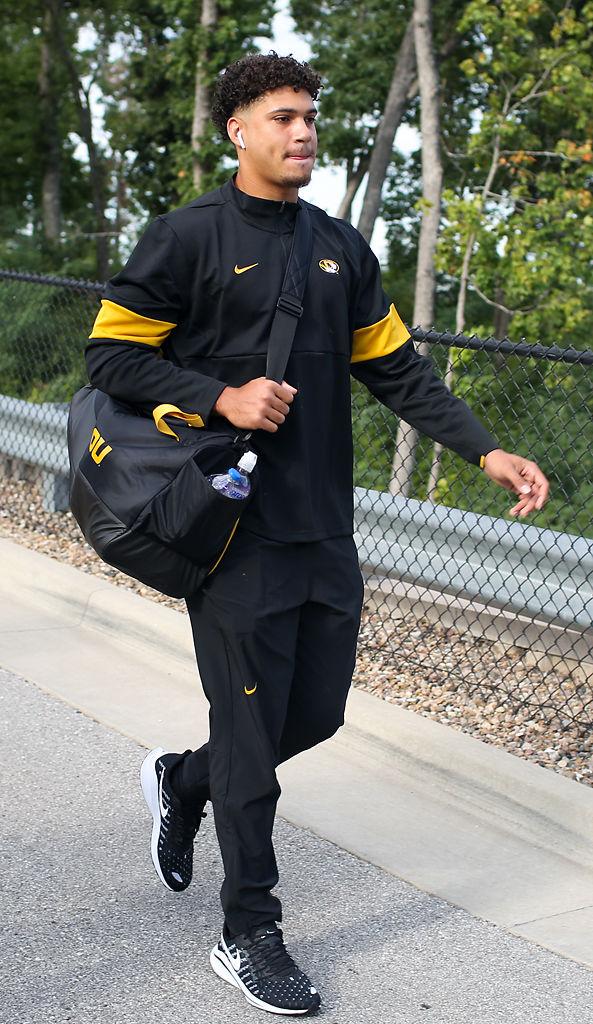 Growing up, Albert Jr. played every sport. Soccer, baseball, basketball, it didn't matter. He was a home run hitter and a high-volume scorer.
"The coaches were chasing me around everywhere for him to join their team," Albert Sr. said.
But football was always Albert Jr.'s true love.
Albert Sr. made his son wait until the fourth grade to start playing football. But the younger Okwuegbunam's ambition for the game started well before he ever suited up.
"Playing in the NFL has been a dream of mine since I was like seven years old," Albert Jr. said.
When it came time for high school, Albert Sr. told his son to pick two sports. He chose basketball and football, eventually starting for both teams at Sacred Heart-Griffin High School in Springfield. He played forward on the hardwood, but his main focus was always football.
In high school, Albert Jr. started at wide receiver and defensive end. Given his size, though, he was recruited as a tight end.
Despite growing up in Chicago Bears country, Detroit Lions wide receiver Calvin Johnson became one of Albert Jr.'s favorite players , his dad said. Johnson, likely a future Hall of Famer, is 6-foot-5-inches and weighs around 240 pounds. Despite their different positions, the physical similarities between Okwuegbunam and the retired receiver known as "Megatron" are hard to miss.
The similarities have NFL scouts flocking to Columbia this fall.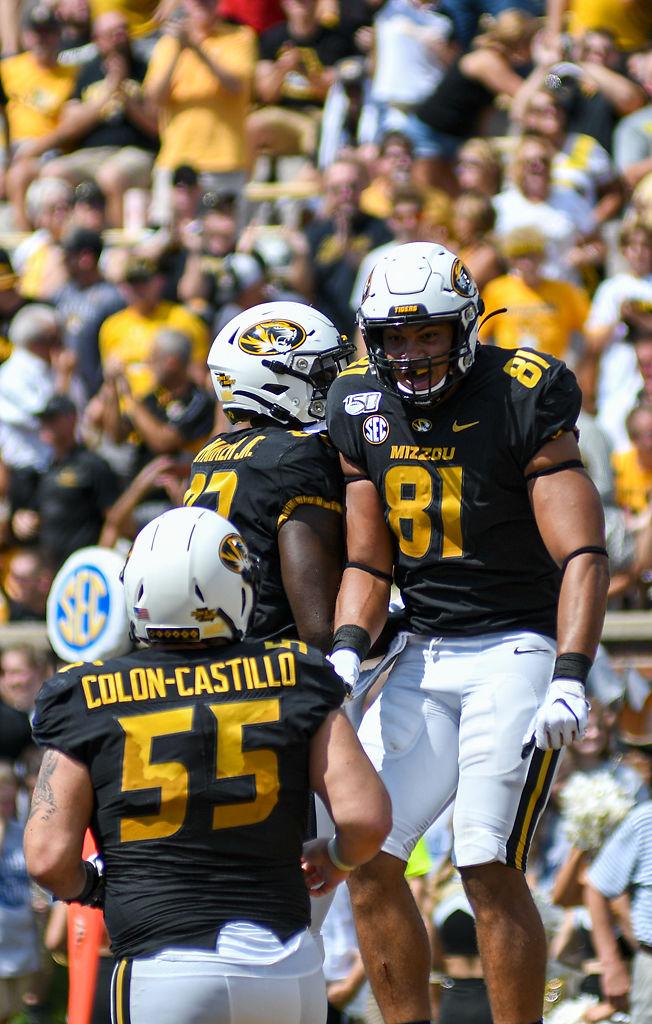 After his 11-touchdown season in 2017, the younger Okwuegbunam entered 2018 as one of the most highly-touted tight ends in the nation. But injuries kept him from replicating the dominance he showed as a redshirt freshman.
There were big performances for the big Okwuegbunam — a three-touchdown effort against Memphis, a career-high nine-reception game against Georgia — but a shoulder fracture against Florida on Nov. 3 derailed his season. Okwuegbunam missed the final four games, including the Tigers' Liberty Bowl loss to Oklahoma State.
Missing time during a stretch run was hard on Albert Jr., who desperately wanted to rejoin his team, but couldn't.
"It was really tough, especially when you're a guy that our team leans on to make plays," Albert Jr. said.
Instead of being dejected or frustrated, he took it in stride, and put all his energy toward getting back on the field as soon as he could.
One question mark that surrounds Okwuegbunam now is his health, despite the fact that he'd never sustained a serious sports injury until the shoulder issue cost him the end of last season and all of spring practice as well. Then, in the fall, another injury hit. The tight end sprained his knee and had to sit out two weeks, not practicing until the second-to-last week of camp.
For Missouri, Albert Jr.'s health will be key to determining how successful the team can be. Without him, the Tigers would miss perhaps their most potent offensive weapon. If he is on the field every game, the tight end is one giant problem for defenses.
And the NFL, of course, will be watching. He will need to prove that he is durable.
Former Missouri wide receiver Emanuel Hall's experience is a lesson. Hall put up impressive numbers at the NFL Draft combine, posting the second-best broad jump ever at the event, but he fell out of the draft, apparently because teams were scared away by a groin injury that the wideout never fully recovered from during his final season. If Okwuegbunam has another injury-plagued season, NFL teams might be wary about drafting him.
Ofodile thinks his star pupil isn't quite yet back to where he should be, but feels Okwuegbunam has progressed nicely since returning to action.
"I think he's in a pretty good spot. He's been pretty physical his first couple games," Ofodile said.
Albert Sr. is not worried about how injuries will affect his son going forward. He is already a fan of the early returns in 2019.
"The way he played (against Wyoming, Albert Jr's first game since the injury), I thought that he came out of it OK, and was focused," Albert Sr. said. "He wasn't tentative."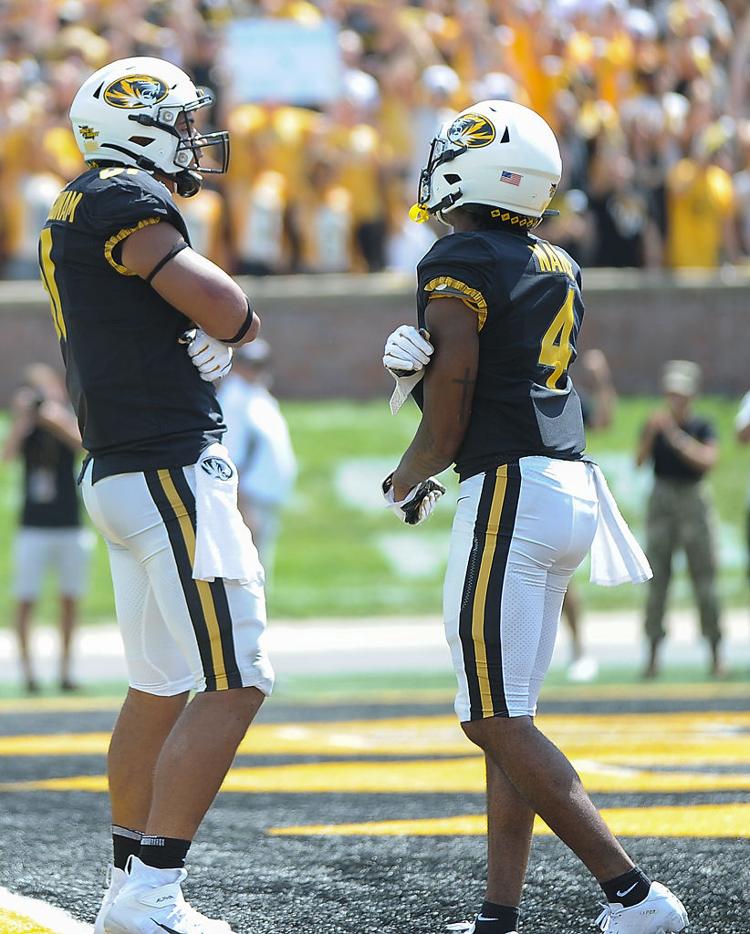 Albert Sr. sits near the back of the parents' section, usually with wide receiver Micah Wilson's family. When his son hauled in his second touchdown catch, a 16-yarder over the middle of the field, against West Virginia, there were high fives all around.
The elder Okwuegbunam describes his son as laid-back; he "was always a quiet kid." When you speak with Albert Sr., even inside a raucous Memorial Stadium, it's clear where his son's mild demeanor comes from. When Albert Jr. is on the field, the father mostly sits, watching every play attentively. Like his son, he's an easy conversationalist. With his mellow disposition, the scene resembles his son sitting on the back of a golf cart after practice.
After the win against West Virginia, the two Alberts went for Thai food. Albert Sr. is happy to go wherever his son wants to for the post-game meal.
But what Albert Sr. mostly wants for his son is happiness.
"(I want Albert Jr. to) be a good person, be a good man," Albert Sr. said. "Be able to succeed academic-wise and in football, what he loves to do. That's all you can ask for your son."
That's why he travels to all the home games, why he takes his son to dinner, and why he urged Albert Jr. to not go for the NFL money right away, but rather stay in school for another year and continue to better himself.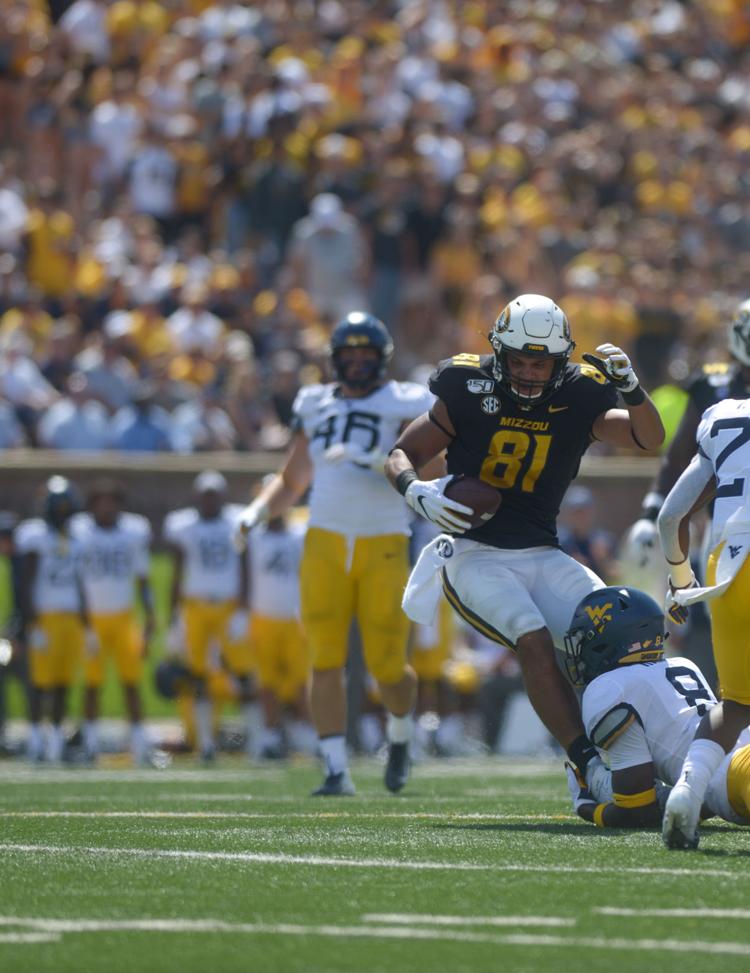 Missouri's game against Wyoming was Albert Jr.'s first in 301 days. He had a solid performance, but it wasn't much like the world-beating games he's played in the past. On one play early in the fourth quarter, the tight end caught a pass from quarterback Kelly Bryant at the seven, ran a few yards along the sideline and then lunged forward through tacklers toward the end zone. He got close, but was called out at the one-yard-line. Albert Sr. was watching.
"He gave me some pointers on making sure I get into the end zone," Albert Jr. said.
It must have worked, because in the first quarter against West Virginia, Albert Jr. made an impressive over-the-shoulder catch with a man on his back near the goal line, next to the right sideline. The tight end stayed just inside the pylon. It was his first touchdown of the season.
Sometimes, a father knows best.
Supervising editor is Eli Lederman.