Tammy and John York were greeted with a surprise when they FaceTimed son Cannon, a Missouri defensive end, on the Tuesday afternoon before Thanksgiving.
Cannon had just started his first game for Missouri against South Carolina on Nov. 21. He had one tackle after being thrust into action because of injuries to the defensive line. The significant snaps were a first for the walk-on.
York's parents expected to see Cannon on screen, but instead they saw Missouri coach Eliah Drinkwitz. Drinkwitz and York gave the biggest surprise of all: Cannon York was the latest Missouri player to be put on scholarship.
"I was pretty much speechless, and I think Tammy was pretty much the same way," John York said. "You think about that moment so long over two years. You think in your head how it would be, but when it actually happens, it's different."
Earlier in the day, York had been given the news by Drinkwitz in a team meeting.
"If you're starting games for us, we might as well put you on scholarship," Drinkwitz told York.
"I can't describe my reaction. Guys in the locker room, they'd probably tell you I started bawling like a baby," York said.
Becoming a scholarship player at Missouri was a dream realized for York, who grew up in Lebanon, Missouri, a little over an hour south of Columbia.
"I've always wanted to be a Tiger, whether that was as a walk-on or on scholarship," York said. "Since I was about 5 years old, I've been coming right outside here to Faurot and watch my Tigers play."
York and his dad spent many Father's Day weekends at Missouri youth football camps while Gary Pinkel was the team's head coach. The family sat in the grass next to the Rock M to watch Pinkel and Missouri upset top-ranked Oklahoma in 2010, and York saw fans carry the goal post out of the stadium.
One of the players on that team, offensive lineman Justin Britt, is also from Lebanon and was a player York looked up to.
"I'm just a small-town kid," York said. "Mizzou seemed like a dream ... , and to see (Britt) accomplish that, and not only accomplish it but take it to a whole new level, that was a huge part in why I'm here."
Those memories were still ingrained in York's mind when he became a star at Lebanon High School and racked up offers from Division II schools. The one thing missing was a scholarship offer from Missouri. He was offered a preferred walk-on spot in August of his senior year, which prompted a tough decision.
York and his high school coach, Will Christian, sat in Christian's office during his senior year and went over the pros and cons of going to Missouri as a walk-on. He could choose to go to a smaller school and earn a scholarship and immediate playing time, or he could follow his dream of playing on the field on which he had watched the action for years as a kid.
The dream won out, and York joined Missouri. The road to becoming a scholarship player wasn't easy for York, who quickly earned a reputation as a hard worker. York endeared himself to teammates by offering them rides to the facility.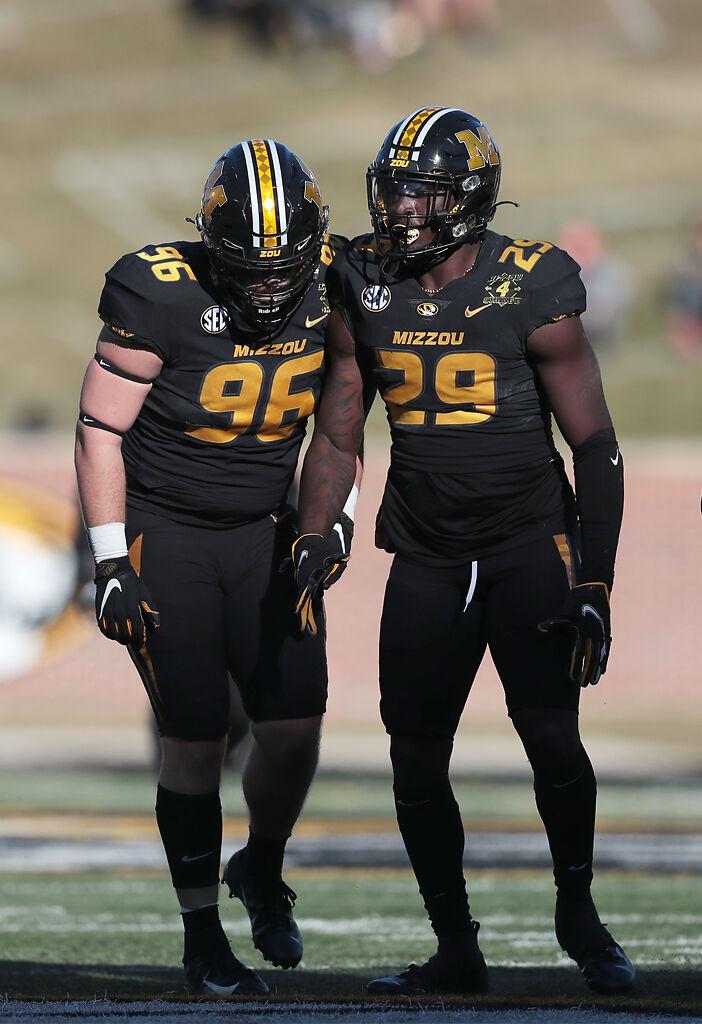 "Whatever it is, he just helps," fellow defensive lineman Isaiah McGuire said. "He's a helper, he's a giver and he doesn't ask for anything in return. So people like that, you have to keep (them) in your corner, and you'll do anything for them."
York played a variety of roles in practice to help the team during his first couple of seasons despite only seeing special teams snaps in games. He showed great versatility, and he's even one of the team's emergency long snappers.
"Since he's been there, whatever you need him to do, he'll do," defensive coordinator Ryan Walters said. "Whether we need him to play scout team O-line today or go down on scout team on the defense or give us a look on special teams — whatever it is, it's, 'Yes, sir,' and he goes as hard as he can."
"You reap what you sow," York said. "Every day, I'm just trying to sow good seed and put good seed in the ground and continue to build on that."
That hard work paid off, and the seed eventually sprouted once injuries and COVID-19 absences on the Tigers' defensive line left an opening at the top of the depth chart. York was one of the Missouri players who took advantage of the opportunity. After forcing a fumble against Florida in MU's blowout loss, York was able to start for a defense that has since excelled and allowed only 10 points over the last two games.
York has only made two tackles in those starts, but his second one stuffed a third-and-1 by Vanderbilt on its first drive of the game. The Commodores couldn't convert on fourth down, and the turnover set up Missouri's first score in a 41-0 rout.
York likely won't play quite as many snaps or get many starts in the final three games of the season with the return of defensive linemen Trajan Jeffcoat and Tre Williams. There will be stiff competition for playing time in the future with defensive line recruits in Missouri's newest class, but after being put on scholarship and starting Missouri's last two games, York considers his dream realized.
"I think that too often in society, we're all derailed from our dreams because of external factors, and he didn't allow those things to get in the way," Christian said. "And now look what he's done with it."
Like his childhood idol, Britt, York has established a legacy of his own.
"'There's going to be a lot of kids that are going to witness this, and they're going to say, 'Hey, I'm gonna go after that.'" Christian said. "I just think that he has laid down a legacy that will hold true for a long time."