In Parking Lot N, flanked to the north by Hearnes Center and to the west by Mizzou Arena, the parents of current Missouri Tigers stake out their territory. They have an entire row all to themselves.
Gerald Nathan Sr., the father of linebacker Gerald Nathan Jr., mans the grill, churning out ribs, chicken and lamb for anyone who wants it. Sitting nearby is defensive tackle Akial Byers' mother, Juneeka, who arrived with a caravan of friends and family all the way from Fayetteville, Arkansas. They're over to the side tossing a ball.
An hour before the game, they gather in a prayer circle.
When it's time for Tiger Walk, Liz McCann strays from her family's tent to alert the other parents that the procession is about to begin. McCann always watches her son and his teammates make their way off the team bus and into Memorial Stadium.
She runs into Olga Hea — freshman tight end Niko Hea's mom — and greets her with a hug. This is how it is with all the parents she hasn't seen yet. She makes time for hugs and maybe a picture together. The tailgate is a place of love and sharing. It's a great place to bond before the stress of college football begins.
McCann is the queen bee, one of the tailgate's primary organizers. She is also the mother of Missouri's kicker and punter, Tucker McCann. Each weekend, she and her family lug tents, chairs, a grill and snacks to Parking Lot N. McCann is popular among the other parents, and has developed close friendships with many of them during her son's time at MU.
"We tell parents, you don't need to bring anything to the tailgate," she says. "Your presence is enough for us."
But now, only three home games remain until Tucker graduates and her time as queen bee will come to an end.
Behind the Missouri football team stands another, a team of parents. Before the Tigers take the field each Saturday, their parents have their own space come together. That space is the tailgate, held rain, shine or snow. It's a place for everyone. It's a big tailgate. It's an even bigger family.
"Some of these people, we are going to miss them dearly," McCann says.
But the end of her son's college career doesn't mean the end of the friendships McCann has made here. It won't even mean the end of her role in Parking Lot N. Next year, she will take part in a pinning ceremony that will ensure her place in the tailgate's future.
---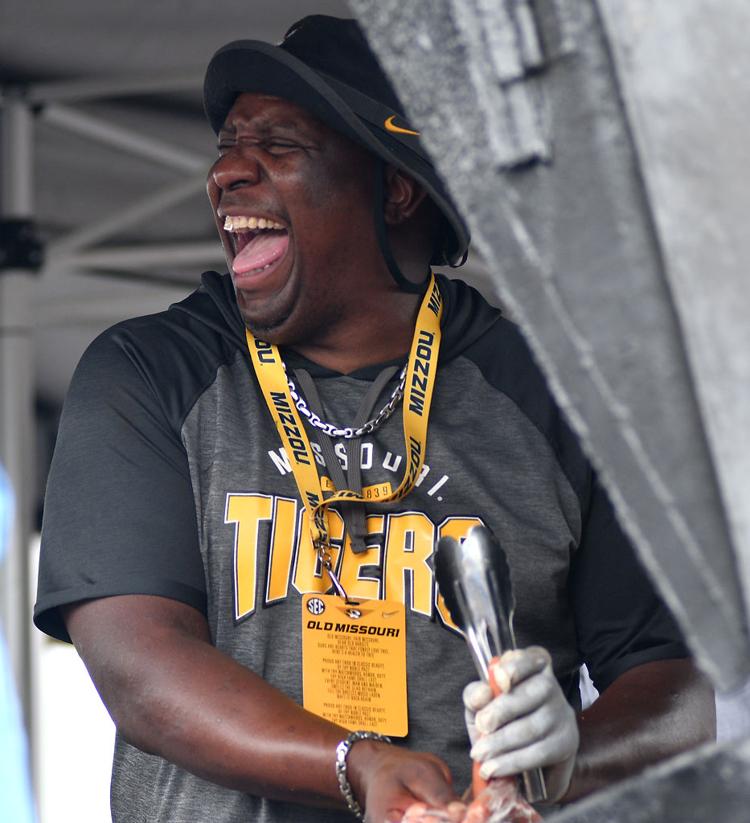 Most of these parents had never met each other before their sons arrived at Missouri. But as the players develop bonds inside the locker room and on the field, their parents do the same on the Lot N gravel. It's the perfect place to get to know each other.
Two hours from now, game time in the spread-out parents' section inside Memorial Stadium isn't the best setting to socialize, so this stress-free time before kickoff is valuable.
The tailgate takes up a lot of space, but it is easier to navigate a parking lot than stadium bleachers.
McCann has become close with Trish Koetting, whose son Sean is the Tigers' back-up kicker as well as Tucker's holder. It's fitting that these two moms are friends given that their sons' relationship is crucial to the team's success.
"It's about all of us loving on each other's kids," Koetting says about the tailgate.
Not every parent is able to make the tailgate, and so McCann and Koetting make sure they support more than just their own children. At Tiger Walk, McCann yells out the names of multiple players as they walk into the stadium.
Before the Tigers' game against Troy on Oct. 5, Charlotte Banister sits with McCann and Koetting, neither of whom she had met before her brother, receiver Barrett Banister, played football at Missouri. The Banister parents are regular attendees, but haven't arrived yet today.
"I'm getting to see who my little brother is around," Charlotte Banister says. "I know he is surrounded by great people (on the team) because I see their parents, and they become family."
Some come a long way to be present on Saturdays. Nobody has a more difficult journey to game day than Benita Rountree.
Rountree drives 14 hours straight from North Carolina to see her son Larry III, the Tigers' starting running back, play. She makes the drive by herself to every home game. When she arrives in Columbia, she goes straight to the tailgate.
Outside the stadium, Rountree chats with Tanjala Gipson (running back Tyler Badie's mom) and Sherri Knox (mother of wide receiver Jalen Knox), and Jalunda Bolton, whose son is Nick, Missouri's sophomore linebacker. When McCann joins the group, she is greeted with big hugs and insists on a photo.
There are a lot of shared experiences among this group. A popular topic of conversation: the beast that is recruiting. Rountree tells a story about Barry Odom coming to her house to recruit Larry. She was cleaning when Odom arrived, and soon he was right there with her, helping.
"Are you serious?" exclaims Gipson. "I would have sat down and let him finish."
Rountree doesn't want any of the parents to miss out on the fun. She spots Lisa Raehl, Albert Okwuegbunam's mother, and brings her over. Offensive lineman Larry Borom's mother, Joelle Hershman, wasn't able to make it to this game, but that's no matter. Rountree FaceTimes her and passes the phone around to different parents.
"It's like a second family," Hershman says.
---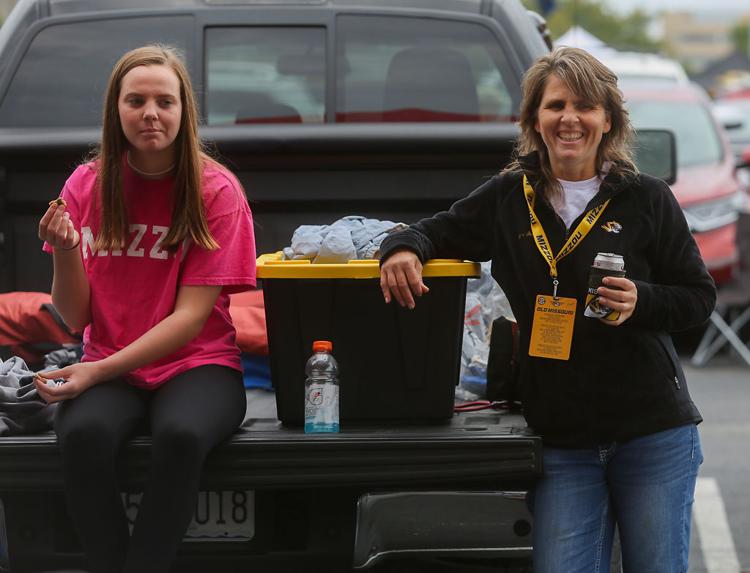 The connections among these parents are not limited to game days. Each of them is a part of the Missouri Football Parents Organization (MFPO), an informal association for parents of players past and present.
Organizing is a big part of putting the large tailgate together, and they communicate primarily through the group's Facebook page. Different parents bring different things. It is important to get the word out, so the MFPO started a newsletter, which includes information on aspects such as where to pick up tickets, best places to park and where to meet for dinner on Friday night.
The parents don't limit their get-togethers to home games. Quite a few trekked to Laramie, Wyoming, for the Tigers' 2019 opener. On those travel weekends, the newsletter features maps, pick-up spots and other particulars which are relayed to the parents by Brittany Boehm Jones, the director of football operations.
A lot has changed around Missouri football since 2007. Gone are the Block Ms on the helmets, shirtless Truman, Big 12 rivalries, and Gary Pinkel as head coach. What's in? Barry Odom, the Southeastern Conference, a new south end zone and booze in the stadium. But one thing remains constant. The parents of MU football players still tailgate together. Maybe they always will.
Despite once being a Heisman trophy finalist and the owner of many school records, maybe former quarterback Chase Daniel's most enduring legacy at MU is the player parents tailgate.
Daniel's parents started it some 12 years ago, and it holds strong today.
"(The tailgate) is a worthy gathering that has been passed down, and there have just been parents that have stepped up to make it a great time of fellowship," Elaine Ebner, whose son Will played at Missouri from 2008 to 2012, said over the phone.
More than a decade in, countless parents have now cycled through. Connections made have led to lasting friendships, ones that have outlasted any given player's eligibility. As a result, the Golden Tigers were founded.
The idea for the Golden Tigers, which is what the parents of former players are known as, came from Kelley Hurrell three years ago. Her son Jake was a long snapper at MU from 2012-2016. Hurrell developed meaningful bonds through her years at the tailgate, and didn't want to lose them after Jake graduated. The Golden Tigers are perfect for those like McCann who want to keep their relationships alive.
"It was such a shame to see them go away," Hurrell said.
The Golden Tigers even get a pin to prove their bona fides.
Every season, the MFPO picks one game for parents of former players to come back and join the tailgate. This year it was Sept. 21, when the Tigers hosted South Carolina. About an hour before kickoff, the new Golden Tigers were given their pins in a ceremony accompanied by hugs, tears and memories.
Banquet halls be damned; a parking lot was all that was needed with the Golden Tigers surrounded by friends and extended family.
Julie Abeln experienced an extended run as a Missouri football parent. Her son Alec had a five-year playing career thanks to a redshirt. She got her pin last year. Coming from St. Louis, Abeln doesn't have far to go for the tailgate, so when Alec was at MU, she was one of the organizers of the tailgate.
"The friendships we've made with people from all over the country because of this has just been the best reward of all," Abeln said.
The Golden Tiger reunion requires considerable planning; Hurrell says they picked the game a year in advance. Hurrell and Abeln are each quick to credit the other. No one wants to take responsibility for the tailgate's success. They'd rather share it.
---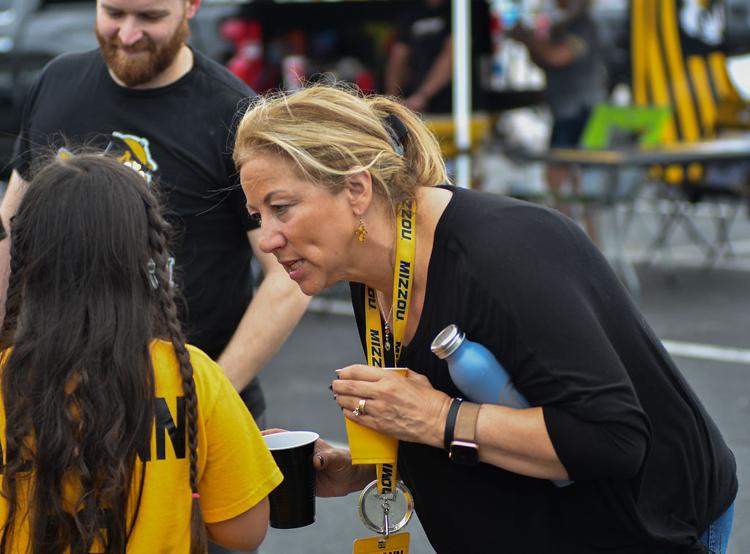 When Tucker graduates, someone else will have to take over McCann's organizational duties. She's not alone right now. Holly Banister (Barrett's mother), Chrissy Ellinger (mother of receiver Daniel Ellinger) and Elizabeth Powell (mother of quarterback Taylor Powell) are among the other parents helping run the show.
McCann is comfortable with what lies ahead, even without herself in charge.
"I have no fear whatsoever because there are amazing families here that are freshmen that are ready to take it over," McCann said. "It's a cycle."
Whoever McCann's successor is, he or she will have the support of many other parents. That seems to be the way things are here. They're the team behind the team on the field.
"The boys on the team, their friendships will go on and on, and the families' friendships, they will go on and on," Koetting says.
At this tailgate, the word "family" is a synecdoche, because it is made up of so many others. That's how it has been for years, and there is no sign of it changing.
"People are about belonging," McCann said.
Next year, McCann gets her pin. She will always belong, because in this family, everyone does.
Supervising editor is Eli Lederman.