Very few photos, mementos or other memories make the trip from East St. Louis to Columbia. The walls of the rented house are blank. Toni Wallace is only here for a few months, after all. It's almost as if she doesn't want to get too settled; her home is elsewhere. But two items seem appropriate to keep close, even now.
One is the diploma, navy with gold lettering — East St. Louis High School — and the recipient's name printed inside: Tre'Vour Wallace-Simms. The other is the matching cap and gown, still neatly packaged together in clear plastic. They were never taken out of the wrapping. A reminder of a promise.
When Wallace-Simms was a senior at East St. Louis, a teachers' strike in fall of 2015 kept students out of class for a month. The school year was pushed back. The 2016 commencement was delayed to June. Wallace-Simms was gone by then; the football recruit was already in Columbia to start his first summer workouts for Missouri.
He got his diploma. But his mother didn't get to experience the joy of seeing her son graduate.
While she helped Wallace-Simms move into Columbia to start his new life that June, Mom showed him the unopened cap and gown.
"You owe me," she said bluntly, shaking the bag. "You owe your mom a graduation. This is in here because you deserve to walk up there and get a diploma."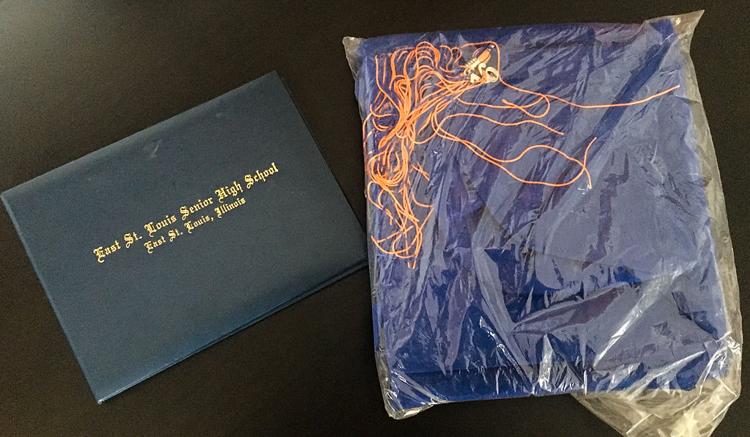 Wallace-Simms, a 6-foot-5, 330-pound man of few words, grinned just a little bit: "I got you, Mom."
Toni Wallace will finally get to experience what she's been waiting for when Wallace-Simms fulfills his promise next month. The Missouri offensive guard will graduate a semester early in December before beginning preparation for the NFL draft. He and the other seniors play their final home game Saturday against Tennessee. As his college career winds down, a future in football is the priority, but graduation will be an especially satisfying culmination of its own for a man who grew up under economic stress and surrounded by the sound of gunshots.
Wallace-Simms used to tell his mom he couldn't picture himself ever going to college.
"He's been through a lot, but he's resilient," Toni Wallace says. "God has been good to him."
Wallace rented the place in Columbia this fall to be close to her son in his final months at MU. The cap and gown came with her, along with the pride, love, melancholy and regret they represent. Her own experience influenced her to preach the importance of academics to Wallace-Simms; she, too, was once a Division I-bound athlete at East St. Louis High. She never graduated college.
Wallace-Simms is about to finish what she started.
The crime scene tape greeted Tre'Vour when he got home from football practice.
Police wouldn't let the high schooler pass as he tried to push through to his house. He started shouting. It was instant panic.
Toni Wallace came outside when she heard her son's voice. His horrified expression still haunts her. She explained to him what had just happened, what he would have walked into had he arrived minutes earlier.
Tre'Vour's younger brother Robert Tony had been playing basketball with his friends in the driveway. Their next-door neighbor was watching from his porch and drinking a beer. All was peaceful. When the ball rolled into the neighbor's yard, 10-year-old Robert chased it down. Then all hell broke loose right in front of him.
Toni Wallace, home from work early that day, heard a first gunshot from inside the house. She thought nothing of it. "I hear gunshots all the time," she says. But isolated, not in a barrage. Certainly not like what happened next.
Wallace remembers the chaotic explosion of sound. Robert Tony remembers the disorienting cloud of smoke he was suddenly staring into. His neighbor's body dropped in front of him. That, he could see clearly. As the child turned and ran, he collided with a masked gunman. A ripped T-shirt covered the killer's face. That, too, Robert Tony could see clearly. There's no forgetting that.
"I thank God that they did not kill my child," Wallace says.
She scooped up the kids and got them inside and on the floor, called 911 then went outside to see her neighbor lying face-down.
"He was one of the neighbors who would always give candy to the kids," Wallace said. "Sitting on his porch, and killed for no reason."
Wallace-Simms arrived moments after the police. He told his mom that he had almost decided to skip practice that day. "He probably would have been there in the midst of that," she says. To her, it's proof that everything happens for a reason.
The jarring scene took a toll on the family. Wallace had to find a psychologist for Robert Tony, who was afraid to play outside for months. Wallace faced the impossible challenge of answering the question: Why did this happen?
"How do you explain that to a kid, that people are just that vicious and vile?" she says.
She always tried to be honest. That killing and other crimes prompted Wallace to keep her sons from walking to school or the grocery store. They couldn't go door-to-door trick-or-treating, either, but that didn't stop them from enjoying Halloween, including the time in grade school when a very large Wallace-Simms insisted on wearing a skin-tight Batman costume; his mom jokes it "could almost be considered child abuse" for making him look like "a basketball in a Batman costume."
An intelligent, even-handed kid who was able to hold a conversation with adults as a toddler, Wallace-Simms grew up with a realist's view of the world.
His mom told him when he was young that Santa Claus and the Tooth Fairy aren't real. She wanted him to understand where Christmas gifts were coming from and that they were difficult luxuries to afford. Wallace is a social worker at a nursing home; she is passionate about caring for senior citizens, but she doesn't make much money doing it. Some years the family had to delay Christmas until February, when income tax season came around.
Tre'Vour's birth father was never in his life, and Wallace married another man but eventually split up with him. She has almost always been a single mother.
"Nobody is going to come sprinkle fairy dust on you and make things better," Wallace told her kids. "If somebody comes down your chimney, you better call the police, because they're breaking and entering."
Once at middle school, Wallace-Simms found himself at the center of a fight that broke out and eventually involved parents. One of them threatened to bring a gun to the school. Another time, Robert Tony was at the bus stop when he suddenly had to take shelter from a shootout. Wallace hates guns — the family never kept one in the house. Wallace wanted to teach her sons that violence is not the answer.
As Wallace-Simms grew up surrounded by violence, his resilience in avoiding it made his mom proud. Still, the question remains.
Why didn't they ever leave?
Toni Wallace's name belongs in the history books at East St. Louis High. Standing 6-foot-4, she was a star track athlete and basketball player, bound for San Diego State on a basketball scholarship that would allow her to reach two Sweet 16s and play against legends like Cheryl Miller.
Later, she transferred to Southern University at New Orleans, but she eventually moved back to East St. Louis to care for her sick grandmother toward the end of her life. Doing so meant leaving college behind. That also meant fewer job opportunities without a degree.
So Wallace stayed in her hometown and had kids. To an extent, she was economically trapped, but really it was a certain familiarity that kept her there. There's a paradoxical attachment people have with their hometowns. Some insist they'll leave and never come back, but end up compelled to return anyway as though reeled back in by an invisible fishing line, resisting and embracing at the same time.
"I hate that I didn't go back to school to finish," Wallace says. "That's one of my internal demons that I deal with. I didn't realize the importance of a scholarship, or how expensive school actually is."
Wallace-Simms recognized that as a kid. He was a naturally good student who learned the importance of being independent and sticking up for himself.
Here's an example: Shoe brands were always the mark of popularity at school, and Wallace didn't want her son getting bullied for not having whichever sneakers were in style. Even with a small income, she found it important to save some money to get him nice shoes. Around the time he started high school, Wallace-Simms found himself a job at a Schnucks supermarket.
"You don't ever have to worry about buying my tennis shoes ever again," Wallace-Simms proudly told his mom. "I'm going to buy my own."
Here's another example, a lesson learned from little league football: When Wallace-Simms had just started, his coaches barked at the offensive lineman for not knowing how to block. Still just a kid, Wallace-Simms was crying about it at home that night, so his mom pulled him outside into the rain and taught him. "It's simple," she said. "Blocking means you don't let anyone get past you, no matter what." Her straightforwardness stuck with him. "Ever since then," she says, "he was just determined to be good at what he did." Years later, he was a first team All-SEC lineman at MU.
And another: Knowing his mom always worried about his safety, Wallace-Simms preferred to handle things himself as a teenager. Occasionally, he references to his mother an "experience" he had when he was 16. "He will never, ever tell me exactly what happened," Wallace says, but she suspects there are other dangerous situations he has encountered and withheld. "I know it's his way of protecting me, but I would rather know."
Wallace-Simms has always had a secretive side. He opens up when he wants to, but some things are best left unsaid. When his mom picked him up after Missouri's loss to Florida last Saturday, his demeanor sent a clear message: Let's talk about anything else.
One last example, because Wallace-Simms' mission for self-earned success stands out most of all in one moment: his declaration of independence. Throughout high school, he worked diligently at Schnucks even though he didn't really enjoy the job. He understood that if he wanted complete freedom of choice about what to do with his life, a college degree was the key. His mom never graduated; she ended up back in East St. Louis. He remembered her regret.
The day he left for MU, Wallace-Simms turned to Toni Wallace and spoke with the same blunt conviction that she always used when talking to him.
"Mom, I'm not coming back home," he said. "I'm coming to visit. But I'm never coming back home."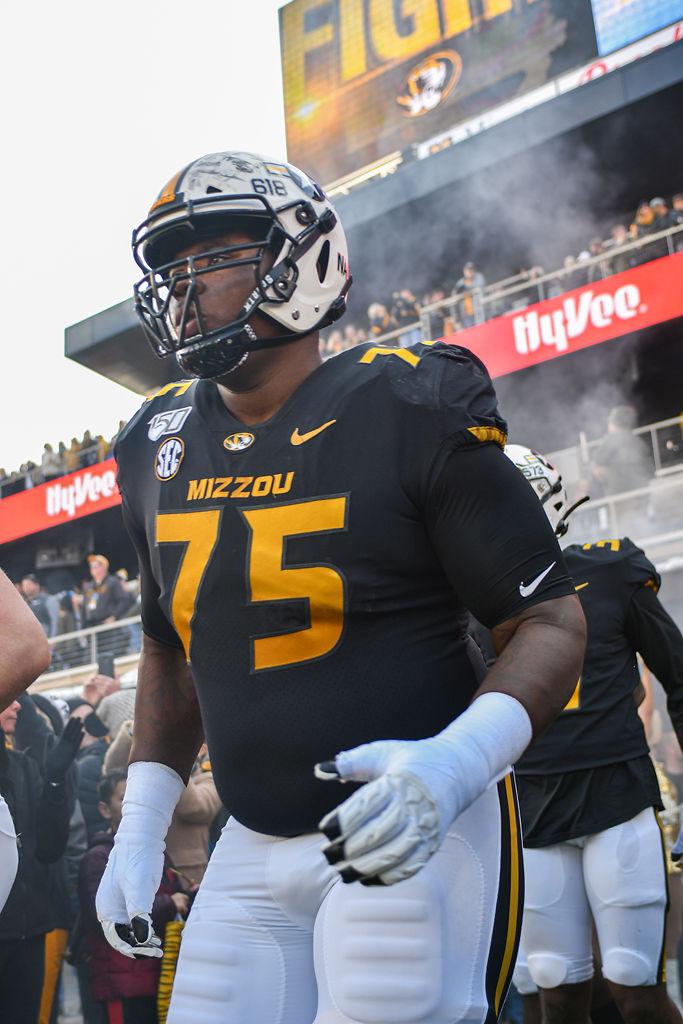 Wallace's face lights up when she is asked when her son graduates. It's committed to memory.
"December 13, 7:30. Hearnes Center."
The degree is in sports management and agriculture, an odd combination. It disheartens Wallace-Simms that so many athletes turn to opioids and become addicted while struggling through pain, so he imagines creating a strain of medical marijuana that could serve as an all-natural substitute. Whether or not that's realistic, he wants to use his mind and his degree to make a difference.
Graduation will be a celebration years in the making, an ending and a beginning. The future is unclear for now. Yahoo Sports draft analyst Eric Edholm says the senior's stock might have dropped a bit this season with Missouri's struggles, but that his sheer size will earn attention no matter what. This year is also a relatively weak draft class at the offensive guard position, Edholm said. Wallace-Simms could be picked in the late rounds, though it's too early to make a clear projection.
In the meantime, the lineman is applying for graduate school at the Missouri School of Journalism. Wallace-Simms isn't sure where that will lead him, but he hopes he can take online courses while training for the NFL combine. He knows the further he gets from having finished school, the harder it will be to return.
Toni Wallace often thinks about trying to return to college to finish her degree. At the very least, she can rest easy knowing her son finished what she started. The promise Wallace-Simms made four years ago is on Mom's mind a lot these days. December 13, 7:30. Hearnes Center. A happy ending.
Tre'Vour Wallace-Simms will finally get to open his cap and gown.
Supervising editor is Eli Lederman.