When Martez Manuel learned he was going to make his first career college start, Nathaniel Peat was one of the first people he told. These two friends tell each other everything, and that's been the case for a while.
When they were in high school and being recruited to play in college, whenever one got an offer from a school, the other was the first to know. Even before their parents.
It's a friendship that began in middle school and blossomed at Rock Bridge High School, where Manuel and Peat both starred on the football team.
But the friendship the two share is not limited to football. It's deeper than that.
It's a relationship built on accountability and faith, a relationship that has endured despite the fact that the pair now go to colleges halfway across the country from one another. Living 2,000 miles apart, this bond transcends the distance of the American frontier.
"It's way beyond a friendship," Manuel said. "We're just brothers. That's the only way I can explain it. I know we both would give each other the shirts off our backs or even share clothes if we ever had to. We always have each other."
Peat is a freshman running back at Stanford. Manuel is a first-year safety at Missouri. Both are receiving playing time as true freshmen at Power Five schools.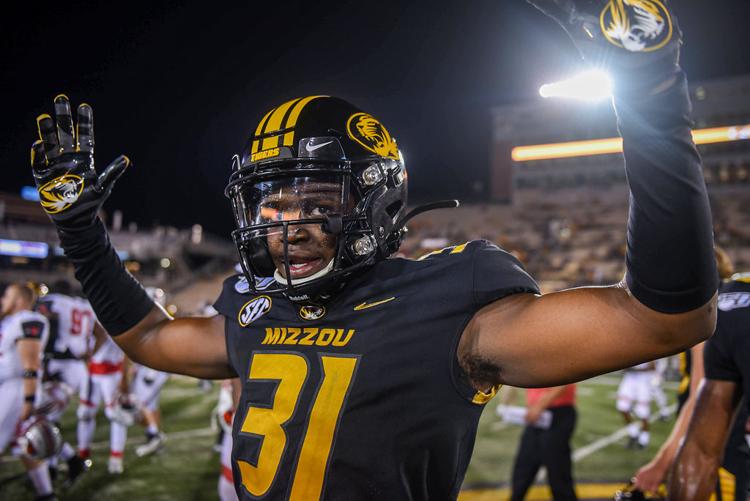 Their story is a Columbia one.
The two met in eighth grade at Smithton Middle School, which is also when they started playing football together. Playing for the Wildcats was a good way for Manuel and his brothers to make friends after they moved to Columbia from California.
Football has been good to, and for, the pair ever since.
Perhaps their most notable gridiron feat happened as teammates at Rock Bridge, where their friendship became a brotherhood.
The relationship developed through a group of friends that includes Manuel's brother, Marcus, former Rock Bridge football teammates Melvin Drayton III and Kyjuan Collins, track and field teammate Mojuba Shonekan and friend Jayton Johnson. That group began studying together at Cor Columbia, a local non-profit that provides student-athletes, among others, with tutors. Their time at Cor solidified their bond because they were now seeing each other every day after school.
"We spent pretty much our whole time in high school, more with each other than we did at home," Manuel said.
Through Cor, Manuel and Peat heard about programs that would help develop their faiths. Later, they attended Christian camps together where they grew even closer.
"We've prayed together and opened up to each other a lot," Peat said.
In sharing their faiths, the bond became more than just about football. It became fraternal.
At Rock Bridge, Manuel and Peat ran track together, helping the Bruins finish in the top 5 at the state meet in 2019. But they truly made their marks on the football field.
Manuel's favorite memory of their time as teammates is their final game together.
As seniors, Manuel and Peat led Rock Bridge to the district championship against Blue Springs. On Rock Bridge's final drive, trailing by nine and trying to complete a miraculous late comeback, Peat burst for a long first-down run. On the next play, Manuel, who played offense and defense, caught a touchdown pass to cut the lead to two. Rock Bridge was unsuccessful on the ensuing onside kick, and Blue Springs was able to kneel the game out.
But though the game ended in a loss, that drive was the perfect way to encapsulate their high school careers.
"We left our legacy because we were the last people to touch the ball for Rock Bridge," Manuel said.
By their juniors seasons, both Manuel and Peat had become highly touted recruits, ranked among the top-15 prospects in the state of Missouri. In turn, each of them began dealing with the arduous recruiting process and the difficult decision-making and stress that comes with it.
It's hard to understand what the recruiting process is like unless you've gone through it. The two are grateful they had each other.
"It's good to talk to him about that stuff, because I know he can relate to me, and I can relate with him," Peat said.
When they were freshmen in high school, Manuel and Peat pledged they would play together in college. But Stanford had always been Peat's dream school and he jumped at the opportunity when the offer from the Cardinal came his way.
Even with their plan changed, Manuel was incredibly excited for his friend.
This tightly-knit friend group has always held one another accountable. When they were in high school, the group — all athletes — decided they wanted to get stronger. So they made it their mission.
"Every night, we would dedicate ourselves to doing 100 to 200 pushups," Peat said. "We would FaceTime each other to make sure we were doing it."
Now that they all have gone their separate ways, the relationships endure through a group chat and occasional FaceTimes. But Manuel and Peat have something that belongs just to them, too. They can watch each other on television.
Manuel and his roommates watch Peat play whenever they can. It helps that Stanford's games usually come on late at night, after Missouri has already played. Manuel provides occasional play-by-play to the group chat, alerting his friends when Peat carries the ball.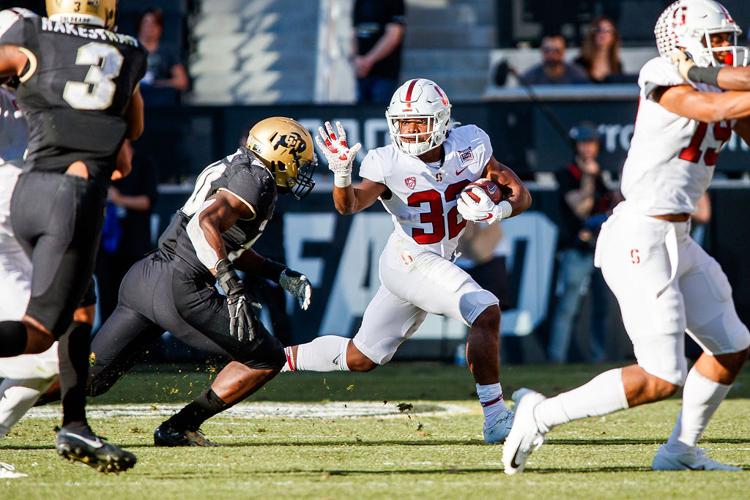 Those texts aren't just for the others in the chat. They're for Peat, too.
"That's so even if they won or lost, (he knows) that I care and I was watching," Manuel said.
On Oct. 19, when Missouri was playing Vanderbilt, safety Tyree Gillespie was ejected for targeting. The penalty happened in the second half, which meant Gillespie would have to sit out the first half of the next game as well. His replacement in the starting lineup the next week was Manuel.
The freshman had already seen time on special teams and even played some safety against SEMO a few weeks earlier, but Manuel's start against Kentucky was the first of his college career.
"I was so excited," Peat said about the moment he found out his friend was set to start. "I knew he's got that dog in him."
After the game, the first text Manuel received was from Peat, congratulating him.
Manuel's contributions were limited to the second half of the Vanderbilt game and the first half against Kentucky (until Gillespie could return), but he recorded a tackle in each game. The fact that, as a freshman, he is the next in line after Missouri's experienced starting safeties says a lot about the freshman defensive back from Columbia, and it bodes well for his future.
Like Manuel, Peat's college numbers haven't been anything special yet. So far, Peat has appeared in eight of the Cardinal's 10 games, getting at least a touch out of the backfield in seven of them. His best game thus far came in a loss to Colorado, when he carried the ball four times for 29 yards. But Peat is averaging 6.3 yards per carry, an encouraging sign for a true freshman.
Their future in football is very much still bright, but whatever happens, Peat and Manuel are confident the friendship will endure, even after their playing careers end. It has so far, despite the distance between them this fall.
"They say a lot of friendships die over high school and going to college, but I definitely think with our friend group and how we stay in touch, it will stay strong and we will be friends for a long time," Peat said.
The time difference can be tough, but they're only a phone call away, and after college Manuel and Peat are not planning on losing touch. It's a brotherhood, after all.
Manuel said he expects that he and Peat will be godparents to each other's children and will have their kids refer to each man as "uncle," even though they aren't related.
"We're like brothers. We take care of each other and make sure everything's OK," Peat said. "It's a lot more than football."
Sure, the two have accomplished a lot together on the field, but that isn't what it's all about.
No, it's a deeply meaningful friendship that just so happens to have football in the middle.
Supervising editor is Eli Lederman.