On a steamy afternoon inside the air-conditioned respite that is Missouri's indoor practice this past summer, Yasir Durant lined up at wide receiver.
Across from him on the line of scrimmage was freshman Jack Buford, and Durant was in a spot to make a big play. Buford – a freshman with a personality as large as his 6-foot-4 frame – had been talking trash in Durant's direction all afternoon, and finally, enough was enough. Playing with a point to prove, Durant told his quarterback to throw the ball deep – he was going to burn Buford.
When the ball was snapped, he did just that, making the catch and running — 6-foot-7 and 330 pounds of wide receiver in this game — all the way down to the 5-yard-line.
"Jack didn't think I was that fast or that I was going to run right by him," Durant said.
Did the catch come on a good pass?
"No, it was probably the worst ball I've ever seen," Durant said.
Durant and his fellow Missouri offensive linemen were engaged in something of an offseason tradition: the Fat-Man 7-on-7. Designed to allow the burly offensive linemen a chance to scrimmage each other at different positions, the informal exhibition occasionally takes place after summer conditioning workouts when everyone else on the team has left the practice facility.
He plays at receiver, running back, cornerback and safety; wherever he's lined up, he makes plays, such as the time he intercepted a pass thrown by Tre'Vour Wallace-Simms last summer. The senior from Philadelphia was a Fat Man team captain this year. In past summers, he was a coveted a No. 1 pick.
He's got the moves. He's an athlete, after all.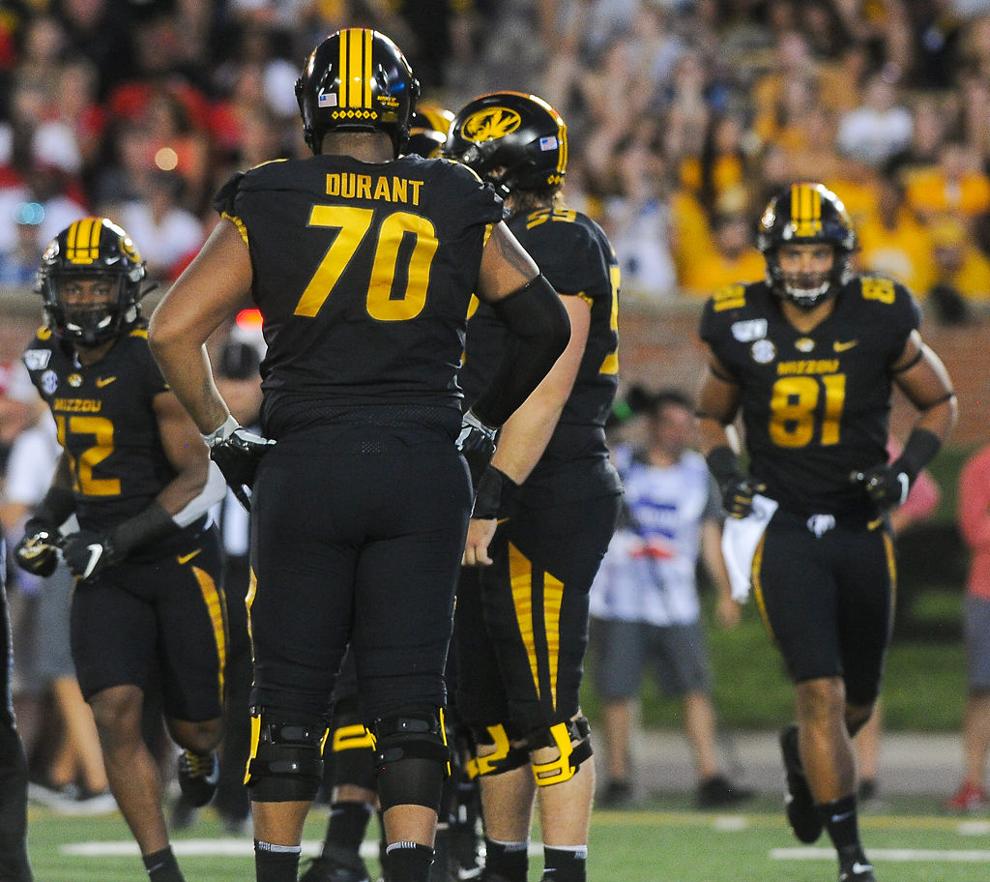 For three years now, Durant has been a steady presence at left tackle on Missouri's offensive line. A preseason Third Team All-SEC selection on a line that allowed the fewest sacks in the SEC a year ago, Durant likely will hear his name called in the NFL Draft this coming spring. And while his size and stature fit the mold for a prototypical NFL offensive lineman, Durant possesses something else that makes will make him an attractive o-line prospect at the next level: athleticism.
But what, exactly, does athleticism mean? Especially as it pertains to offensive linemen who lumber up and down the field and whose 40-yard dash times can be clocked by a sundial? The definition is vague. It's hard to use the eye test for players who aren't streaking down the sidelines or making acrobatic pass breakups.
So, what makes a lineman "athletic?"
Chris Trapasso, an NFL Draft Analyst for CBS Sports, said he believes it's in the feet.
" ... It's how quickly can you move your feet without falling over or anything like that," Trapasso said.
That's a pretty low bar in a sport that has seen dynamic multi-sport athletes like Jim Thorpe, Bo Jackson and Deion Sanders. Compared to them, linemen aren't even in the same universe.
Damien Woody, a retired NFL offensive lineman who now works as an analyst for ESPN, looks for mobility and explosiveness on the line.
"Whether you're playing wide receiver and getting in and out of your breaks, or whether you're playing offensive line and being able to remove a defensive lineman from one point to another (that's what it's all about)," Woody said. "That's what I call an athlete."
Like Trapasso, Woody said he believes quick feet are key, too.
"The best thing (elite linemen) had going for them was their feet," Woody said. "Their movement skills were phenomenal."
This season, Durant lined up as an eligible receiver — in a real game this time — on a play against Ole Miss on Oct. 12.
When quarterback Kelly Bryant received the snap, Durant promptly took a step behind the line, and stayed put, despite being uncovered. The senior lineman was a decoy, but the decoy worked. The play ended up as a screen to running back Tyler Badie, who scored a touchdown.
Durant said he was the check down option on the play if everyone else was covered.
"It was a zero percent chance that I was going to receive a pass," Durant said after the game. "But if I was to catch the pass, I was going to score."
Trapasso said the fact that Durant was out wide on a play is a sign that he is comfortable moving in space. His best athletic traits are his balance and spatial awareness.
Woody always considered himself to be a good athlete for his position. He played multiple positions during his career, starting as a center before transitioning to guard and later taking on the outside tackle position. That sort of versatility on the line came from the athleticism Woody brought to the line.
"You can't be versatile along the offensive line if you don't have movement skills," Woody said.
If Tigers center Trystan Colon-Castillo is to be believed, movement isn't much of a problem for Durant. He thinks Durant could play all five positions on the line, though Durant isn't sure he could play center. Colon-Castillo also claimed to have seen a video of another athletic feat accomplished by his teammate.
"(Durant) can dunk a basketball like its nothing," Colon-Castillo said.
With four games remaining in Durant's senior season, Trapasso said he is tracking toward being drafted, and pegged him to be selected somewhere in Rounds 4-7 on Day 3 of the NFL Draft. According to Trapasso, Durant has the right tools to be a serviceable NFL lineman, and also has "above average" size.
"You can not teach his length and you can not teach his size," Trapasso said.
Back when he was in high school, Durant traveled with his football coach Al Crosby and two other linemen to a college visit in Massachusetts in Crosby's truck. When they returned home to Philadelphia, Crosby discovered that one of the seats was broken. Durant was quick to deny any wrongdoing, saying it had to have been one of the others. Well-aware of his own size, Durant pointed out how big his fellow teammates were.
"No, no that wasn't me," Durant said when asked about it years later. "It was another dude; he was a really big dude."
Playing at the tackle position on the end of the line, Durant is tasked with taking on defensive ends, the quickest players on the defensive line. That's where his length and long frame become an advantage; defensive ends have a longer way to go to get around him. His experience in the position is a plus, too.
"I think Durant is very comfortable and under control playing left tackle," Trapasso said.
That part of Trapasso's evaluation is a testament to how far Durant has come as a player. When he arrived at Imhotep High School in Philadelphia, Durant had never played football before.
"We really didn't know exactly what he had, so we treated his freshman year like a redshirt year," Crosby said.
Durant first got playing as a sophomore, but it was during his junior year that Crosby "unleashed" him. Durant quickly went from another face on the bench to an impact player for his state championship high school team.
"He was the best o-lineman in the state of Pennsylvania," Crosby said.
But a great athlete? Crosby didn't exactly go that far.
"If we were picking players for a pick-up basketball game, he would be an early pick because he's bigger and taller than everybody," Crosby said. "But (Durant) wasn't jumping all over the place … He's not your typical great athlete when you say hop on the vertical jump, the broad jump, the 40 and all that stuff. But his agility and his quickness is pretty good, especially when you're going against guys coming off the edge. He is always locking on to them.
"So I think he is a really good athlete, I just don't know if his athletic ability would reach all the measurables."
Crosby said he noticed when Durant was lined up out wide against Ole Miss.
"I would think he got lost out there, got a little dizzy, being out in that much space" Crosby joked.
Will Durant get another shot at wide out this season? He already has 'temporary receiver' on his resume.
Durant only has four games left in his college career, and as the NFL likely awaits him, the time to score a touchdown is likely running out. That doesn't mean it won't happen.
"Teams haven't been covering him," Colon-Castillo said. "Everybody watch out. The (Durant) screen is coming soon."
"If they put me out in a route, that would be the scariest thing a defense had ever seen," Durant said after Missouri's win over Troy on Oct. 5.
"I'm a really good athlete," Durant said. "I try to be."
Supervising editor is Eli Lederman.