The days are long and the nights are short during a Puerto Rican funeral. Visitations can last through multiple sunrises and sunsets as loved ones mourn the dead and celebrate their lives. Neysa Rosario knew it wasn't the right environment for her baby boy. So in late summer of 1999 in Juana Díaz, Puerto Rico, she left 17-month-old Trystan with her dad, his abuelo.
Trystan was too young to understand what had happened, or why he didn't see his mom for two days. She was saying her final goodbyes to her high school sweetheart — the father Trystan would never know.
Heriberto "Eddie" Colon was a husband. He was an athlete. He was a proud Puerto Rican. He was a delivery driver for a drug company in Joplin, Missouri. And he was a father of two.
Colon died at work, in a car crash on Aug. 13, 1999. He was 31.
The funeral at the end of the second day was the hardest goodbye of Rosario's life. When it was finally over, Trystan woke up the next morning to see his mom lying awake in bed. A smile appeared on his face. She felt a chill.
"That's something I can never, ever forget," Rosario says. "It was his dad's smile."
Heriberto Colon's mischievous smile and persuasive charm live on in his second son, Trystan Colon-Castillo. Missouri football's outspoken leader has his dad's name tattooed on the inside of his left bicep.
Aug. 13 is the hardest day of every year for Rosario; it helps when she can be with Trystan. "We read each other well," she says. This year, they were together in Columbia for the team's family barbecue. They shared many hugs that day. It was 20 years since the crash that ended Colon's life.
"We don't say much because it still hurts," Rosario says, "but we know."
Colon-Castillo is the charismatic center of Missouri's offensive line. He was born in Joplin, but his outgoing aura was shaped by his Puerto Rican roots. Both parents grew up there, dating in high school until Rosario moved to the U.S. for college at Missouri Southern. When Colon visited her in Missouri, he called his mom and told her he wasn't coming back.
"We were young lovebirds," she says, laughing. "We got in a lot of trouble together."
They ended up in Webb City, Missouri, where Trystan later added Castillo to his name. The rest of his family has always lived in Juana Díaz. Colon-Castillo visited the island often as a kid, eventually spending summers in the houses where his parents grew up. He learned Spanish from his grandparents, uncles and aunts on both sides, and he played soccer and basketball with his first, second and third cousins. Neither he nor his mom can put a number to the size of his family in Puerto Rico, but they have been to family reunions of at least 100.
"That's just how I was raised," Colon-Castillo says. "The more the merrier."
That's always been his way. In November 2018, he and his teammates weren't able to have proper Thanksgiving dinners with their families because of the Arkansas game the next day. So Colon-Castillo hosted a "Friendsgiving" potluck dinner at his apartment after the Friday game with several players and their families. Rosario cooked a Puerto Rican dish called ropa vieja, a sort of stew she makes with shredded chicken and potatoes, vegetables and Puerto Rican rice. It was a nice alternative to the "regular American stuff."
Colon-Castillo proudly shares his Puerto Rican culture — and particularly his mom's cooking — with teammates. He grew up on Puerto Rican bread and Rosario's rice and beans. He once persuaded her to make a dinner of ropa vieja for the whole offensive line, which then included Paul Adams, Kevin Pendleton and some other hungry 300-pound athletes.
"The way Trystan looks at you and smiles, he can just smooth-talk you into anything," Rosario says.
His father had that trait, too. It often strikes her how similarly they look and act.
When Colon-Castillo was a kid, Rosario noticed several eerie resemblances between him and his dad. Eddie had gone to college in Puerto Rico on a water polo scholarship; Puerto Rican beaches taught Colon-Castillo to love swimming. "It was my first real passion," he says.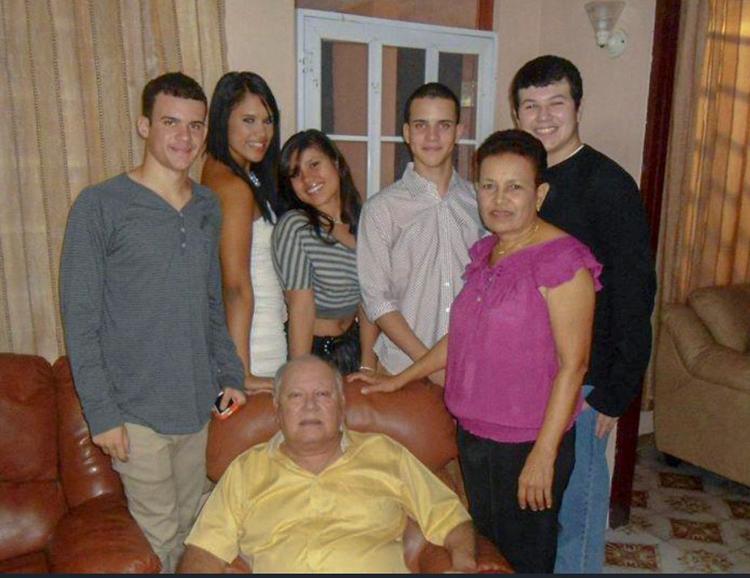 Colon-Castillo wanted to swim in high school rather than play football, until a football coach sat him down and convinced him he had more of a football build.
"You're not wrong," Colon-Castillo responded.
"Trystan was a good swimmer, don't get me wrong," Rosario laughs. "But he was kind of heavy."
Colon-Castillo, who often quips that he's exhausted by running or climbing stairs, says he could never swim now like he used to. He's a self-deprecating jokester. Just like dad.
That light-hearted attitude resonates with Rosario most. Like his father, Colon-Castillo is shamelessly the center of attention, even at those massive family gatherings. He always seeks out things to love about life.
Rosario used to criticize parents who used leashes to hold onto their kids in public … until Colon-Castillo hurt himself running off at the mall. She used a harness on him after that. She jokingly called him Harry Potter when he wore round glasses as a kid, fitting since Colon-Castillo loved the Harry Potter books and reading in general. "Trystan is no jock," Rosario says. "He's a total nerd."
He also grew to love musicals. Colon-Castillo still hopes to see Phantom of the Opera with his mom on Broadway someday. As a kid, Singing in the Rain was his favorite. It was his dad's favorite, too.
Forever a goofy socialite, Colon-Castillo even dabbled in the performance arts as a kid, finding a hobby in ballet and tap dance lessons for several years. He was the star at his recitals, but he learned he can't sing when he played Danny Zuko in a middle school performance of Grease. Still, the kid growing toward 315 pounds had all the graceful dexterity of John Travolta.
"I hope there's no evidence of that ever happening," Colon-Castillo says laughing.
He and his older brother, José, brought light to Rosario's life, first when she lost her soulmate and later when she divorced her second husband. It saddened her that Colon-Castillo could never know the man who seemed to live in him. In some ways, the similarities made the pain linger. In others, they gave her a lasting memory of the overarching joy.
"It was so hard," Rosario said, "but he kept me going."
To make sure Colon-Castillo appreciated his cultural identity — and his father's memory — Rosario took him to the history museum and the Spanish fort in Old San Juan every time they were in Puerto Rico. The last time Colon-Castillo visited was right before his freshman fall camp at MU.
"That's when I really started to understand and appreciate where I'm from and my heritage," Colon-Castillo says. "Puerto Ricans are really proud people. Even now, I have so many cousins and aunts and uncles who don't really understand football, but win or lose, they tell me good job and I can see they're really, really proud of where I'm from."
Rosario, Colon-Castillo and the rest of the family used to go to mass every year on Aug. 13. It's harder to do that now with Colon-Castillo playing college football, but they still have a tradition that pays tribute to Eddie Colon. He was a big Yankees fan, so Colon-Castillo and Rosario go to Kansas City whenever the Yankees are in town to play the Royals.
It's simple and fun, and it always makes Trystan Colon-Castillo smile. His dad's smile.