Cale Garrett used to have a lazy eye, but you wouldn't know it right now. The way those keen blue eyes listen with curious intensity to their surroundings at Pinnacles Youth Park, that doesn't point to a kid who had to wear a corrective patch for almost two years.
The eyes are the first thing I notice when I meet Garrett to hike the incline's 300 million-year-old rocks. When he's surrounded by TV cameras, those eyes can appear bored, but right now they are wide and bright in nature, probing through the trees toward unexplored places.
The only other setting where you see that gleam is on a football field.
It's Monday evening, Sept. 23, and two hours of daylight are left for us to enjoy. Garrett is already having a good day: A few hours ago, he was named SEC Defensive Player of the Week for recovering a fumble in the end zone Saturday to help the Tigers beat South Carolina. It was the linebacker's second touchdown in two weeks, adding to his case as Missouri's 2019 MVP after he didn't score at all in his first three years of college. "So funny," he says, "I literally fell into both of them."
The Missouri team captain knows those things don't happen until you're not expecting them. The unpredictable gives potency to life's most raw and memorable moments.
Dressed in a maroon hoodie, black athletic shorts, white sneakers and a backward ballcap, Garrett isn't here to talk football. That's precisely the point when he goes hiking. Missouri's leading tackler has a well-documented passion for the outdoors. He road-tripped to the Grand Canyon alone to backpack rim to rim after Missouri lost to Texas in his sophomore bowl game. He has summited Pikes Peak three times.
But this is central Missouri during football season, so we're settling for the short trail at Pinnacles, a 20-minute drive up Highway 63 North from Columbia. He's at ease during Missouri's bye week, relishing these little moments he has to get some fresh air.
As we leave the parking lot behind, I try to start a conversation and instead stumble on my words.
"Cale, you've been written about a lot…"
"Because I'm weird," he finishes for me, grinning. "People like to write about me because I'm weird."
That's true, if you think a linebacker playing piano and composing his own electronic music or trying to become fluent in Spanish or having interests ranging from military history to Greek mythology is weird.
But why is he weird? What muse draws him outdoors?
At its core is a once broken relationship that Cale Garrett refused to give up on, now mended by hikes like this. It's a lasting passion that represents a new beginning for a football player and his father. But it took years to get here.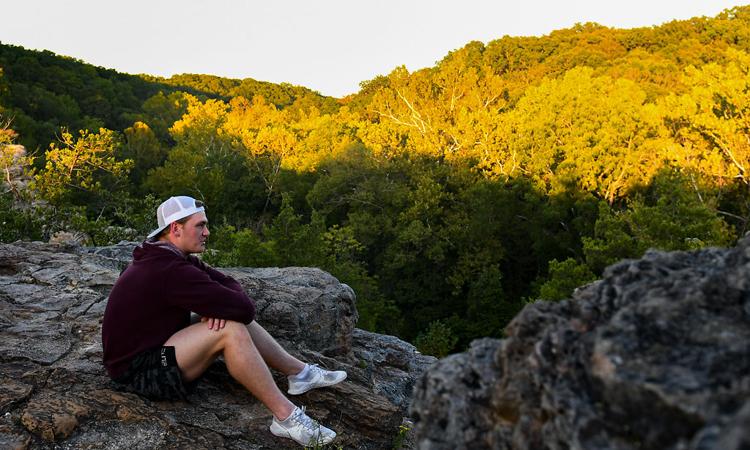 ---
The guitar player drives 90 minutes north. Lindi Burns drives 90 minutes south, bringing Garrett and his brother with her. They rendezvous at the drop-off point halfway down the Missouri-Kansas border, where the kids get out of one car and into the other to complete the three-hour circuit to Baxter Springs, Kansas. This is what it took to get to Dad's every other weekend.
Garrett insists that Craig Garrett's musical talent is worth a million bucks. The 21-year-old has heard his father play around the house since he was a child.
Garrett's parents split up when he was an infant. Born in Joplin, he and his brother moved with their mom to Kearney, a northern suburb of Kansas City. Mom met Tildon Burns, and soon she was Lindi Burns. It all happened before Garrett was old enough to remember anything.
Garrett was a curious kid. Lindi and Tildon Burns had different interests than Craig Garrett, so that curiosity gravitated toward hobbies Garrett could share with the household. He watched Planet Earth specials on TV with his mom. Military history fascinated him; Tildon Burns had a military background. Garrett was also an avid reader of Rick Riordan's "Percy Jackson and the Olympians" book series.
Most of all, he took a natural interest in sports from Lindi and Tildon, former athletes. Dad wasn't as interested. Garrett started playing football in third grade. Lindi enthusiastically supported him. Tildon was thrilled to coach his team. Garrett quickly found a father figure in the man he has never called Dad.
As for the man he does call Dad, Garrett saw him every few weeks. When he did, it was almost always on Craig Garrett's turf, and there was something awkward and unspoken about the visits. Craig Garrett enjoyed playing music and hiking. Garrett didn't care for those activities. Weekends in Baxter Springs meant going for walks on local nature trails — weekends away from football.
A feeling Garrett didn't quite understand churned inside of him.
---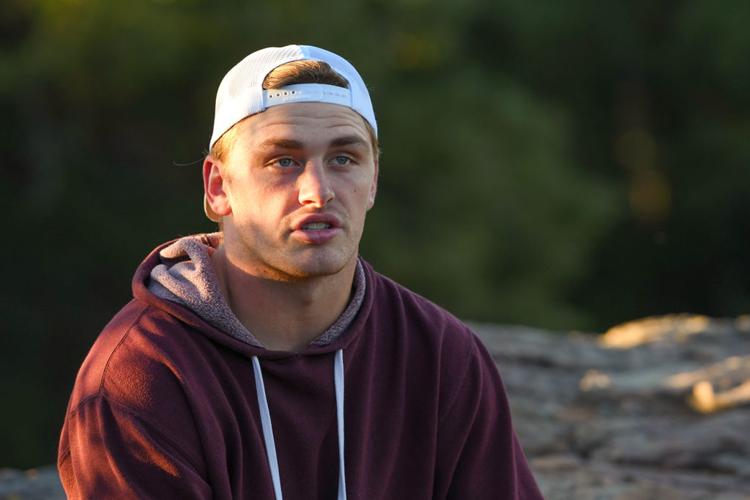 Cale Garrett hikes for the sense of adventure.
There's a "hell yeah" element of hiking that appeals to him, the basic principle of venturing into the wilderness, not knowing where you'll end up or what you'll see. It's independent. It's empowering. It keeps Garrett wanting to turn the next corner. It's what led him on a spontaneous trip to England alone for his 2019 spring break.
On a past vacation in Mexico, the ever-friendly Garrett got to know a British couple on a day trip. He stayed in touch with the husband afterward and ended up crashing at his place south of London. Garrett got a tour of London from his new friend, then traveled north alone and hiked in Edale, part of England's northern Peak District.
Garrett laughs when he realizes we took a wrong turn on our way to the pinnacles. He doesn't mind that we have to retrace our steps. And anyway, our detour leads us to a creek-side clearing with a boulder that Garrett hadn't seen on previous visits. He's excited by the new find, more proof that it's the journey and not the destination that counts.
"It's that curious curiosity," he says. "Not being able to sit still."
---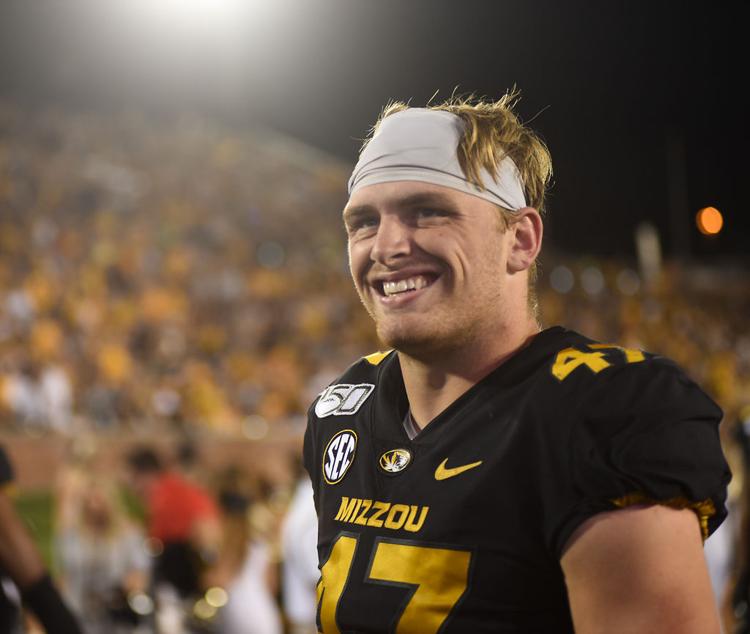 Everything after the big E in the top left corner was blurry.
Lindi panicked when the school told her that her 5-year-old flunked his kindergarten eye exam. How had she never noticed this was a problem? "My god, I failed my child," she thought. "He's going blind and it's all my fault." He had never done anything to indicate that something was wrong with his vision.
Garrett had amblyopia in his left eye, a developmental disorder that causes one eye to be out of focus. It limits peripheral vision and depth perception and can have lifelong effects on one's vision if not treated early. An optometrist directed him to wear a patch over his good eye for five hours every day to train the left, "lazy" eye. The doctor told Lindi it would take four to five years of that daily vision therapy to correct. She worried Garrett would be bullied at school.
That wasn't an issue for Garrett, who learned from the patch to always be comfortable in his own skin. "He never once complained," Lindi said. When Garrett had his first check-up after six months, the doctor was so impressed by his progress that he now only had to wear it four hours a day. By the end of the second year, the eye patch was off for good. Garrett could see normally out of both eyes, preemptively saving his football career.
"Cale just accepted it as what he was supposed to do," Lindi said. "He wore that patch well."
During middle school, Garrett was at the supermarket with his stepdad when he saw a little girl wearing an eye-patch, like the ones he wore. Garrett approached her and offered words of encouragement: "I know it's not fun, but stick with it and the patch will make your eye better. I promise."
Those were moments Lindi and Tildon became familiar with, the kind, curious and resilient man they were watching their son grow up to be. This was the Cale they were getting to know, and the Cale his father rarely saw.
---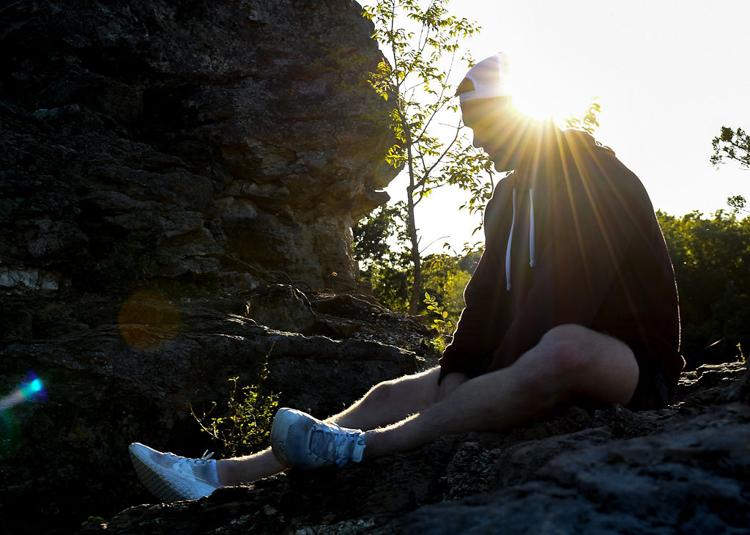 Cale Garrett hikes to escape.
The gift of clear vision is one he doesn't take for granted. Garrett never skims over a view on his hikes, whether it's the lush greens and majestic reds of the Grand Canyon or a humble mid-Missouri cliff ledge.
At the top of our short trail, Garrett sits on the rocks, leans back and basks in a fleeting feeling of peace. It's a gorgeous early autumn evening, and the golden-hour rays illuminate the Missouri dogwoods in an almost translucent light, like maple syrup. He's far from football.
Garrett is regarded by coaches and teammates as a hard worker and the most studious film junkie on Missouri's roster. Barry Odom once found him in the film room at 5 a.m. after a game.
But Garrett recognizes the equal importance of getting away for mental breaks, too. That's why he values the unique scenery every chance he gets. He turns his gaze away from the treetops to look me in the eye.
"That's what I like about it, just being in solitude or changing up the pace in your life," he says. "Not necessarily like you're avoiding your problems, but you're setting down your life for a little while. And I think it's almost beneficial more so than if you were to continue doing what you do in your everyday grind. It's a great way to break up monotony, I think, and then you're fresh going back into it. It's almost like going out somewhere and meditating."
It took more than the removal of an eye-patch for Garrett to see that clearly.
---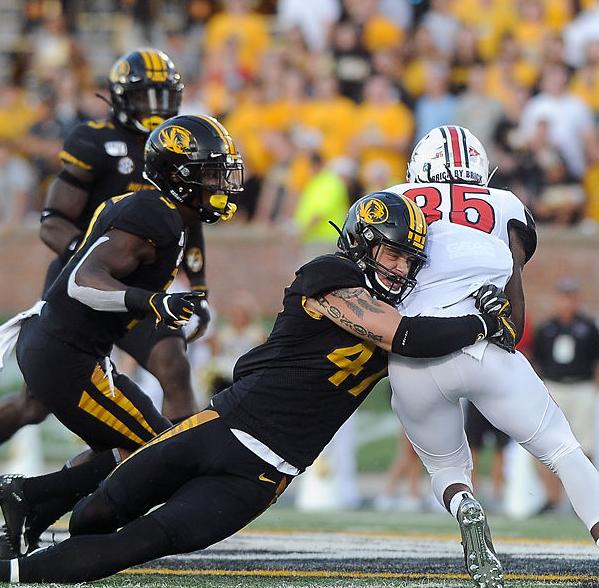 In seventh grade, Garrett was too big to play on a team with his friends. But not wanting to abandon them for another league, he became an assistant coach with Tildon and took a year off from the game.
As Garrett grew closer with Tildon and his mom, he felt farther from his dad. Craig Garrett rarely made the trip to Kansas City to watch his son's youth football games. Conversations felt forced when they talked. "At the time," Garrett said, "it was definitely a strained relationship."
Then high school started, Garrett made varsity as a freshman, and suddenly Craig Garrett was there for his son's games. But instead of warming his heart, seeing Dad in the stands only added to the strain. Was it resentment? Garrett says now that immaturity made him feel that way. But on the sidelines at his own high school football games, the rising star found himself thinking: "Why now?" It seemed convenient that Craig Garrett started showing up right as the spotlight fell on Garrett.
"At the time, it felt like he was taking credit for my success," Garrett says while looking out over the woods. He can't believe the thought ever crossed his mind.
Eventually, Tildon started telling Garrett that "I'm not your mom and I'm not your dad, but I feel like I've earned the right to give you my honest advice." Garrett loved that sentiment, and he was always ready to listen when Tildon had an opinion. Perhaps his most meaningful advice consisted of just three words.
Toward the end of high school and as Garrett started college at MU, Tildon and Lindi both encouraged him to find a better bond with Craig Garrett. The younger Garrett didn't want to give up on their relationship. He loved his dad, after all. Garrett repeated the words in his head: "Find common ground."
He thought back to those nature trails in Baxter Springs.
---
Cale Garrett hikes to think — or to not think.
Therein lies the true freedom of choice that defines this hobby: "You can think about as much as you want or as little as you want; whatever's on your mind or even if nothing's on your mind."
On his mind right now is finding the best place to cross a creek by treading on rocks, which does require some thinking. "I hope you don't like your shoes too much," Garrett laughs as he crosses.
Lately, Garrett has been thinking a lot about the future. After we get across the creek, he abruptly asks me: "So, what's your endgame?" He's asking himself the same question.
Garrett plans to graduate this semester so he can train for a chance to make an NFL roster. But the impending end of his college career has been a reminder that there's still a lot of life left after football. He would love to find a second career in the outdoors — nature guide or park ranger during the warm seasons, ski resort worker during the cold ones — but he knows that's not an easy way to make a living.
He would also like to try living in Spain, Argentina or another Spanish-speaking country, because the linebacker's sense of adventure is never completely satisfied. Thinking about the future is stressful; hiking is the best setting for it.
"I think that can kind of allow you to take a deep breath," Garrett says, "and just let it out."
---
Garrett took one of those deep breaths a few miles into his second trip to the summit of Pikes Peak. Time to just let it out.
It's summer of 2018. This time, he's hiking it with his father. He's been wondering if an opportunity like this would come for him to express what he's been feeling his whole life.
Garrett's first trek up the famed mountain in Colorado was alone, during summer 2017 after his freshman year. It's 13 miles one way, with an elevation gain of 7,500 feet to a summit of 14,115 above sea level. He has shown more interest in intense hiking since he started college. Craig took notice and suggested they go to Colorado to climb it together.
On the way up, Garrett and Craig talk about the past, about memories. Craig mentions not being around much, and Garrett sees an opening. It's the conversation he's wanted to have with his dad for years. Deep breath.
"I didn't think you were there for me very much," Garrett says. He can't believe it. Craig is surprised, too. Garrett goes on to say that as a son, he was immature and didn't do his part to understand his dad's circumstances or workload. He was more resistant to his dad's interests, too. The honesty opens Craig up.
A father and a son who were rarely around each other and never discussed their own relationship flaws now take the time to dissect them. Garrett tells his dad about the feeling when he only started showing up for Garrett's high school football games. They agree that neither has tried hard enough to do things for the other, that they both can and will put forth more effort.
Craig Garrett has a new family of his own with four children. Garrett looks his father in the eye and tells Craig Garrett that he has a second chance to be a good dad for those kids. Garrett trusts him.
When the hikers reach the summit, Dad isn't used to the altitude, so he takes the shuttle down. Cale still wants to hike back, so they agree to meet at the bottom. That will give the younger Garrett 13 more miles to process the conversation that just occurred, to think on it — or not. He'll decide that later.
For now, Garrett enjoys the view from the summit, not yet fully aware of its lasting magnetism for him. He will return here on his own next summer, a third straight year. Something more meaningful than this view will always bring him back.
Garrett looks out over the Colorado horizon. He sees clearly.
---
Cale Garrett hikes for his dad.
They have a Snapchat streak now, the true generational indicator of a close bond. While his life's passion, football, is a product of the family that raised him, he gets his emotional connection with hiking from his father.
It's the product of a child's resentment, the symbol of a mended relationship and the conversation that began a new chapter in Garrett's life. If hiking is making up for lost time, he's moving down a trail chasing something he'll never catch. But it's not the past that keeps Garrett looking for more adventures — he and his father have embraced that their rocky past is behind them — it's their future that keeps him wanting to turn the next corner.