Redshirt junior safety Kaleb Prewett felt the need for speed — OK, maybe just fuel economy and convenience — first. Then freshmen Adam Sparks, Aubrey Miller Jr. and Tyree Gillespie.
Megan O'Gorman expected a spike in business at Affordable ATVs as students headed back to Columbia around the start of the fall semester, but she had no idea she was outfitting the newest members of Missouri football's "Scooter Gang."
Or that one sale to Prewett would turn into a truckload of excited freshmen pulling up to her business — a midsize showroom 18 minutes east of town on I-70 packed with mopeds, four-wheelers, minibikes, UTVs and even a motorized tank for kids — looking for a set of wheels.
"They all came (to the store) together every single time," O'Gorman said.
Sparks and his teammates know a good idea when they see it.
"I'm like 20 minutes early to everything now," Sparks said, "so it was a good buy."
For those willing to take the plunge, scooters have been the ideal mode of transportation for Missouri football players since at least, according to previous Missourian reporting, former safety William Moore started riding one during his time in Columbia (2004-09). A 2011 article by former football beat writer Harry Plumer details the origins of the Scooter Gang that carried on Moore's legacy — defensive linemen Brad Madison and Corey Sudhoff, long snapper Beau Brinkley and wide receiver T.J. Moe.
One look at the bike — scooter — racks outside the Mizzou Athletics Training Complex at any hour of the day, and you'll see mopeds are more popular than ever among student-athletes at MU. The faces have changed, but the vehicle's benefits and the enticing feeling of cruising past the Columns on a sunny day remain the same.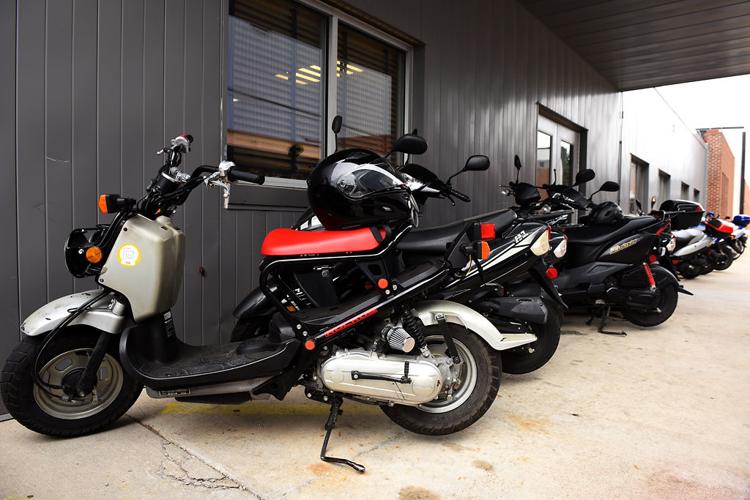 The standard, most affordable scooter offered at Affordable ATVs, what O'Gorman said has been the go-to choice for the newest members of the Scooter Gang, is the TaoTao ATM 50cc. It's got a sticker price of $699, comes in seven different colors and includes a six-month warranty. Topping out at around 32 miles per hour, the scooters, O'Gorman said, are considered motorized bikes by state law.
Prewett calls his something else: a lifesaver.
Compared to the truck the players used to get to Affordable ATVs, the TaoTao gets at least 100 more miles to the gallon. It can quickly cut through campus and be parked for free on bike racks in front of academic buildings, so players don't have to worry about tickets piling up. It's a similar, if not an easier, drive than the dirt bikes Sparks used to ride in his hometown of Baton Rouge, Louisiana, and maintenance is straightforward — adjusting the carburetor here and there, making sure the vehicle receives a healthy dose of gas and oil, and storing it in a safe place.
"It's just, 'Drive,'" O'Gorman said. "You just go."
If they do have any technical needs, the new members of the Scooter Gang can always seek guidance from defensive back Finis Stribling IV, the tinkering sage.
Stribling, a redshirt junior physics major with a mechanical mind, has been through three scooters since he arrived at MU as a freshman in 2014. Much to the anxiety of his parents and coaches, the first two were lost to accidents — the latter when he hit an ice patch during the winter — but Stribling has walked away injury-free both times, and his love of mopeds hasn't waned.
"The breeze when you're riding it is beautiful," Stribling said.
He'll pass time during the summer improving the performance of his scooter by watching how-to mechanic videos on YouTube. He's given his ride a new intake system and has souped up his engine to peak at 55 to 60 miles per hour.
If hearing that makes you worried about players' safety while riding the scooters, just remember the football field is equally as dangerous — and coaches make sure helmets are worn in both instances.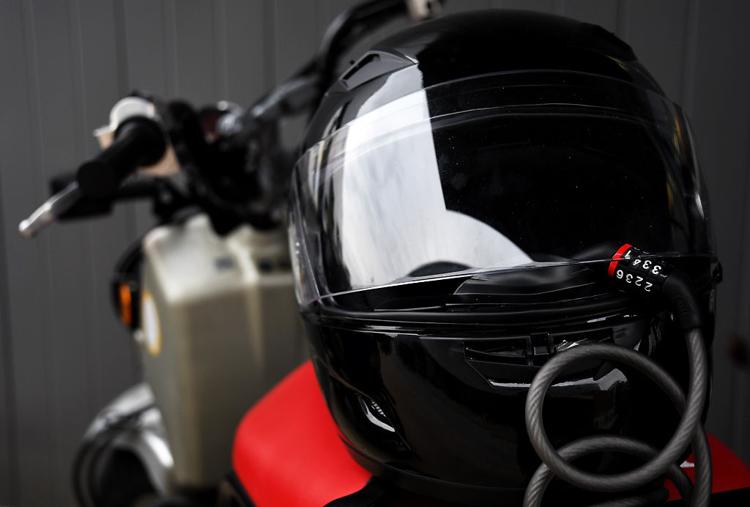 In September, Miller broke his left fibula. Not from a scooter accident, but during a Wednesday practice.
The freshman linebacker, who contributed on special teams and was a vocal presence during a players-only meeting after a blowout loss to Purdue, was slated to miss four to six weeks. To add to the poor timing of the injury, he had just ordered his scooter through Affordable ATVs' online store and had to break the news to O'Gorman when he accompanied Sparks to pick up his blue TaoTao.
At least temporarily, he was sidelined from the Scooter Gang. But he's returned to the field now, and his brothers behind the wheel have welcomed him back with open arms.