The first call came Dec. 1, the day after Missouri fired its four-year football coach, Barry Odom. Four more calls followed within the next week. "He wants the job," the caller kept saying. "He wants the job!" It was a former MU football player, whose name is kept private by MU associate athletic director Nick Joos. But the calls were insistent.
"I was like, 'OK, I've got it. I've got it,'" Joos said. "'He wants the job.'"
The former Tiger is a friend of Eliah Drinkwitz, the head coach at Appalachian State. Finally, on the morning of Dec. 6, Joos indulged the recommendation.
"Hey, Eli? This is Nick Joos. We'd love to talk."
That afternoon, Joos, Drinkwitz and MU athletic director Jim Sterk had their first conversation over the phone. Drinkwitz was to coach the Mountaineers in the Sun Belt Conference championship game the next day, so Sterk and Joos assumed the call wouldn't last more than 20 minutes. But 45 minutes later, associate ADs Sarah Reesman and Tim Hickman had joined the party in Sterk's office, still talking with Drinkwitz.
Immediately after, Sterk called then-MU Chancellor Alexander Cartwright.
"I really want you to talk to this guy," Sterk said, "because I think he's really special."
Four days later, Missouri announced that Drinkwitz would be the 33rd football coach in program history. It capped Drinkwitz's meteoric rise through the coaching ranks from 22-year-old high school assistant to Southeastern Conference head coach at 37.
But 359 days prior to his introductory press conference in Boone County, Drinkwitz was donning black and gold at the same kind of event. He was being introduced in Boone, North Carolina, in what was his first head coaching position, at Appalachian State.
"How long is Eli here in Boone?" a reporter asked.
After thanking his predecessors, quoting Proverbs 16:9 ("The mind of man plans his way, But the Lord directs his steps") and laying out his itinerary for the next month or so, Drinkwitz answered: "I don't know exactly what the future holds. I know that I'm going to work 365 days a year to make sure I uphold the tradition and standard of excellence at Appalachian State football. This is not a stepping stone job. This is a top-25 job in college football, and I've got no thought process of anything other than doing my part to make sure I don't let anybody down."
But less than a year later, Drinkwitz was no longer at that "top-25 job," instead bolting for the same position at an SEC school with a salary that multiplied more than five times over — a financial boost that's likely to impact the coach's family for generations to come.
Drinkwitz told the Missourian in July that the sacrifices his family has made were probably the hardest part of his 15-year journey to Columbia. He noted that at 10 years old, his oldest daughter, Addison, has moved seven times in her life.
There's a lot to be learned from Drinkwitz's lone season at App State. The manner in which he arrived, the ways in which he impacted the program and found success, and the fashion in which he left — turning the program into the stepping stone he said it wasn't — all provide insight into how the young coach may approach his newest task: leading the Missouri football program.
---
It was hard not to see the resemblance. Even Drinkwitz made light of it the first time he met with the Mountaineers.
The first graphic Appalachian State released of Drinkwitz in game attire depicted him in a visor and white polo, not unlike his predecessor, Scott Satterfield; so much so it became a joke with the team. Drinkwitz met briefly with his new team for the first time just before the Mountaineers' matchup with Middle Tennessee State in the 2018 New Orleans Bowl.
It came at a time when wounds were still fresh. On Dec. 4, Satterfield was introduced as the head coach at Louisville. An App State alum, Satterfield left after 23 years in Boone in several roles.
"We're not really a hot spot for coaches," quarterback Zac Thomas, now a senior, said. "So when Coach Satt left, you didn't really know what to expect because he took a lot of his staff with him. What happens next?"
What happened next was Drinkwitz, who was nearly everything athletic director Doug Gillin wanted in a new coach: a sitting Power Five coordinator, an offensive mind, successful at other levels and pedigree as a recruiter and quarterback developer.
Drinkwitz was convincing in his sale of what the program could be and how he fit into it, Gillin said. Tight ends coach Justin Watts said that vision was a part of what made it a "no-brainer" to stay on Drinkwitz's App State staff.
"He's a guy that can sell his vision to just about anybody," Drinkwitz's successor and former offensive line coach, Shawn Clark, said.
Drinkwitz's first meeting with his new team was brief. He shared a quick message, not wasting a chance to sell the players on his vision: win with class, integrity and academic excellence.
"That's the first time he told us that," defensive back Kaiden Smith said, "but he would tell us that 1,000 times after that."
---
In June 2019, App State's football staff was preparing for a coaches clinic at North Carolina State. The staff got up at 6:30 a.m., met with players and packed a van for the three-hour drive to Raleigh.
But eventually, the van pulled off to the side of the road.
"All right, change clothes," Drinkwitz said. "We're going paintballing."
"I won paintball for the whole team," Watts joked. "One, Coach Drink is a cheater. He showed up, had an automatic weapon, a better weapon than everybody else. So he wanted to kind of show he was the boss. He may or may not have gotten shot in the back a couple of times and does not know who did it. I think he did a lot of that so he could shoot at some of his assistants."
The detour was characteristic of Drinkwitz. As much as he fine-tuned the program's on-field product, he found equal value in taking the time to build relationships beyond the sport.
Clark remembers daily walks around the facility. A lot of times, he said, the walks led to talks that were less about football and more about life. The two would normally take a couple of walks each day, but that quickly multiplied to as many as 10 some days.
"He'd get to know his coaches, and by doing that, he built trust within his coaching staff," Clark said.
The winning was fun, but so was the trust-building. Especially when it came to the Mountaineer Olympics.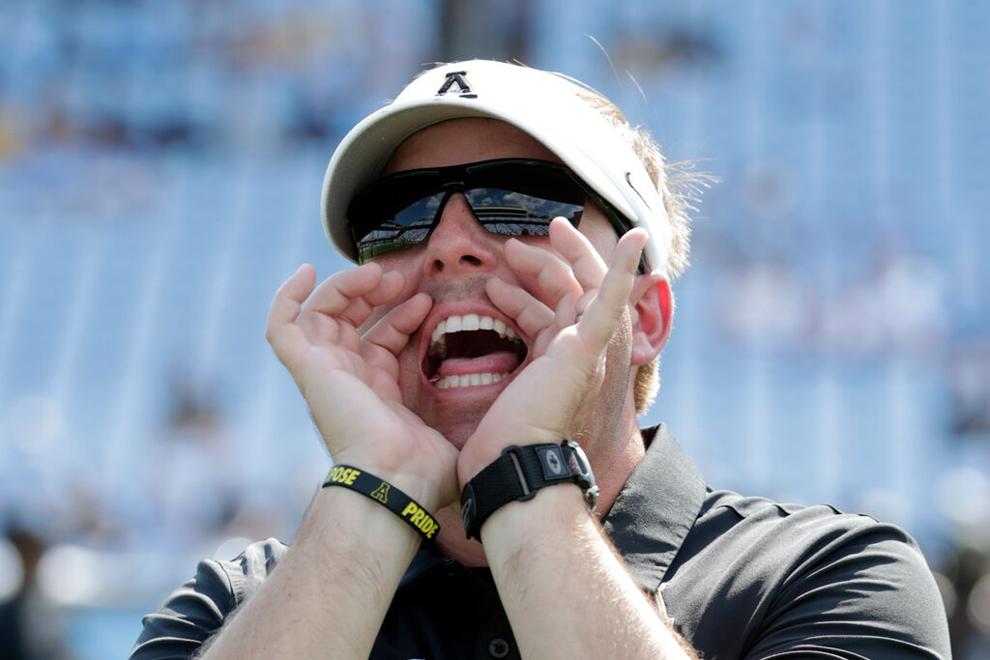 According to Smith, the Olympics were a team bonding activity that took place after nearly every practice of fall camp. The Mountaineers would participate in several different events, including mini-golf through the team complex, a dunk contest, dodgeball, a home run derby and a night of skits that poked fun at players and coaches.
The Olympics also introduced "unity meetings." Drinkwitz always kicked off the team gatherings by sharing a personal story. Then the team would break into small groups, each led by an assistant coach, and share their own personal stories based on whatever the topic was for the meeting.
"We would just talk to people that you wouldn't normally talk to on the team and get to know those guys and just figure out everyone's story," Smith said. "We always left those meetings better than we were before."
The Mountaineer Olympics concluded with one final event: a night spent on the field at Kidd Brewer Stadium. Darrynton Evans, the team's feature back in 2019, remembered being presented with the slumber party and thinking, "We really doing this?" But the point of the night, he said, was that between the blood, sweat and tears shed on that field, it was a home away from home.
"It makes it (so that) when it's third-and-1 or fourth-and-1 and the game's on the line," Watts said, "you realize that everybody has got the same interest in trying to pull in the same direction."
While Drinkwitz's efforts brought a heightened sense of unity, he also made changes that instilled a new wave of confidence. According to multiple players and coaches, those changes included upgrades to practice equipment, weight room gear, travel attire and additional meals during the week — even new soaps and gels in the team showers.
"We felt like a Power Five program," Evans said. "We're used to doing a lot with a little, so getting that extra stuff was big for us."
Everything seemed to culminate for the Mountaineers on Sept. 21, 2019. It was Week 3, and the team was en route to Chapel Hill to take on North Carolina. And with a loaded roster, a more detailed offense and chemistry and confidence, Appalachian State came out on top for its first win against a Power Five school since it upset Michigan in 2007.
"That's when we knew we were a special team and we were about to accomplish a lot that year," Thomas said.
---
Drinkwitz had yet to put pen to paper, but the soon-to-be Missouri coach already had his first in-home visit.
The recruit? UM System Curator Darryl Chatman.
On Dec. 7, Sterk, Joos, Cartwright, curator Jeffrey Layman and UM System President Mun Choi had flown to North Wilkesboro, North Carolina, to meet Drinkwitz at a Hampton Inn — after his daughter's performance of "The Nutcracker" in Boone, of course. The meeting went so well that Sterk wanted to get Drinkwitz in front of more curators. The following day, he flew out with Cartwright, Chatman, Layman and curator David Steelman for another meeting.
Now, here was Sterk again, watching Drinkwitz lay out a rough-and-ready recruiting pitch.
Chatman asked Drinkwitz to pitch to him as if he were a recruit. "Coach, you're sitting in our home," Chatman said. "I'm the athlete. Here's my mom. Here's my dad."
Almost immediately, Drinkwitz turned to Chatman's imaginary mother and father, played by Layman and Steelman, then to Chatman.
"Really targeted it. In, like, two seconds, he went like that," Sterk said, snapping his fingers. "It just impressed me. He immediately got in and took charge of the conversation and showed what he could do on the fly. It was like a practicum experience, and you could see it live."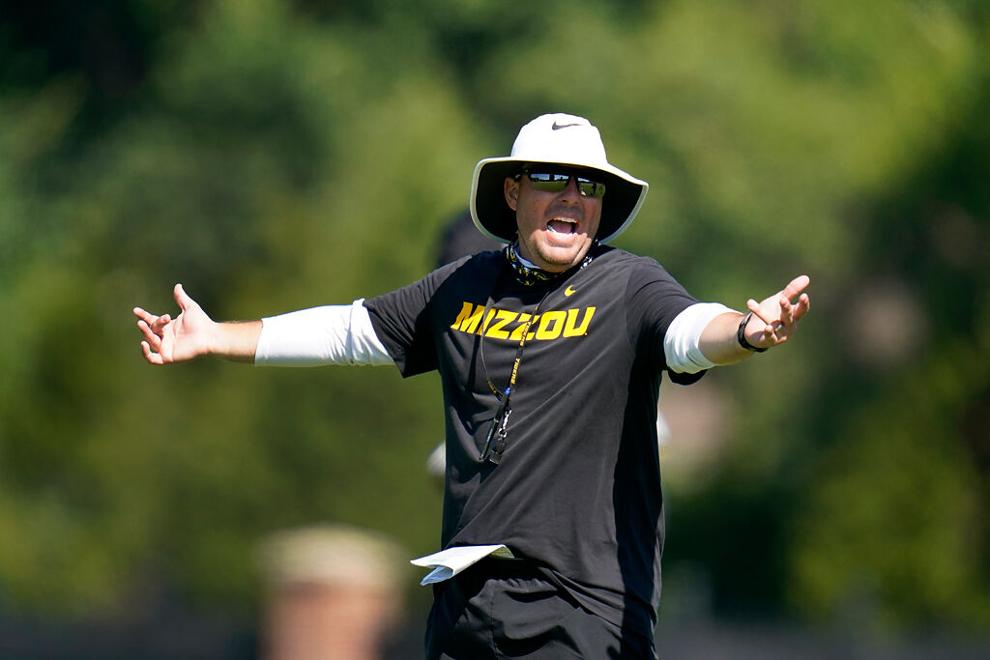 "He was creative," Chatman said. "He made it funny, and he made it fun. And it wasn't like he promised me the world, either. Nothing was guaranteed. It was all based on my hard work. After that, I was pretty much sold."
Steelman was impressed, too. Not just by Drinkwitz's on-the-spot recruiting pitch but by what impressed Gillin and App State about a year prior: his vision for the future.
The other thing that impressed Steelman was that, during the meeting, Drinkwitz noted a text he had just received. It was from New England Patriots coach Bill Belichick.
"I feel if Bill Belichick thinks he's a good football mind," Steelman said, "Who am I to argue?"
---
When Gillin reflects on bringing Drinkwitz to Boone, he's quick to note the success and opportunities that came soon after for his head coach. Still, Gillin didn't expect the stint to last so briefly.
"You don't envision that being a one-year hire," he said.
It wasn't something the fan base saw wrapping up so quickly, either. Alex Johnson and Charles Haynes, App State alumni and donors who host a fan podcast, said "without question" fans were disappointed when Drinkwitz left.
"This guy that led us to this season is leaving — that sucks," Johnson said. "And that was the predominant emotion."
Smith said the sudden departure was polarizing, and Thomas noted that some people don't like Drinkwitz because of the decision he made. But to hear the program ambassadors talk about it, it doesn't negate the success of his lone season.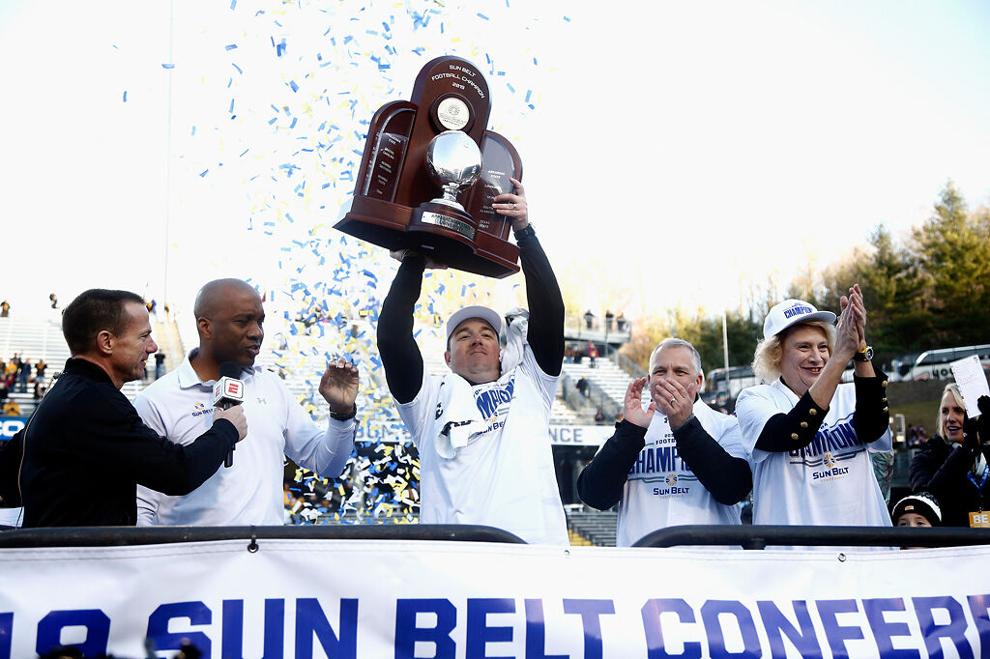 "I think his legacy here was definitely being a part of and leading one of the best teams that we've ever had," Smith said. "And I think that him leaving is just part of the business. I'd move to Missouri right now for that much money, for sure."
In one sense, the Mountaineers' and Missouri's successes in the last two decades feel comparable. Both former App State coach Jerry Moore, who spent 24 years in Boone, and Gary Pinkel carved out notable success at each of their programs. They retired within three years of each other, only to have men who were on their staff take the helm. In both scenarios, Drinkwitz replaced the in-house successors; first Satterfield, then Odom.
But Drinkwitz inherited a situation in Boone that was conducive to instant success. That's not entirely the case in Columbia.
Not only is MU coming off a season in which it finished at .500, it's also down a number of scholarships because of the NCAA sanctions handed down last year. And it's facing a 10-game SEC-only schedule that will kick off against the No. 2 team in the country. All that in the midst of a pandemic that could derail the entire season.
Despite those differences, Drinkwitz seems to be diving into his new job the same way he did the old. He told the SEC Network in August that he's already taken his MU staff for a paintball outing, and, according to a spokesperson, he's turned the Mountaineer Olympics into the "Tiger King Olympics" at MU. At his introductions in both Columbia and Boone, he said both programs needed to win with "pride, passion and purpose." He also mentioned that Missouri's goal will be to win the "Sun Bel — er, the SEC" and a bowl game with "class, integrity and academic excellence."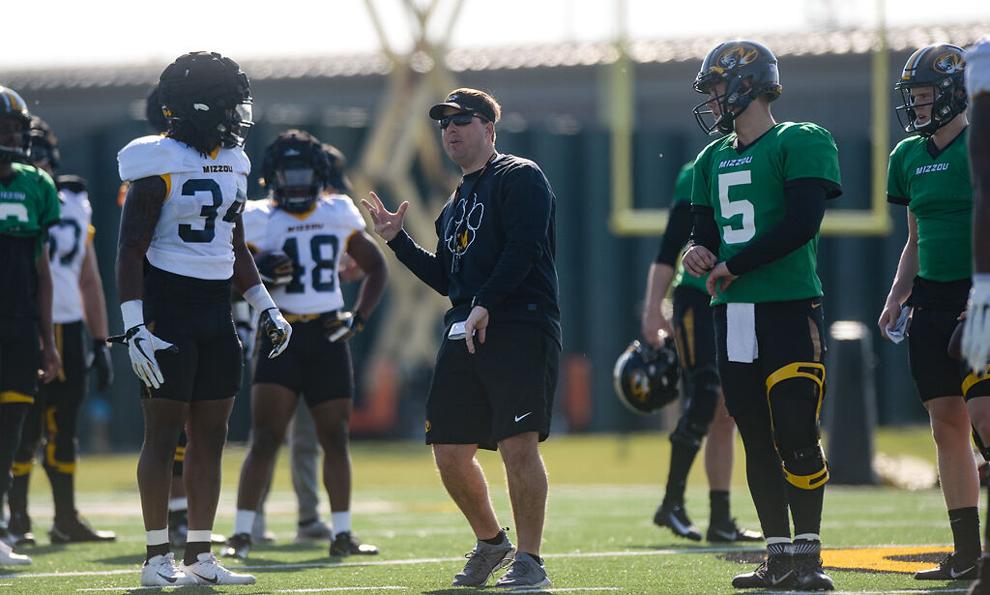 So even in what will likely be a down year for Missouri football, Drinkwitz has been brought in to take the program in a new direction ... and do so for a long while. Sterk is confident he's found someone who can lead a program for years.
"He could stay here a long time, have a Gary Pinkel-type of tenure," Sterk said.
Drinkwitz seems to think so, too.
"I think you look at (your family's sacrifices), and that's why you're excited about being at Mizzou," he said in July. "Because it feels like a place that we're going to be able to call home for a long time, and I'm hopeful my four girls can say they're from Columbia, Missouri, moving forward."
Still, it's hard not to wonder if he had the same feelings when he got to Boone.