The chair in the center of the room doesn't need a label or a name card. Everyone knows who sits in it.
The apartment's surrounding couches are big enough to fit SEC defensive linemen and linebackers. Missouri defensive tackles Jordan Elliott and Chris Daniels often plop there. Linebacker Gerald Nathan Jr. is another regular.
But never in the center chair. That belongs to defensive tackle Kobie Whiteside.
"(It's) a big chair," Daniels said. "Even though Kobie lost some weight, he still fills it up just nice."
From there, Whiteside discusses Bible passages. He eats food shared with the other Bible study attendees. He shares revelations whenever they pop into his head.
"Once you get in that mood, a lot of scripture hits your mind with a lot of things that you have got to say," Whiteside said.
Every Monday, Whiteside plays host to a handful of Missouri athletes in his apartment near campus. About seven attend regularly, but any athlete is welcome. They started it a couple of weeks into this football season in an effort to spend more time reading the Bible together. They also want to have a chance to talk life in this sit-down at the start of each week. There's no time limit.
The conversation is not regimented. It goes where it needs to go. From his seat in the center, Whiteside is there for it all.
"Anytime you see a fellow brother doing things like that, it's always an inspiration," Elliott said. "There are not too many people who are willing to do that. For him to have that heart is big time. I love it."
He wasn't always like this.
There once was big time pain in that big time heart.
Whiteside has struggled with depression. He has believed he's not good enough. He has felt alone.
This small group knows all about it. They know because Whiteside finally mustered the courage to share, not worrying about what others will think. He found the strength to be vulnerable.
"I have been trying to get people to open up," Whiteside said. "Open up for (God) because that's what I really think God wants people to do."
For years, he kept his struggles inside. He harbored them, convinced he was the only one going through these trials. And that made it worse.
Now, he doesn't want anyone to have to experience the same, so he shares in hopes that others will, too.
He's done staying silent.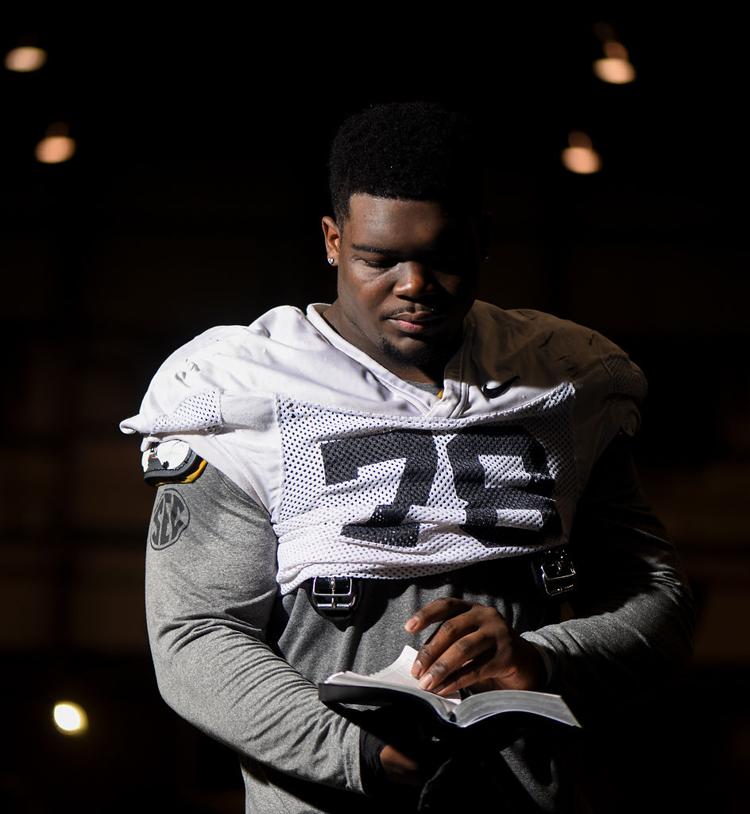 Brian Randle couldn't let Whiteside wrestle one-on-one.
He found out quickly that it was too easy.
The football team at Houston's Alief Taylor High School wrestles on the school mats twice a week during the offseason. Randle, the team's coach, uses it to mix in a different kind of training to help toughen up the football players.
At first, Randle put one player against Whiteside. It took only a couple of seconds for Whiteside to slam the teammate to the ground.
So, Randle put two players against Whiteside, and not just any two players — two offensive linemen.
At the end of each wrestling session, teammates and coaches surrounded the three players. Each time, the story ended the same way.
Whiteside might struggle briefly, but once he gained hold of both offensive linemen, it was all over.
"And I would be damned if Kobie didn't slam both of them," Randle said.
It happened again, and again, and again.
"He's not the tallest kid in the world," Randle said, "but he is as strong as an ox."
Randle lost track of the times Whiteside asked him to open the weight room in high school. By the time he reached his senior year, Whiteside was benching in the 400s and squatting in the 600s.
The strength translated to success on the football field. He was a four-year letter earner and four-year starter. His senior year, he finished with 95 total tackles, seven sacks, 19 tackles for loss, a pick-six and a forced fumble. Whiteside's efforts earned him honorable mention All-State at the highest level of high school football in Texas.
"Everybody gravitated toward him because he was Big Kobie," Randle said. "You'd let him watch your kids. He is just a big gentle giant."
That's what impressed Randle more than the statistics.
Whiteside never received a referral for bad behavior. He never got in a fight. Randle never worried about Whiteside getting into drugs or drinking.
"He would go to parties and stuff, but if he didn't like it, he'd be like, 'Coach, they smoked there. I just left,'" Randle said.
Randle said Whiteside maintained everyone's respect along the way.
But, unknown to most, he was struggling.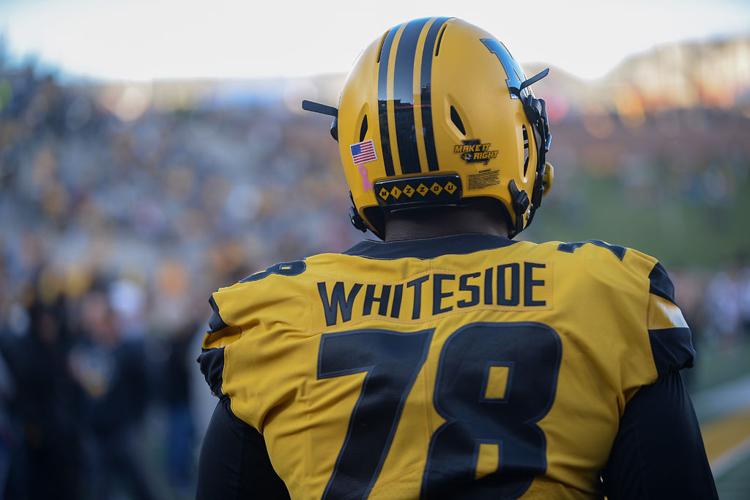 Whiteside lost more than a grandmother when Mamie Whiteside died of colon cancer in 2012.
Mamie was a mentor and role model in their shared faith. While Whiteside was raised primarily by his mother, Dee Dee, his grandparents were also involved in his upbringing.
He does not have a relationship with his father, who spent time incarcerated while Whiteside was growing up.
Mamie was also a unifier. By attending church every Sunday, she helped plant the seeds of Whiteside's faith while setting an example for Whiteside and other members of the family to follow.
"She was a good foundation for the family to be around," Whiteside said. "Our foundation was good. Our foundation was in God during the whole time."
Then, just before Whiteside entered high school, his grandmother was gone. The ensuing emotional struggle extended well past the grieving process. This was when Whiteside's depression started to creep up, when the feelings of loneliness and not being good enough that would last until his sophomore year of college gained momentum.
The mental anguish hit its toughest stretch starting with his junior year of high school. Only now does he recognize that is when it affected him the most.
Four years later, Whiteside still struggles to convey what he was feeling.
"First, you don't recognize it," he said. "You just feel like … at first you feel like you are just … you have like a different … you have like a … there would be a you out there, but it's not really how you feel inside."
When his depression was at its worst, Whiteside said he fell into his thoughts more frequently. When something negative popped into his mind, he struggled to stop thinking about it, the thoughts spreading and spreading until they overcame him. He felt alone and that he was not good enough in many areas of his life. Specifically, he didn't feel good enough to be in relationships.
"I tried to hold everything back and think about it so much that I started making new thoughts pop up," Whiteside said.
His negative thoughts stemmed primarily from material desires. Whiteside set his focus on playing big time college football; that goal dominated how he measured his self-worth. Seeking this confirmation proved problematic when few offers came.
Despite Whiteside's success on the field, he only received six offers from smaller programs such as Bowling Green and Colorado State.
The primary reason the offers from bigger schools didn't come: His stature. While Whiteside had many of the other measurables and accolades needed, he lacked the height. He's listed at 6-foot-1.
"I wasn't getting the stuff I wanted," Whiteside said. "I was stuck in that."
He eventually received a Power Five offer from Missouri, which he accepted the week before signing day in January 2017.
It landed him a scholarship at an SEC school, but achieving his goal served as little more than a bandage. The intrapersonal conflict remained, even if it was slightly dimmed.
It stayed, ready to rear its ugly head once more in a moment of weakness.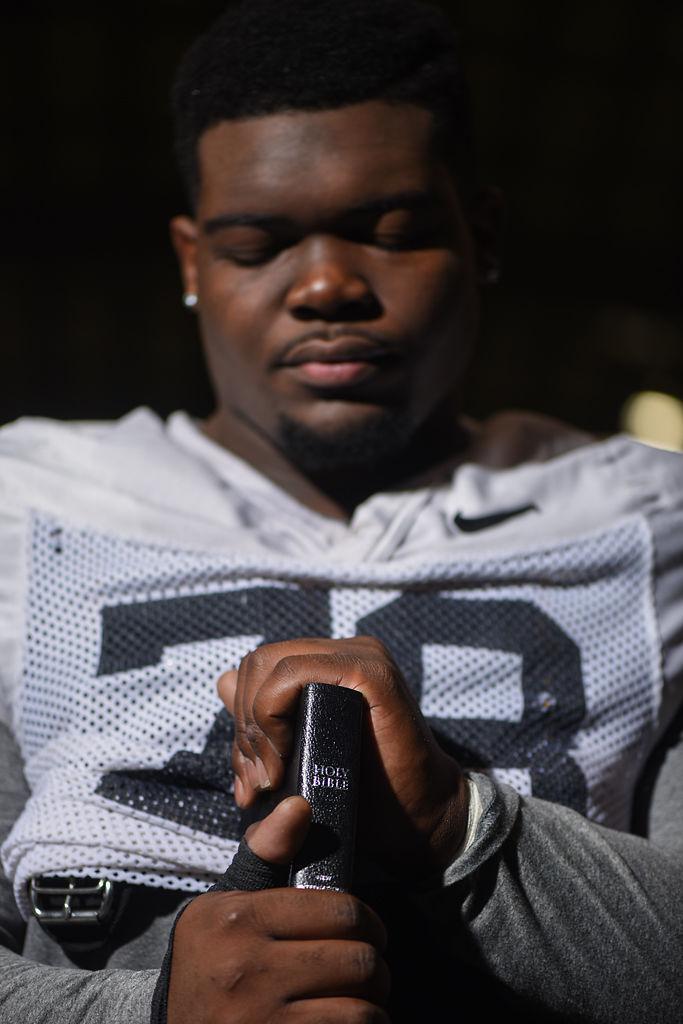 Whiteside doesn't have one single guiding Bible verse he lives by. He's never picked just one.
But this fall, the book of Luke, specifically Chapter 12, has stood out.
It's filled with parables. One in this chapter of the Bible, titled "Do Not Worry" in the New International Version, conveys the moment when Jesus told his disciples to stop worrying about their lives.
"Consider the ravens: They do not sow or reap, they have no storeroom or barn; yet God feeds them. And how much more valuable you are than birds! Who of you by worrying can add a single hour to your life? Since you cannot do this very little thing, why do you worry about the rest?"
Giving his life up to God was something Whiteside struggled to follow in the fall of 2018. As the Tigers marched to an 8-5 record, Whiteside experienced a hollow season.
Whiteside needed something, anything to fill the void. He didn't know what he was missing. All he knew was that he lacked.
After playing in every game as a true freshman, Whiteside didn't see improvement in his second season. The natural next steps that many may have expected never came.
If anything, he regressed, and it took a toll.
"I wasn't playing and I gained hella weight," Whiteside said.
Whiteside, who is listed at 310 pounds, went up to 330.
That stemmed from his eating habits; Whiteside didn't fill up on healthy food. Night time meals/snacks often included a large pizza, cinnamon rolls and soda.
"You're trying to fill that void," Whiteside said. "Food or drugs, sex, whatever. You are trying to find something to fill that void for yourself."
His faith took a turn as well, and not for the better. During this period, Whiteside treated God like a genie. Instead of surrendering his life to God's will, he made request after request and included stipulations in his prayers.
"I was real testing him like, 'Alright God, do this, and I'll do that,'" Whiteside said.
Whiteside never received a diagnosis of clinical depression, but it reached its peak his sophomore year. He called it a slump during which he felt the most alone.
"Even if you do something positive, you're like, 'That's not good enough,'" Whiteside said. "When that happened, the devil showed himself in football. That (season), I really wanted it. But I felt like I wasn't good enough and I wasn't able to get to that spot that I wanted."
That didn't change until Easter Sunday this past spring.
During the service in Columbia, the pastor asked who wanted to give themselves back to God. Something inside Whiteside compelled him to raise his hand.
He walked up in front of the church to reaffirm his faith.
"I was nervous," Whiteside said. "You always get nervous when you try to do something good. When you do something good, something is always going to try and make you look back and say you're not really doing it. But I walked up there."
They were his first steps toward the chair in the center of the room.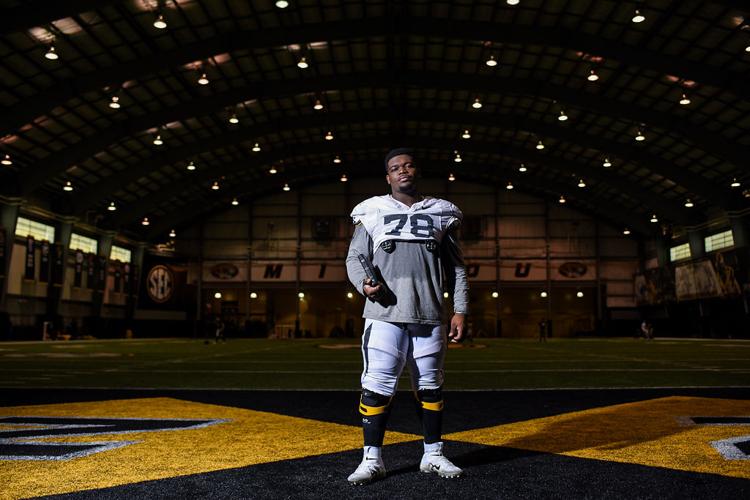 Whiteside felt like he was riding a rollercoaster during his sophomore year, but the trip wasn't filled with highs and lows. Instead, he felt stuck at the top of the first hill, hanging over the edge, waiting for the drop.
Then, on Easter Sunday, the rollercoaster took off.
It only picked up speed as time passed.
The day after Easter, Mamie made an appearance in one of his dreams. The dream provided clarity on aspects of his faith that had long perplexed him. The rush of spiritual moments made him ready to take the next step.
"I'm going down and I can finally ride that ride," Whiteside said.
From there, he took action. The week after Easter, Whiteside decided to get baptized.
"I wanted to re-do myself for God," Whiteside said.
On May 7, he reaffirmed his faith before he was dipped into a Columbia pond.
He hasn't been the same since.
"He's a lot more at peace," Elliott said. "He doesn't really worry about things. He knows that God has got him at the end of the day."
He laughs more often now. Teammates say he is more playful.
"Seeing how Kobie used to be and how Kobie is now is night and day," Daniels said.
The new Kobie looks physically different, too. He lost the weight he gained and then some. He's much closer to 300 now.
His production has also reached a new level. With three games to play this season, he has four sacks, double his total from the first two seasons as a Tiger. He also has career highs in total tackles and tackles for loss.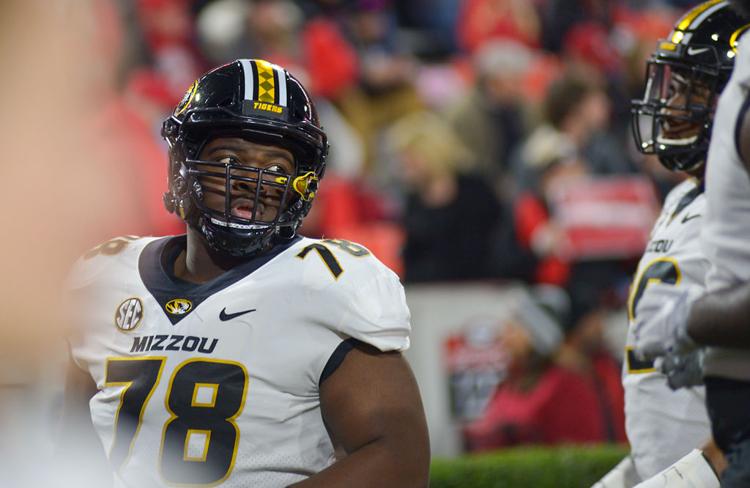 Defensive line coach Brick Haley believes part of that success stems from Whiteside's approach. Whiteside is trying to understand the defense, not just memorize it.
"I think he has matured a lot as a young man and a player," Haley said.
Whiteside attributes his change on the field to a change in perspective. His self-worth is no longer tied to how he does as a football player. His self-image is not near as results-based as it used to be.
"Once you see God's grace and mercy, you're like, 'I am good enough,'" Whiteside said.
He's not a finished product by any means. Whiteside chuckled while considering all the ways in which he still needs to develop.
But he plans to be anything but idle while he grows. He is prioritizing relationships built on trust and sharing, especially with those in his Bible study.
"I feel like Kobie has helped me because I know that he has got my back and I have his back," Nathan said. "I can tell him personal things and we can get through stuff together."
Said Elliott: "He just helps me and guides me whenever I am, like, struggling with really anything. I will come to him for advice and he will come to me for advice."
Or, when Elliott wants an impromptu baptism.
The night before games in the team hotel, several members of the Bible study light candles in a room before they pray together on their knees.
On one such night, Elliot got a feeling: It was time to be baptized.
"So I told them, and we got it all set up," Elliott said.
But they didn't have a pond. They had a bathtub.
So the 6-foot-4, 315-pound Elliott slipped into the tub.
They turned off the lights, and Nathan performed the baptism, helping dunk Elliott. Whiteside was right there praying with the group.
Although it was Elliott's baptism, the moment moved Whiteside, too.
"I really like the Holy Spirit came into me when I gave myself," Whiteside said. "To me, the Holy Spirit is overwhelming. He's like a cold, cold shiver. It's real emotional to me."
It's something that Whiteside calls contagious. Something he wants to share.
That's his goal for each day, but for that goal to be made possible, he has to find the strength to share what he is really feeling without caring what others think. He has to find the courage to be vulnerable.
"I tried to do it alone, and when you do things for God, to me, he wants me to do it in a community," Whiteside said. "(God) wants you to be in a body because that is how you grow better."
He finds it his in his living room each Monday. It's the perfect environment, Whiteside said, to read a parable like Luke 12 as they did recently.
Those verses hit him. With plenty to worry about, namely a Missouri football season slipping away, the parable offers perspective.
Football is no longer everything for Whiteside. There is a greater mission at hand: Sharing his story with others so that they can understand they are more than good enough. So that they can know they are not alone.
Whiteside knows how that feels.