Niko Hea had zero interest in playing college football. None. Nil. Nada.
He made that clear to his mother, Olga Hea, when she asked him about it one day during his sophomore year of high school.
That season, injuries took a toll on Hea, a tight end playing for Christian Brothers College High School in St. Louis. Football had become taxing. A broken hand. A broken bone in his foot. Olga was spending more hours than she preferred at sports medicine clinics.
The idea of college football in general seemed like a colossal task. Niko had only started playing the sport the year before as a freshman.
"I didn't think I could make it to the next level," Niko said. "I saw kids getting moved up, and I didn't get moved up. So I didn't think I was good enough."
But try telling that to the Niko Hea who walked off Faurot Field last Saturday after his third collegiate game. The one who hugged Missouri's Barry Odom after logging 17 snaps in Missouri's win over Southeast Missouri State. The one who heard young boys chanting his No. 48, wanting any article of his uniform he was willing to toss at them simply because he plays college football.
That Niko Hea was wearing a college football uniform as a scholarship athlete at the University of Missouri.
"I think he would be a little surprised," Niko said of his younger self. "I didn't think he had it in him, but he found it somewhere along his high school career."
Niko didn't grow up in a football family. He didn't have college or professional football dreams formed on the blades of elementary school grass or the neighborhood street with each toss of the football. He doesn't have the same relationship with football that many of his teammates do.
But Niko does have a bright football future ahead of him now, with the chance to become another great Missouri tight end because of the twists and turns that led him to Columbia, to playing football for the Tigers.
"I believe he's going to be a star," wide receivers coach Garrick McGee said. "He has ability out of this world. He's got soft hands. The ability to create space. I think the sky is the limit for him."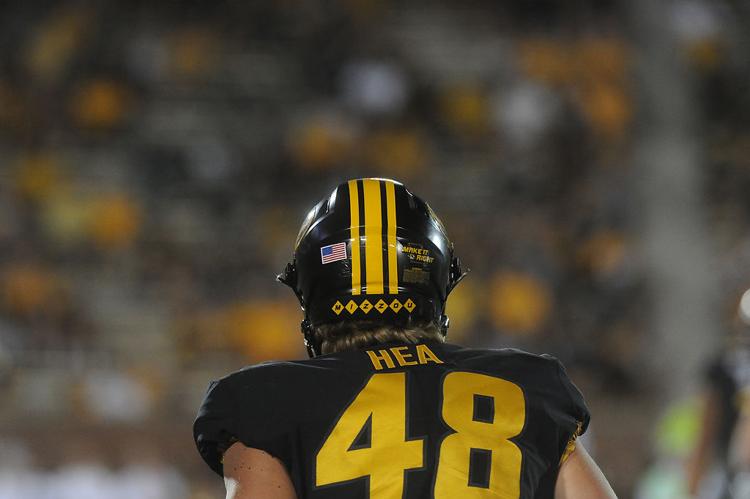 Olga and John Hea couldn't believe it as they sat in their home one summer day in 2015. Niko wanted to play football? Their Niko?
"I think both of our mouths dropped," John said.
It's not that Niko didn't play sports. He played soccer, basketball, baseball and more. But no sport he'd ever played was like football.
"(My mom) thought I would quit before the summer was over," Niko said. "Being in the heat, all of the pads, all of the equipment. She just thought I wouldn't like it."
Niko needed a way to make friends in his first year at CBC, where he didn't know anyone. He had always enjoyed watching football, so he decided to try out.
His parents were nervous. They worried their son might be too far behind his peers, many of whom had played since elementary school. Some of the nerves related to safety of their son, too. John had watched too many football players treat opponents like objects rather than other human beings.
Neither concern was a dealbreaker for Niko, and he signed up for the football team. But signing up for high school football and being ready for high school football are two entirely different entities.
"Ninth-grade Niko was a skinny cat," CBC coach Scott Pingel said. "I was like, 'Who is this guy? What is he going to develop into?"
Niko certainly didn't know, but he knew he loved the sport from the beginning. And he knew he needed to get into the weight room.
"Looking on the internet, seeing all of those guys playing sports, they are big jacked guys," Niko said. "I want to be that one day, so I was like, 'I have to commit myself to getting into the weight room and getting better so I can actually play.'"
So, he took part in every 5:30 a.m. summer lift he could. And even that wasn't enough to satisfy Niko's iron-pumping appetite.
He decided to use some Christmas money from his grandparents to purchase equipment for the house. John let him put the weights in his downstairs office and moved his own work space into a closet. But it didn't provide a respite from Niko's intense workout...experience.
"Try concentrating on work when your son has music at full volume," John said. "Some of that stuff, it's not country, but I don't know what it is. He goes from country to rap. You never know what it is going to be."
Niko even wanted to sign up for a weight training elective. Mom, however, nixed that. She wanted her son to take another class. He had enough weight lifting in his life already.
"I would call weight lifting his other sport," Pingel said. "He was really into that."
That, and practice. Pingel said few players loved practice like Niko did. Niko was becoming a football player.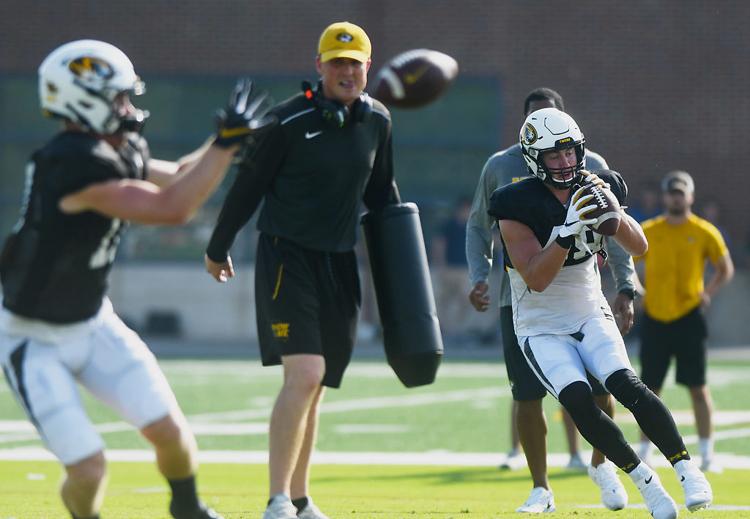 Missouri landed its tight end for the 2019 class on July 29, 2018. His name was not Niko Hea.
Four-star prospect Charles Njoku announced his commitment to the Tigers that day. While Charles was accepting his offer in New Jersey ahead of his senior year, Niko was busy getting ready for his senior season in St. Louis.
"His senior summer, we just stood back as coaches and said, 'Wow, this is a man,'" Pingel said. "We are dealing with something special here.'"
Niko realized it, too. By the time he received his first offer, from Missouri State, his tune about college football had changed.
"Alright, I can do this now," Niko said. "I put my head down and kept grinding."
Olga, however, was surprised.
"I said, 'I thought you weren't going to play in college?''" his mother said. "Everybody started to call where Niko was going to go. I said, 'He's not playing in college. He told me he's not.' And then he looked at me, and by that point, he had made the decision that he was going to play."
"It was just those moments where you saw a lightbulb totally went off in this kid," Pingel said. "If he now understands how good he could be ... Niko has told me many times he didn't think he could play at the next level. We said, 'Niko, yes you can.'"
The trick became convincing Power Five coaches of the same.
The interest in him just was not there, and for good reason. The film to warrant offers from FBS and Power Five programs wasn't there, either.
"It was just OK film," Pingel said.
Without that film heading into senior year, his chances for a Power Five offer were dwindling. But Niko was holding on to hope anyway. He believed in his football abilities now more than ever, which fueled his newfound dream to play college football at the highest level.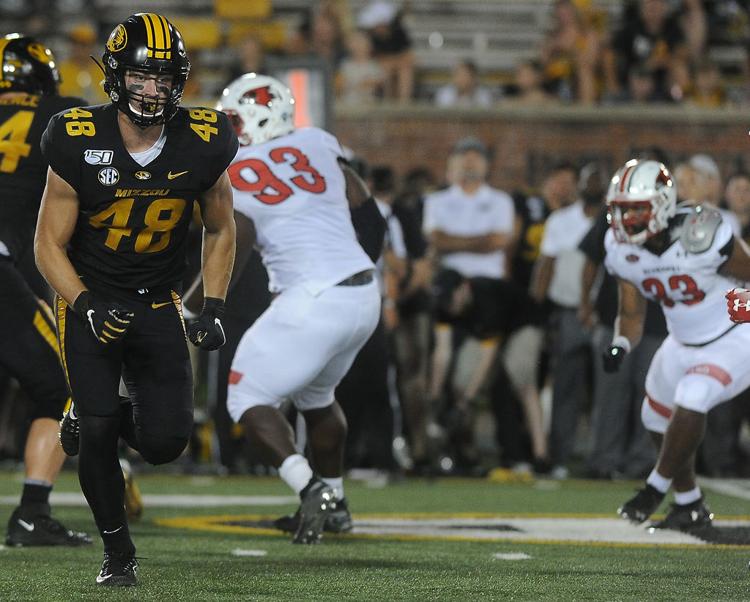 Olga Hea boiled down Niko's senior season into two words: connection and confidence.
Because of the former, she and her husband saw the latter happening from the stands. On the field, they saw a connection develop between Niko and CBC quarterback Brett Gabbert — yes, the younger brother of Blaine Gabbert — and with it, Niko's confidence flourished.
"It was beautiful," John said.
It didn't happen by accident. Gabbert and Niko spent two extra hours together each day during that last summer of high school, throwing the ball and running routes.
With the work Niko put in, there was no doubt in Pingel's mind how Niko felt about the game.
"He loves all aspects of football," Pingel said. "He loves the offseason. He loves practices. He loves camps. Niko wrote me a letter the other day and signed it 'Your favorite practice guy' because he loves practice. That's the stuff Niko is."
Niko's emergence had a heavy impact as CBC went on to win its third state championship in five years. He caught a 33-yard touchdown in the second quarter of a 45-21 victory over Rockhurst, the state title putting a cap on a senior year filled with touchdowns and highlights.
"He was really special," Missouri tight ends coach AJ Ofodile said. "He was fast, he was athletic, he was smooth, he was strong. He had all the tools."
But he still didn't have an offer from Missouri.
That state championship game happened Nov. 24, two days after Thanksgiving. The day before the holiday, Njoku de-committed from Missouri.
The Tigers suddenly had a scholarship open.
A couple of weeks later, on Dec. 9, Niko was in Columbia on an official visit.
"Everybody around him talked about and raved about the person that he was, his intelligence level, ability level, all of those things," Ofodile said. "He checked all the boxes and we moved forward."
But even then, the offer the Hea family and Pingel were hoping for, and maybe expecting, didn't come. They went back to St. Louis empty-handed.
"You knew you were taking a chance on it," Niko said. "I loved it so much that I just kind of kept hoping on it and praying on it."
He intended to sign somewhere during the early signing period. Bowling Green seemed the likely choice.
Then, while sitting in his bedroom, playing Xbox on Dec. 17, Niko's phone rang.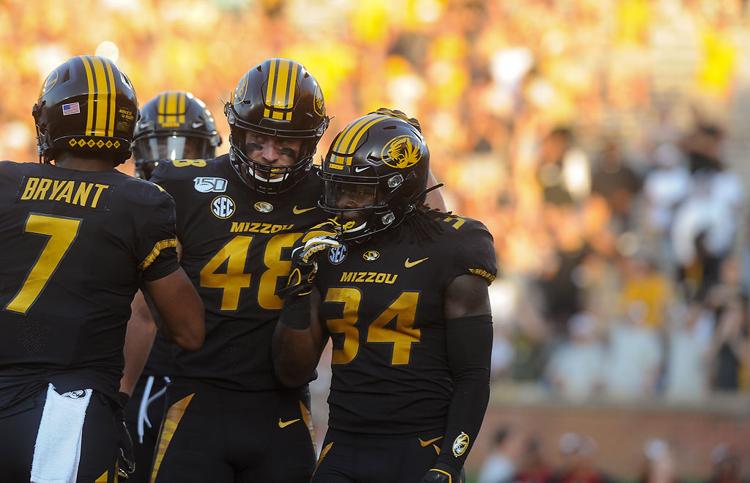 Missouri head coach Barry Odom didn't leave much doubt as to what he thought of the true freshman tight end's body of work in fall camp.
"I would be really surprised if Niko Hea doesn't play the entire season for us," Odom said in August at the end of fall camp. "Just the things he has done, from the day he stepped on campus, so impressed with his maturity and the things he does."
Among those things? Displays of athleticism. Quarterback Kelly Bryant has been impressed both by the one-handed catches Niko makes in practice and by his love for blocking.
"He can be really great," Bryant said. "I just look forward to seeing him in a couple years."
Every day, redshirt junior tight end Albert Okwuegbunam said, Niko gets better.
And the coaching staff has rewarded him with playing time. Niko has played in every game so far this season, logging the most snaps of any true or redshirt freshman on the offense.
Okwuegbunam and Daniel Parker Jr. typically man the top two spots at tight end, but Niko has rotated in during the first three games, often providing relief for Okwuegbunam.
There's a reason Niko's phone buzzed on Dec. 17.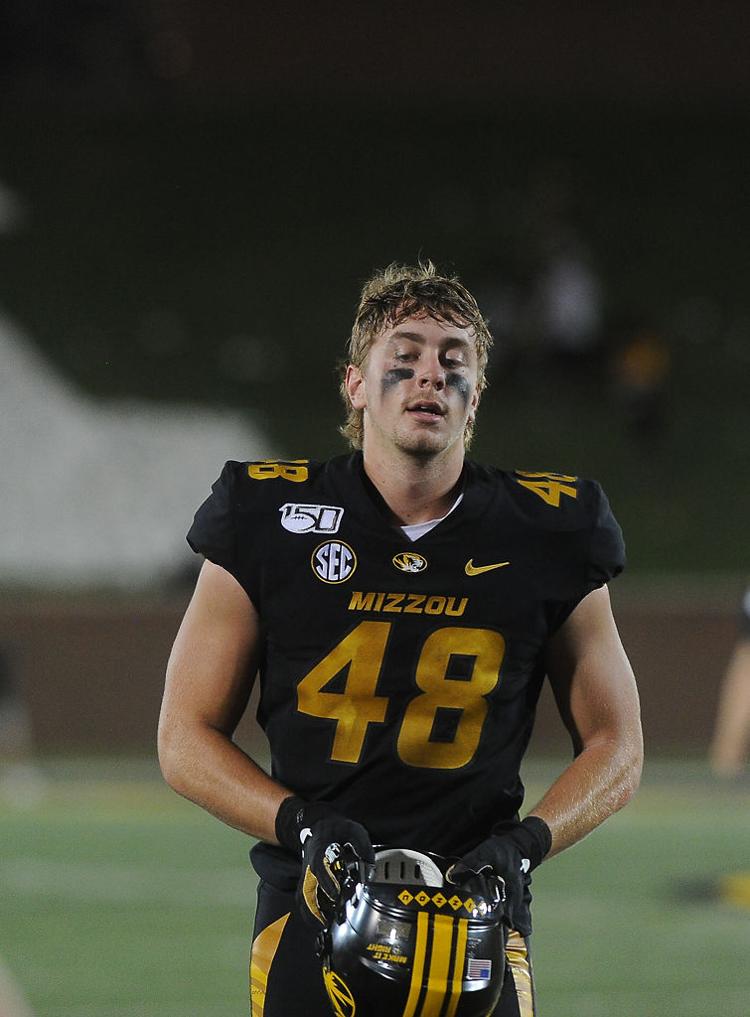 The grin Niko wore on his face as he glided down the steps told Olga everything she needed to know.
Niko had just walked out of his room on the top floor of the family's two-story home after the phone rang.
"My heart skipped a beat a little bit," Niko said.
His mother and sister were sitting in the family room where they watched Hea hold the phone up to his mouth.
On the other end: Missouri football coaches, ranging from Ofodile and McGee to Odom and offensive coordinator Derek Dooley.
It didn't matter which coach spoke, the message remained the same: Congratulations on a full-ride scholarship offer to the University of Missouri. An opportunity to play major college football.
"Yes, coach," Niko replied. "I gladly accept."