As Black Sabbath's "War Pigs" rattled Rockwood Summit High School's lockers, the one his teammates called Zeus sat upon a fold-up throne.
Zeus sat as a king, not of gods but of boys, each wearing the Falcons' black and burgundy over their shoulder pads. He prepared to lead his subjects into battle with a bowed head. If there was fear behind Zeus' red mane, it was suffocated by the confidence that came from his multitude of victories in the past.
Zeus never uttered a word as Ozzy Osbourne screamed lyrics of death and destruction, for he didn't need to. He exuded energy with each breath, infecting the other 87 players in the room with the same intensity that crackled in his pale blue eyes.
This ritual happened every Friday night before Rockwood Summit's games. There was no need for a rousing speech from its coach or the wild dancing that takes place in many high school locker rooms. Every player in the room mimicked their leader, sitting in quiet contemplation, trying to figure out the best way to make sure the opponent bowed before them as many others had before.
Hours later, when the Falcons would come back with their uniforms soiled and scratches covering their helmets, the locker room was a different scene. The screams and guitar riffs from "War Pigs" were replaced by the "HEY ... HEY! HEY! HEY! HEY! of "Macho Man" by the Village People.
Zeus, leading his comrades off the field as well as on it, would parade around the room. The Falcons would take a brief moment to celebrate before their captain refocused the team on the next foe that stood in their way.
Zeus' real name is Eric Beisel, and in the years since his reign at Rockwood Summit, the redheaded linebacker has gone from special teams player to an outspoken senior leader for Missouri.
Missouri and Arkansas fans alike discovered Beisel after he purposely mispronounced Arkansas (emphasis on the Kansas) before registering eight total tackles in the Tigers' 28-24 victory in the 2016 season finale. Beisel later doubled down on his trash talk at SEC Media Days, warning that any team that came to Faurot Field and took Missouri's snacks and water would be punished to the fullest extent of his power.
This is the character of Zeus, pushing the envelope and attempting to spark his team. His tactics can be brash, infuriating both opposing fans and teams alike.
But, for all of the boisterous claims and lofty expectations of himself laid out in his master plan, Beisel is much more than a loudmouthed jock. The person Beisel truly is lies underneath the calls for retribution that echo around his world.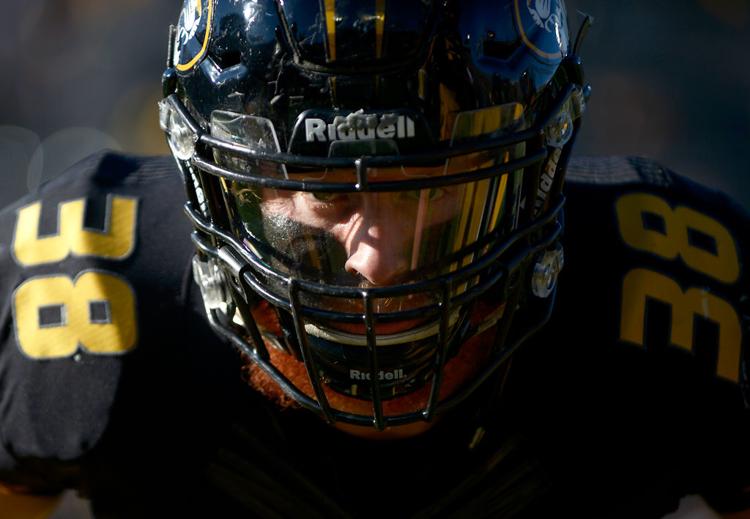 Eric the worker
It was impossible not to hear it while near Rockwood Summit's football practices in the early 2010s.
Every few minutes, the screech of an air horn would sound, signaling to both coaches and players that it was time to change stations. The horn would sound throughout the Falcons' practices, with players finding themselves more tired after every blast until one final call would ring out to give the players a respite until the next day.
However, the air horns would still have enough life in them for another half hour to sing out their loud notes after most players went home. That didn't sit well with Beisel, who doesn't like being outlasted by anything when it comes to perfecting his craft.
"After practice every day, Eric's like, 'Hey, coach, can I use that until it dies?'" said Jon Bunyard, Rockwood Summit's defensive coordinator. "Every day after practice, he would be the only one."
Beisel would stay, pushing a one-man sled back and forth, until the horn could only let out a whimper, and he would lie flat on his back, breathing heavily while knowing his work was done.
The same drive that killed many a Rockwood Summit air horn has continued at the Missouri practice fields and facilities. It is not uncommon to find Beisel fitting in an early-morning lift in the Mizzou Athletics Training Complex or running extra sprints while his teammates head for the ice baths after practice.
Beisel's constant training is something his girlfriend, Jenna Herr, was forced to get used to as she started her relationship with the sparkplug from Fenton. Beisel's rigorous schedule meant the couple wasn't always able to do things common in relationships.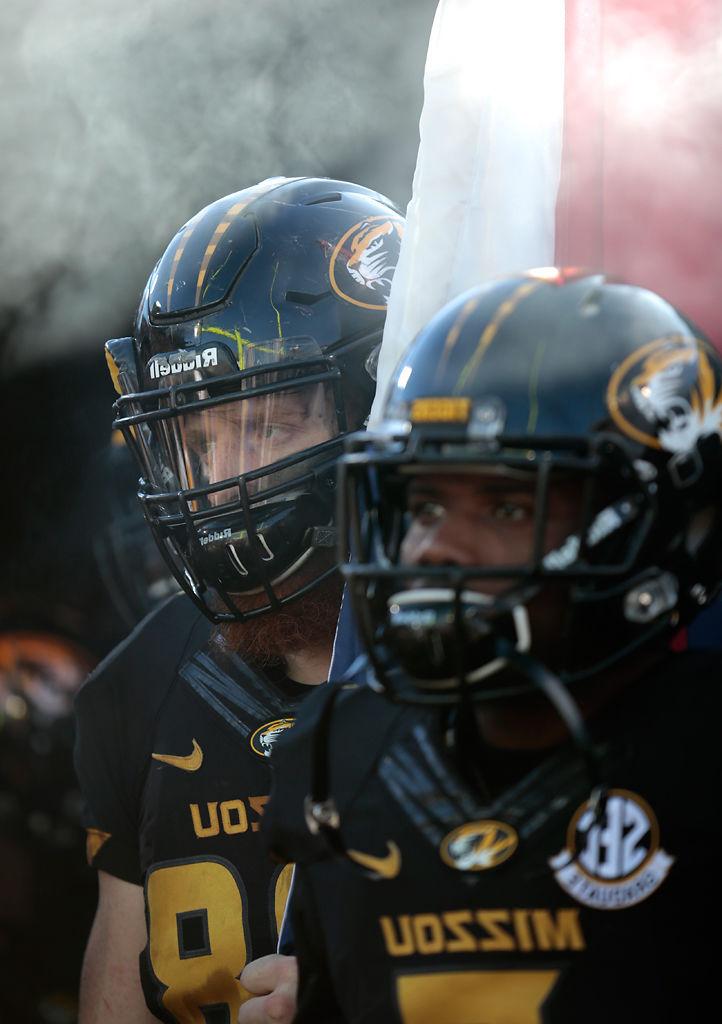 "During the week, I rarely got to see him until 10 p.m.," Herr said. "We didn't ever really get to spend a lot of time together during the week, but you can't really be upset about it because he is so passionate about it."
Despite the limits Beisel's commitments put on their time together, Herr can't help but admire his drive. It is one of the reasons she has stuck with him for three years.
"He puts in so much work that goes unnoticed," Herr said. "That's something that I found really attractive about him, how driven he was and how passionate he was."
Beisel's incessant need to improve has rubbed off on some of his teammates during his time at Missouri. Offensive lineman Adam Ploudre has been roommates with Beisel since his redshirt sophomore year and often joins Beisel in the weight room.
"We don't take any days off," Ploudre said. "When we're not playing football, we're either working out or watching film."
It was Beisel's work ethic that allowed his persona of Zeus to continue to thrive when he arrived at Missouri. Despite his teammates poking fun at him when he initially referred to himself as the god of the sky, he backed up his name by using the same drive that fueled afternoons spent dragging sleds across fields 118 miles east of Columbia.
"Through all of us putting him down — like, 'Shut up. You're not Zeus' — he would stick to it," Ploudre said. "It's funny how he never let it down."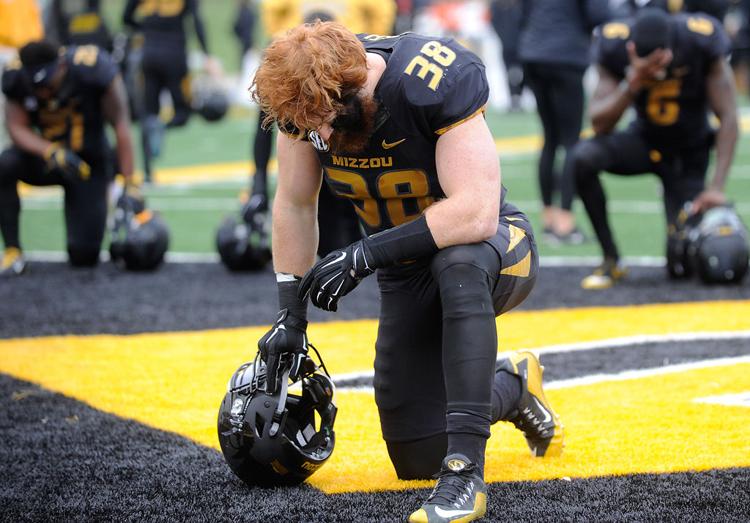 Eric the artist
In Missouri's Acting for Non-Majors course, students participate in a project in which each crafts a creative speech about whom he or she really is.
One student in the class stuck out from the others in the fall of 2016, towering over the rest, looking as though he had missed the bus to try out for the role of Tormund Giantsbane in "Game of Thrones." But Eric Beisel was in his element as he walked toward the front of the class.
After a brief proclamation that he was not just a football player but actually an artist at heart, Beisel sat down at the piano. For the next few minutes, his fingers glided across the keys as he performed a flawless rendition of Five for Fighting's "100 Years." His peers got goosebumps, as someone known for brutality that comes from being a middle linebacker stunned them with the delicate touch he placed on each note.
Whether he was drawing, playing instruments or acting, Beisel's interest in the arts has been apparent from the time he was a child. His mother, Cathy Beisel, can remember times where she did a double take after something that came out of her son's mouth.
"He's always been a visionary person with his ideas," Cathy Beisel said. "He was always thinking about what could be."
Eric Beisel's artistic side led the family to take a cartoon drawing class together when they visited Disney World. The Beisels knew that their son would enjoy learning how to sketch Mickey Mouse and Donald Duck just as much as he would going out into the park and riding the attractions that usually catch the eye of most children.
As he has grown older, Beisel's repertoire has expanded beyond his ability to draw Walt Disney's creations. He has tried his hand at acting, composes comic book art and plays the piano, which is usually accompanied by his dog, Tucker, singing along.
The arts allow Beisel to escape for brief moments from his constant football crusade.
"I think when it's just me and him or when it's him or his family, that's an opportunity to be himself and do those sorts of things," Herr said.
Because his life grew more consumed by football as he grew older, Beisel had to find ways to exercise his creativity when he was unable to get himself over the keys or a sketchpad. Now, he designs drafts of a different type for different characters.
"He designs workout programs," Cathy Beisel said. "He's done that for years."
It doesn't matter if the person is looking to bulk up for a sport or trying to lose weight, Eric Beisel takes on all cases of all kinds. He draws on his own experiences (he hasn't consumed soda since he was 9 years old and sticks to a strict diet of rice, chicken and broccoli) to craft specific plans for each person, releasing the creativity that used to come out while drawing characters in the form of calorie monitoring and deadlifts.
Beisel is able to use workout plans as an outlet for his creativity, but his ideas do not come to fruition because he needs to let his mind loose. Rather, friends approach him for help because they know of the trait that can't be hidden from the word by the linebacker's words.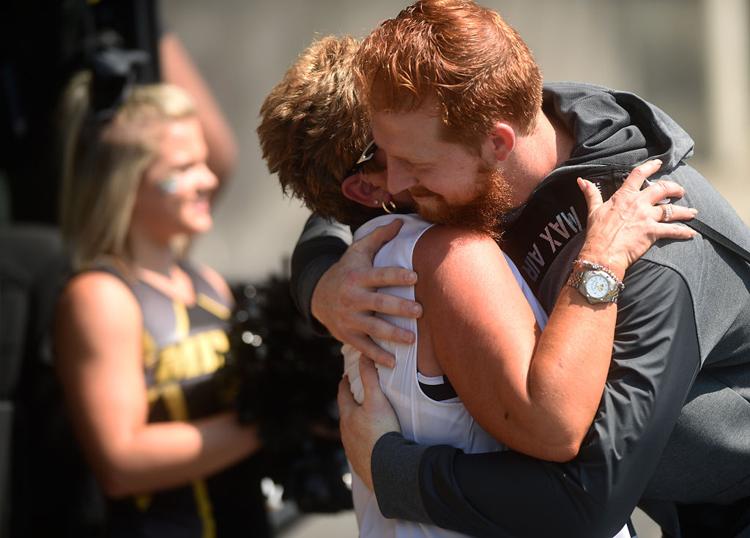 Ericter the character
Before every Rockwood Summit home game, the Falcons walk past a rock.
The rock is the size of a person, weighs several tons and symbolizes the legacy of past players who have made that same walk onto the field. It is not a natural feature of the landscape, seemingly dropped from space and landing in the stadium entranceway like some sort of asteroid.
The rock was not a gift from the heavens. Rather, it was a gift from Zeus and some of his friends.
During their senior year, Beisel and some of his teammates were trying to think of a way to leave their mark on the school and the program. They knew they wanted to do something big but didn't know if one gift could encompass all that they had sacrificed.
"We were sitting around one day and were like, 'What would be an awesome way to be remembered?'" said Alex Armstrong, Beisel's high school teammate and friend. "We said, 'What if we found a big rock and we push it up a hill? Something symbolic.'"
For the next few weeks, Beisel set his sights on finding the right rock, informing his friends and Bunyard about different prospects almost daily. Eventually, with the help of Armstrong's father's landscaping company, Beisel and Armstrong fit the rock in the path from Rockwood Summit's locker room to the stadium. It is something that symbolizes more than just the team's hard work throughout the season. It also symbolizes how much Beisel cares about the community from which he hails and how loyal he is to those who have helped him along the way.
Before he became Zeus, Beisel was Ericter the Character. The name was bestowed upon him by his late grandmother, Martha Beisel, for how active he was in trying to make sure everyone had a good time with him around.
Ericter the Character is the one who makes goofy faces in all of the Beisel photo books to make sure everybody is laughing and the one who drove his family van around at 5 a.m. to pick up his high school teammates for morning weightlifting.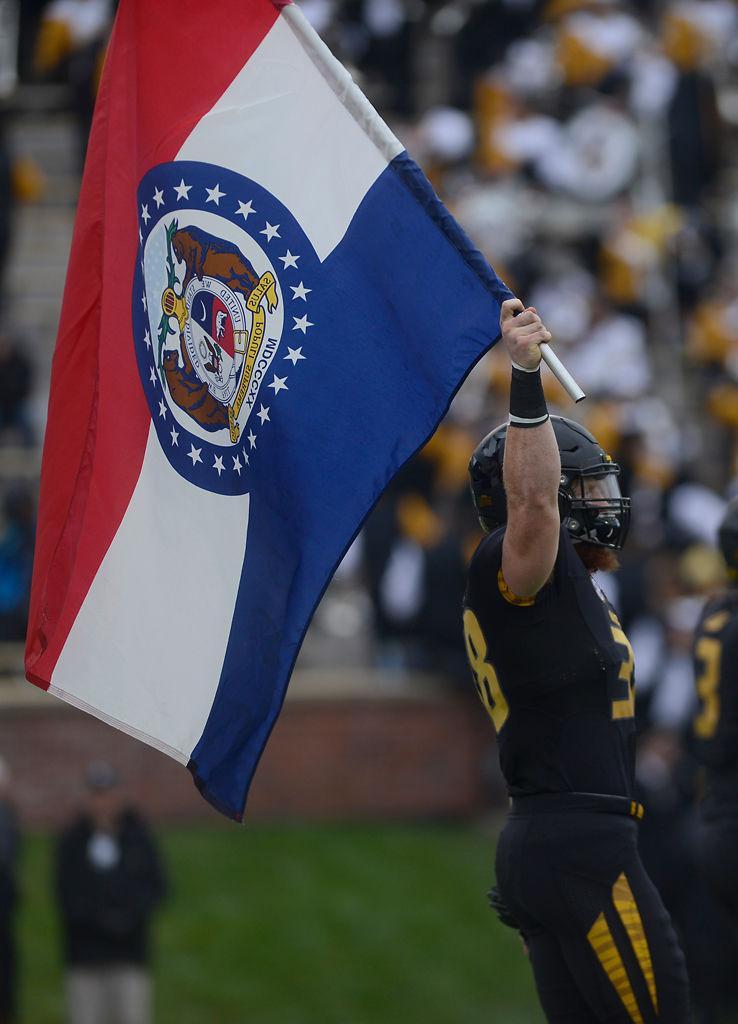 "He's not one to leave anybody out," Cathy Beisel said. "He always wants to be inclusive. From the time he was a little kid, he's been a difference-maker."
Eric Beisel doesn't mind taking on the extra burden that comes with helping others out or making sure they are able to have the same opportunities he does.
Armstrong believes that his empathy for others is the reason he unleashes Zeus on the media and opposing teams. If he can get the focus to be on himself, rather than his teammates, Beisel figures his team has a better chance of coming out on top.
"He's the ultimate team player," Armstrong said. "They aren't game-planning or worried about who's going to cover who. They're worried about kicking Eric's teeth in. To Eric, that's how his teammates can go out and have no extra pressure."
So, although Zeus takes center stage, he would not be able to perform without all of the stagehands working behind the scenes to keep the show going. For without his lightning, Zeus is nothing but a god of air.