In Section A, Row 13 of Wyoming's War Memorial Stadium, Russ Bryant is tossing a football between his hands.
It's the same methodical, if awkward, fiddling players do while introducing themselves in those pre-recorded video clips you see on television at the beginning of games. But the players in those clips always appear so cool, flipping the ball casually while reciting their name and position and high school. Russ has no rehearsed line, no way to think over the nervous roar of the crowd, no idea what the result will be of the climactic play about to unfold in front of him — just a reminder of how nerve-wracking it can be to watch his son play football.
Russ's son, Kelly, is under center for the Missouri Tigers at the 1-yard line directly in front of Russ and the rest of Kelly's fan club that made the trip to Wyoming. It's third-and-goal with 15 seconds left in the first half. Kelly and the Tigers are on the brink of knotting the game before halftime, a few feet from a touchdown that would salvage an atrocious second quarter. They have already watched a 14-0 lead turn into a 24-17 deficit. Missouri was never supposed to trail in this season-opener against the Cowboys.
Russ, a father who reacts with facial expressions and restrained mannerisms rather than words, absent-mindedly rolls the football between his hands, as though envisioning Kelly throwing a perfect spiral. The ball has become his new stress outlet since it was handed to him earlier in the second quarter. Its defining characteristic is a gold Nike swoosh across the middle.
It's the ball that, about one hour ago, Kelly Bryant threw for his first touchdown as Missouri's quarterback.
Saturday night was the culmination of a long wait for Kelly to be back on a football field, doing what he loves in front of an audience. Since being dethroned as a starter at Clemson last fall, the quarterback's decision to transfer has inspired controversy, debate and plenty of criticism. Kelly didn't want any of that; he just wanted a chance to play.
He finally got that last Saturday night, and he'll get it again this Saturday in Missouri's home opener against West Virginia. But right now in Wyoming, things aren't going quite as planned.
The game seemingly hinging on this third-and-goal late in the half, Larry Rountree III fumbles a handoff, and in near-perfect synchronization, Russ drops the touchdown ball in disbelief. His gaze shifts toward the opposite end of the field as Wyoming returns the loose ball 60, 70 yards, as Kelly pursues and finally flings the defender to the ground. Kelly throws his hands over his head. His uncle and others in his Row-13 entourage curse. Russ is expressionless, silent. The ball is at his feet.
Wyoming's eventual 37-31 upset of Missouri presented Kelly Bryant with a mix of emotions that are difficult to sort through. On one hand, the stunned disappointment of such an intolerable loss seemed unbearable to Bryant after the game. "We just kept shooting ourselves in the foot," he said after sitting head-in-hands while waiting his turn to talk. On the other hand, the child-like joy of finally getting to play again was hard to ignore, as were his career-high 423 passing yards.
This is what offensive lineman Yasir Durant saw.
"He was positive the whole game. Kept everybody up, kept a smile on his face. In the huddle, smile on his face. He was just happy the whole game."
This is what Kelly experienced.
"It was a blessing, being out there playing a game. I just literally soaked up every moment. From the bus ride over to being in the locker room with those guys just now, that's what the game is about."
This is what was on display last Saturday night — delight, elation, shock, sorrow — in a game that was never short on surprises and that showed teammates what they're going to get this season from their new quarterback.
---
Kelly's mom, Deborah, accidentally left her phone back home in South Carolina. She borrows a friend's to wish Kelly good luck the morning of his first game in a year. It's a simple exchange — Deborah receives a "Thanks mom, I love you" in return — but she just wants to make sure Kelly hears from her somehow before he takes the field.
Kelly and his dad text a bit more extensively throughout the day. As they communicate about the family's progress driving from Denver to Laramie, they also reflect: Remember how different things were one year ago today? How much has happened since then? Crazy to think about. Russ tells his son he's proud of him for persevering.
Everyone knows the story by now: One year ago, Kelly was the starting quarterback for a national power at Clemson. He had taken his team to the College Football Playoff in 2017 and was back for one last ride, until freshman phenom Trevor Lawrence took the starting job four weeks into the season. Kelly chose to sit out the rest of the year to play a more complete final season elsewhere.
Clemson fans came down hard on him for leaving. It's a demoralizing combination, losing a starting quarterback job your senior year then being called a quitter by your own fans. The ordeal robbed Kelly of his motivation. The 22-year-old shut down. "He didn't want to do s---," said Ramon Robinson, Bryant's mentor and private quarterback coach. Robinson has worked with Kelly since early in high school. He praises his student's athleticism, ability to learn and character as a man. Robinson understands the mental struggles Kelly went through.
Missouri is a new beginning, but that doesn't mean Kelly wants to forget Clemson. "Clemson is part of his story," Russ said. "Don't run from it. People are always going to think Clemson when they hear his name. Twenty years from now they'll think Clemson when they hear his name."
In the locker room before the game, Kelly enters with a screech. Literally. "Sometimes he'll get there and he makes this weird yell sound, kind of like a bird sound," receiver Barrett Banister said. "I'm really not quite sure the origins of it. But it loosens everybody up." Teammates described Kelly as "goofy" in the locker room before the game.
As he texts his son the day of the game, Russ wants to remind Kelly of some advice he gave throughout the arduous transfer process, when the criticism in Kelly's ear made it hard to seek out the best decision for his future.
When Kelly throws an incompletion on his first drive, Deborah calls for him to "bring it down, bring it down." She and Russ usually didn't sit next to each other during Kelly's Clemson games; they have different viewing strategies. Russ is an introvert. Deborah likes to pace and be more expressive, talk to others in the stands.
On third-and-goal, Kelly dances in the pocket then tosses a three-yard touchdown — his first in black and gold. Russ rapidly claps but says nothing, the excitement showing in his eyes instead. Two rows up, Deborah jumps and throws her arms around the nearest person: Cale Garrett's mom, Lindi Burns, who she hasn't actually met yet. They introduce themselves, celebrating that their boys were chosen as MU's team captains.
Later in the first quarter, the Bryants' longtime neighbor and close friend Melody Henderson comes bouncing up the aisle to Row 13, clinging a football tight against her chest as though it were her baby then hoisting it as though it were the Lombardi Trophy. She had gone rogue awhile ago.
"First ball!" she brags. Deborah and Doug looked confused. Melody clarifies: "First touchdown!" like she had just met a celebrity. Somehow, Henderson has come into possession of Kelly's first touchdown ball. She isn't sure how, except that an official-looking man handed it to her in the first row when she said who she is. She shows it off with child-like enthusiasm, which she says is only fitting given Kelly's personality. Melody repeatedly describes him as "the life of the party."
Henderson has known Kelly since he was 1 year old, "since he was in diapers." The energy and glee she sees from him on the football field is exactly like the Kelly who used to come over to her house after school every day and dance.
Melody's daughter, Lauren Henderson, is 9 years older than Kelly. She used to let him watch scary movies with her at night then make him go home alone. "He got so scared, we'd watch him just go running down the street," Melody laughs. Kelly has always had tons of energy anyway; he just needed a way to get it out. Now he has football.
"Annoying little kid," Lauren jokes. She can't believe how, years later, he still radiates the same vibrance on the field in front of her.
Before wandering off again, Melody gives Russ the football.
---
Things begin to derail for Missouri in the second quarter, when Wyoming strips Kelly and returns it for a touchdown. Ramon Robinson purses his lips and shakes his head. Russ lowers his head and massages his temples, perhaps in frustration, perhaps just from escalating nerves. Missouri leads 14-10.
"Let's go," Robinson says, almost like he's speaking to Kelly. "You've got to pick yourself up and go right back out there again now." He returns to the metaphor; the series of events that unfolded at Clemson knocked Kelly down. Even if he "didn't want to do s---," Kelly had to pick himself back up.
Missouri goes three-and-out. Wyoming scores again on it second play, and an "Are you kidding me?" echoes through the silence of Row 13. Missouri suddenly trails 17-14. The Tigers drive inside the Wyoming 10-yard line to the chorus of Robinson hollering: "Scoring drive!" He coaches from his seat before a third-and-goal. "Little corner route, then open up something across the middle."
But Kelly's throw is tipped and nearly intercepted. The tying field goal feels like a loss, especially after Wyoming scores again on its first play.
The stunned silence in Kelly's row deepens throughout the second quarter, culminating in Missouri's goal-line fumble in the final seconds. Dad's coveted touchdown ball might as well have deflated.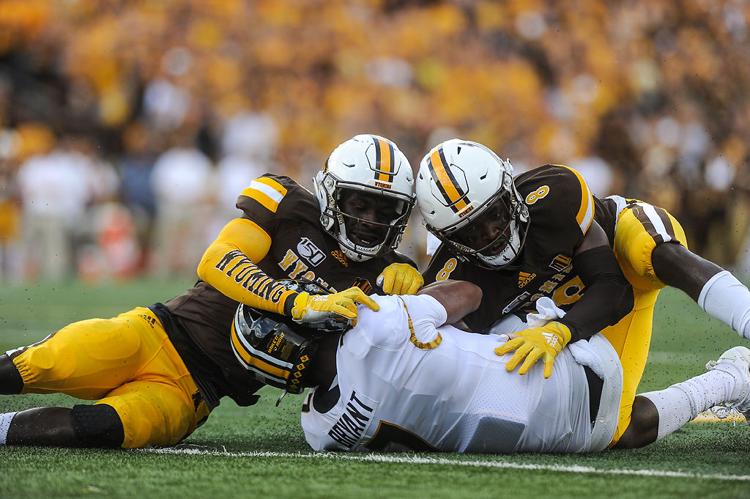 Kelly is quiet at halftime. "Going in there down 10, there obviously weren't a lot of positive vibes in the locker room, so we all cut it down, quit talking, listened to Coach," said offensive lineman Trystan Colon-Castillo.
But Kelly becomes more vocal on the sideline in the second half as MU chips away at a 34-17 deficit, trying to encourage his teammates.
"The first thing you notice is his calmness," Banister said. "You can tell that he was not disturbed by the situation."
Then, in the fourth quarter, comes the moment his teammates won't soon forget, even in defeat: the 53-yard touchdown pass to Jonathan Nance with 6:19 left. 37-31. In the blink of an eye, the sentiment on the sideline swivels from desperation to hope. Kelly sprints the 50 yards to the end zone to embrace Nance.
"He was hyped," Nance said. "All of a sudden he was there. It was so in the moment that I can't really remember."
"You can tell that playoff killer was here," receiver Jonathan Johnson said.
Kelly is fired up in a way that none of his new teammates have ever seen. He goes racing back down the sideline, an untethered beacon of charisma on overdrive, telling every one of his teammates as he passes by: "I love you." It's a one-man revival of an entire team.
"That's the moment," Johnson said, "I could tell we have our new leader at quarterback."
As Missouri's offense walks onto the field with two minutes left for the final drive, down six and needing a touchdown, Colon-Castillo is next to Kelly. His quarterback looks him in the eye.
"We're going to win this game," Kelly says.
He came to Missouri for moments like these, and he almost pulls this one off. Missouri drives to the Wyoming 20-yard line in the last minute, but the rally ends with a sack and two incompletions. Upset complete. Kelly's fourth-down throw is into triple coverage. A replay shows that tight end Albert Okwuegbunam was open on the play. Kelly watched the film later.
"It's one of those moments you wish you had back," he said. "Try to be better. Be prepared for the situation whenever it comes again."
As he walks off the field, Kelly sees Melody Henderson lined up with other fans along the barrier. He trots over and gives her a hug. Melody searches for words.
"Keep your head up," she tells him, pointing out his teammates. "Look, they're all walking with their heads down. It's just the first game. You played well. Keep your head up."
Colon-Castillo, devastated that the offensive line allowed the sack, tells Kelly in the locker room that he's sorry for letting him down. "No, it's on me," Kelly says, moments after a game in which he created 443 yards of offense.
After post-game interviews, Kelly walks toward the team bus. On the concourse under the bleachers, his whole party is waiting: Mom, Dad, Aunt Lasha and Uncle Dmitri, Melody, Lauren and Coach Robinson. Kelly gravitates first to Deborah. He hugs her.
"Then the smile is back on his face," Melody says. "When he sees his mama, Kelly is Kelly again."
The inevitable cynicism that accompanies an unacceptable loss arrived Saturday night. The loss haunted Kelly that night, and probably will for the rest of the fall.
But the unhindered, unapologetic joy of competing has returned. Kelly gets to share that joy with his teammates, and with the state of Missouri, for one season. The first result was far from what everyone expected. But a career-high performance and the fierce imprint left on his teammates proved that Kelly Bryant is back. Missouri has its quarterback.
Back by the bus, his parents see that goofy kid again in his smile. Criticism? So what. Kelly hugs his dad, who still has that damn football, a reminder of all the stress and all the joy.
Supervising editor is Eli Lederman.