On June 5, 1968, Bill Eppridge documented the aftermath of Robert Kennedy's assassination. Pete Souza's photograph of Barack Obama, Joe Biden, Hillary Clinton and other policymakers on the day Osama Bin Laden was killed, titled "Situation Room," became one of the iconic photos of the Obama presidency. David Burnett has photographed the impeachments of three different presidents. During Donald Trump's first impeachment, he gained attention for his use of a 1940s film camera on Capitol Hill. 
Political photographers have made some of the most important photographs of all time. Last week, the Missouri legislature met for its two-day veto session, giving two Missourian photographers their first glimpse of political photography. Here are their observations: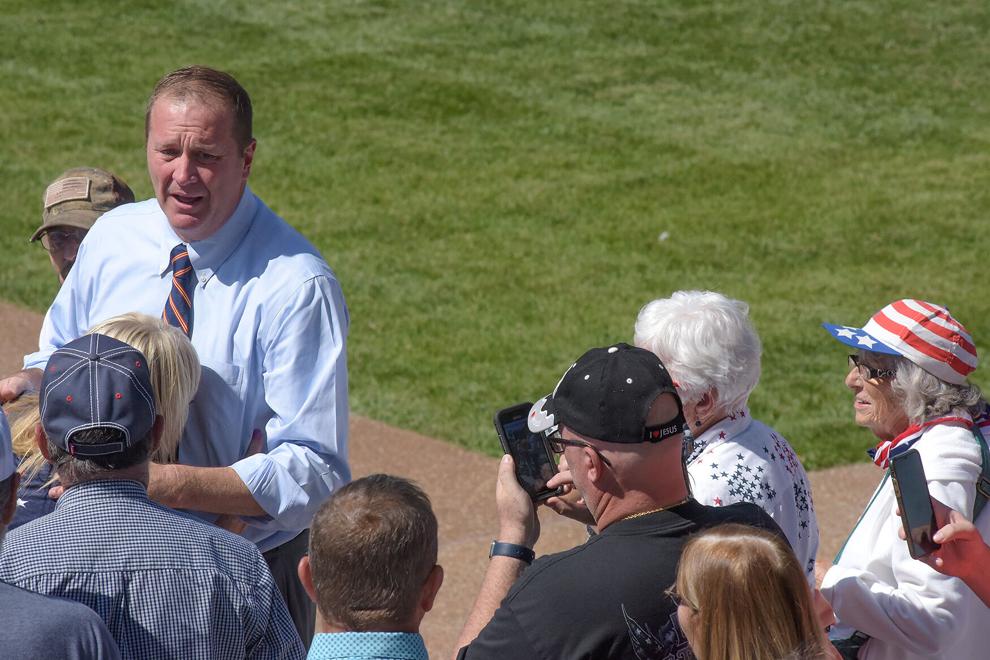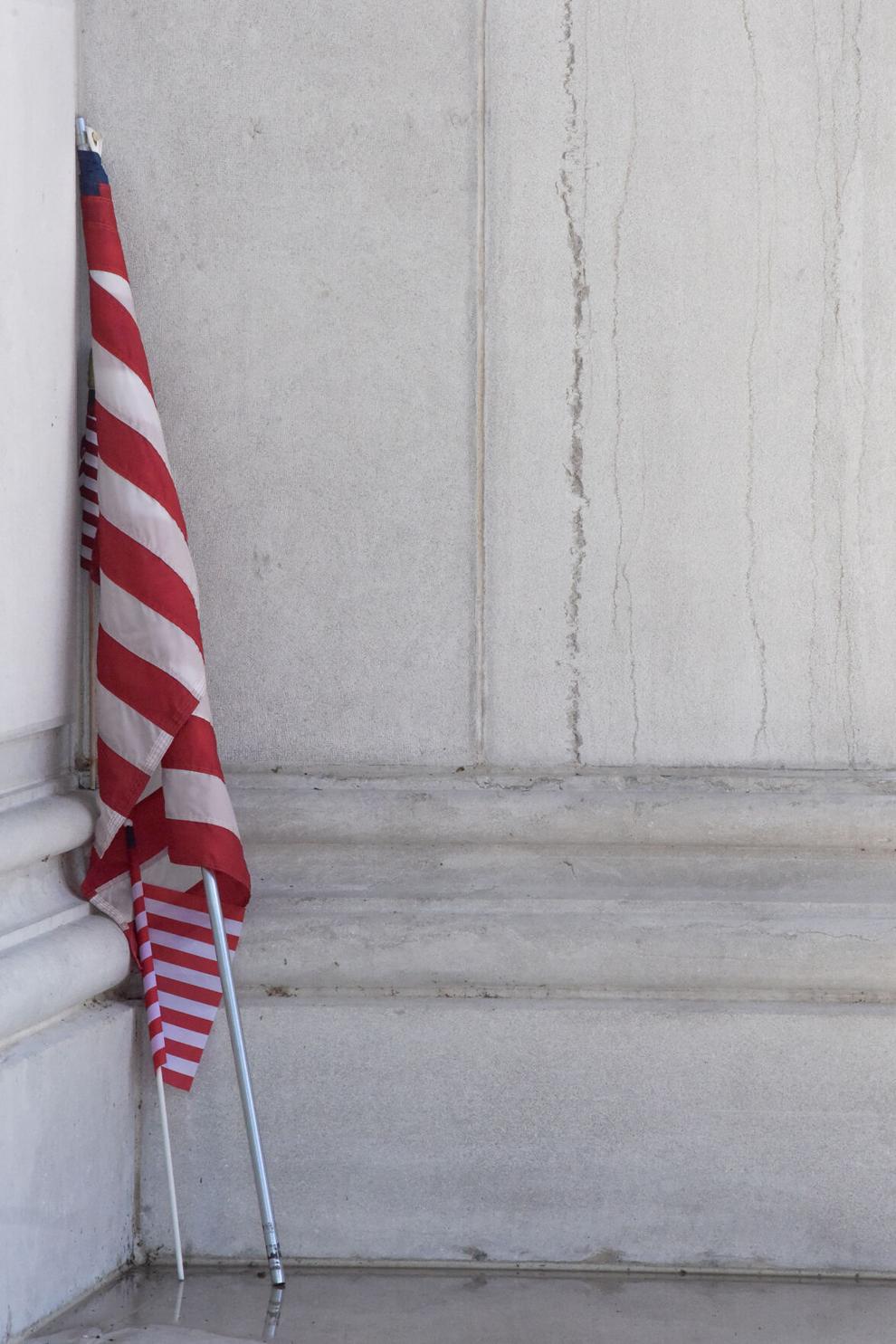 Hana Kellenberger: "I'd never felt more like a target"
As someone who has lived in Columbia my whole life and visited the Capitol many times, I'm still surprised at how much awe I feel every time I see it. The sheer magnificence of it and the prestige it holds makes me feel insignificant.
As I walked through the Capitol grounds and towards the south entrance, I could hear the intermittent sound of applause and cheering. Stopping to listen, I noticed a few people outside decked out in American flag and Trump apparel milling about. Several stray flags leaned up against the wall while their owners demonstrated inside.
I was one of the only people wearing a mask. Even the security officers who checked my bag weren't wearing them.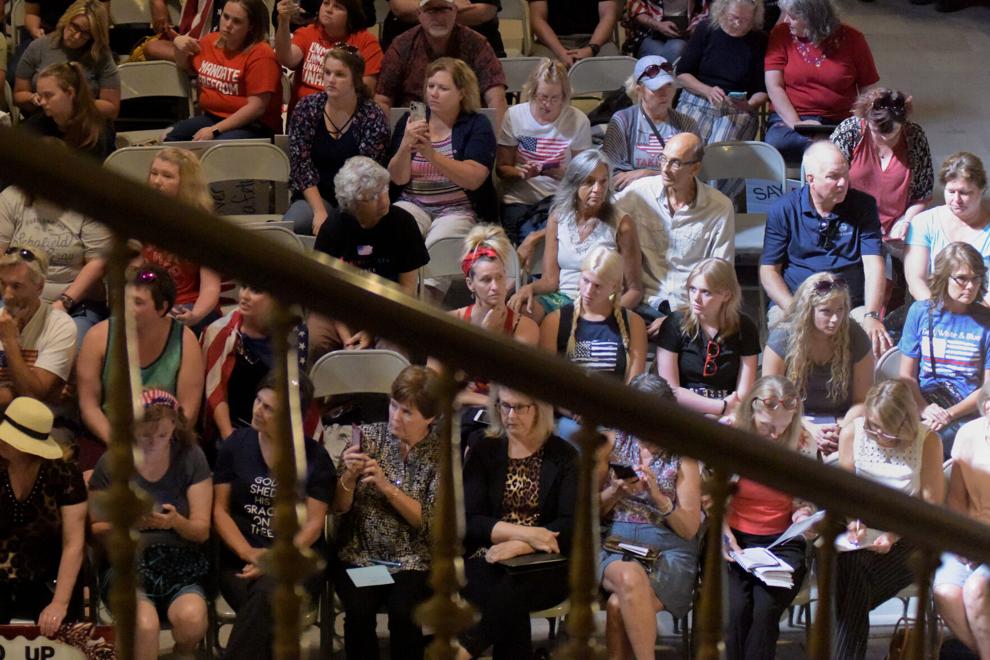 Inside, the rotunda was packed with people protesting masks, vaccine mandates and the teaching of critical race theory. I couldn't help but compare this experience to the last time I was in this rotunda, right after the 2020 presidential election, when angry protesters flocked to the Capitol to oppose Joe Biden's victory.
On both occasions, I was nervous that someone would see me taking their photo. Both times, doing my job as a photojournalist, I'd never felt more like a target.
Doing what I could to blend in, I focused my senses on my surroundings before even thinking about how I wanted to compose any image. Once the protest dispersed, I turned my focus to the House veto session in the House chambers.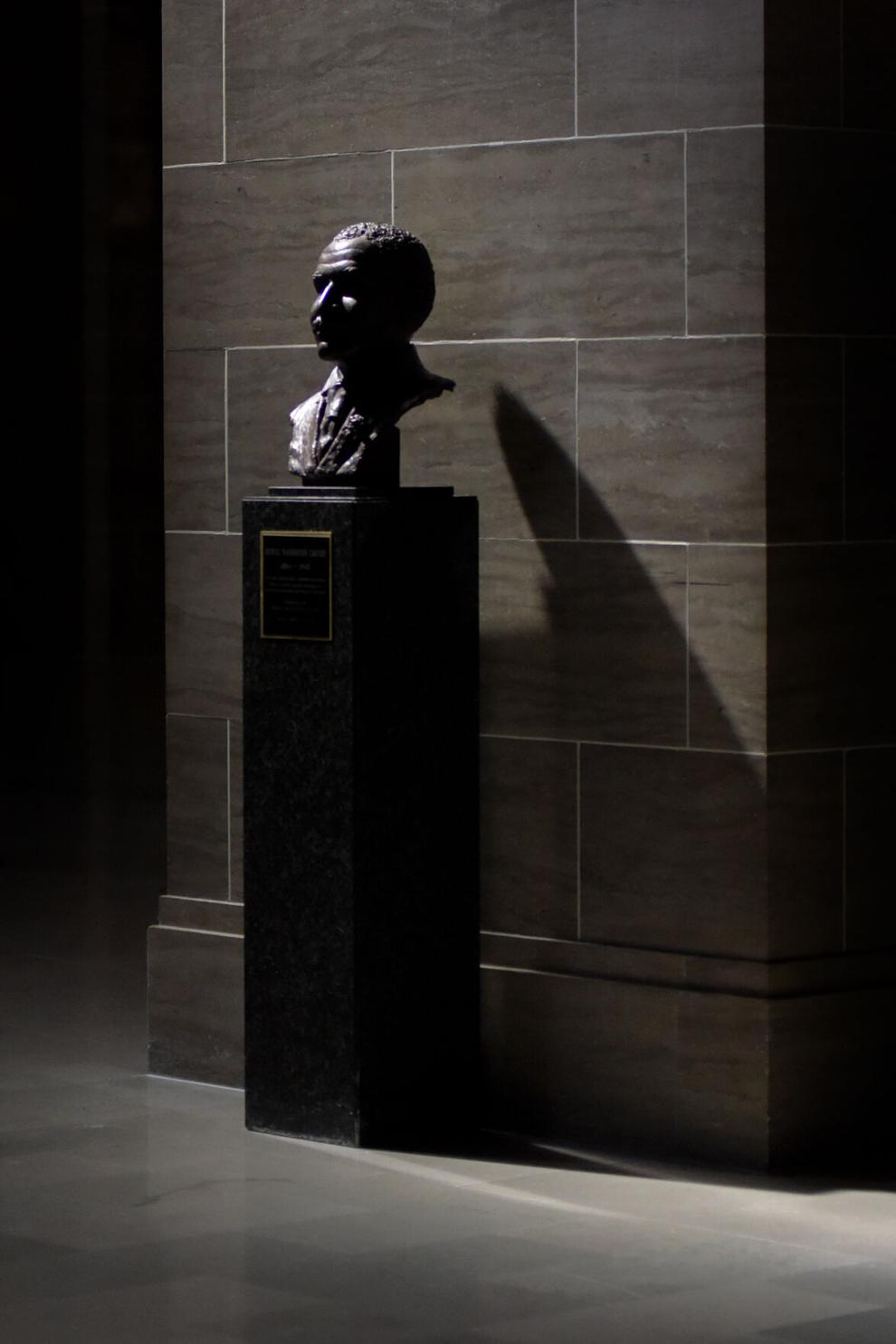 I first went to look through the doors that led into the chambers on the second floor, and the door that led to a viewing balcony on the third floor. I needed to find different points of view of the session. Finally, I made my way to the press box. It's not a great spot to take photos. I was limited on where I could stand and what I could see, but it made me work harder to find visually interesting moments despite the limitations.
I wanted to take photos that demonstrated the gravitas of what was happening. Decisions made during the veto session can change lives, and that weighed heavily on my mind as I photographed this veto session.
I want more experience in political photography. I want to better understand how government works and to share that understanding with people. I just hope I can eventually do it in a situation where I don't feel like I have a target on my back.
—
Nicole Gutierrez: "I found it hard to find a narrative"
When I got through security and stepped further into the building, I looked up at the balcony above. I was in awe of the architecture. After pulling my camera out, reporter Ella McCarthy and I went to find the press gallery. We made our way to an elevator that was probably the most ornate elevator I had ever seen. As Ella and I rode to the third floor, I mentioned how I felt like an adult in my professional clothes but also like a kid, out of place and excited for the assignment.
After walking around, asking for directions and photographing along the way, Ella and I found the double doors to the balcony. They were locked. There was an unexpected caucus closed to the press and public. Waiting, I wandered the building making photos. As I circled different floors, I found that most doors were cracked open, offering a look into lawmakers' offices. Finally, I made my way to the entrance of the chamber.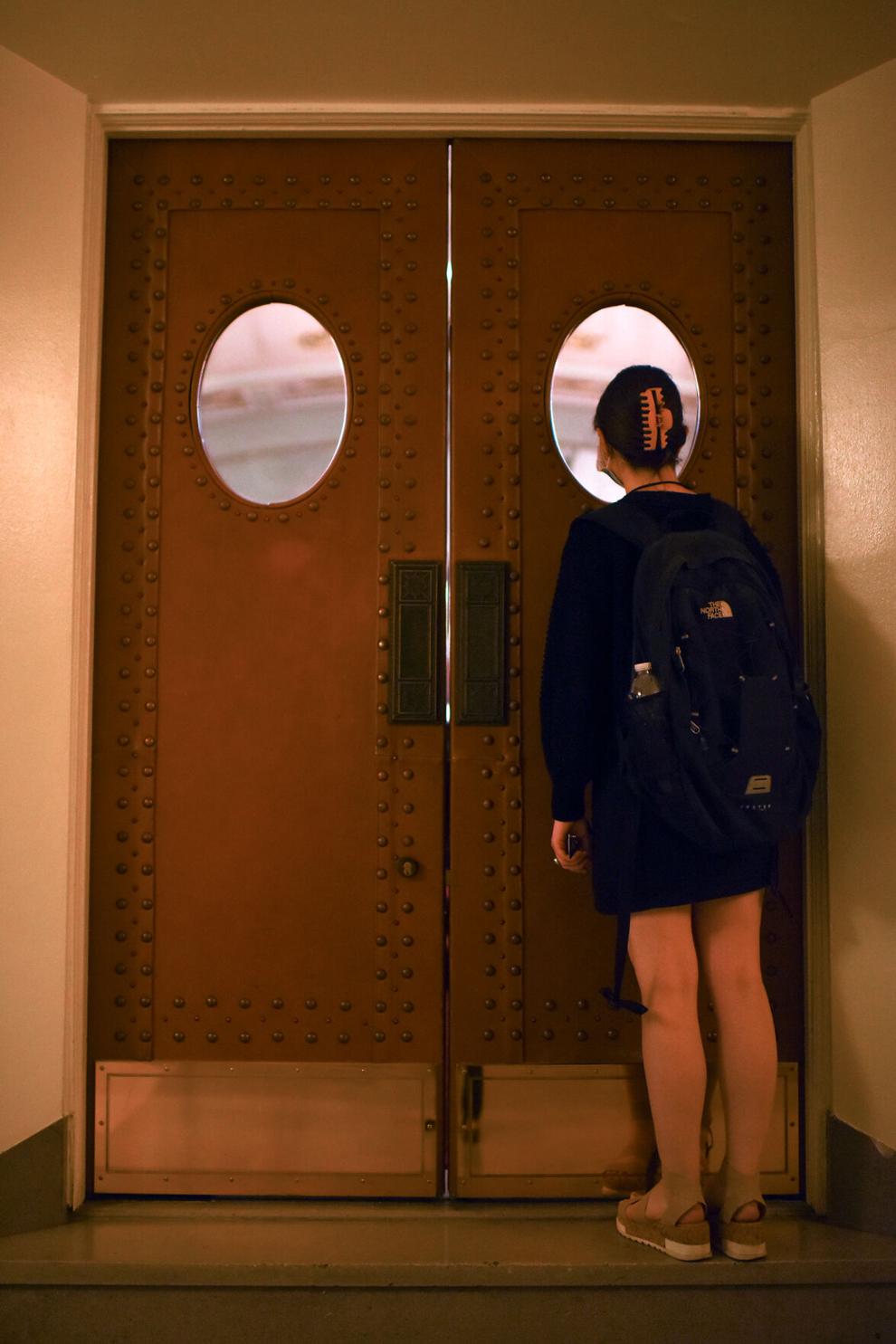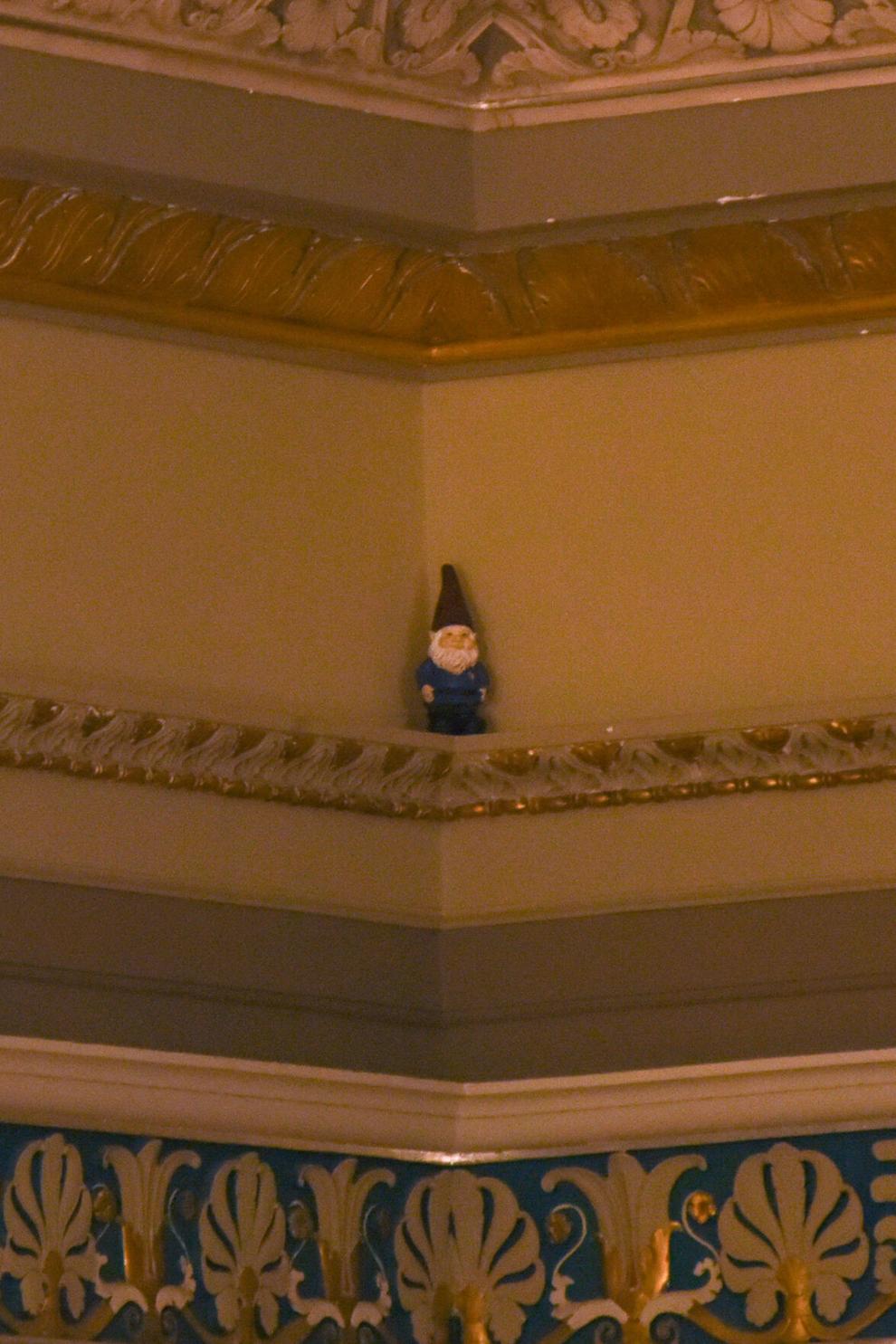 After getting into the press gallery, I took in what I was working with, the angles I'd have and the lighting. I switched to my 200mm lens and started photographing. The loud knock of the gavel sounded the hearing's beginning.
When I began, I felt a little lost. There were just a couple of representatives scattered throughout the chamber, and because they were just sitting and listening, there wasn't anything visually compelling. On top of that, I didn't have much space to move around, and flags displayed from the gallery obstructed my view.
My best option was to work with what I did have. I watched for moments, like someone writing notes or using their hands while talking. I used the flags to my advantage to frame people, and I used the unique location to add layering to the photos.
While photographing the hearing, I found it hard to find a narrative. Typically, I am able to see a story unfold through my photography. At the hearing, all I could see was people talking, listening and writing notes. As I listened to the first speaker, I had a feeling that she would be the focus of the story. She would be the first building block of my narrative.
When the hearing was over, I returned to the newsroom to build the edit. I worked with photo editor Trenton Almgren-Davis to select and crop the final images. Personally, I believe my work is better when I have another pair of eyes  on it. Trenton cropped my images, seeing them in way I never would have. Then came the captioning and tying the photos and narrative together.
This was my first time in the field since the spring, so I was excited to get back to making images for our community. I wouldn't say I have special interest in political photography, but I knew it would be a good way to challenge myself while documenting an important event for our readers.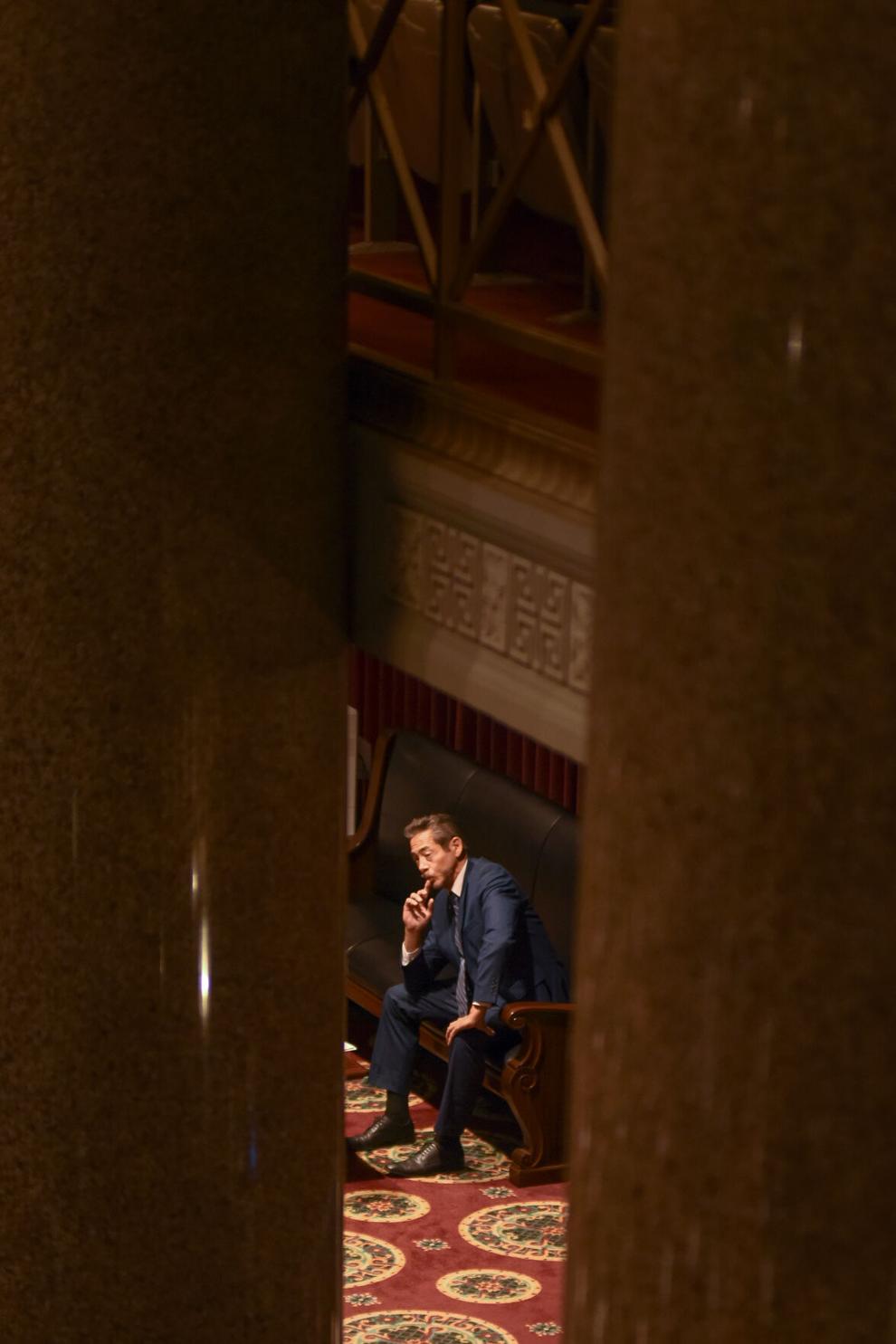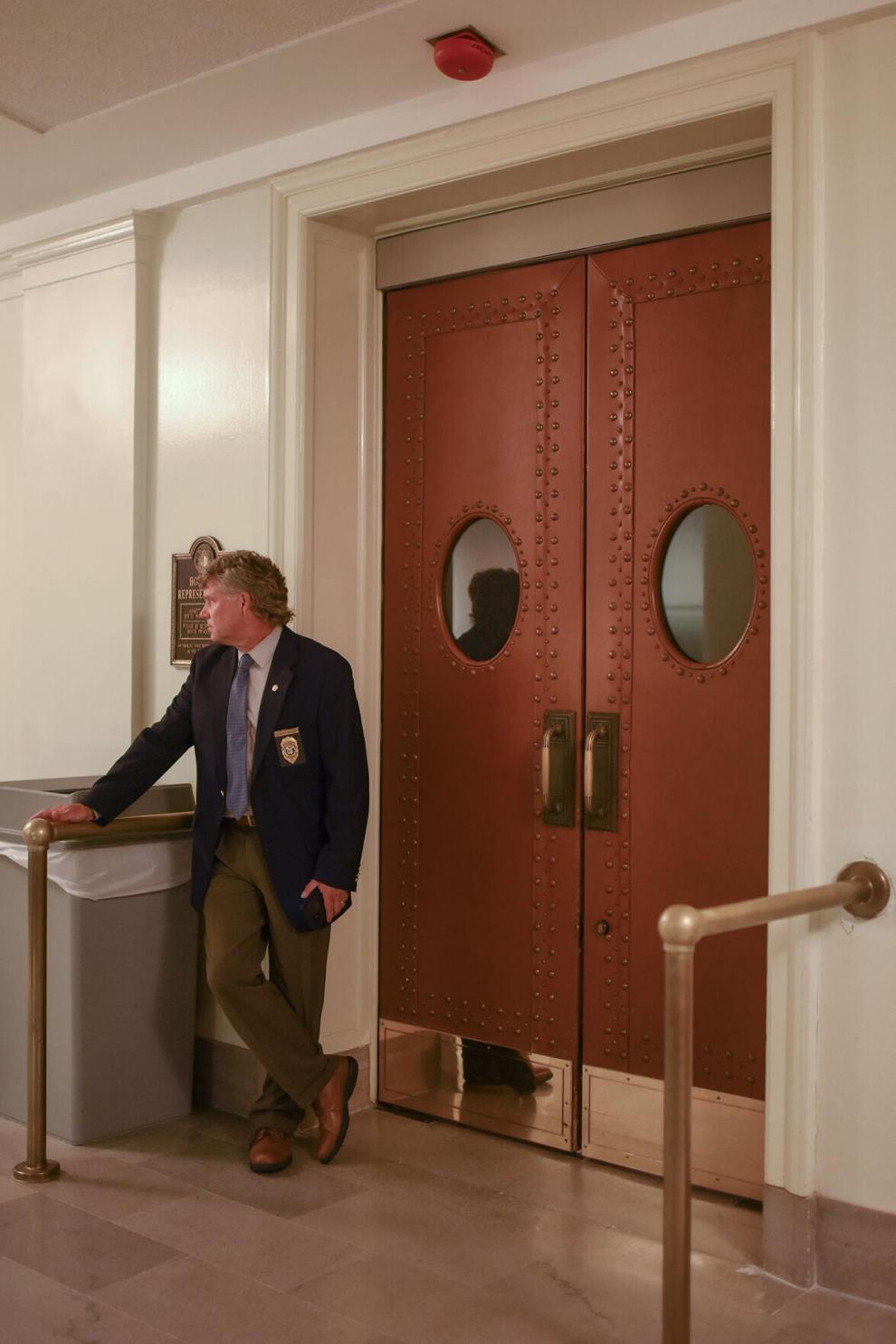 Nicole Gutierrez is a junior at MU studying photojournalism and a photo editor for the Missourian. Hana Kellenberger is a senior at MU studying photojournalism and is a former Missourian reporter, photographer and photo editor. 
This story was photo edited by Tristen Rouse. 
The Method is the Columbia Missourian's photography blog. In writing about pictures, it seeks to demystify how our photojournalists cover their community and place their work in the context of a larger visual world.